I'm a big fan of lists. Often my mind gets suddenly full of ideas for a certain subject, and I just have to write them down and organize them – (I call it a Brain Dump). Then I can go back later and refer to my lists and use my ideas in an organized way when I need that info.
I thought it might be helpful to make some lists of meal ideas that could suit different situations – breakfasts, snacks, gluten free, low carb, etc. I used to have all my meal ideas lists in a big notebook that I added to and referred to for years, but I decided maybe my system could help some of you, too. So I'm going to Brain Dump my  best meal ideas right here on this great, big page.
It will take me a while to include all the info I want on this page, so I will be adding to this page as often as I can. I hope it will be a helpful resource!
Meal Ideas by Meal Type
Breakfast Meal Ideas:
Breakfast Smoothie Bowls Read the post for the basic idea, and here are some ideas for flavor variations:
frozen mango, coconut milk, pineapple, cooked carrot
frozen banana, cocoa powder, spinach, nut butter
frozen cherries, cocoa powder, beets ( small amount)
strawberries, banana, coconut milk, spinach
beets, mixed berries, kale, banana
blueberries, banana, spinach
banana, peach, raspberries, cooked carrot
orange, banana, coconut, cooked sweet potato ( small amount)
banana, maple syrup or maple flavoring, coconut milk, walnuts
Instant Oatmeal Read the post  for how to Food Prep some  homemade instant oatmeal packets that suit your diet or food restrictions. Here are some flavor ideas:
chopped strawberries
sliced banana and crushed walnuts
chocolate chips and a teaspoon of cashew butter
fresh or frozen blueberries or other berries
diced apple, fresh or dried – Note: Grated  fresh apple cooks faster in the microwave than diced
a dash of pumpkin spice and a spoonful of canned pumpkin
 my Raspberry Coconut Oatmeal recipe
Egg Mugs Here are some great things to put in an egg mug:
turkey bacon ( I use nitrite free – Oscar Meyer has a good one, as does Trader Joe's)
chicken sausage
diced ham ( nitrite free)
leftover taco beef
bell peppers and tomatoes
chopped spinach
mushrooms and goat cheese
finely diced broccoli and cheese
chopped kale ( cooked is best)
bacon and artichoke hearts
green chili salsa and cream cheese
Gluten Free Banana Protein Pancakes I've been meaning to make these in the waffle maker, but haven't yet. If you do, let me know how they turn out 😀
Instant Pot Blueberry Coconut Steel Cut Oats   The Instant Pot is the best thing to ever happen to steel cut oats, and to breakfast! these are gluten free, dairy free, and absolutely delicious.
Smoothies:
Superfood Salad Aint nothing wrong with having salad for breakfast! Pardon the old picture in this post – don't let it keep you from trying this gem of a recipe
Gluten Free Breakfast Sandwich  Just use regular english muffins if you aren't gluten free.
French Toast Sticks My favorite way to use up bread that's getting old. Make a big batch in the oven and keep in the freezer for quick breakfasts! I prefer to microwave these, but you can toast them in the oven ( haven't tried the toaster yet).
Cashew Cocoa Fudge Bites I often stash a little bag of these in my Cooler Purse Organizer, and they are great for breakfast when you'll be out of the house.
Breakfast Fried Rice Best way to use up leftover rice! For ideas for what to put in it, see the Egg Mugs list above. Usually we just do turkey sausage and egg with brown rice – we love it!
Gluten Free Blueberry Muffins  – Check out the nutrition label in this post – these are so much better for you than ordinary muffins!
Lunch Ideas
Sandwiches:
Sandwich filling ideas:
leftover roast beef or steak – *The secret to serving leftover cooked beef and not have it taste "gamey" is to store it in a container or plastic bag that contains a little beef broth. You only need a couple of tablespoons for every cup or so of beef. Store it in the fridge, and it should taste fresh and moist for about 3 days.
sliced, cooked chicken breast – The same trick applies to chicken! Store it with a little chicken broth just like with the beef.
the humble tuna sandwich – I'd forget this is an option if I didn't write it down 🙂 Good filling for a pressed sandwich!
peanut butter or other nut butter – (see my recipe for Cashew butter below) This is good filling for a pressed sandwich, too. Check out my Store page and look at the Large Cutters section to see all the sandwich presses I have and recommend
Chicken Salad with Cranberries and Poppy Seeds
Horseradish Cream Sandwich spread
Walnut Chicken Salad with Cranberries
Bento sandwich ideas:
Ham and Cream Cheese Sandwich Bento
Soup:
20 Minute Chili Mac I know, not a soup – but a really great thing to heat up and pack in a thermos for lunch!
Creamy Butternut Pasta Sauce This sauce is AMAZING as soup! I always make a large batch so we can have it for lunches during the week.
Salads:
I make so many salad bentos, that I wrote a book about it 🙂
The very best resource for all my salad recipes, salad tips for making a salad bar, and packing salads for lunches in right here:
my Fresh Lunch Salads ebook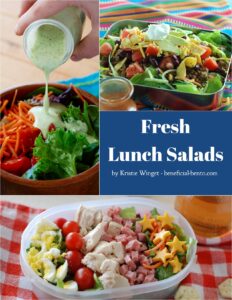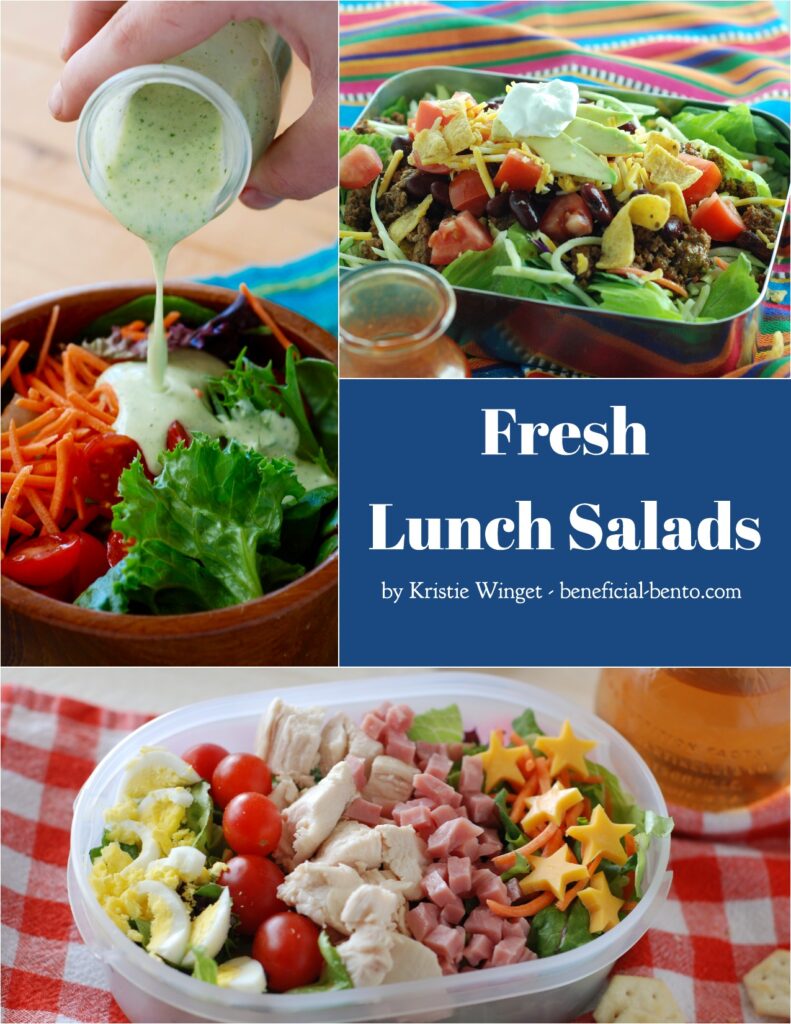 Snack Ideas (including desserts)
I have lots of ideas for healthy snacks, so I made an entire page of its own with all my best snack ideas and resources: Healthy Snacks
 10 Healthy Snacks – 200 Calories or Less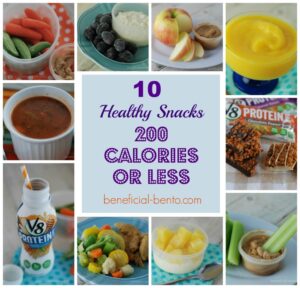 Dinner Ideas
The best way to discover all my best dinner recipes is to go to my Recipe Search Page. You can search by food type ( beef, pasta, etc.) , food prep method ( microwave, Instant Pot, etc.), dietary restriction ( gluten free, vegetarian, etc.), and other categories such as Holiday dishes, 5 ingredient or less, and many more. We worked our hardest to bring you this resource, and I hope you love it as much as I do <3
But here are some dinner idea lists that you might find helpful as well:
20 Minute Dinners:
20 Minute Italian Chicken and White Beans
Other Meal Ideas Lists
Food for Parties and Potlucks
One of my favorite things to serve at a Potluck or other buffet-type party is a Salad Bar. If you are in the habit of keeping one stocked in your fridge, it will be super easy to freshen it up and take it to a party!
Recipes that work well in a casserole dish:
Shepherd's Pie with Cauliflower Crust
Praline Sweet Potatoes with Toasted Marshmallows
Gluten Free cornbread and Sausage Stuffing
French Toast Sticks – these are fun and really easy to make if you're having a Brunch party!
Crockpot Recipes:
Simple Desserts for a Crowd:
Gluten Free Chocolate Chip Cookies
How to Make Egg Free cupcakes using a cake mix
Mini Cheesecakes – can be made regular or gluten free
Peanut Butter Cookies, gluten free
Picnic Ideas
( more ideas for this list coming soon…)
Salad Bar You know, you can pull together a fairly healthy meal for a picnic if you grab your salad bar, order a pizza, and head for the park!
Camping Meal Ideas
Look for this soon…
Simple Recipes for Beginners
Chicken Salad with Cranberries and Poppy Seeds
Banana Protein Pancakes ( can be made gluten free or regular)
Gluten Free breakfast Sandwich (use regular english muffins if you aren't gluten intolerant)
Italian Chicken with White Beans
Food Allergy  and Special Diet Meal Ideas
Gluten Free
Coming soon – a Gluten Free Resource page
Peanut Free, Egg Free, and Dairy Free
Coming Soon – a food allergies resource page
Low Carb
Chicken BLT with Pesto Cream Cheese ( if you make it a lettuce wrap)
Chicken Meatballs – low carb, and gluten free
How to Make Homemade Chicken Stock – also known as Bone Broth, which is low carb, and high protein
Dijon chicken with Mushrooms and Bacon
Shepherd's Pie with Cauliflower Potato Crust – use less potato to reduce the carbs even more
Trader Joe's Harvest Salad with Grilled Chicken
Vegetarian
*Note these are vegetarian, not vegan (I'm not experienced enough to know which of my recipes would be strictly vegan).
how to Cook perfect Brown Rice
Horseradish Cream Sandwich spread
Healthy Alfredo Sauce ( leave out the egg)
How to Make Egg Free Cupcakes using a Cake Mix