At last!
I finally got to do something that I've waited nearly three years to do!
But first let me tell you a little story. It's the story of how this blog got its start, and it's all true...
During the summer of 2011, I had a crazy desire to learn everything I could about packing healthy meals and snacks, especially vegetables. I felt like our family loved junk food too much, and just didn't appreciate how good vegetables and other healthy foods could taste. I also wanted to lose some weight. I was intrigued by the idea of packing up my meals in the correct portions for the whole day, and then not having to worry about what I would eat - my decisions would already be made for me that way. I started to search the internet for how to pack healthy lunches. I came across this unusual word - "bento". I found a wonderful blog where I learned all the basics of bento lunch making -
Lunch In a Box
, and I was hooked!
I began to learn everything I could about packing creative, colorful, fun lunches in bento boxes. I searched all over town for any kind of bento supplies that I could find, but there was none to be found around here. From reading
Lunch In a Box
I learned that if I wanted to buy a bunch of bento supplies, the closest place for me to go shopping would be San Francisco. Well, my son had recently got engaged, and they would be getting married here in Utah, then having a reception in California. We decided to plan a little bonus trip to San Francisco during that time to go shopping :)
I had SO much fun in the bento shops, and nearly everything was priced so low! I bought so many adorable things to make our food so freaking cute... but there was just one problem. Our kids were teenagers and older, and they definitely wouldn't want me to make adorable bento boxes for them. ( Oh how I wish I had known about making lunches like this when my kids were little!)
I said to my husband, " Honey, I need some little kids to eat the cute lunches I'm going to be making".
He said, "Just make them for me. Nobody's going to see them, and I don't care what they look like as long as they taste good."
And so that's what I did. I used my husband as a guinea pig to test out all the cute bento ideas I had, and it was fun.
Then a few days later, I began to hear from friends. "How did you make that egg shaped like a heart?" they would say, or "I loved those carrot flowers you made!"
Whaaat was going on here?
I questioned my husband, and discovered that he had been posting pictures of every lunch I made for him on Facebook! ( this was back when I didn't look at Facebook much - oh how times have changed...) My daughter convinced me to start a blog so I could share my lunch ideas there, and that's how Beneficial Bento came to be. Now I make lunches for my husband, myself, and my 2 teenage boys who still live at home. But I have been waiting for the time when I could make reeeeally cute lunches for an actual little child.
Well, my son and his sweet wife had an adorable baby boy last July of 2013, and he is my best little buddy! I have been looking forward to the time when he would be old enough that I could make him some fun food. I have been collecting so many little bento tools that would work especially well for the littlest bento lover in our family :)
So far, this is how we like to use my bento tools:
He and I play a little game we invented several months ago that involves pretending to drink out of all my little sauce containers and silicone cups - or pretending to play them like horns.
* Pro Tip: This is how I discovered it's easy to wash a whole bunch of tiny bento lunch tools at the same time by dumping them all into a colander and soaking them in a sink of hot, soapy water. Then I rinse them with the sink sprayer and let them air dry in the colander :)
But now he is finally old enough to enjoy regular food, and boy does he love to eat! I made him the lunch above last week. I tried to focus on food that would be easy for him to grab and eat. There are ham and cheese sandwiches, grapes ( cut in half), melon cubes, and tomatoes. I included this little Happy Fork guy so he could spear his food with it, and he really liked that:
The Fork guy is completely flat, so it was hard for him to pick it up if it dropped on his highchair tray. We had to hand it to him every time it fell, but that was okay.
Here are some of the things I used to make this lunch, and where you can buy them:
*The cloth napkin is available in my
Beneficial Bento Etsy shop
.
The happy fork - great price here, too!
Goodbyn Small Meal Box comes in purple, green, red, and pink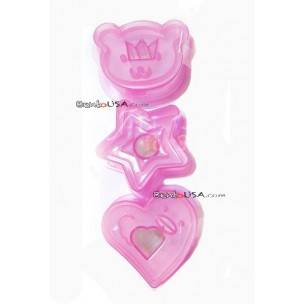 Here's the mini sandwich cutter set that makes star sandwiches