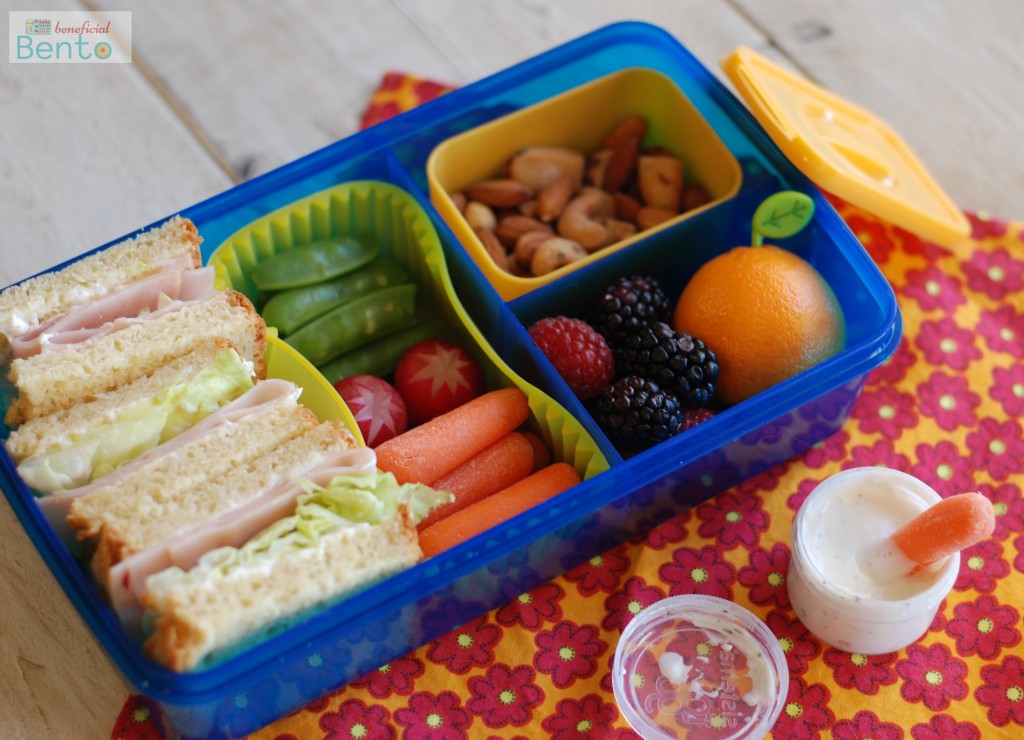 Here is another great product from one of my favorite food container companies – Fit & Fresh. Today I'm showing you the lunch I made in my new Soft Touch Lid Meal Carrier. I really love this box! It has so much room – I could fit a sandwich (and a half), a big serving of vegetables, a big portion of fruit, and a half cup of nuts. This box is a great size for a bigger appetite, or in this case, lunch and a good sized snack for later.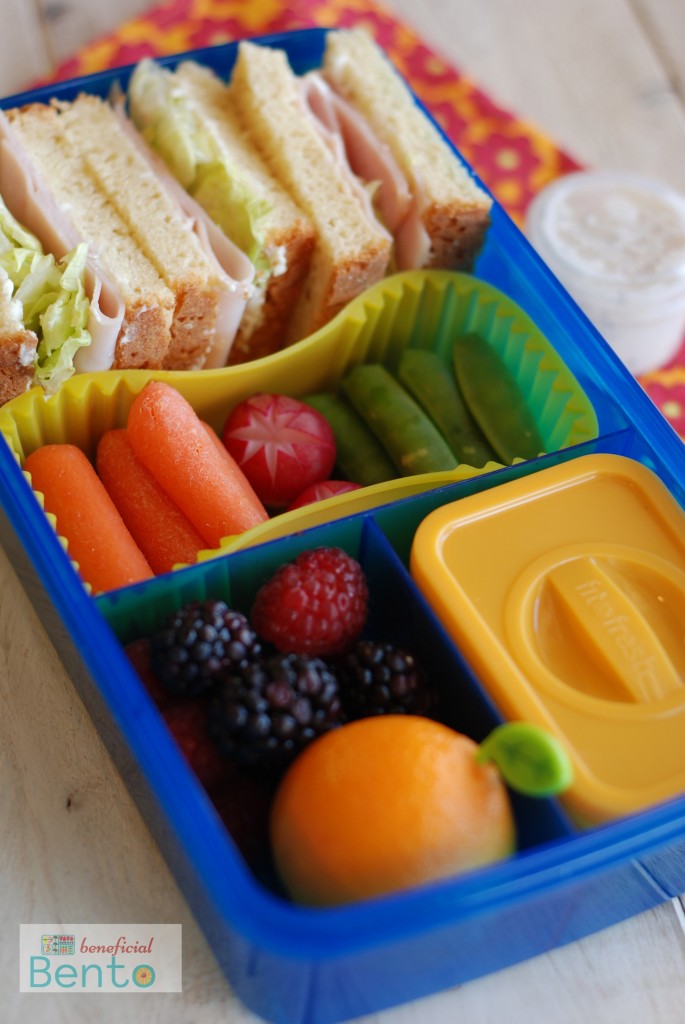 Let me tell you about that little yellow lidded container. It actually came with my Bento Lunch Kit, but it fits nicely in both lunch boxes. I like using it more in this lunch box because it matches the lid 🙂  It is so useful in both lunch boxes! It holds 1/2 cup, and is great for anything you need to keep away from the other foods in your bento box. I've used it so far for nuts and crackers – it keeps them nice and crunchy! When I have packed those things before, especially if I pack the lunch the night before, the nuts or the crackers tend to pick up moisture from the other foods and they lose their crisp-ness. I'm sure it would be great for very wet things like yogurt as well.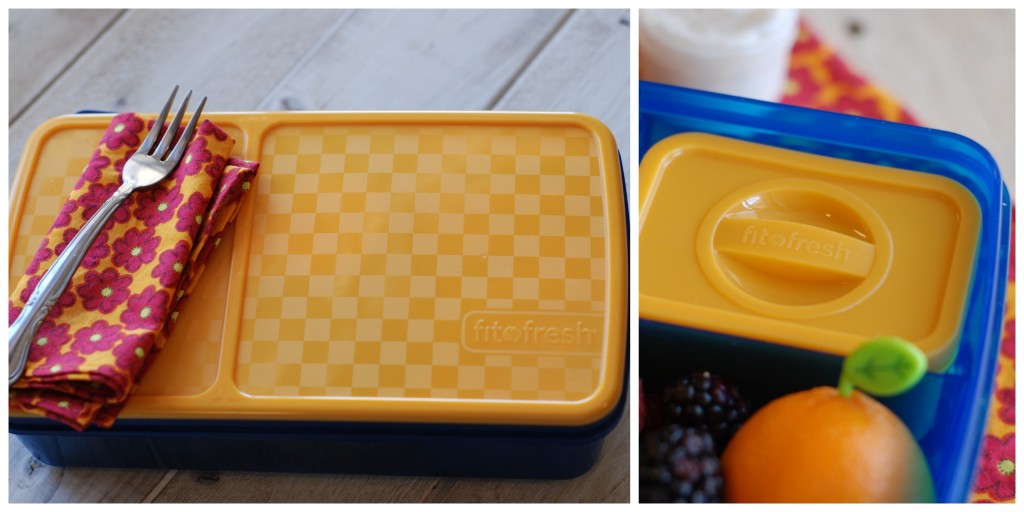 I love the new soft touch lids on these containers! They are more flexible, so they're easy to put on and take off. And they come with 2 ice packs for the lid so you can use one, or both, or none at all – depending what you pack for lunch. I recommend using the ice pack over fruits and vegetables, but not for sandwiches – it tends to make the bread too moist.
It's no secret that I'm a big fan of Fit & Fresh – here are some other posts where I showcase their products:
Fit & Fresh Kids Lunch Pack Carrier
If you're thinking of buying some Fit & Fresh products, it might be helpful to see what other bloggers have to say about them – and you can see the wide variety of creative lunches they have made in their Fit & Fresh lunch boxes:
From mamabelly.com: Fit & Fresh Review Here is a great review of several Fit & Fresh products, and you can see how they use them in their family, whose kids range in age from grade school to middle school. Nina also reviews the Kids Lunch Pack Carrier in this post – New Lunchbox Fun.
From Zoe's Lunchbox: Sarah shows how she packs the Kids Lunch Carrier for running errands with her kids in this post – Travel Lunch
From The Roxx Box: Roxanne packs a delicious looking lunch in the Bento Lunch Kit, and shares the recipe here – Roasted Butternut Squash & Sweet Potato Cranberry Kale Couscous Salad.
Beau, the Lunchbox Dad, made this adorable bento for his son in the Bento Lunch Kit: A Tiger Sandwich Lunch For My Son , and he also has a link in his post to his other Fit & Fresh product reviews.
Rina, from Bento School Lunches made some very cute and creative sandwiches in her Bento Lunch Kit in this post: Homemade Uncrustables for School Lunch in Fit & Fresh Containers
You can buy lots of great Fit & Fresh products from their website :
Shop our SALE section! Frequently updated with new & exciting deals on lunch bags, containers & more.
Disclaimer: I received products from Fit & Fresh in exchange for sharing them with my readers, but the opinions expressed here are my own