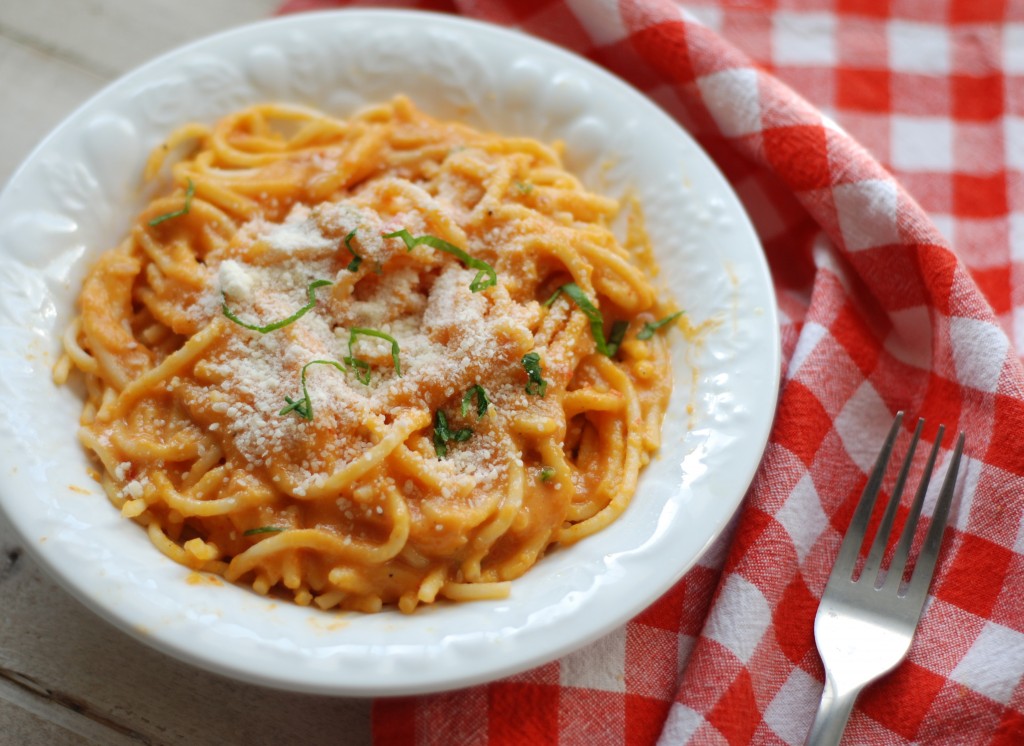 I have really been enjoying my new book, The 52 New Foods Challenge, by Jennifer Tyler Lee.
I love the author's idea that trying new foods should be a fun game where the whole family participates. You know, I always had a hard time forcing my kids to eat their vegetables – my heart was never in that kind of approach, so I just could never pull that off effectively. That's exactly why the whole idea of bento boxes for lunch really caught my attention. I knew I could make healthy food much more fun to eat than junk food, and invite my family to eat fruits and vegetables because they were the better choice.  I feel most comfortable with that approach, and it has worked the best for my family.  That's why the whole concept of this book really resonates with me – this positive, adventurous approach to trying new things is just my style!
Come join us – you can learn more about this challenge here: 52 New Foods Challenge
So, this week our family is officially starting the 52 New Foods Challenge. The new food we are featuring this week is…
( drumroll please)
Butternut squash!
I have made butternut squash for our family before, but this conversation is what made me decide that we should use it to start out our challenge:
"Hey, we should try butternut squash!" I said enthusiastically.
"What's butternut squash?" my son replied.
Clearly, it did not make a good enough impression on him the first time 🙂
Well, this time I've created a recipe that got everyone's attention (and approval) : Creamy Butternut Pasta Sauce.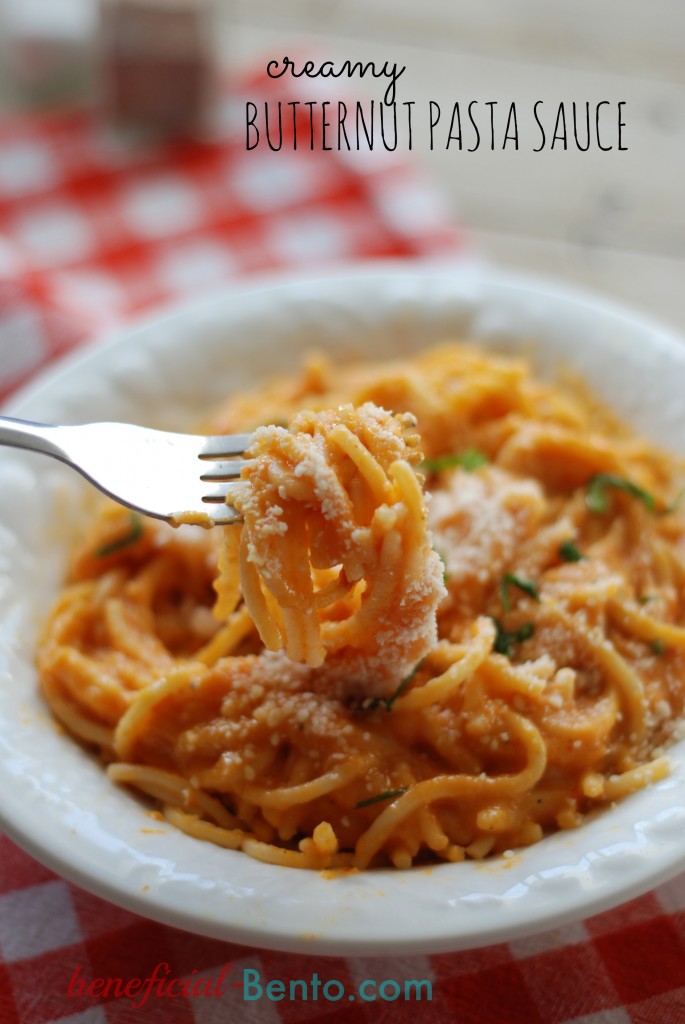 What's In the Recipe?
The ingredients are so simple, but really delicious! The secret is roasting the veggies in the oven – it really enhances all the flavors.
butternut squash
red bell pepper
garlic cloves
red pepper flakes
chicken stock or broth
cream
 a few tablespoons of flour – either gluten free or regular is fine
It is smooth, buttery perfection – but with just  enough roasted red pepper and garlic to entertain your taste buds without overpowering the sweet butternut flavor.
And one of my favorite things about this recipe is how very versatile it is – if you add a little more chicken broth or cream, it becomes the most delicious soup!
Print
Creamy Butternut Pasta Sauce
A sweet and creamy pasta sauce made with butternut squash, with touches of roasted red pepper and garlic – this can also be made gluten free!
Author:

Kristie @ Beneficial Bento

Prep Time:

25 minutes

Cook Time:

35 minutes

Total Time:

1 hour

Yield:

1.5 quarts
Ingredients
8 cups raw butternut squash peeled and diced

1 large red bell pepper diced

6 cloves large garlic peeled

2 tablespoons olive oil

5 cups chicken stock

1/2 cup cream

3 tablespoons flour (or gluten free flour)

1/4 teaspoon dried red pepper flakes

1 teaspoon salt

cracked black pepper to taste

parmesan cheese, if desired
Instructions
Heat oven to 400 degrees.

Spread olive oil on a cookie sheet.

Spread butternut squash, red bell pepper, and garlic on cookie sheet.

Bake for 35 minutes, or until vegetables are softened and lightly browned.

While vegetables are baking, heat chicken stock in a large saucepan over medium heat.

Remove the roasted vegetables from oven and cool slightly.

Pour the roasted vegetables in a blender or food processor and process until very smooth.

Add the pureed vegetables to the hot chicken stock.

Add dried red pepper flakes, salt, and cracked black pepper.

Cook and stir until the sauce comes to a simmer.

Pour cream and flour into a small lidded container and shake until blended and smooth.

Stir the cream mixture into the sauce until creamy and slightly thickened.

Serve over hot spaghetti and top with grated parmesan, if desired.
Notes
If you are unable to eat gluten, you can use almost any kind of gluten free flour in this recipe to thicken the sauce – like a rice flour blend, millet flour, potato or tapioca starch, etc.
I kept this recipe very simple, with clean  ingredients that you can find in pretty much any store. And just look at the nutrition stats – the vitamins in this are off the charts!
As I was cooking, the aroma of roasted vegetables and garlic filled the house and drew my family into the kitchen to comment, "mmmmm, what smells so good?" and then when I replied, "roasted butternut squash, peppers, and garlic" I got a few skeptical looks.
But when we all sat down at the table and started eating, I got the thumbs up from my son and husband, and this comment from my 18 year old:
"I freaking love this sauce!"
I think they'll remember butternut squash from now on!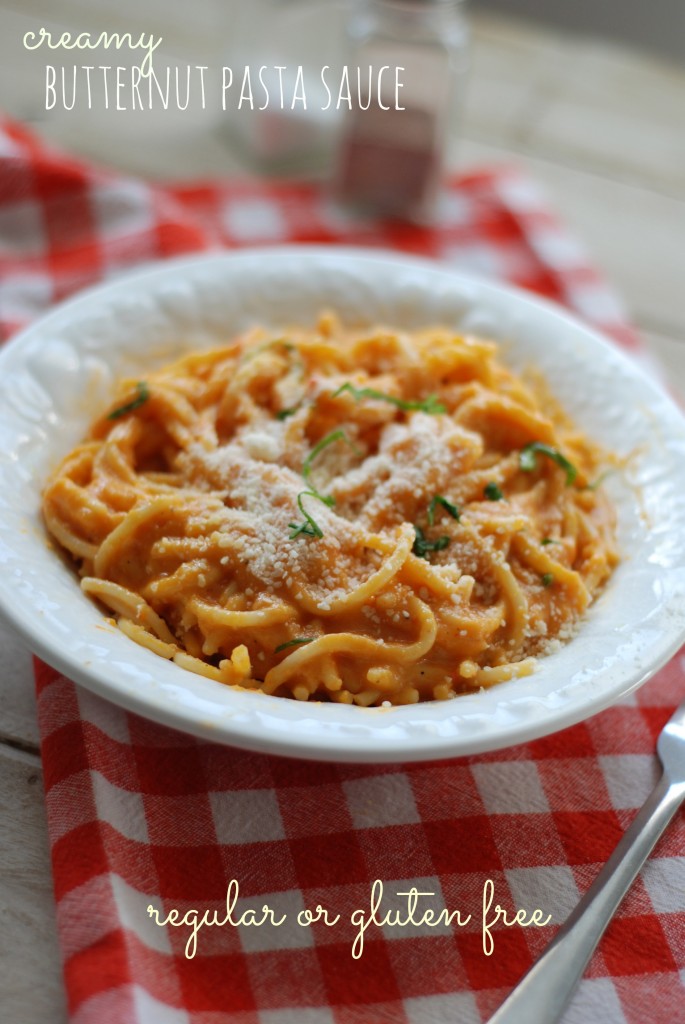 * This recipe was included in:  Full Plate Thursday  and  Show and Share Wednesday and Gluten Free Wednesdays. I also added this to WIAW,  and Busy Mondays too!
Related Posts: