So, as it says in my blog header, I'm always trying to make healthy food more fun to eat than junk food. It's actually one of my favorite hobbies – I like knitting, running, gardening, sewing… and making vegetables more exciting : )  I think I've hit upon a great idea this time: making my own personal salad bar!Now stay with me on this  while I explain …  I realized long ago that I need to eat more vegetables.  Let's face it, we all need to eat more vegetables. Is there anybody out there who says "I really need to cut back on the veggies" ? No, of course not!
The hard part is making veggies appealing and most of all, convenient to eat. Most of the time veggies sit languishing in the dark recesses of the vegetable bin in the fridge until we remember they're there.  And if you're like me, by the time you remember  what you've got in there – it's too late. I got sick and tired of throwing out spoiled produce, and feeling guilty that I didn't make it into something delicious for dinner.I have put some effort into making fancy salads to go with dinner in the past, with mixed results. Usually a couple of us will love the salad, and then the rest of the family won't eat it because there was a particular item in the salad that they didn't like.  My daughter doesn't like any kind of fruit in salads, and half of us don't like tomatoes; I love olives and beets in my salad, but no one else does. And leftovers don't always work out as lunch the next day, especially soggy salad greens.So here's what I created: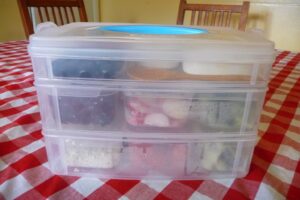 Update: I wrote this back in 2012, and I have learned quite a few things since then! I use different containers now ( check it out at the end of the post). I also share lots more salad info and recipes in my book,  Fresh Lunch Salads, which you can check out here:
Buy my product
Are you asking, "What is it?"  Ha ha, I don't blame you!
It's our family's own personal Salad Bar!
I got a Snapware container with 3 levels that I filled with smaller containers. In those containers I put all the salad toppings I could dream up, like chopped veggies, diced ham, nuts, cheese, turkey bacon, etc.
Now I keep it in the fridge and pull it out at dinner time and open it up. It looks like this when it's set up on the table:
I have used it for 3 days now, and I'm happy to report it is a huge success!
* Update -As of March 2014, it's been well over a year since I've made this, and we still use it every week. This has been one of the best ideas I've ever come up with for getting my family excited about eating salads. I refill it about twice a week!
After chopping some vegetables and opening some cans, it was super easy to set up.  And since I already keep a big bowl of washed and dried salad greens in the fridge that I make during my weekly food prep, all I have to do is grab the containers and set them on the table at dinner time.
It has really come in handy when packing bentos in the morning, too. I like seeing all the veggies laid out before me so I can use them to fill in gaps and add a touch of color to make our lunches look even better.
And the real beauty of this little personal salad bar became apparent last night – I was feeling very sick to my stomach ( comes with the territory sometimes with a gluten allergy) and did not feel up to cooking dinner. My husband came to my rescue, like he often does, by making his specialty for dinner – a pot of rice and chicken chunks cooked in chicken broth. It's really yummy. All I had to do was set out my salad bar on the table and we had a well-balanced meal! Everyone made themselves a salad to go with the chicken and rice, and it was super easy to clean it all up. Win-WIN for sure!
I keep a little spoon in the top section, and I think I'll get a tiny set of tongs to go with it.  I think it's worth the effort to make healthy food as easy to eat as possible!
I also went to the extra effort to cut star cheese and star carrots with a little cutter. I think it looks cool!
The whole thing looks like a big bento box! My whole family loves it, and in just 3 days I've already had to refill it.
Can you imagine the possibilities for picnics, and pot lucks?  Even if I'm super busy we could still order pizza, grab our salad bar, some paper plates and forks, and head out for a spontaneous picnic : )
If you decide to make your own salad bar, I have a few tips:
First of all, don't look for this container in the kitchenware department.  I found this Snapware  container in a craft store. I really had to search to find small containers to fit inside – what I ended up doing was cutting up some Ziploc  divided  containers with some sturdy kitchen shears and they fit snugly inside.
It's probably a good idea to think about the amounts of salad toppings your family might use up in about 3 or 4 days so you don't overload it with things that might spoil. But you might be surprised to find that your family will eat more salads than you thought : )
 Where to Buy the Salad Bar Containers:
Here's the items I used to make my salad bar. Unfortunately, Ziploc no longer makes the divided containers that I cut up to fit inside the Snapware container. Since I first posted this, I have found a set of containers that I like even more. I wrote a post about it here: How To Make a Salad Bar – Update. You can read about how I set up the Rubbermaid set as a salad bar and what I learned over the years from using it.
More Salad Information:
I have learned so much about salads over the past 5 years, that I now have an ebook full of more info about Salad Bars and Salad Bowls, Jar Salads, and 25 recipes. Its called Fresh Lunch Salads, and you can buy it right here: