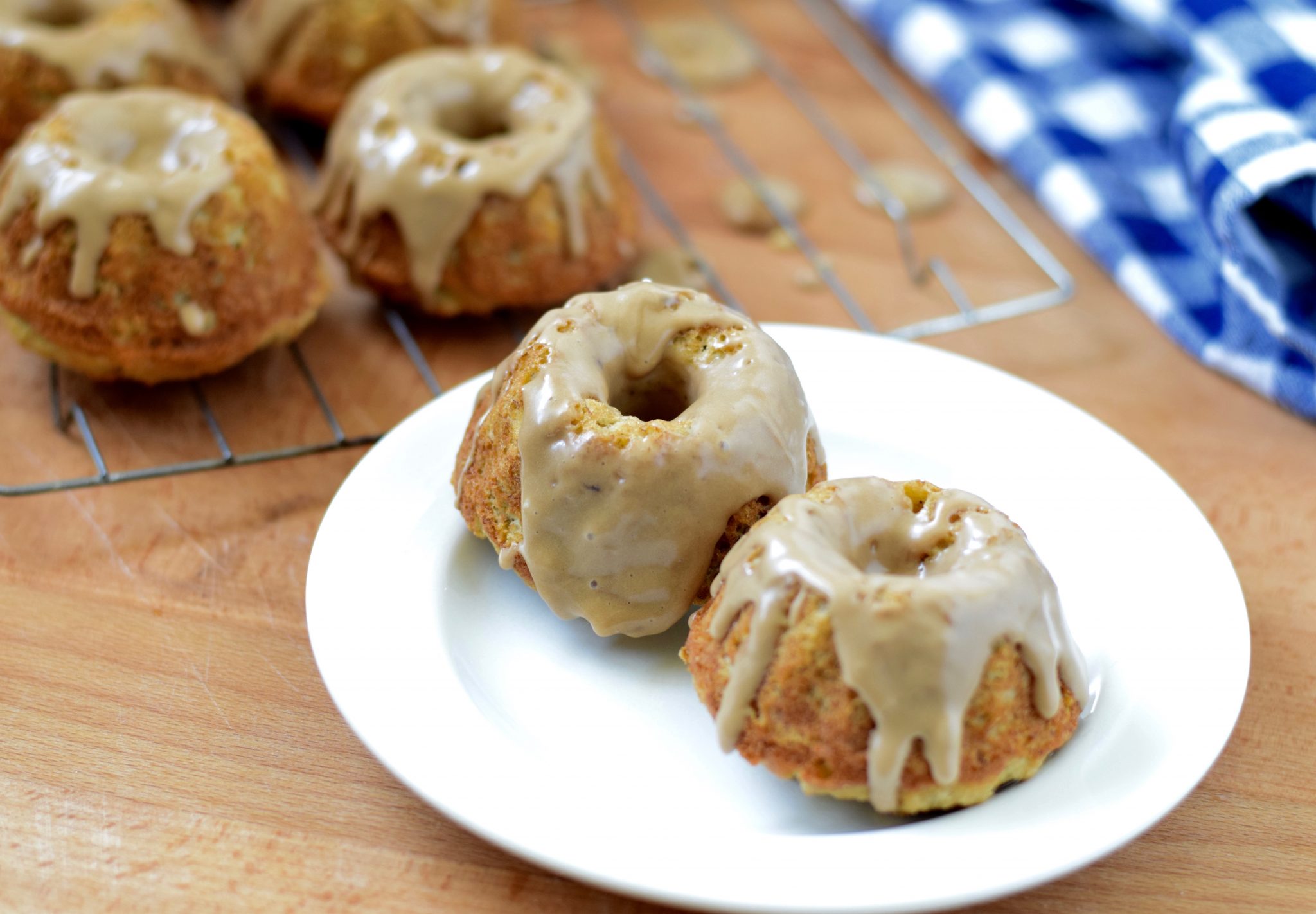 Warm, homemade banana muffins are always a welcome treat. But these are even more special because they are gluten free, and fresh out of the oven muffins are a rare treat for those of us who have to deal with food allergies. Make these for someone you know who deals with gluten intolerance, and make their day!
What's in my Gluten Free Banana Muffins?
As you might have guessed, there are the usual muffin ingredients in this recipe, but here are a few things that make this recipe different:
gluten free flours: In this recipe I use my Gluten Free flour Blend, millet flour, and coconut flour ( the flavor is amazing in these muffins!)
xanthan gum – which is common for us gluten free bakers, but if you are unfamiliar with this ingredient, read more about it in my Guide to Gluten Free Flours
I use both stevia, and natural cane sugar in these muffins. Why? To keep the calories low, but still have just the right amount of sweetness.
Coconut oil instead of regular cooking oil – There is just something so delicious about banana and coconut flavor together!
Print
Gluten Free Banana Muffins
Warm, homemade banana muffins are a welcome treat anytime, and these even more special since they're gluten free! Make them for someone you know who deals with gluten intolerance, and make their whole day!
Author:

Kristie @beneficialbento
Ingredients
1/2 cup coconut oil
1 cup cane sugar, unrefined ( or regular sugar if desired)
3 teaspoons stevia powder ( or any no calorie sweetener that measures equally like sugar)
3 large eggs
2 tablespoons flax seed meal
1 and 1/2 cup mashed banana ( about 3 medium)
1 tsp. vanilla
1 cup brown rice blend ( see my Guide to Gluten Free Flours)
1/2 cup coconut flour
1/2 cup millet flour ( you can substitute sorghum flour here)
1 teaspoon baking soda
1 teaspoon baking powder
1 teaspoon xanthan gum
Instructions
Cream coconut oil and sweeteners.
Add eggs, flax seed meal,vanilla, and mashed banana and blend well.
Combine the flours, soda, baking powder, and xanthan gum in a separate bowl. Stir to blend together.
Add the dry ingredients to the wet ingredients, and mix until just combined. To make tender muffins, don't over-mix.
Spray the desired pans with cooking spray – even if you're using silicone cups I still spray them with a little cooking spray.
Bake at 350 degrees for 10-15 minutes, depending on the pans you use. Check them by touching the tops lightly – if they spring back, they are done.
Notes
Feel free to add some chocolate chips or some chopped walnuts!
You can experiment a little with the sugars if you'd like – try this recipe with 3/4 cup sugar instead of the full cup, and increase the stevia by another teaspoon. However, I have tested this recipe a lot, and this version is my family's favorite. Check the nutrition label – it's pretty healthy as is 🙂
Tips & Tricks
This recipe gives you a chance to make some really fun shapes with the batter! Here are some options:
Use these rectangle baking cups to make mini banana bread – so fun to pack in a lunch! You can see the size of them in the pic below.
I adore making mini bundt cakes instead of muffins. In the main photo at the top of this post, I show them drizzled with a powdered sugar, cream, and maple glaze.
Make some heart shaped muffins to show someone some extra love!
You could bake these up in a donut pan and brush a little glaze on them for a (semi-)healthy treat!


You May Also Like