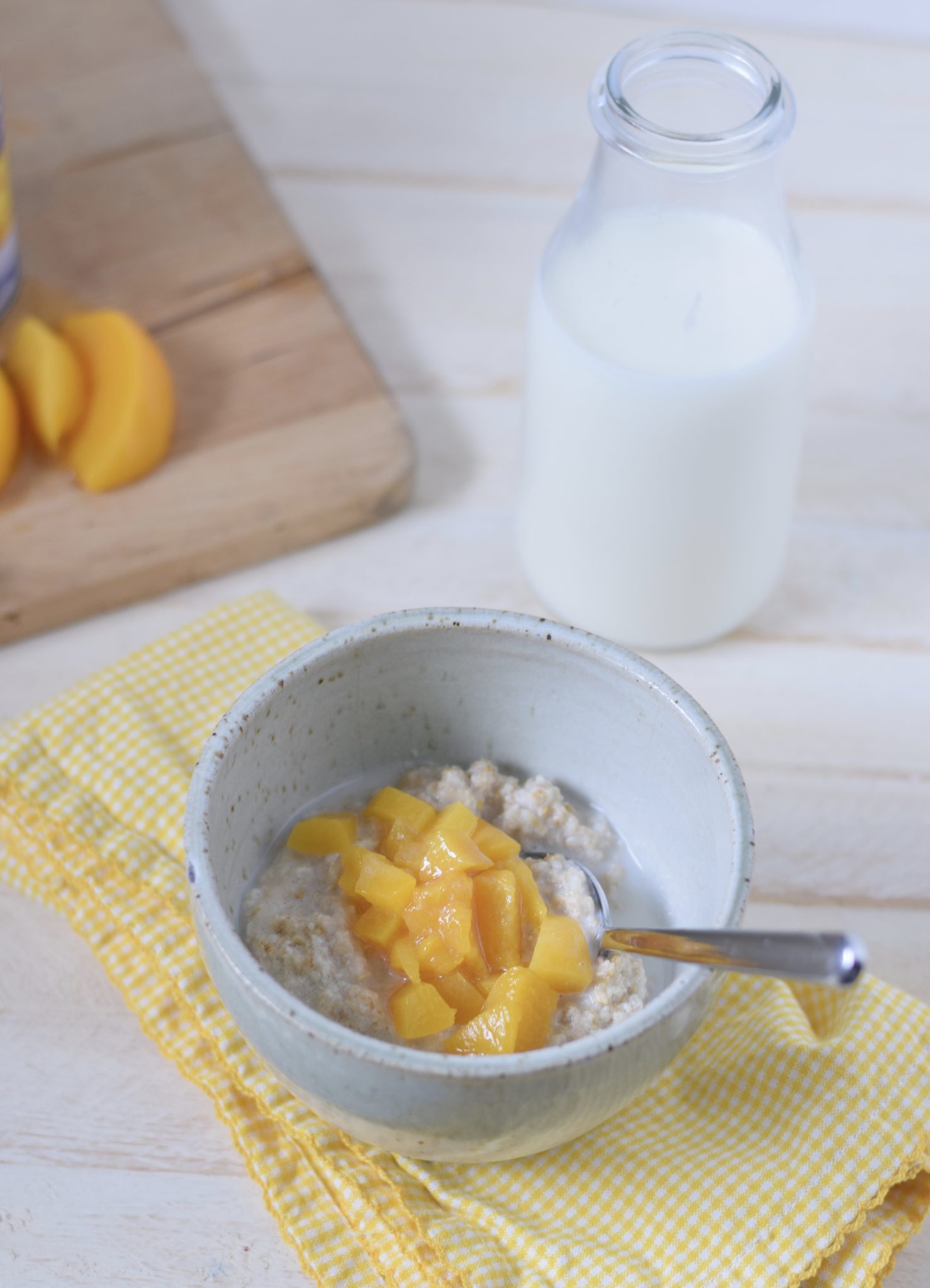 I've got a healthy breakfast idea for you, and you can whip up a big stockpile of them in very little time. Before you know it, you'll be set with a bunch of quick, healthy breakfasts for days and days. It is simply  this – homemade instant oatmeal packets.
You may be wondering why you should even bother making your own when you could just as easily heat up some pre-packaged, store-bought oatmeal. Well, how would you like a little pyridoxine hydrochloride for breakfast? Or how about some guar gum, sodium sulfite, or artificial flavor? Because that's what you're probably getting when you buy some of the big brands at the grocery store, and who really wants that?
Take a look below at the ingredients in my super simple recipe:
What's in my Peach Instant Oatmeal?
rolled oats ( I use certified gluten free for me and my son)
protein powder
stevia
brown sugar ( or you can use coconut sugar, or just stevia)
salt
canned peaches, sweetened with juice
How many of these can you make?  Well, how many do you want? That's how many! And you can store them in the pantry, and they'll stay good for quite a while.
This is one of my favorite Food Prep recipes, and I like to make a bunch of them when I do a weekly food prep session. It's always good to plan meals and have food ready ahead of time.
It helps me in several ways:
Saves me money
Helps me stick to my diet so I can control my weight
Makes it easy for us gluten free eaters – we know we always have SOMETHING we can eat ( and we can take it with us if necessary)!
Homemade oatmeal doesn't have the extra sugar and artificial stuff that we don't want
It tastes better – juicy peaches vs. dehydrated, reconstituted peach pieces… need I say more?
How to Make in Bulk
Step 1:
For each serving, add 1/3 or 1/2 cup of quick-cooking, rolled oats to individual containers or sandwich baggies. When I am cutting carbs, I use 1/3 cup dry oats for my serving. The rest of my family gets the 1/2 cup serving size.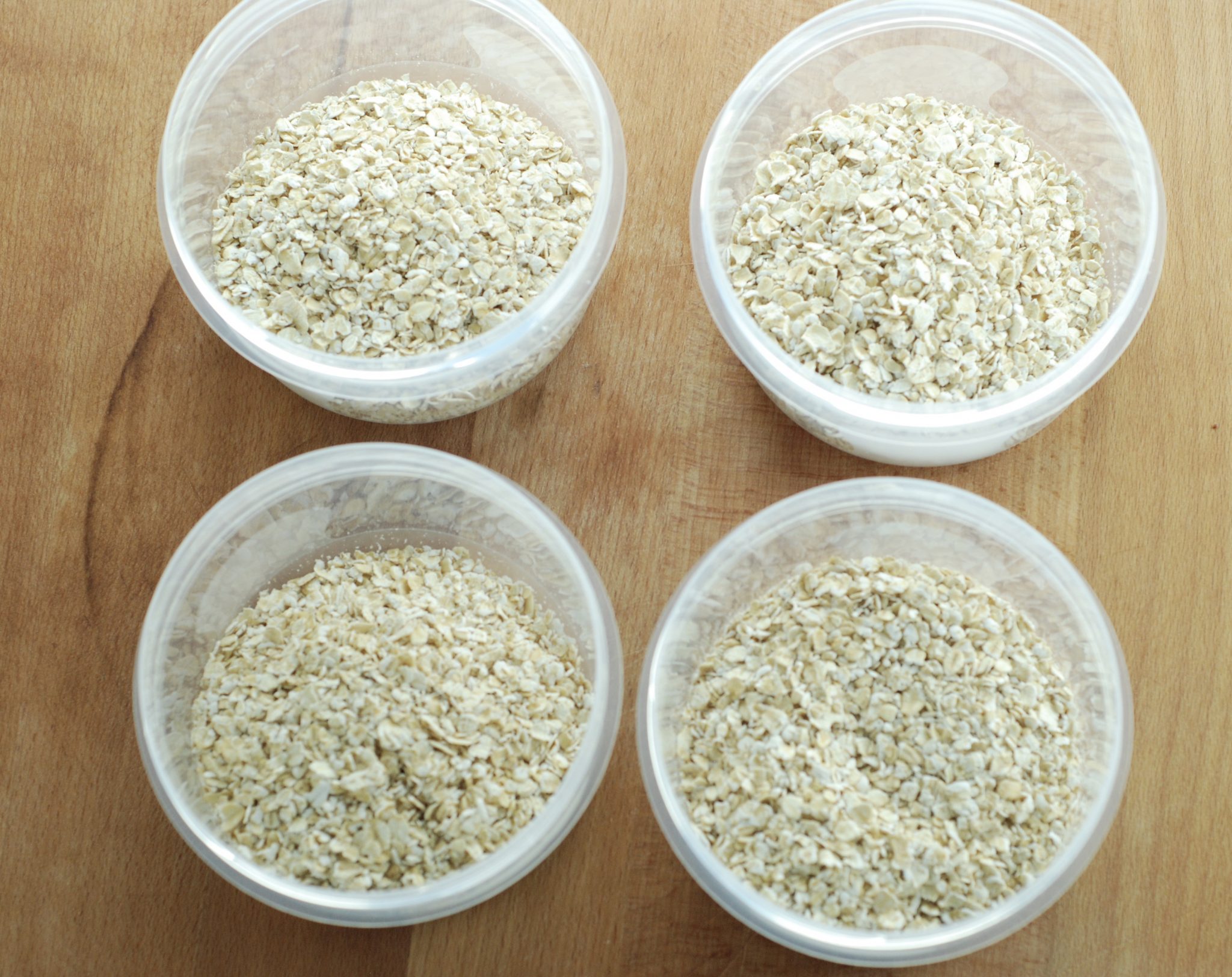 Step 2:
Add the protein powder. I use 1/2 of a scoop, which is 3 tablespoons ( for the brand I use).  I think a full scoop of protein powder in such a small amount of oatmeal has a very gluey consistency. 1/2 scoop is plenty of protein for me, especially when you consider that oatmeal already contains 4 grams of protein on its own.
I use vanilla flavored protein powder, but you can use unsweetened, plain protein powder if you'd like.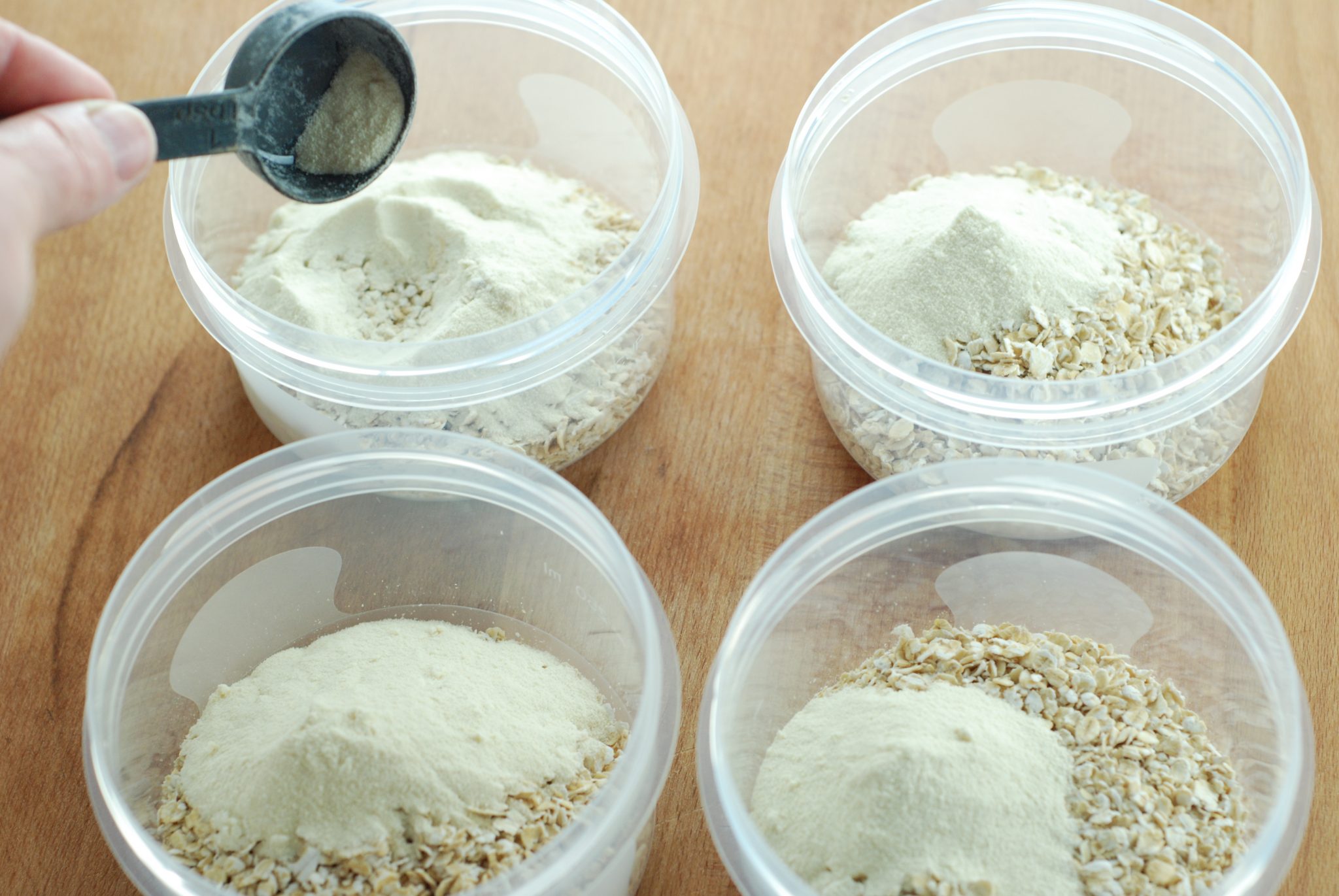 Step 3:
Add the salt and sweeteners next. I use both stevia and brown sugar, because that's the combo that my family and I love. If you want to cut calories even further, try it with just stevia or another dried sweetener of your choice. It's easy to experiment by making one serving, tasting it, and making adjustments from there.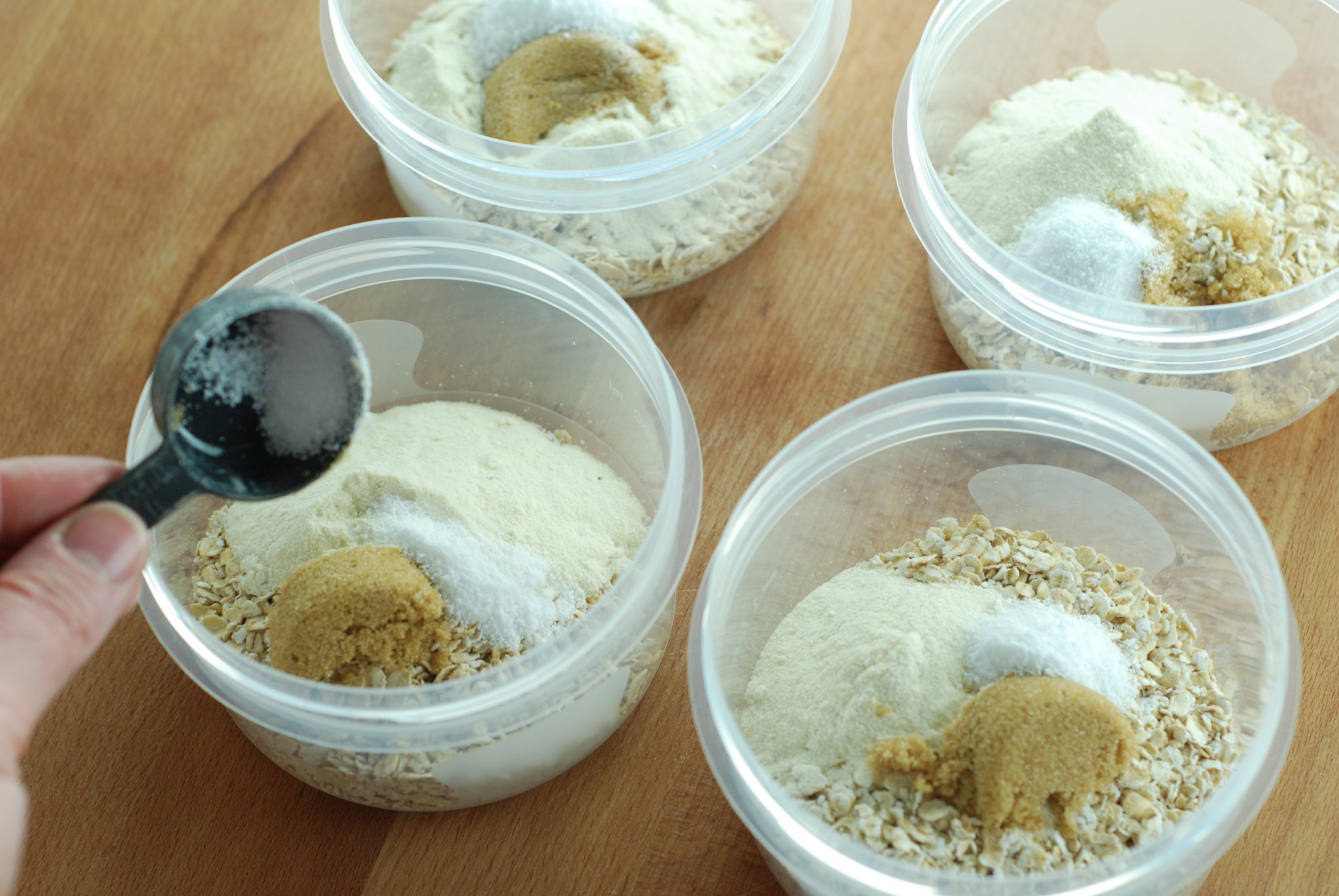 Step 4:
Close up the containers, and store them in a pantry or on a kitchen shelf. Remember, you can just as easily use zip top sandwich bags for your containers – that can save you some grief if you're tight on storage space.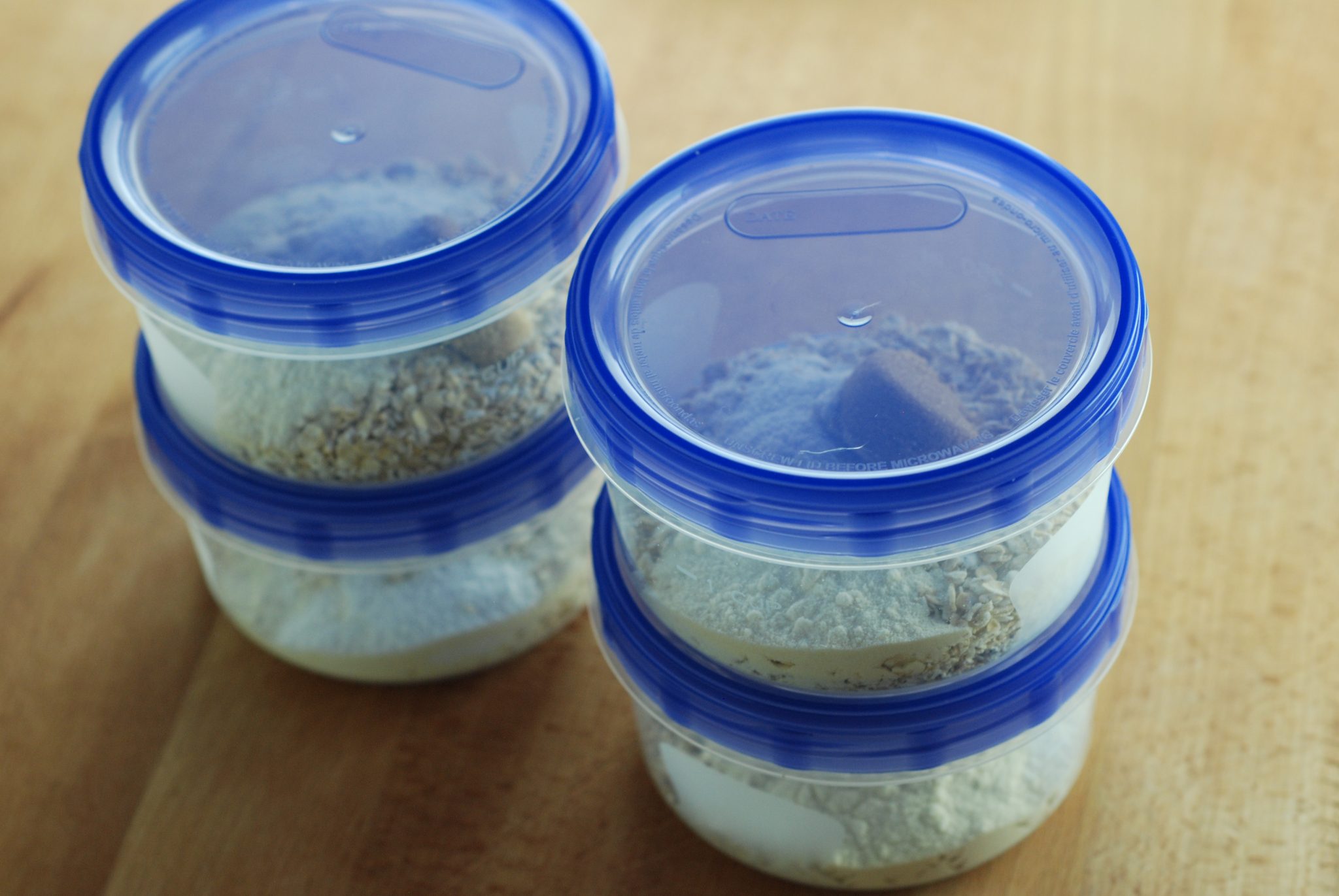 Step 5:
Open a can of peaches and drain the excess juice. I check the store for peaches canned in unsweetened juice, instead of syrup, to save on calories and cut down on sugar.
Dice up the peaches and store in a covered container in the fridge. After you microwave your oatmeal for breakfast, then you can add a spoonful or 2 of these peaches – yummy!  *See below for the full recipe, plus cooking instructions*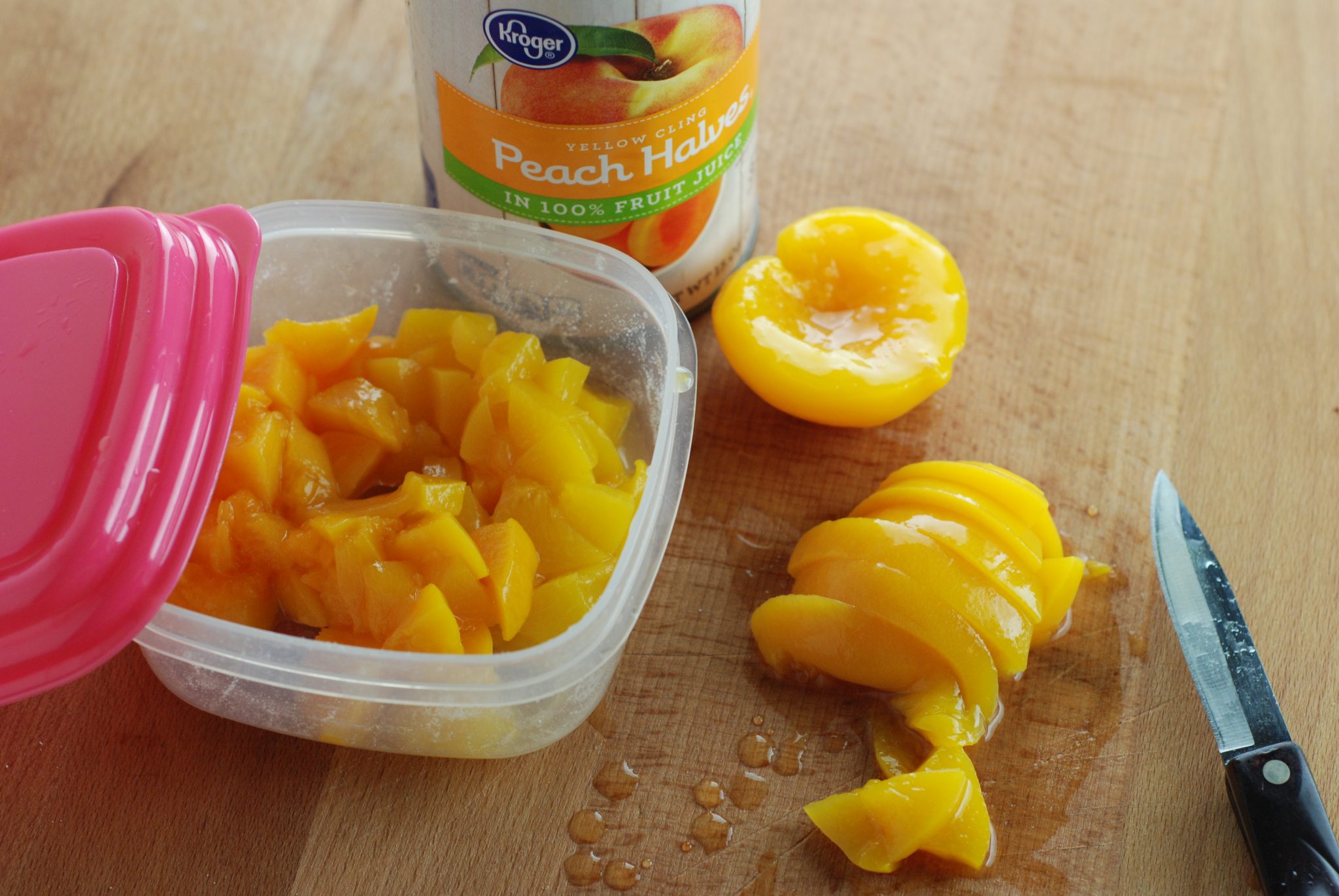 Print
Healthy Breakfast Idea – Peach Instant Oatmeal
Peach instant oatmeal – a healthy breakfast idea that's so easy to make! Mix up several servings to microwave for breakfast.
Ingredients
1/2 cup quick-cooking rolled oats

3 tablespoons whey protein powder, vanilla flavored or plain

1 and 1/2 teaspoon brown sugar

1 teaspoon powdered stevia/Rubiana blend
Instructions
Stir all the dry ingredients together.

To store for later use, put in a plastic storage bag or other individual storage container.

To serve now, add dry ingredients and 1 cup water to a microwave safe bowl. Use a big enough bowl to allow room for expansion during cooking.

Microwave on high for 1 minute and 20 seconds ( Exact time may vary).

Stir until smooth, and add milk of choice if desired.

Tips & Tricks
If you don't have/don't like protein powder, you can use powdered milk. Do keep in mind that it won't have as much protein.
You may have guessed this by now, but you can use lots of different fruits in place of the peaches! Try strawberries, blueberries, pears, apples, or banana slices.
If you want to make this an even healthy breakfast idea even healthier, you could also add a spoonful of flax seed meal. This is good for digestion, and adds some awesome nutrients like fiber and healthy fats. **If you like this idea and want me to create an additional nutrition label reflecting the inclusion of flax seed meal so you can get an idea of calories, etc. just leave me a comment! I can update the post with that info if you need it 🙂
If you like your oatmeal with a little bit of chewiness ( like I do), add slightly less water when cooking. Because protein powders can vary, you'll have to experiment with the amount of water. I like to use 3/4 cup water with mine, instead of 1 cup.
One final tip – use a larger bowl than you think you need when you microwave this recipe. It tends to boil over if your bowl is too small!