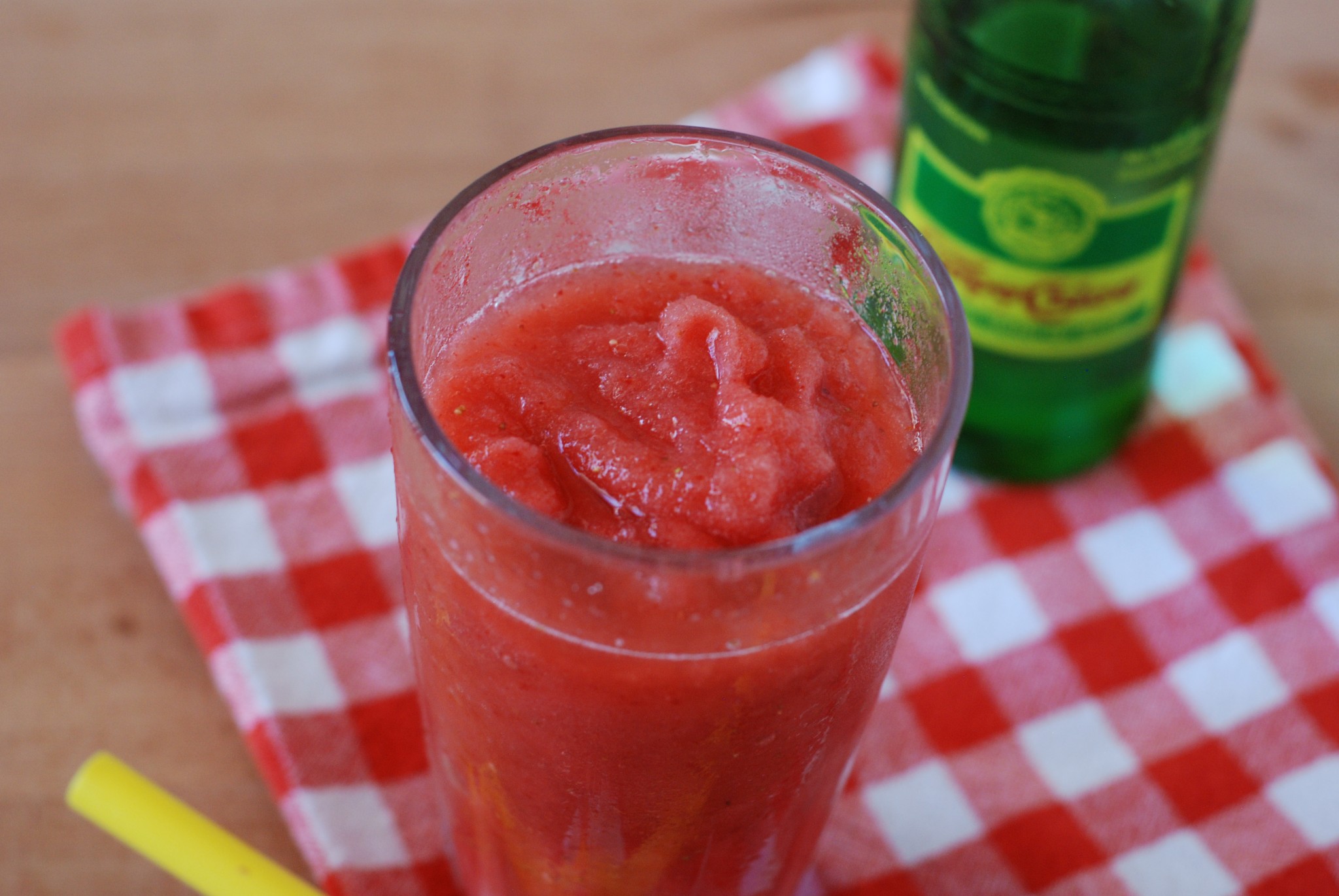 It has been so HOT lately!
All I have felt like eating is ice cream, shaved ice, or snow cones – but then I remember that I am on a diet.
But I didn't let that stop me. After all, I am here to help make healthy food more fun to eat than junk food, right?
So I came up with this good-for-you version of what we like to call – a Strawberry Lime Slushie. And it is fantastic – it only has 125 calories! And it also contains vitamin C, calcium, and even iron (you can read the nutrition stats at the end of this post).
What's in my Strawberry Lime Slushie:
unsweetened, frozen strawberries
Topo Chico Twist of Lime flavored sparkling mineral water
small amounts of sweeteners – stevia, cane sugar, and frozen strawberry-apple juice concentrate
ice cubes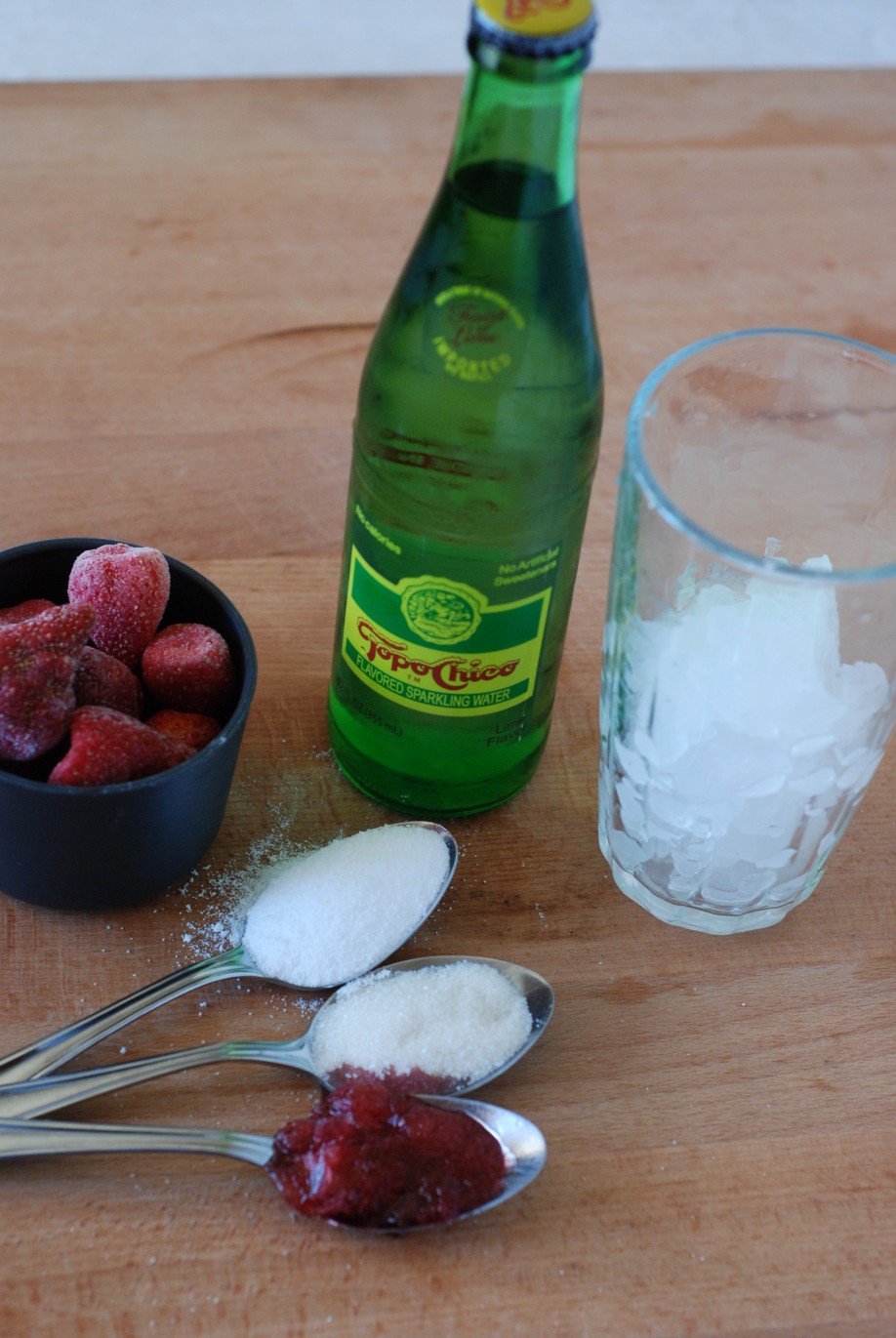 Tips & Tricks:
Use strawberries that are frozen solid. Partially thawed ones won't give you the same ice-crystal, slushy kind of texture
I really recommend using a high-speed blender if you can ( see my recommendations below). But if you don't have access to one, you may have to use a "muddler" – something to push the contents down on the blades of your blender once or twice during the blending process. This can be something as simple as a rubber spatula or wooden spoon handle, but you can also get an official muddler to help you do an even better job, too.
You may be tempted to use more mineral water if your blender doesn't grind everything up in the first go, but using too much liquid will destroy that slushy texture you're going for. Just be patient and use the muddler once or twice before adding more liquid. My Ninja blender usually blends everything up on the first try – I love it!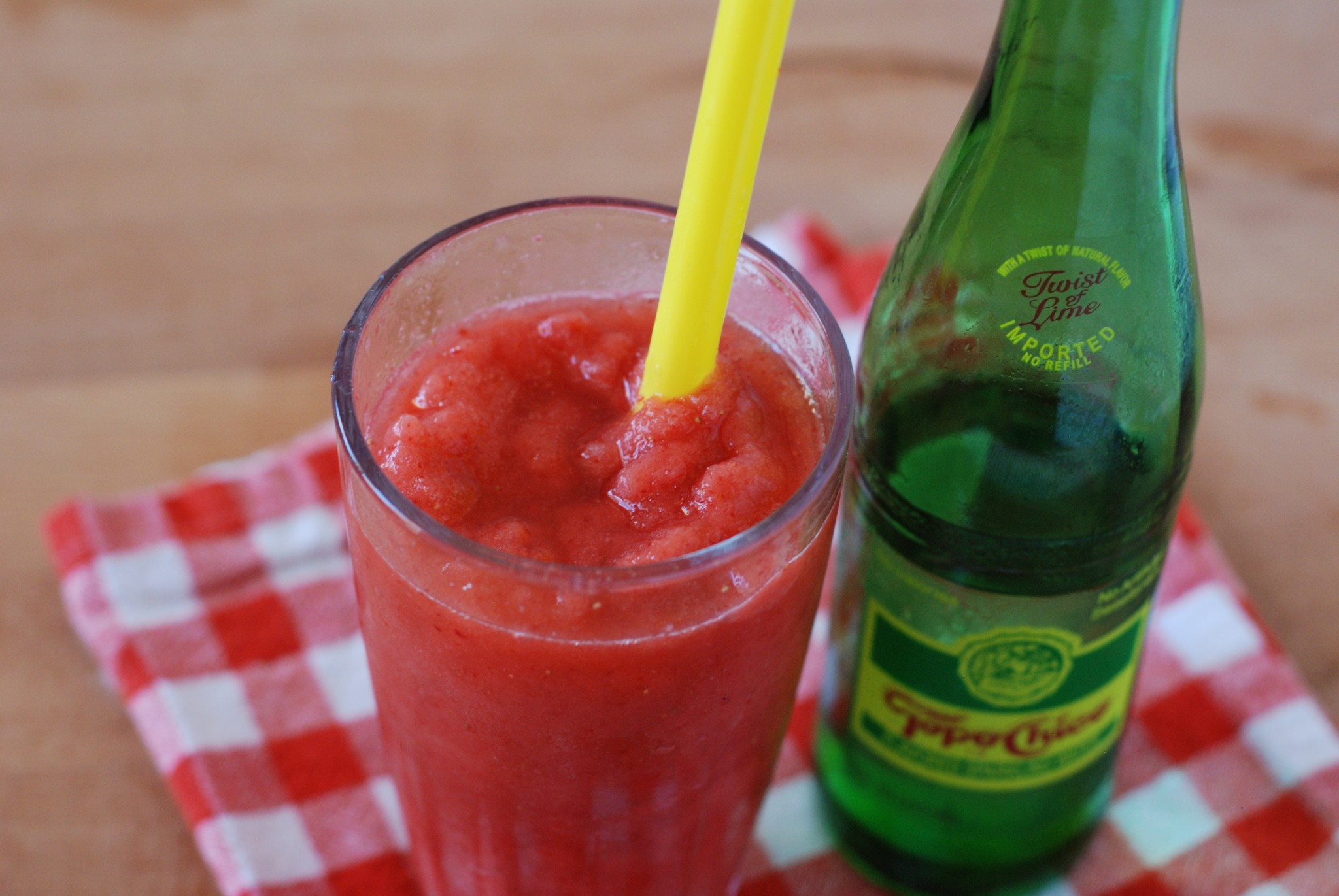 Products I Recommend:


I received my Topo Chico sparkling mineral water as part of a big box of food products from Degustabox. Have you heard of Degustabox yet? When you subscribe to their service you get a big box of fun food surprises, and it will come to you each month. Our family loved last month's box of food, and we can't wait to see what the next box will bring! Here's what we got last month: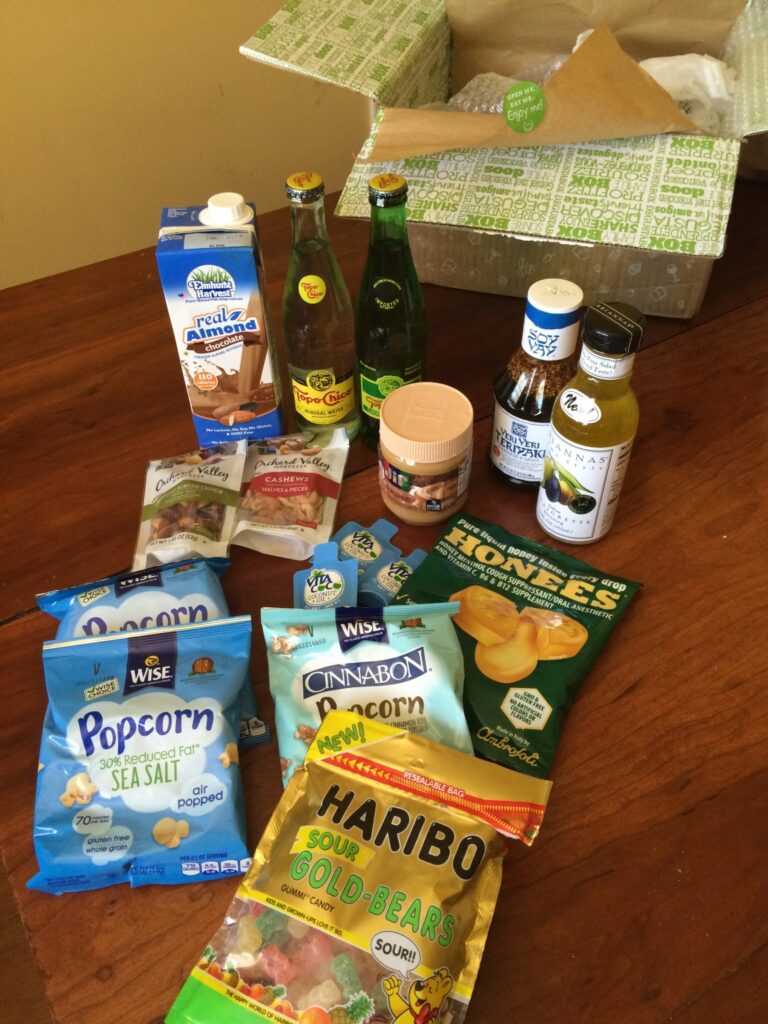 Would you like to look into Degustabox? I love their service, and I just became an affiliate.
Well you are in LUCK! You can get 50% off your first Degustabox by using the code DEGUSTA10.
Print
Good for You Strawberry Lime Slushie
Being on a diet doesn't mean you can't have the frozen treats you love. This Strawberry Lime Slushie is good for you with it's frozen strawberries and sparkling mineral water, and it takes just a minute to make in the blender.
Author:

Kristie @ Beneficial Bento

Prep Time:

5 minutes

Total Time:

5 minutes

Yield:

1 serving

Category:

drinks
Ingredients
1 cup frozen strawberries, unsweetened

1 and 1/2  teaspoons evaporated cane juice

1 and 1/2 teaspoons powdered stevia/rubiana extract

1 and 1/2 teaspoons apple-strawberry juice concentrate

6 oz . Topo Chico Twist of Lime sparkling mineral water (about 1/2 of a bottle)

1 cup ice cubes , or as desired
Instructions
Put all ingredients in a blender and blend until smooth.

You may have to pulse the blender a few times to get everything blended. Ue as rubber spatula, wooden spoon, or a muddler to push the ingredients back down on the blade if needed.

Adjust the amount of ice or mineral water to your liking until the texture is thick and slushy.

Serve immediately.
Related Posts:
Here are some other drink recipes/posts for you to check out:
How to get your family to drink more water