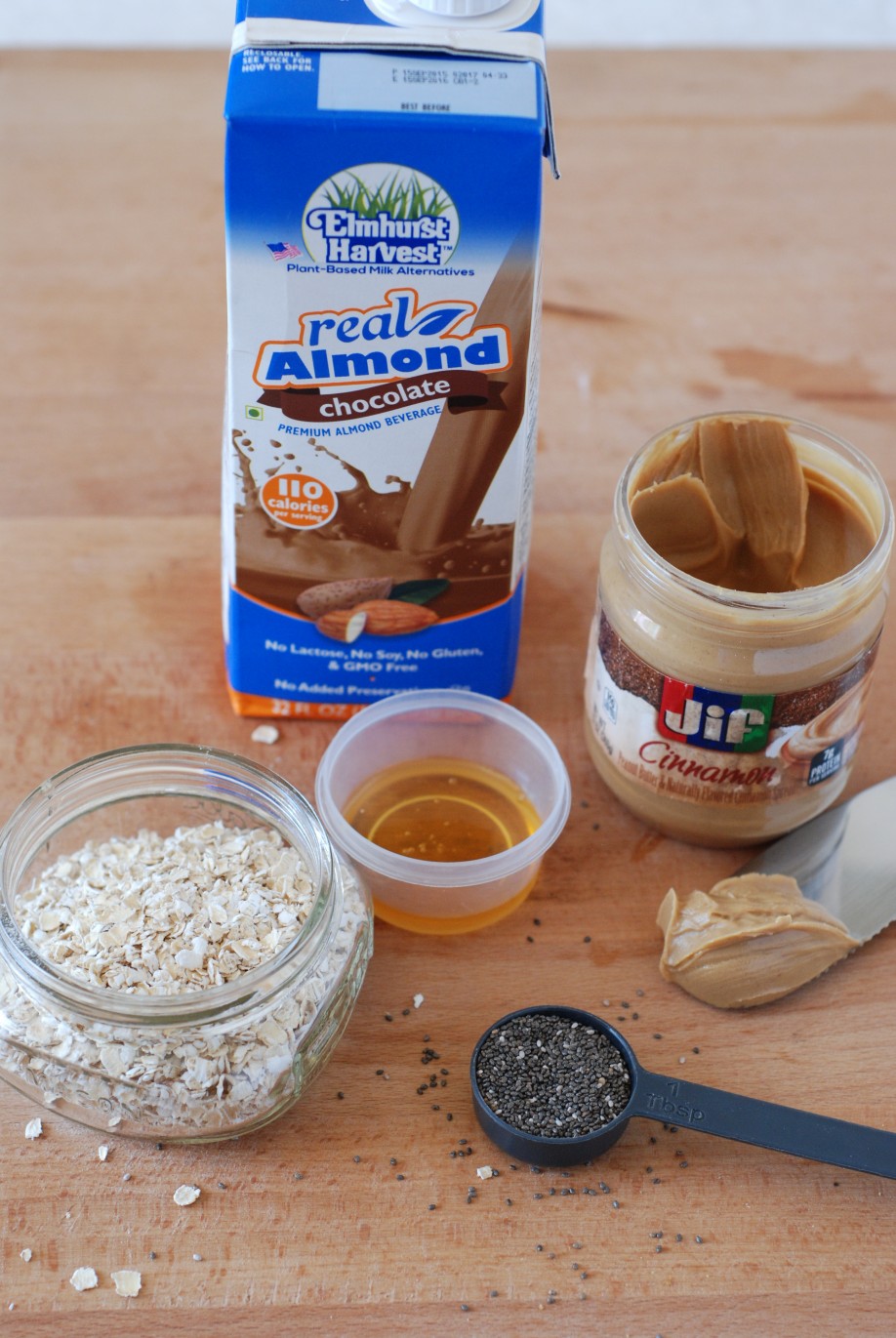 I need your help – I can't decide if this should go in the breakfast category, or the dessert category!
Overnight Oats are SO loaded with nutrition, and technically it IS oatmeal, so it belongs in the breakfast category. But it is also a creamy, sweet, chocolatey treat that comes in a little cup ( a lot like pudding, don't you think?).  Is there anything wrong with putting it in both categories?
What's in my Overnight Oats?
Quick cooking rolled oats – I use Gluten Freeda brand. It's my favorite gluten free oatmeal, mainly because I can buy it in bulk at my local Winco's.
Chia seeds – this is what makes it really creamy, like pudding. Have you seen the nutrition stats for chia seeds?!? Such a fabulous super food!
A sweetener – I tried this out with 3 different kinds: honey, coconut sugar, and stevia. My taste testers ( my family) liked them all!
Nut butter – I used Jif Cinnamon peanut butter, and it was so good! This came in my June Degustabox, and I can tell you it is amazing in this recipe!
Chocolate almond milk – I used Elmhurst Harvest brand, which was another yummy surprise from my Degustabox this past month.
Step 1. Pour the almond milk into a jar.
Chocolate almond milk, need I say more? Why have I not thought of this before? It's the perfect thing for overnight oats!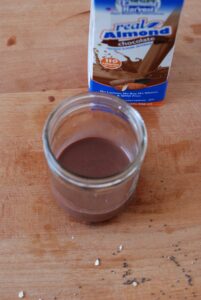 Step 2. Add chia seeds.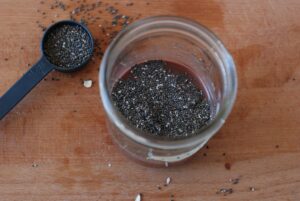 Step 3. Add sweetener.
I tried 3 different sweeteners, expecting to discover which one was the absolute best for overnight oats. I'm happy to report that all three were really good – in fact, there wasn't much difference between them, which is good news if you're cutting calories. The stevia version was just as good as the one with honey and the one with coconut sugar!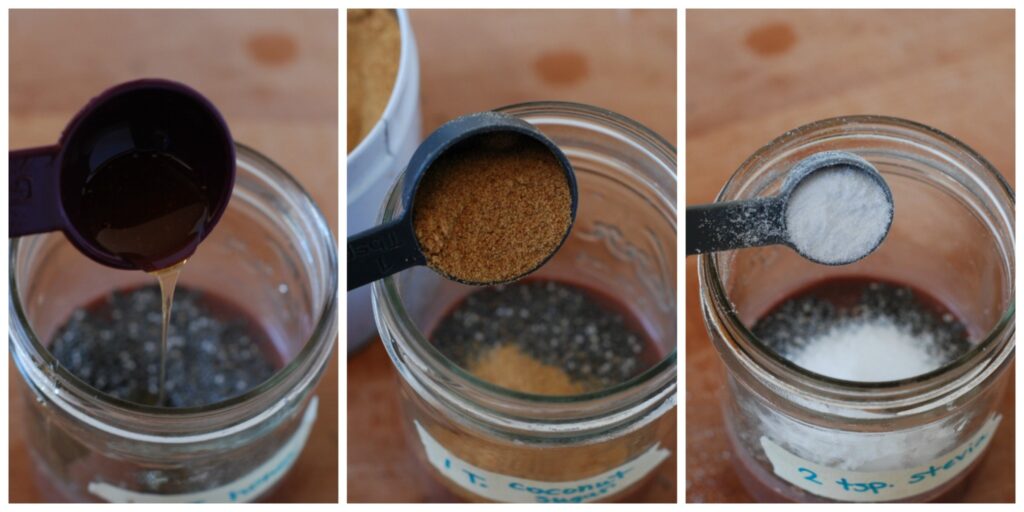 Step 4. Add peanut butter,
You can also use any other nut butter here with great success. I opted to use my Jif Cinnamon Peanut Butter, which was absolutely delicious!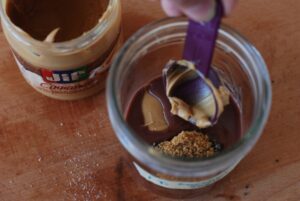 Step 5. Add oats.
I used quick-cooking oatmeal this time, but I have also used regular rolled oats. Both are great!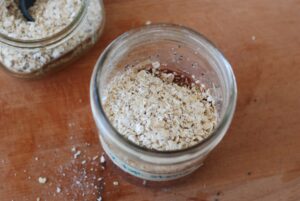 Step 6. Stir and screw on lid.
Pint sized jars work great for this recipe, and I like to make several at the same time. They keep beautifully in the fridge for at least 3 days, but maybe more. I tried to hide a few in the back of the fridge so I could see how long they would stay fresh, but by the third day they had all been discovered and eaten 🙂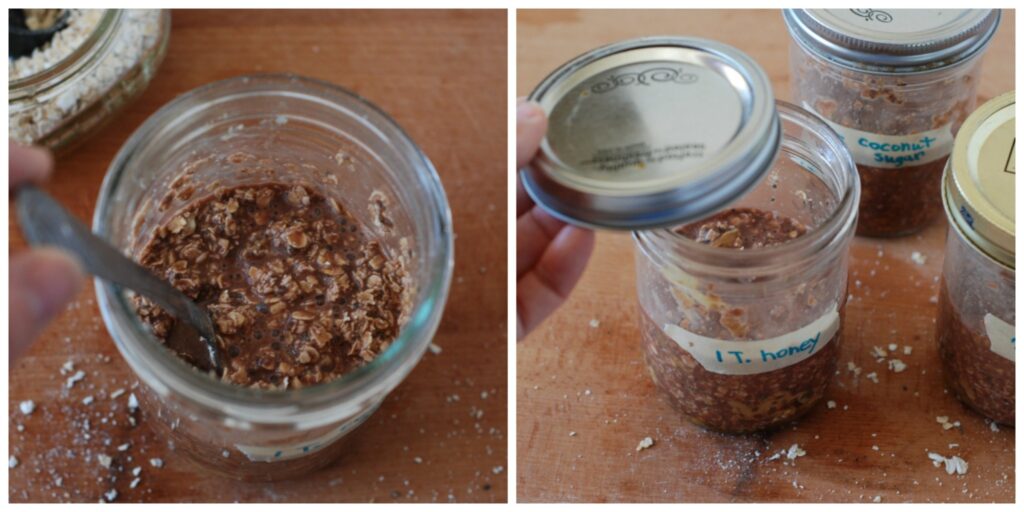 Step 7. Chill it overnight.
This should sit in your fridge for at least 8 hours to allow the chia seeds to completely soften and the oats to soak in all that yummy chocolate and peanut butter. I tasted them again after 12 hours, and they were even more creamy and flavorful. My conclusion is the longer this stays in the fridge, the better! But like I said, the longest I could make them last around here was 3 days.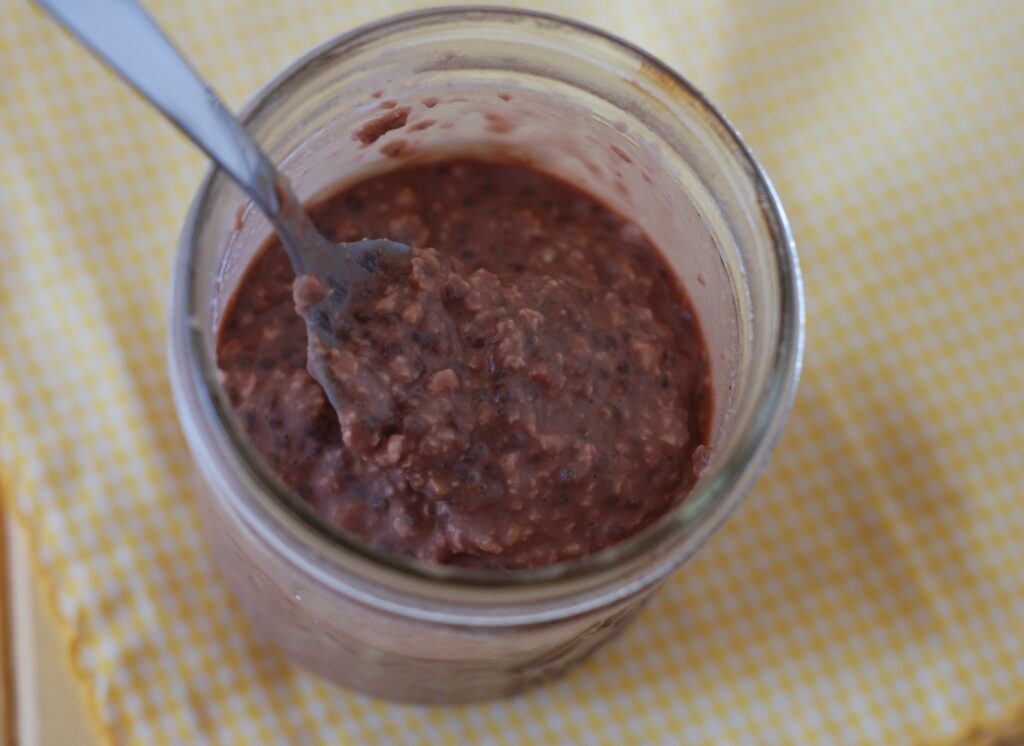 Print
Gluten Free Chocolate P.B. Overnight Oats
Filled with nutrients like chia seeds, oats, almond milk, and nut butter, this yummy breakfast food can be made in advance and stashed in the fridge to grab for a quick meal. It's just as delicious for dessert or any other meal.
Author:

Kristie @ Beneficial Bento
Ingredients
1 cup chocolate almond milk

1 tablespoon chia seeds

1 tablespoon peanut butter or other nut butter

2  teaspoons to 1 tablespoon sweetener of choice like honey, coconut sugar, or stevia ( we used 1 teaspoon stevia in the nutrition label stats)

1/2 cup quick cooking oatmeal or regular rolled oats
Instructions
In a pint sized mason jar or other similar container, add the almond milk, chia seeds, and sweetener of choice.

Stir to combine.

Then add the nut butter and oats, stirring again briefly.

Top the jar with a lid, and store in the refrigerator for at least 8 hours or more.

The flavor improves after 12 or more hours, and stays fresh for at least 3 days.
Notes
These are great to make in bulk and keep in the fridge for a quick breakfast or snack. 
If you are making these gluten free, double check that the oatmeal you use is certified GF – not all of the brands are!
Tips & Tricks:
You may find that you prefer a little more almond milk ( or a little less) depending on how thick or thin you like your oatmeal. I recommend giving it a stir and a taste after about 8-10 hours, and then you can decide if you want to adjust the amount of milk in the recipe the next time you make it.
This is extra yummy topped with sliced banana – try it!
This recipe is a powerhouse of nutrients! It contains impressive amounts of fiber, protein, magnesium, iron, potassium, vitamin E…( just look at the nutrition label)
Products I Used:
The chocolate almond milk and the cinnamon peanut butter came from my June Degustabox package. Every month, I'll be getting a surprise box of  fabulous food stuffs thanks to my subscription to Degustabox.
What would you get if you signed up?
A big surprise box filled with 10-15 food products for you to devour and love.
Some of these products are new, so you will be among the first people to try them out!
It costs much less than you would pay at the grocery store.