Are you wondering what an egg mug is? It's a super healthy, convenient way to grab a balanced, complete breakfast when you're on the run in the mornings. It' just as fast as making a smoothie, and just as versatile, too. Once I show you the basics of making one, I'm sure you'll find lots of ways to customize it to suit your own tastes. Whatever you like to put in an omelette will be fantastic in an egg mug!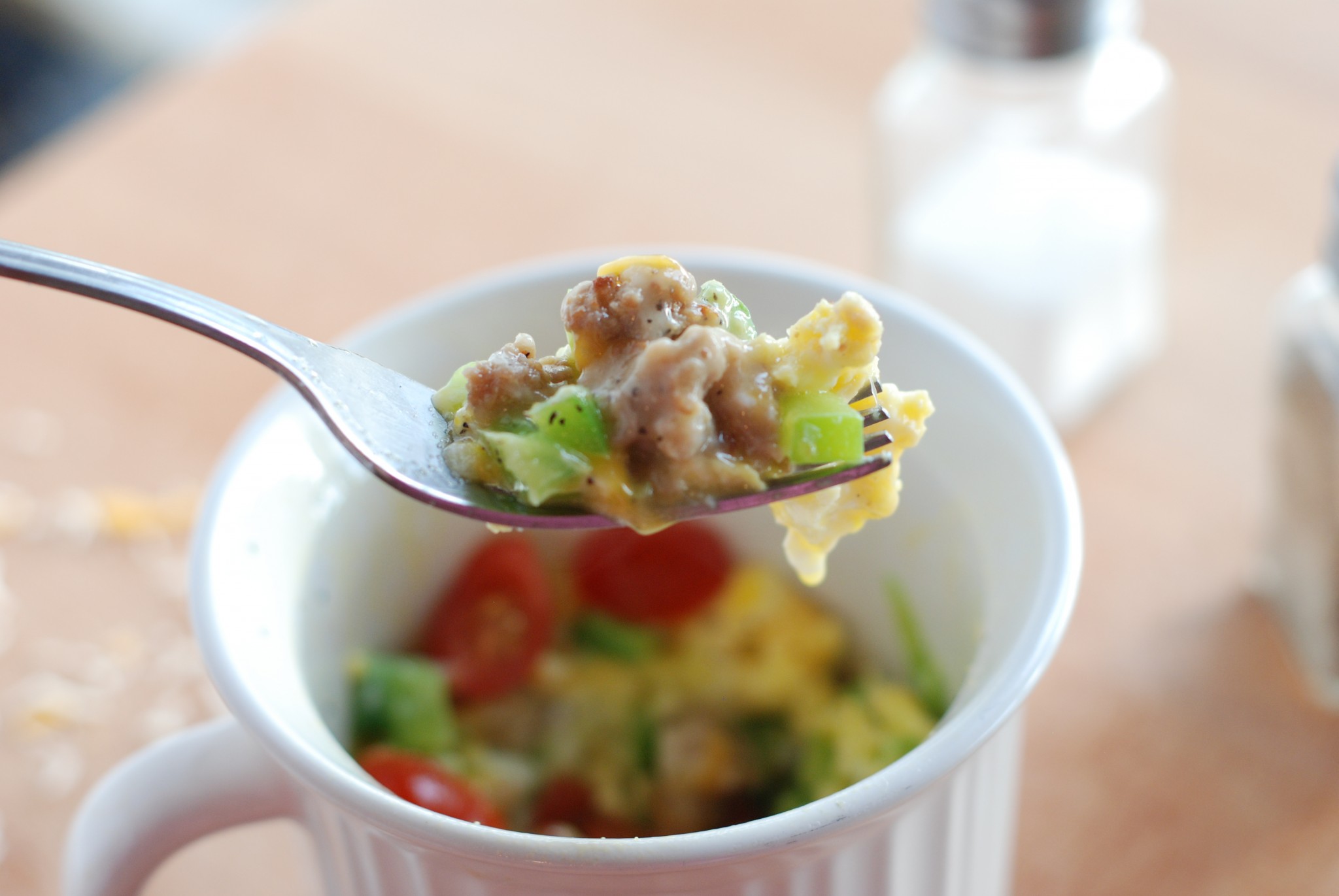 WHAT'S IN THIS RECIPE
eggs
your choice of veggies, like tomato, peppers, spinach, kale, broccoli, etc.
extra protein, if you want – I usually cook some lean sausage ( which I rinse the extra fat from) or turkey bacon, and keep it in the fridge for egg mugs throughout the week
cheese, if desired
seasonings like salt, pepper, Mrs. Dash, or seasoning salt
HOW TO MAKE IT
First, gather your ingredients: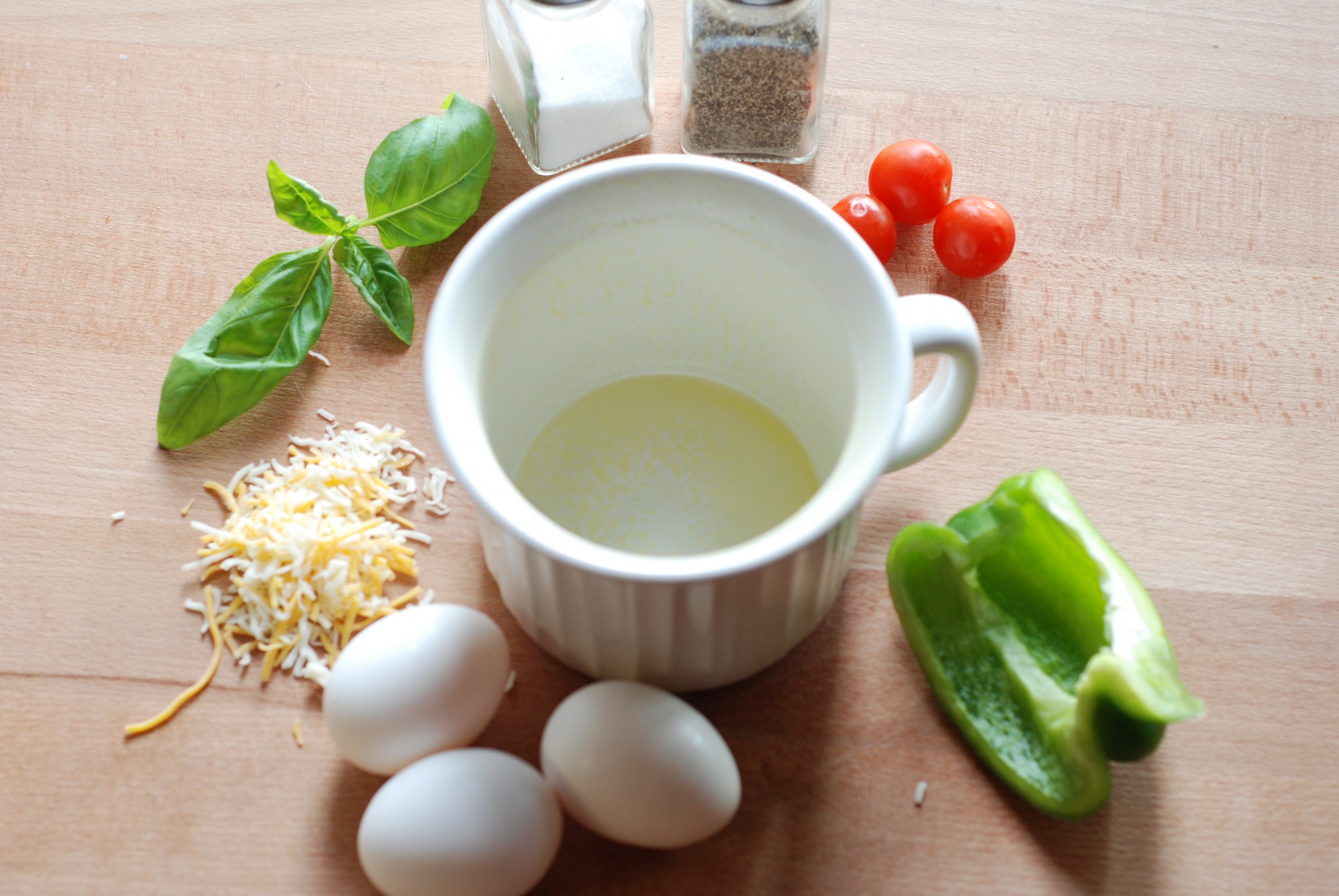 In the picture above, I show 3 eggs, but usually for myself I use 2. I decided to chop up some bell pepper, tomato, and basil for this one, with a little cheddar cheese to go with it. I forgot to include cooked and crumbled sausage in the photo, but it's in the finished product – and it was SO good!
Also, remember to spray the mug with a little cooking spray or oil before you add the eggs.
Crack in 2-3 eggs and beat with a fork.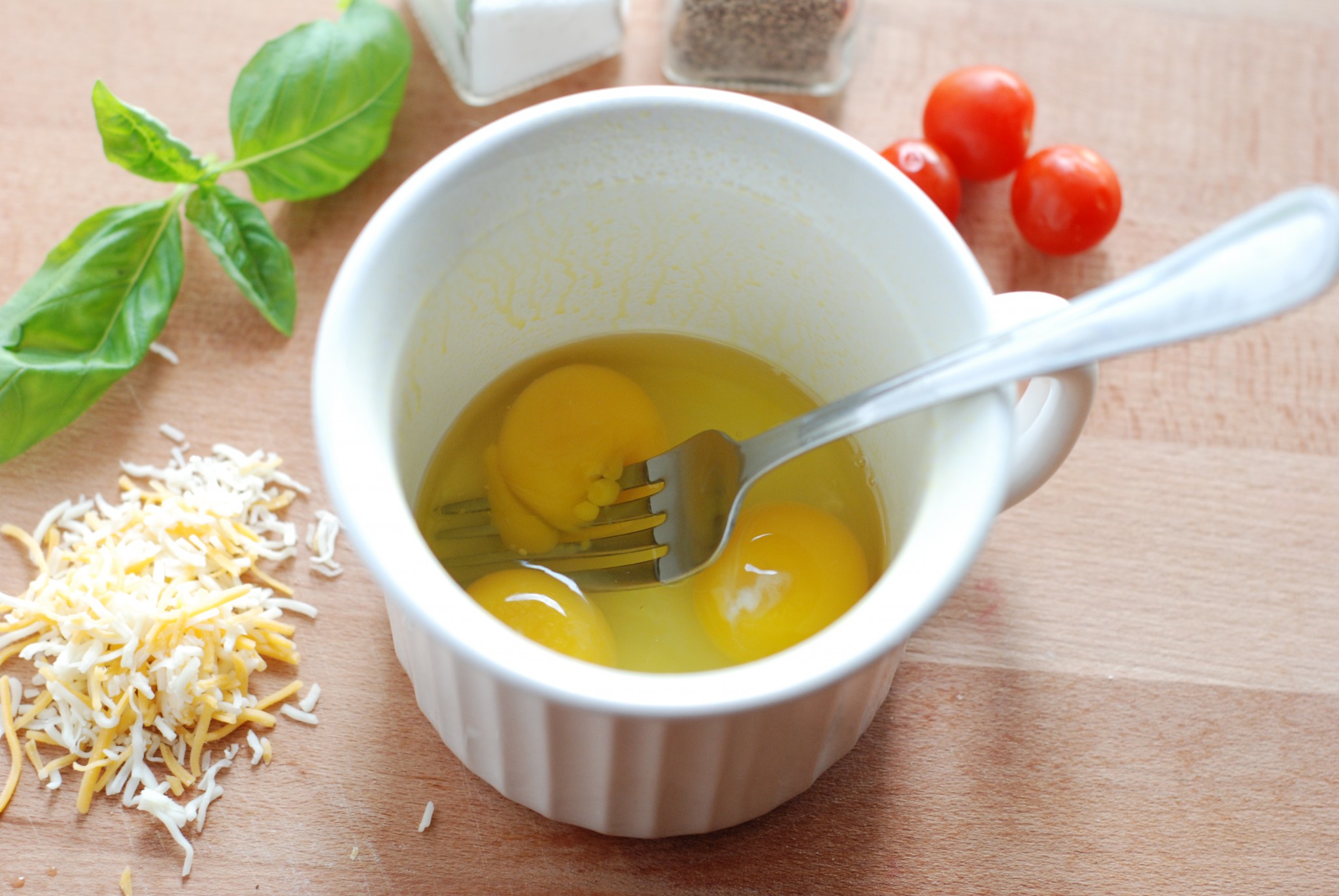 Then add the chopped bell pepper, basil, sausage, and salt and pepper. Don't add the cheese or tomato yet.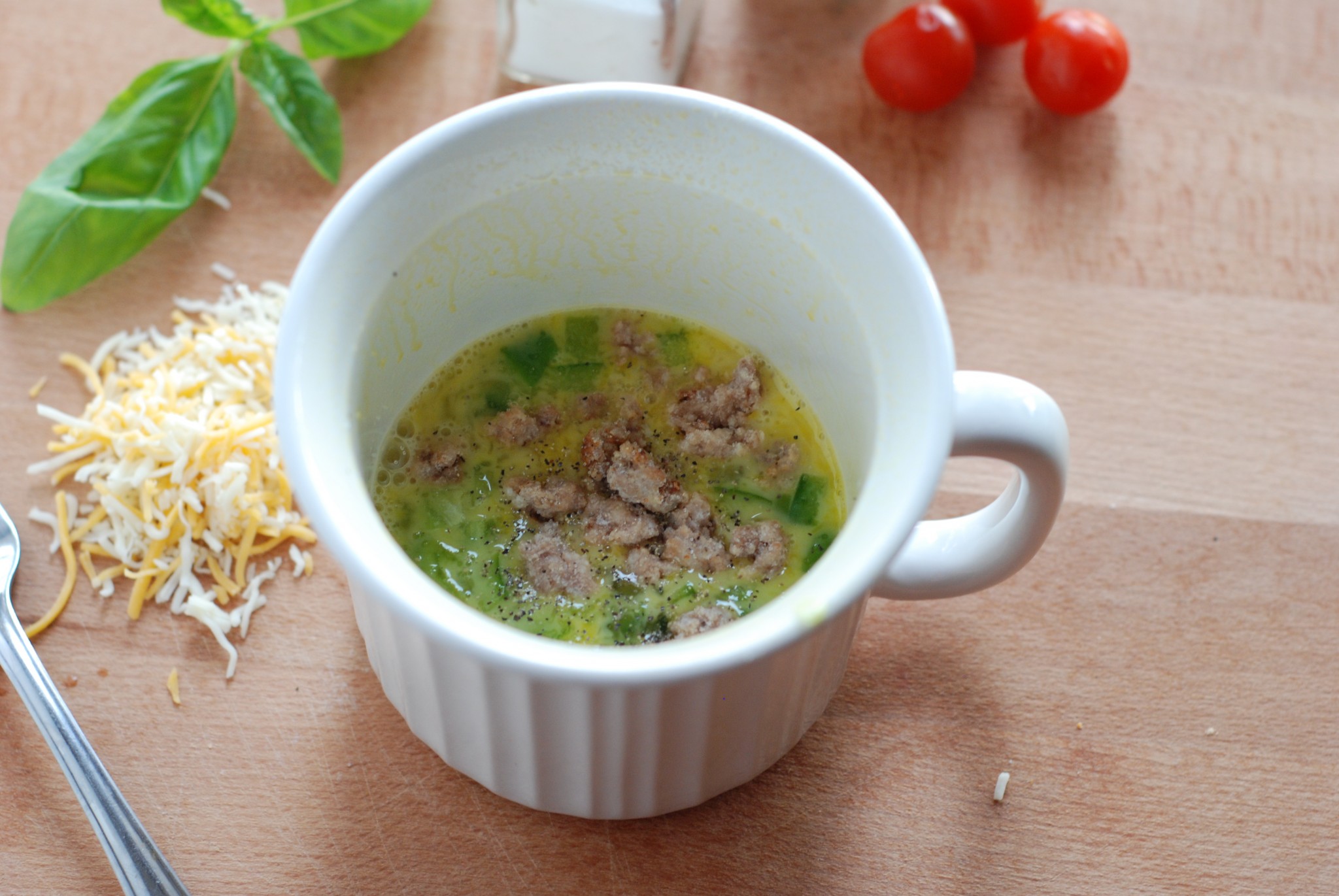 Now microwave it on high for just one minute. It will probably still have some wet, uncooked egg at the bottom of the mug. Stir it a little, and add a sprinkle of cheese.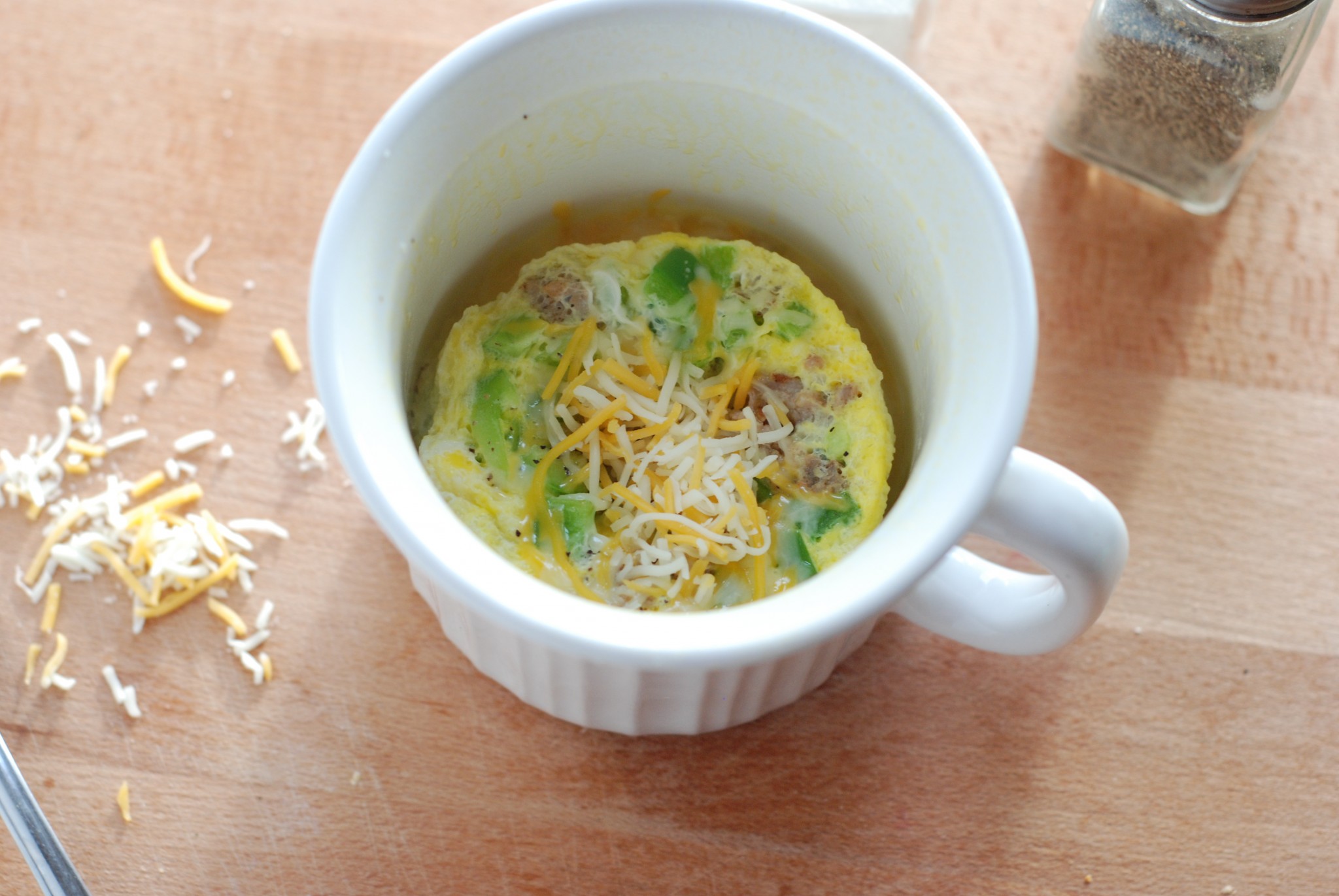 Then cook it for about 30 seconds more. That's when I top it with the chopped tomato – I love fresh chopped tomato in my egg mugs ( and on my pizza, too)! It should look like this: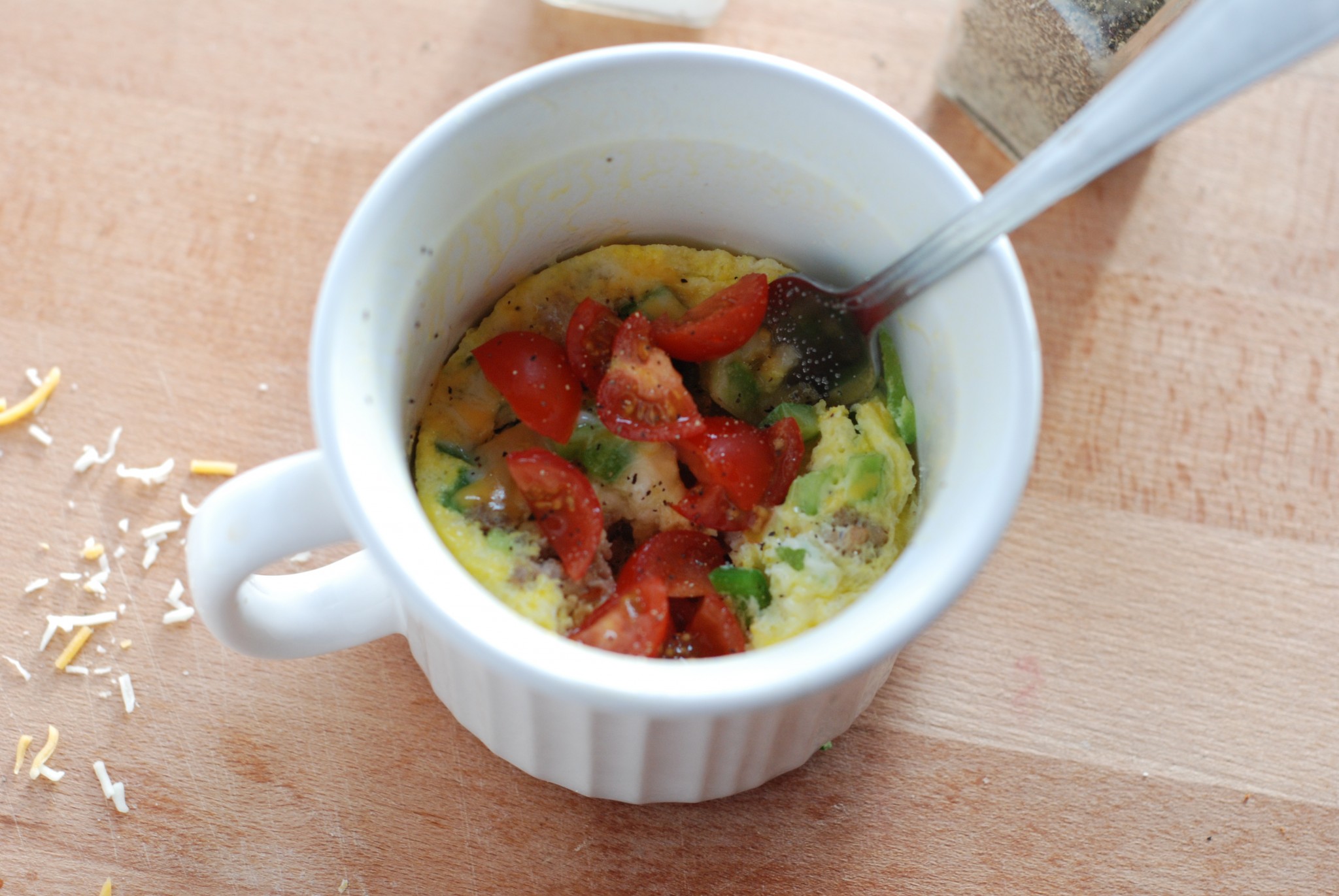 This is such a great way to get some veggies with your breakfast! I try to eat veggies with nearly all my meals. It really fills me up, and keeps my calories low.
I hope you give egg mugs a try. If you do, I'd love to hear what you put in yours – it would be great to get some new ideas for  good egg, veggie, and cheese combos! Please leave me a comment and tell me what you'd put in yours  😀
TIPS AND TRICKS
You can use 2 or 3 eggs, or egg whites, or a liquid egg product ( like Egg Beaters)
Why do I add the cheese last? Because if you cook the cheese too long, it sort of disappears into the egg and gets lost. When you add the cheese near the end, the flavor of the cheese stands out better, and you need less cheese that way.
It can save even more time in the mornings to pre-chop some veggies and pre-cook some sausage or bacon to use throughout the week. You can have your breakfast ready in 2 minutes!
I use low fat, nitrite free bacon and sausage whenever I can get it. When I can't, I just leave it out. Those nitrites are nasty!