I have been making this super easy, healthy, and completely delicious chocolate smoothie recipe for over a year now – it's about time I shared it here. This is so simple to make, I can just about make it in my sleep!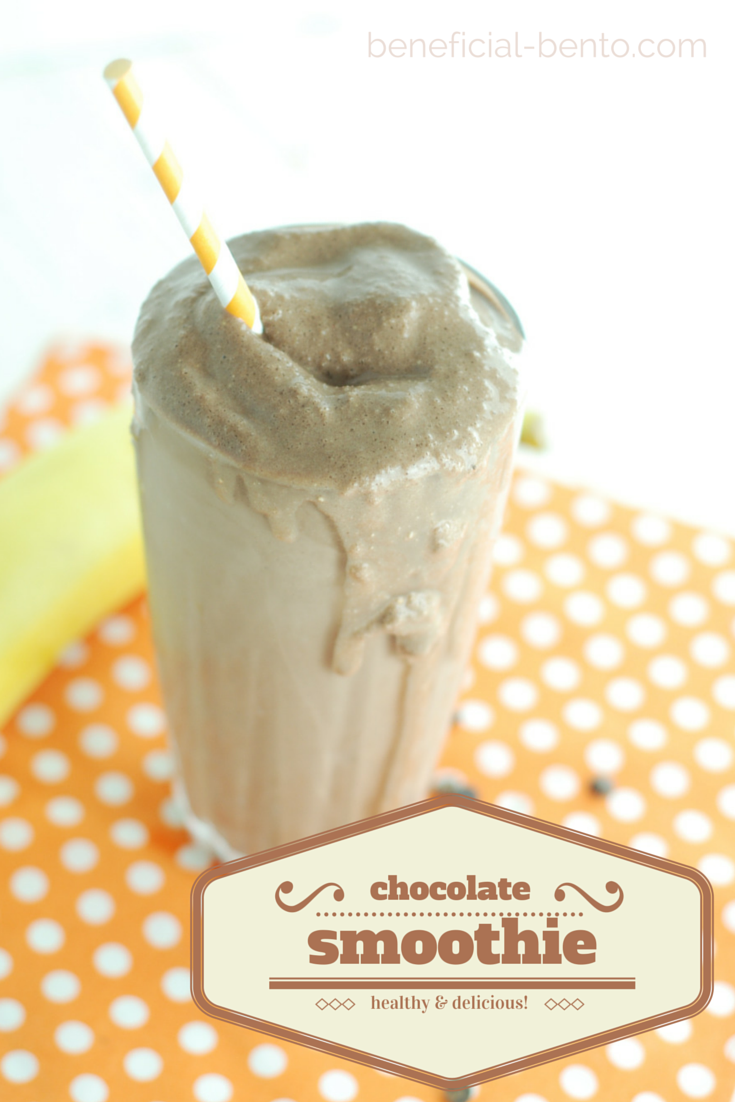 This is our family's go-to breakfast when someone is running late, and this is the typical conversation that takes place:
late person: I don't have time for breakfast, so don't worry about me – I have to leave in like 2 minutes!
me: I can make you a chocolate smoothie – ( gets out ingredients)
late person: ( talking over the sound of the blender) there's no time!! I really have to go! I'll just have to grab something at work/school/on the way – seriously, I'm walking out the door right now –
me: ( cuts late person off) Here ya go!
late person: Wow, thanks! I LOVE these chocolate smoothies!
You'd think they would learn by now that there's always time for a chocolate smoothie. I love making them – they only have a few simple ingredients, and they are a good balance of protein, carbs, and healthy fats – and they are sweetened with frozen bananas!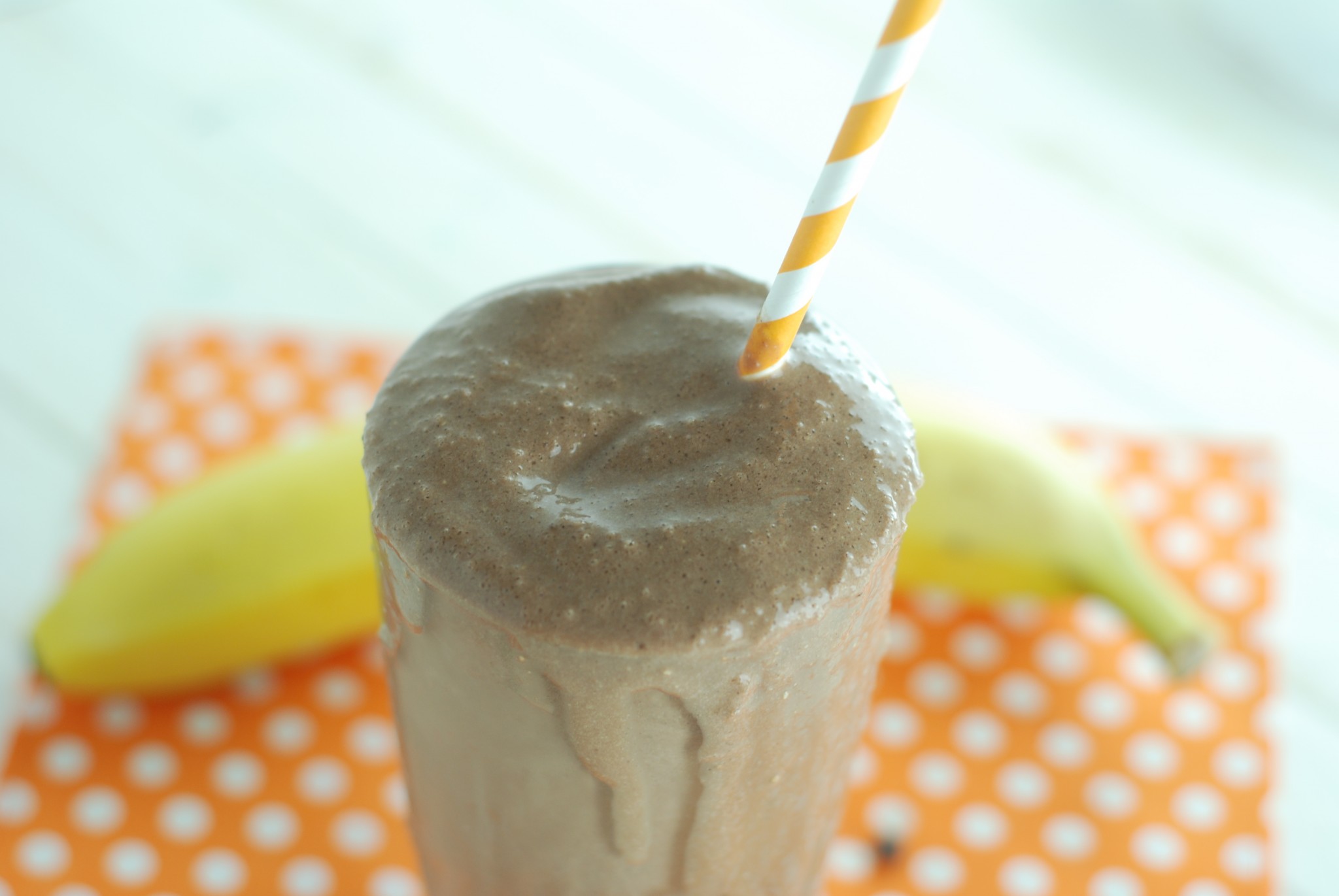 We like our smoothies and shakes a little bit creamy, and a little bit icy. The frozen bananas create the ice cream -like smoothness, and the ice creates volume and thins it out enough to drink it easily. If you leave out the ice, you can make an awesome sugarless ice cream – which would be delicious for breakfast, but not very fast to eat. So I go with extra ice and almond milk so my busy family can grab one as they run out the door and drink it on the way to where they need to go.
A high speed blender is what really makes it possible to whip this up in less than a minute. We have a Ninja blender, and I absolutely love it! I always use the mini blender to whip up chocolate smoothies. You can see the size of it in my recent post about Breakfast Smoothie Bowls. It is possible to make this in a regular blender, but it will probably take just a little bit longer to get the right texture.
Print
Chocolate Smoothie Recipe
Made from frozen bananas, nut butter, cocoa powder, protein powder, and almond milk – this smoothie gets you out the door in a hurry! It's a perfect balance of protein, carbs, and healthy fats with no added sugar!
Author:

Beneficial Bento

Prep Time:

2 minutes

Total Time:

2 minutes

Yield:

1 serving

Category:

breakfast recipe
Ingredients
3/4 cup ice
1/2 cup frozen banana slices
1 tablespoon heaping peanut butter (cashew butter, or almond butter)
1 tablespoon heaping unsweetened cocoa powder
1/2 scoop protein powder – vanilla (chocolate, or unsweetened)
unsweetened almond milk (amount can vary – see instructions)
Instructions
Add ice, banana slices, nut butter, cocoa powder, and protein powder to a high speed blender.
Slowly pour in unsweetened almond milk up to the level of the ingredients in the blender.
Blend on high until smooth.
Notes
This recipe works best in a high speed blender, such as a Ninja. You could use a regular blender, but it may take a little longer.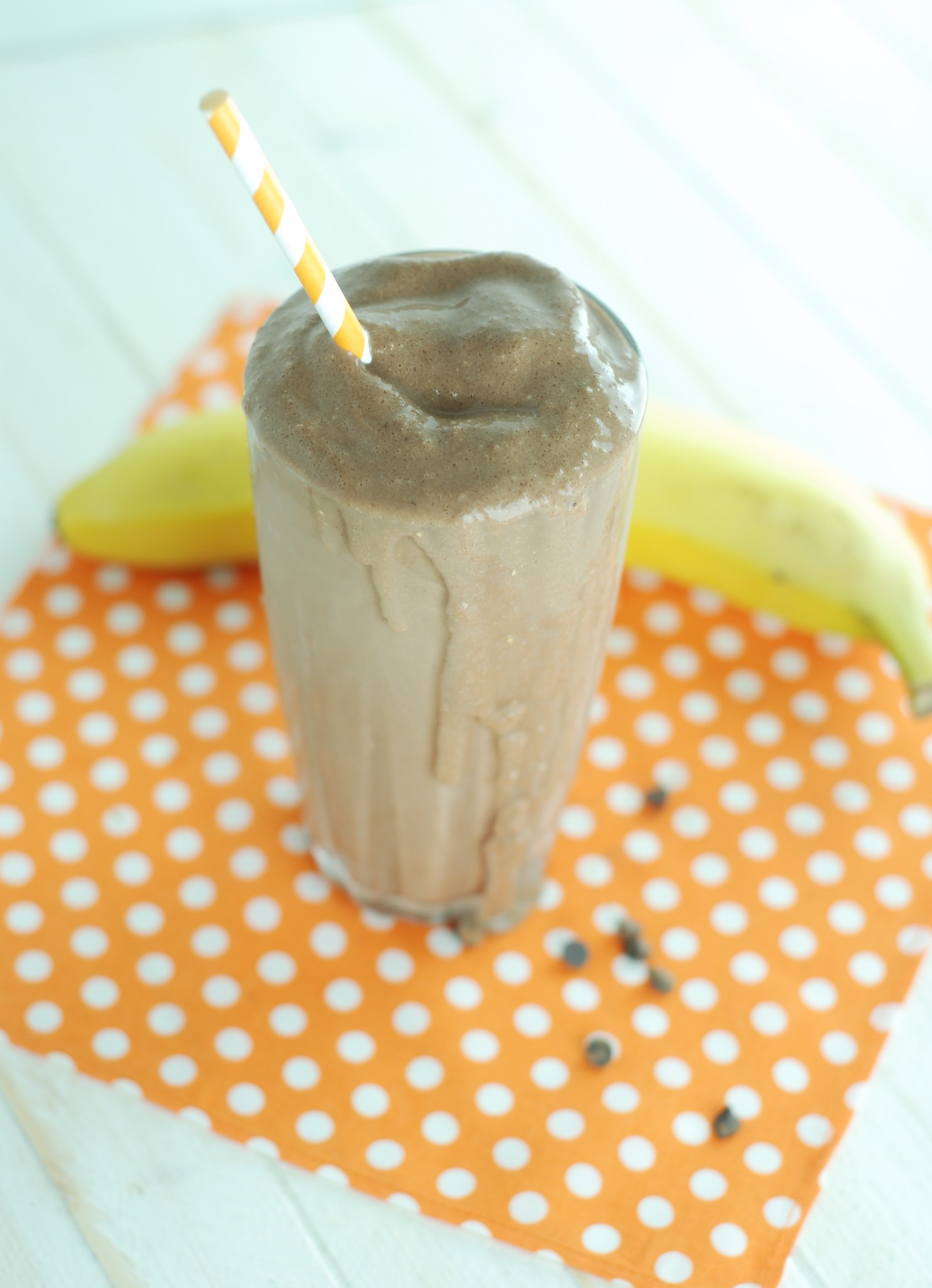 I am a big fan of making healthy treats! If you are too, you may want to follow my Pinterest board, Gluten Free and Healthy. Come say hi to me on Facebook or Twitter as well 🙂