Shepherd's Pie is one of those good, old-fashioned, stick-to-your-ribs dinners that just makes you feel like all is right with the world. Some might say it's because of the heavy carbs – but not with this dish!
The creamy, cheesy, potato crust on top is made with about 40% cauliflower, and the rich, cheesy-ness comes mostly from low fat cottage cheese!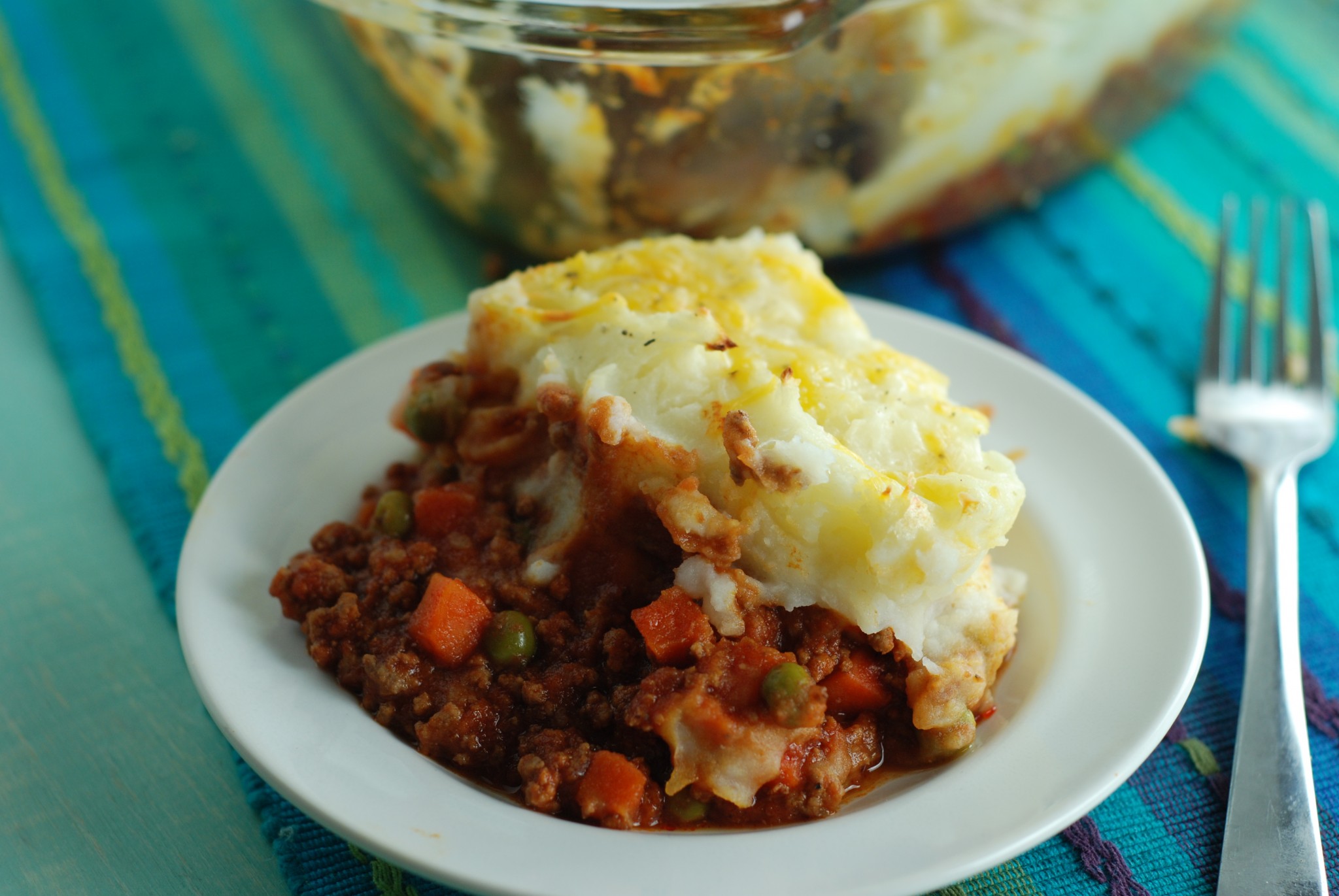 I made this for dinner last night, and I just have to tell you the funniest thing that happened at our dinner table!
We have a son who just does not like vegetables. Especially cooked vegetables. He is 18, so he's old enough and mature enough to know that he should like vegetables, and he really does try. He did eat all his dinner, and he admitted that it tasted really good, but I could tell from the look on his face that those peas and carrots mixed in with the beef and the rich tomato sauce were just a little hard for him to take.
The funny thing happened when the conversation turned to vegetables we like and ones we don't like. He said, " I'm learning to like a lot more vegetables, but the one vegetable I can't stand is cauliflower. I don't like it in any form at all. I hate the texture, the smell, and everything about it."
I just didn't have the heart to tell him that he was scooping hot mouthfuls of cauliflower into his mouth during this whole conversation! I mean, why ruin a great dinner?
I am not usually the type to be sneaky about what I make the kids eat. I always ( well, almost always) come clean with what I'm serving for meals because I want everyone to know how great healthy food can taste. 
I weighed the pros and cons, and decided to keep quiet about the fact that cauliflower was a big part of what we were eating. Oh, I'll tell him one of these days. After he's had a few more servings of this delicious Shepherd's Pie 🙂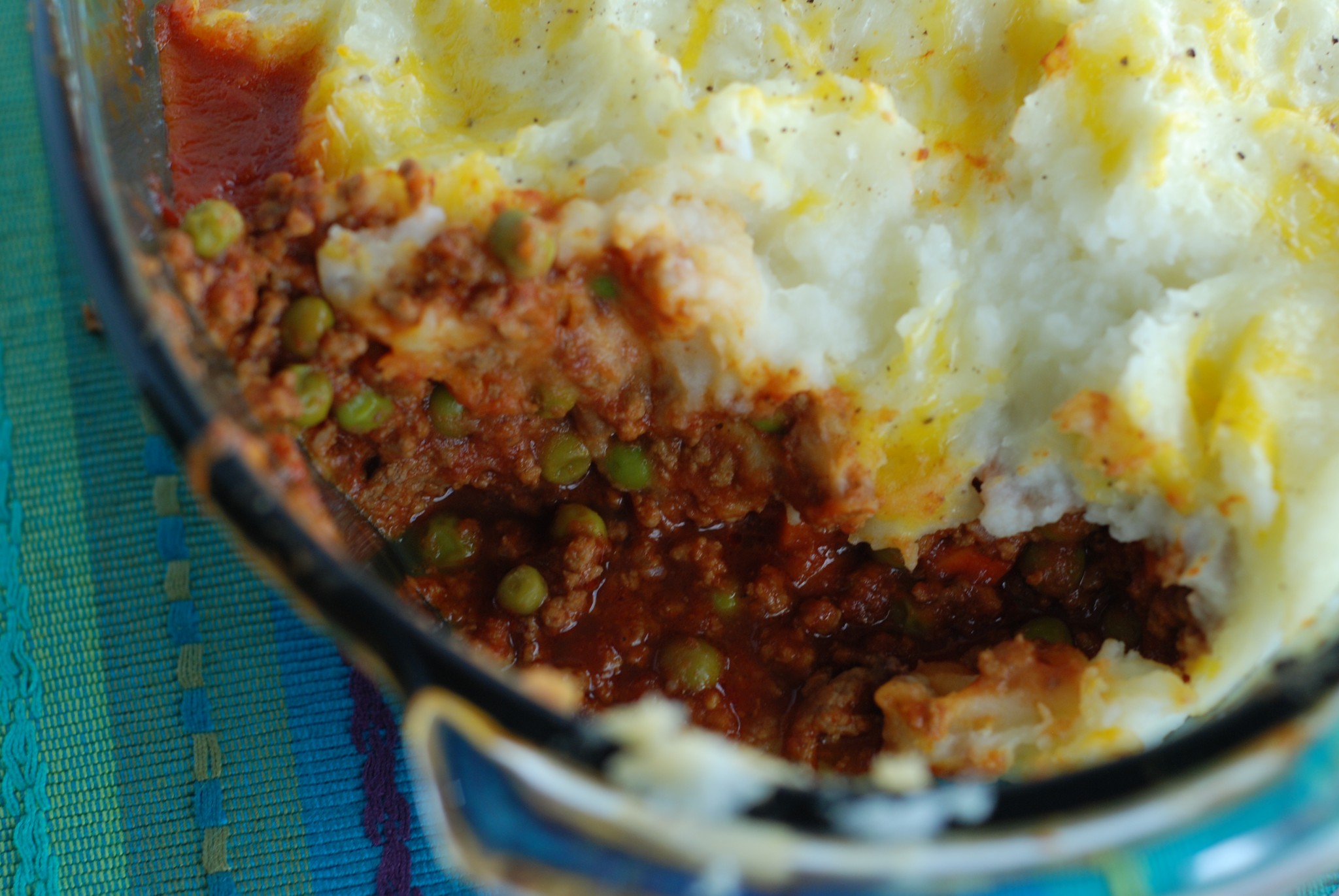 This morning my husband was telling me how good dinner was last night. We were alone, so I thought I may as well tell him how much cauliflower was in the Shepherd's Pie. He absolutely could not believe it! He kept saying "No. Way. There's no way that had cauliflower in it!" He was pretty impressed that I was able to blend the texture and taste of the cauliflower right in with the potatoes – completely undetected.
I do have a method to my madness – you can't just combine cooked cauliflower with cooked potatoes and expect it to work out.
When I make this recipe, the first thing I do is add a 12 oz. bag of frozen cauliflower to a pot of hot water. I let that boil while I brown the beef and make the rest of the filling. Then I peel and chop the potatoes, and THEN I add them to the water with the cauliflower and continue to boil until the potatoes are tender.
Why this works: Cauliflower takes longer to cook than potatoes, so it has time to get good and soft by the time the potatoes are just tender. Also, cooking the potatoes and cauliflower in the same water seems to make the cauliflower absorb the potato flavor, and it totally takes away that bitter smell and taste ( that my son hates).
Another trick I used to get a thick, creamy, and cheesy texture to the potato crust: when I mashed the potatoes and cauliflower, I replaced the milk I normally would have used with blended cottage cheese! I use a hand-held immersion blender to blend out all the cottage cheese curds so it's thick and creamy, almost like cream cheese. I used this technique in my  Dijon Chicken with Bacon and Mushrooms recipe to make a thick and creamy mushroom sauce  ( okay, now I'm getting hungry!) only I used a blender. Both methods work just as well.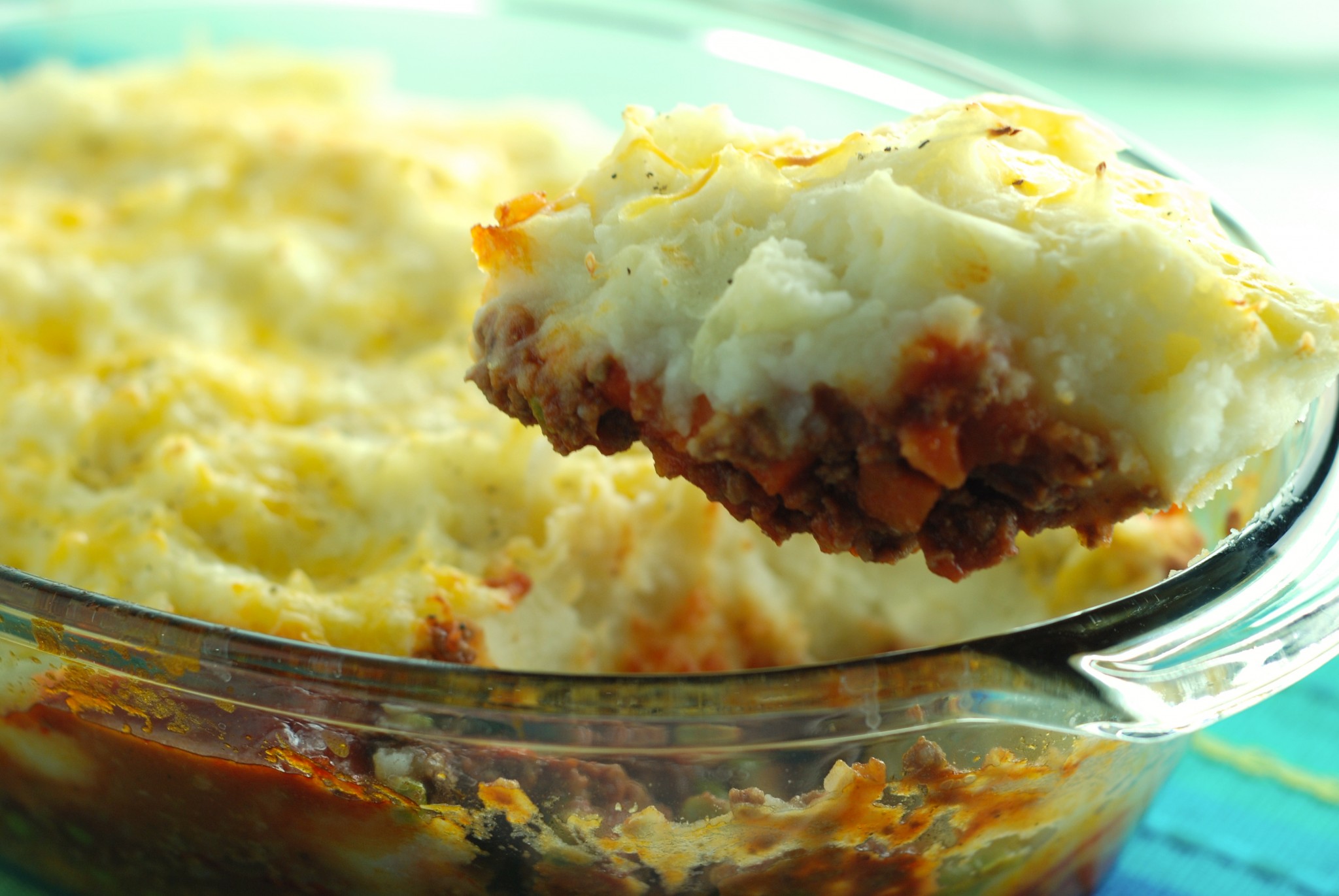 A 4 quart casserole dish is the perfect size for this recipe. Mine is glass, but you could use ceramic, metal or even a cast iron dutch oven would work well. Wondering which type of cookware is best for you? I just read a great article explaining different materials used in cookware and the pros and cons of each.
Print
Best Shepherd's Pie Recipe with Cauliflower/Potato Crust
You won't believe the rich, cheesy potato crust on this dish is lightened up with cauliflower and cottage cheese, and the savory filling underneath makes for a memorable, stick-to-your-ribs kind of home cooked meal your family will love!
Author:

Beneficial Bento

Prep Time:

25 minutes

Cook Time:

27 minutes

Total Time:

52 minutes

Yield:

4 large servings

Category:

Main dish recipe
Ingredients
1 pound lean ground beef
2 cloves garlic (crushed)
1 small shallot (or 1/2 shallot, finely diced)
1 oz can tomato paste (6 .)
1 oz can tomato sauce (8 .)
1 oz bag frozen peas and diced carrots (12 .)
1 cups and 1/2 water
1 teaspoon salt
1/2 teaspoon pepper
2 teaspoons worcestershire sauce
1 oz bag frozen cauliflower (12 .)
5 cups peeled and diced potatoes
1 cup cottage cheese (2% milkfat)
1 teaspoons and 1/2 salt
1/2 cup shredded cheddar cheese
salt and pepper to taste
Instructions
Start by bringing a large pot of water to a boil. Add frozen cauliflower and continue to boil while you prepare the rest of the ingredients.
In a large skillet, brown the beef with the garlic and shallot. Drain off any excess fat.
Add the tomato paste, water, tomato sauce, 1 teaspoon salt, and the pepper.
Cook and stir until the ingredients are well-incorporated.
Add the frozen peas and carrots, and cook and stir for about 10 – 15 minutes until heated through.
Meanwhile, peel and chop the potatoes into evenly small pieces.
Add the potatoes to the cauliflower still boiling in the pot, and bring it back to a boil. Continue boiling until potatoes are tender.
Drain the water from the potato/cauliflower mixture and pour into a mixing bowl. Sprinkle with 1 and 1/2 teaspoons salt.
Blend the cottage cheese in a small blender or a hand-held immersion blender until thick and creamy, with no lumps. Add tot he potato mixture in the mixing bowl.
Mash potato mixture by hand, or using a mixer until just creamy. Don't over-blend.
Spread the beef mixture in the bottom of a casserole dish.
Spread the potato mixture evenly over the top. Sprinkle with 1/2 cup cheese, and salt and pepper to taste.
Bake at 350 degrees for 25 minutes.
Turn oven to broil and broil for 2 minutes, or until the cheese is bubbly and the top has developed a nice crust.
Before serving, scoop out a portion and let the steam escape so the casserole can "set". This prevents a watery texture.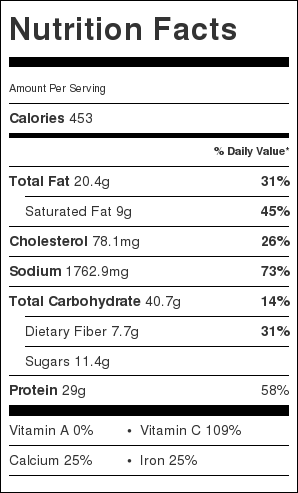 If you would like to see more of my healthy recipes, and gluten free recipes, you will find them on my Recipes Page .