Valentine's Day will soon be here, and I decided that I wanted to share something a little different with you today – my list of the most romantic restaurants that we have to offer in our area. I live in Orem, Utah which is right smack dab in the middle of Utah County.  We are nestled right next to the gorgeous Wasatch Mountains (which I see every  day right from my kitchen window). There are so many beautiful places close by to go hiking, skiing, camping, boating, or just driving around to see the sights. Another thing we like to do around here is eat! We do have a lot of great restaurants here, so if you are planning a romantic night out, here is my list of the best romantic places to eat in Utah County.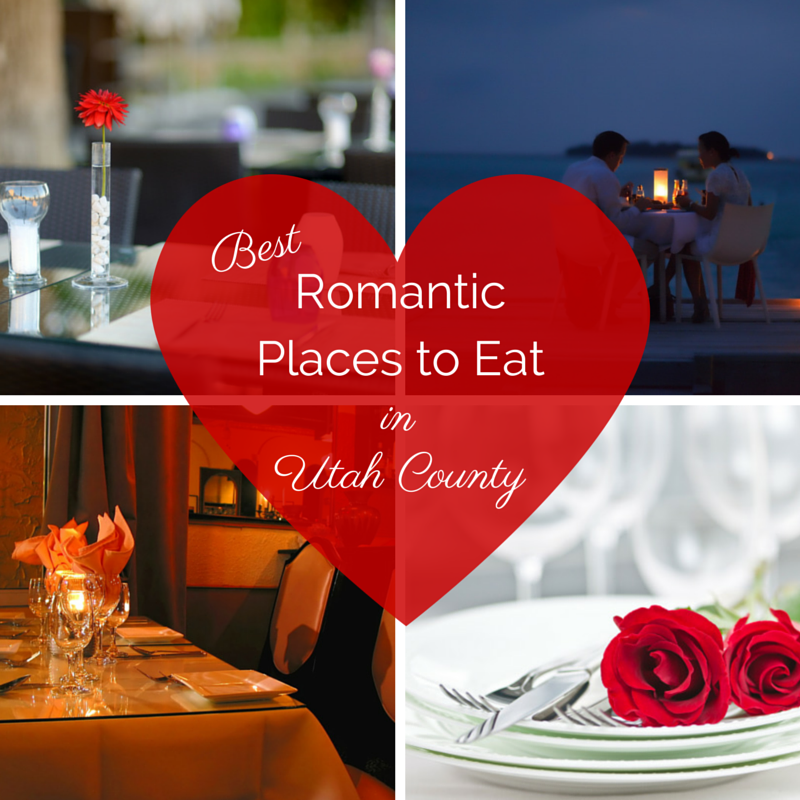 The first restaurant on my list is LaJolla Groves in Provo. It is a beautiful place with  unique decor – it looks just like you're dining in the middle of a grove of lemon trees! The food is to die for, and they have a lot of healthy choices for dinner – as it says on their website, "Healthier choices can still be delicious"! I love their Lemon Roasted Chicken, Chicken Marsala, and Tenderloin Medallions, but what I love the most is their Roasted Mushroom Bisque – that is the most delicious soup I've ever had! Visit their website to see a video of the beautiful lemon grove decor and see what's on their menu.
Next on my list is Magleby's in Springville. It's just a 15 minute drive from where I live in Orem, and it is well worth the trip! They have the most fantastic prime rib and seafood buffet I have ever had. They have a special Valentine's Day  Sweetheart Buffet, that comes complete with a photo booth, and chocolate dessert buffet – yum! I was impressed with their knowledge of gluten free food, and I found plenty of things to enjoy there. Check out their website to get an idea of some of their delicious dishes.
Another restaurant known for its romantic atmosphere is The Chef's Table, right here in Orem. It gives you the feeling that you're perched on the edge of a cliff, which gives you a beautiful view of the valley and mountains. They have an award-winning menu, that has received rave reviews from many people I know. You can see their menu and glimpses of their beautiful decor on their website.
Not to be missed is The Tree Room restaurant at Sundance Resort, in Provo Canyon. This unique place has an interesting story behind it. When Robert Redford decided to build this restaurant, he didn't want to cut down a beautiful tree that was on the lot, so he had the restaurant built around the tree. The big tree is right in the center, surrounded by candle lit tables and beautiful native American art from Robert Redford's collection. Just the drive through the canyon alone is worth the trip, but the beautiful restaurant and delicious food would make a very romantic night!
If you like a scenic drive, then you should visit the Blue Boar Inn in Midway. It is quite a long drive from Orem ( about a 45 minute drive), but you could make a weekend of it and stay at their adorably charming European-style Chateau for the night! The town of Midway is one of the most charmingly beautiful places in Utah – I absolutely love when we get the chance to visit. It is styled after an old European Swiss village. Check out their website to see what I mean – you'll love it!
The last restaurant on my list I almost decided to leave off, because some may not consider it a romantic place, but it is my all-time favorite restaurant! My husband and I go here every year on our anniversary, so to me it's very romantic! I'm talking about Tucano's in Provo. It is a traditional brazilian churrasco, which means that waiters come to your table with sizzling meats, right off the grill, and cut you the slice of your choice. It is SO delicious – seriously the best grilled meat I've ever eaten! They also have pao de queijo, which is brazilian cheese bread, and it is naturally gluten free – yay! It's a great restaurant for healthy choices – lots of fresh fruits and vegetables, and some really good black beans and rice! Why would some not consider it romantic? Well, it is always chock full of people ( because the food is so good!) and they always have samba music playing, so it is kind of hard to carry on a quiet conversation. But it is beautiful, energetic, and such a fun place to be – I wouldn't miss it!
I hope my restaurant opinions were helpful to you. If you'd like to see what else my website has to offer, please check out my Gluten Free Guide, my Bento page, or my Recipes page – I hope it will be beneficial!