YUM.  I made the Best Salad the other day – and yes, those capital letters are on purpose, because this salad was that good!
I haven't given it a good name yet, but for now it will be called "Chicken and Herbed Goat Cheese Salad with Green Apples, Pecans, and Carrots". That name is too long, I know. I'm thinking about just naming it "YUM". I'll work on the name and post the recipe in a future blog post. I topped off this gorgeous salad with my fav-o-rite dressing – Apple Cider Dressing ( scroll all the way down to get the recipe).
The main reason this salad is here today, is to show off those lovely purple carrot flowers. And I'm going to show you how easy it is to make them!
But first of all, don't you love those purple carrots? I was so excited to find them at Trader Joe's, that I almost did a little dance right there in the store! They are called Organic Carrots of Many Colors, and they are only $1.99 a bag!
 They come in yellow, white, and orange, but the most beautiful carrots are the purple ones – deep purple color on the outside, with a bright yellow center!
  Here is a picture tutorial so you can see how easy it is to make them ( below the picture I will add a few important tips) :
1. Use a steel cutter, not a plastic one, for raw carrots. Click on the picture below to see where to buy the one I used in the photos: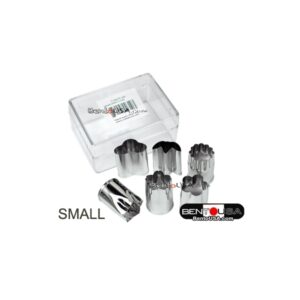 2. Press down hard for a clean cut. Use your palm – if this hurts your hand you can place a small plate over the cutter and press down on that.
3. Push it out, with a chopstick, swizzle stick, or narrow handle of another kitchen utensil.
4. take a moment to admire your work 🙂
5. Put a small dab of honey in the center of the carrot so the seeds will stick. These are black sesame seeds, which I found at an asian market. Regular sesame seeds also look pretty in the center of flowers, so don't feel like you have to run all over town just to get some.
6. Dip a toothpick in just a little bit of water to pick up the sesame seeds with ease. The water tension will make the seed cling to the toothpick just long enough to transfer it to the carrot flower. Make sure your work surface is totally dry to make this process easy-peasy!
7. Touch it lightly to the honey coated surface until it sticks. This might take a little practice, but once you get just the right touch it's like riding a bike – you'll be super fast at this in no time!
8. Dip the toothpick in water for each seed. Just do it. It really is quicker this way.
9. Isn't it pretty? It reminds me of a purple pansy! Just a couple of these added to a lunch is all you need to elevate an okay lunch to the level of a Work of Art  🙂
  And by the way, here is how you make the sugar snap pea leaves ( basically just cut the pea pod on the diagonal) :