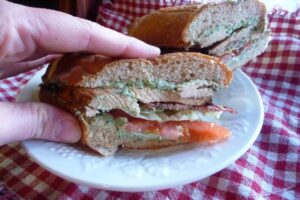 Yum. Look at that sandwich! I can't wait to eat this for lunch today. I'm not packing any bentos today, but I do have my Koko lunch bag all packed for my husband, son, and I for the day. We are going on a school field trip together so my cooler packed for the day looks like this: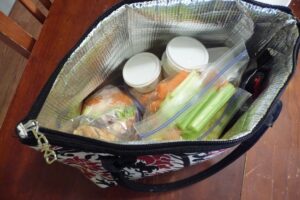 Here's what I'm eating today, and then the recipe…
breakfast – oatmeal, and turkey bacon
snack – 1/3 chicken breast and 1/4 cup mixed nuts
lunch – chicken BLT with pesto cream cheese, veggies and cottage cheese dip, and a treat: a cookie!
snack – protein shake
dinner – THIS time we ARE having baked Ziti and salad … last night I was busy and we ate dinner late. (It was scrambled eggs, x-lean sausage and hash browns)
Now here's that recipe:
Pesto Cream cheese
In a food processor or chopper thingy, put:
4 oz. lowfat cream cheese
4 fresh basil leaves
1/4 to 1/3 cup spinach leaves ( I used frozen, thawed)
1/2 tsp. garlic powder
1/3 cup parmesan cheese
dash of balsamic vinegar
Blend this all up until creamy.
For each sandwich:
grilled chicken breast, cold or warm
turkey bacon, 1 slice
lettuce
tomato slice
generous shmear of the pesto cream cheese
a whole wheat bun, or in my case, a gluten free bun, warmed to soften
Eat this with napkins, LOL!
Now I have to run – we leave in half an hour  🙂