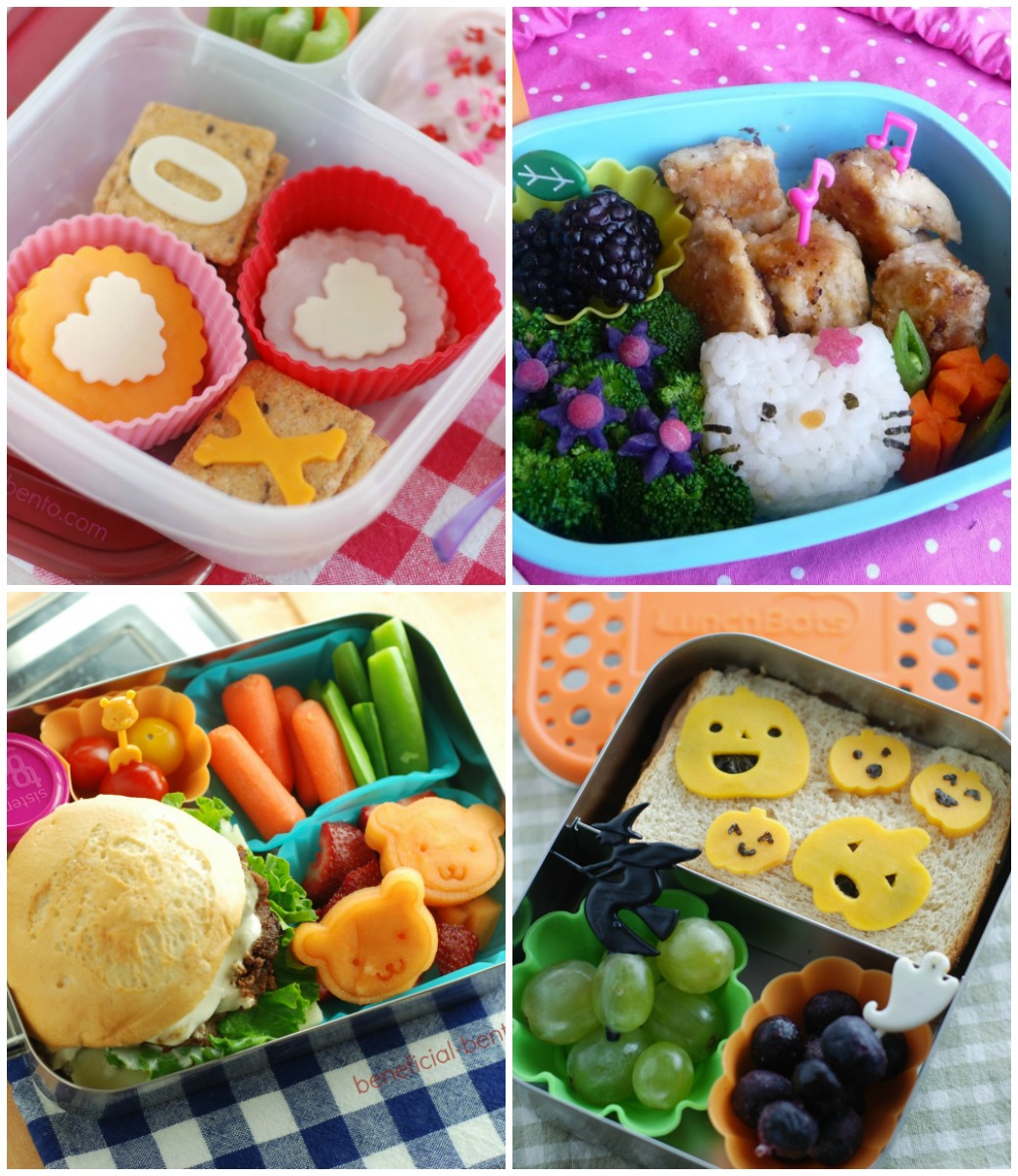 A bento is more than your average packed lunch. You've probably seen pictures on the internet of elaborate, time-consuming works of Japanese food art, and it might seem just too far removed from the real-life chore of packing lunches. And really, no one makes those super intricate lunches every day. Those are generally for special occasions ( like how we Americans decorate birthday cakes for instance).
   The basic goal with bento is to put together a meal that's as much a feast for the eyes as it is for your stomach, and that can be easy to do once you learn a few of the basics. You don't have to use Japanese foods either – anything that would be good to eat in a packed lunch works perfectly in a bento.
     I'll show you how to put together a beautiful lunch in 4 simple steps, using ordinary food that you're used to eating.
But first, you need to gather your supplies:
What You Need
Here are some basic things that will help you easily make great bento lunches:
Bento box – A good bento box is a great place to start, and fortunately there are a lot to choose from. See Where to Buy Bento Supplies below.
Dividers –  My favorite things to use as dividers are silicone baking cups, and they come in a wide variety of colors, shapes, and sizes.
Sauce containers – Its really nice to have little bottles or small lidded containers to include salad dressing, barbecue sauce, or dip to make lunch delicious.
Extras: picks, mini cutters, molds – These fun little tools are where you can really ramp up the wow factor of your lunches and easily add the personality that makes it a bento.
A small, sharp knife – One of the most useful, but most overlooked tools for bento is just a really good knife! The special bento cutters and tools are really great to have and will save you a lot of time, but you can cut things into cute shapes with a knife.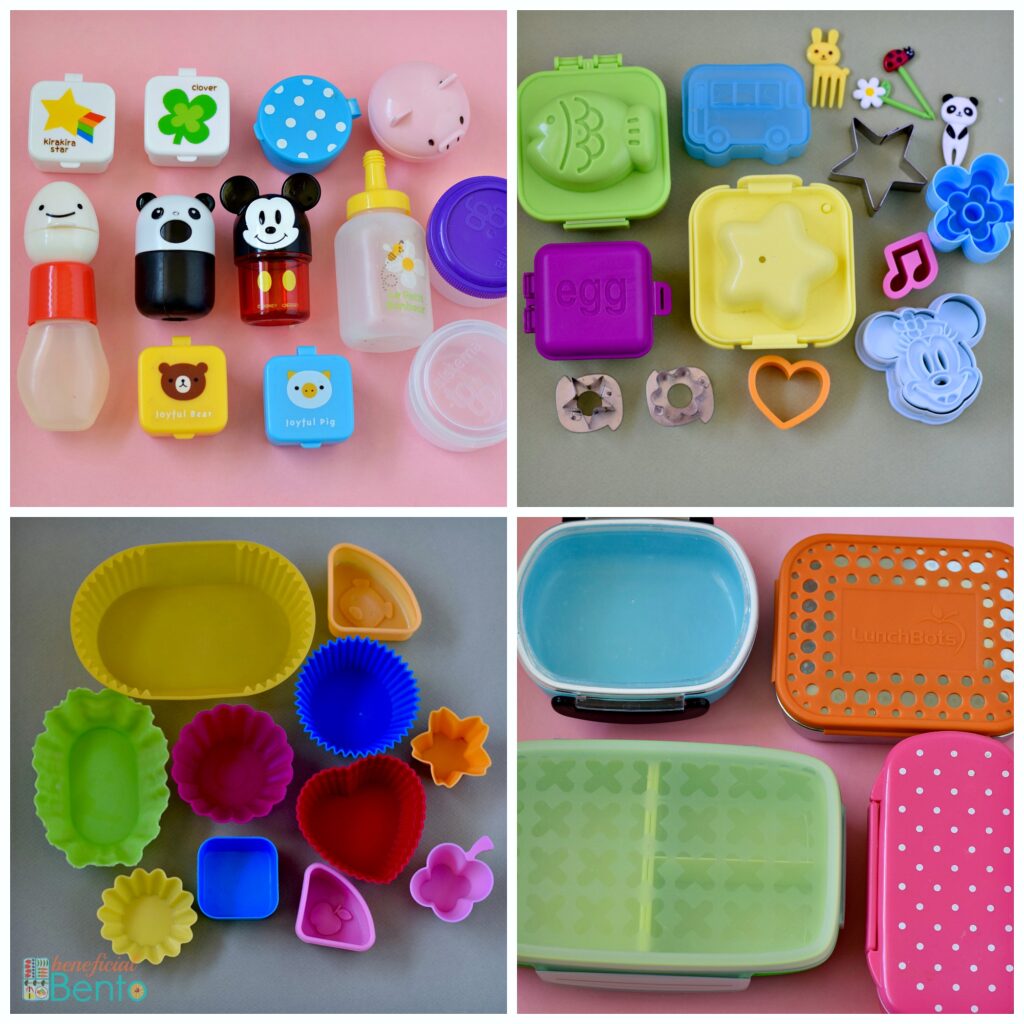 Where To Buy Bento Supplies
My very favorite place for bento supplies is Bento USA  (affiliate link). They have a huge selection at really reasonable prices, and they have great sales, too! If you are interested at all in bento, definitely check them out by clicking on this link:

More Bento sources:
I have put ALL of my favorite bento supplies, including things from my Etsy shop, cookbooks, kitchen tools, appliances and more in one convenient place right here on my Store page. Go take a look – have fun browsing 🙂
My favorite bento boxes (affiliate links):
What Kind of Food Should You Pack?
Sometimes the hardest part of packing lunches is trying to decide what to put in them! Here's a handy list of food that works great in lunches. I've included a PDF version for you to print out, too:
Bento box food ideas – What to Pack?

The Building Blocks of Bento
Now here we are at last – the 4 simple steps of making a bento box lunch. Once you learn the 4 steps, you'll see how easy it is!
 Step 1.
Pack it Tightly
If you pack it tightly  in your bento box, making sure the food goes right up to the rim of the box, it won't shift around when it gets carried to work or school and ruin your masterpiece. And a fully filled-in lunch box looks so much better than one where you can see gaps. Here are some examples:

Step 2.
Keep Wet and Dry Food Separate
How do you pack your bento box nice and tight, but keep your food from getting soggy and gross? This is easy enough to do by using a bento box with divided sections, and also using silicone cups ( like what you use to line muffin tins). You can see in the bento pics above how I used some silicone cups to keep the vegetables from touching the wet sandwich filling, and keep the soft fruit from mixing with the eggs, veggies, and meat and making everything mushy.
You can find all the cups that I personally own and use here in my Store
 Step 3.
Make it Colorful
Take a look online for bento box images.Or, Go follow me on Pinterest to see LOTS of bento images!
What's one thing all the great ones have in common? A wide variety of colors. A good bento artist tries to include contrasting colors – colors that are opposite each other on the color wheel – like purple and orange, blue and yellow, red and green, etc. You can use colorful silicone cups, or picks to add a pop of contrast as well.
Here's another handy list of bento food by color, along with another PDF version for you to refer to when making lunches: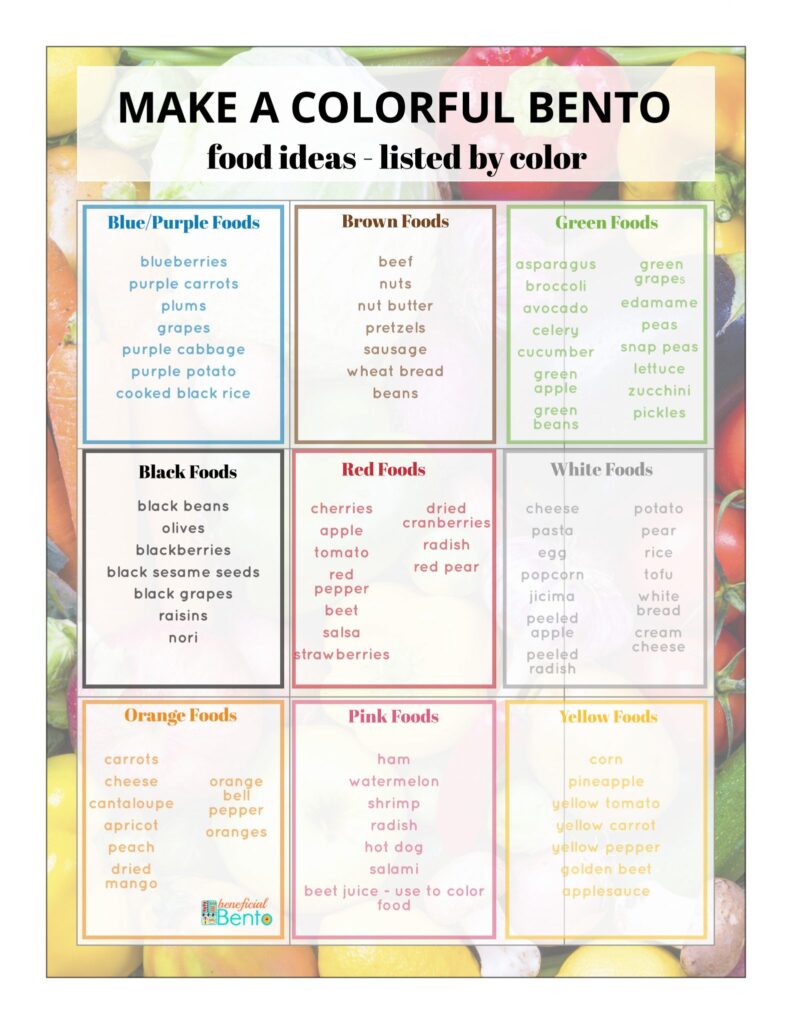 Step 4.
Use a Variety of Flavors and Textures
When packing food in  your lunch, try to balance creamy with crunchy, spicy with mild, sweet with savory. Food tastes better when there's different things to tantalize your tastebuds. Don't worry – you don't need to over think it though:
This is a good opportunity to use up small amounts of leftovers that you might not use any other way. There are a lot of times that I say something like "This bento could use a little touch of red" and I find that we have one or two more strawberries in the fridge that I could tuck in to fill in a space and add a touch of color. Otherwise those strawberries would get tossed out! Use this idea to use up the last few crackers in the box, that small amount of meat leftover from dinner last night, etc.
Here are a couple of examples of bento that are balanced with soft/crunchy, spicy/mild, sweet/savory: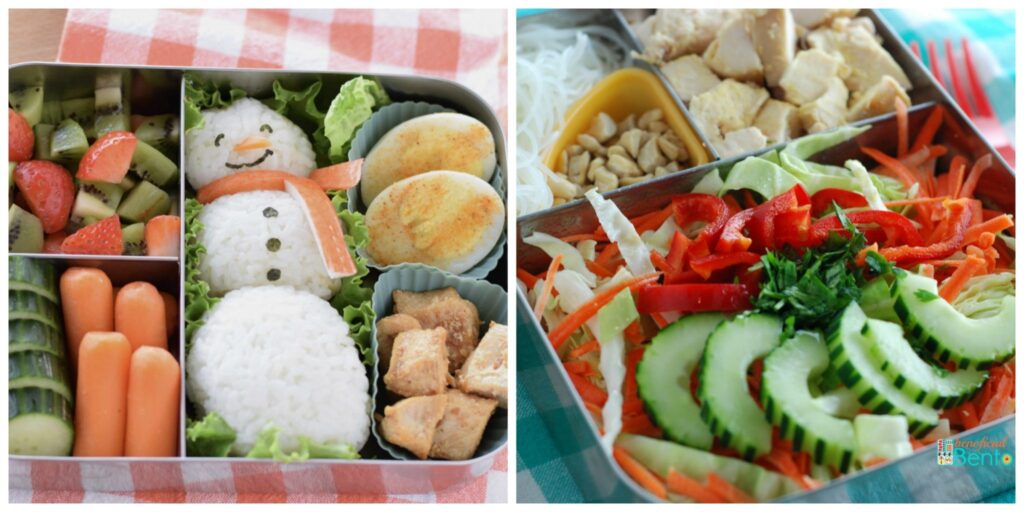 Other Tips & Tricks
Save Time by Preparing Food in Advance
I am all about weekly food prep! Come visit my main Food Prep page to get more info on how I do it, and get ideas for meal prepping in advance to make lunch packing a breeze.
Make it Fun!
Don't be afraid to add a touch of whimsy to your bento boxes – most people have a sense of humor and appreciate the extra time you took to make their lunch fun. Just adding a little tomato heart to a regular sandwich lunch will bring a smile to someone's face – and even your own 🙂 I like to make bento for myself, too!
Read more about how to make bento fun:
how to Make a Healthy Bento Box
Tips and Tricks for Using Alphabet Cutters
How to Make Pretty Carrot Flowers
Make it Safe
When making bento, keep in mind where the person eating it will be when it's lunch time. Will they have access to a fridge or microwave? Do you need to include ice packs to keep it cool? How about a thermos for something hot, like soup or pasta? Would that salad or sandwich get soggy by the time they get to eat it?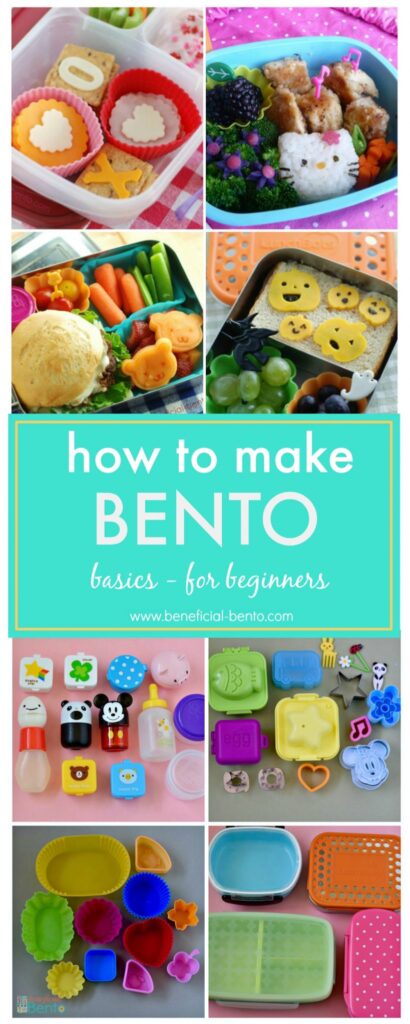 Find more bento information on my main bento page – coming soon!
Do you have any questions about bento making, supplies, techniques… or anything else? Feel free to ask me in the comments, or contact me directly right here.