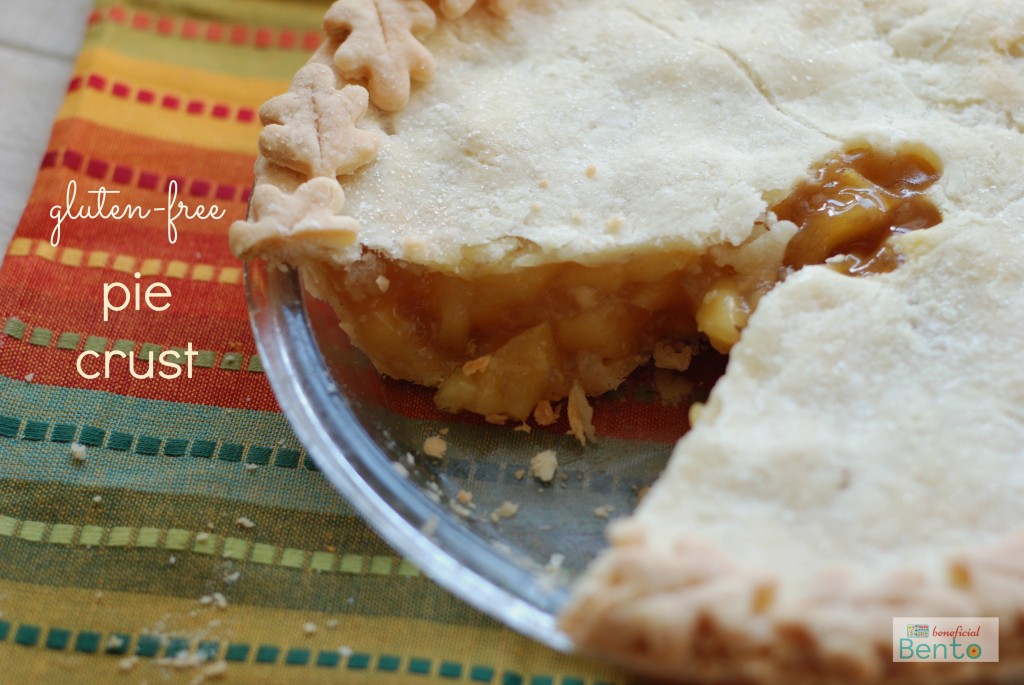 Okay, everyone.
I'm opening the vault to share one of my best recipes with you. This is one of my most-requested gluten free recipes. I have been tweaking this recipe for about 10 years, and I'm pretty happy with it now.  So now I feel good about passing this recipe on to you – my flaky, sweet, melt-in-your-mouth pie crust!  You'll also get  some of my tried-and-true tips for making your very best pie ever.
But first I  feel the need to explain something before we begin… this is not really a healthy recipe. It has sugar, butter, processed white flours, and – ( brace yourselves) shortening! I know, I know… but please hear me out!
Pie crust is the only thing I EVER make that contains shortening, and I really only make pie twice a year. One of those times is the day before Thanksgiving, where my kids and I gather together to bake pies, tell jokes ( the cornier the better), and read and watch anything funny that we can find. This has become such a fun Winget family tradition, that we've decided it deserves its own holiday, which we call – Pie Day 🙂
The one other time of year that I make pie is for Father's Day. The lovely ladies in our church make lots and lots of pies to share with all the dads in our ward (our congregation) on Father's Day – and each man gets a big slice of pie. I make my gluten free pie especially for a dear friend in our ward who has Celiac disease so he doesn't have to miss out.
Now, I have tried making healthier pie crust. It just has never turned out quite right. I have made peace with the idea that a few unhealthy foods are okay, if we only eat them every once in a while. And I think twice a year is okay, even for something as unhealthy as shortening.
Now, on to the recipe! ( you can find the complete recipe near the end of this post)
Gluten Free Pie Crust 
*A note about the flours I use: tapioca starch, potato starch, and sweet rice flour ( also called glutinous rice four, even though it contain no gluten) can usually be found in  asian markets or health food stores. It's worth doing some investigating to find the best prices in your area. The other ingredient that might seem new to you is xanthan gum – I find this in health food stores, and it is expensive! But keep in mind that you only need a tiny bit for each recipe. You can read more here : Guide To Gluten Free Flours.
First, combine the tapioca starch, potato starch, cornstarch, powdered sugar, sweet rice flour, xanthan gum, and salt in a mixing bowl and stir together.
Next, combine the egg, vinegar, and cold water in a small bowl. Beat with a fork to break up the egg.
Now "cut in" the shortening and cold butter – which just means to cut the fats up into little cubes and mash it into the flour mixture until  it is well-incorporated. You can use a pastry blender or a big fork. It should look like the one on the right when it's finished:
* tip – Always use cold butter and cold shortening for this step – you want little pebble – or pea-sized bits of dough. This will ensure a flaky pie crust!
Next, stir in the egg mixture until the dough comes together into a soft ball. Don't over mix the dough, or it will make the pie crust tough and chewy. It should look a little "rustic", like this:
Wrap it in plastic wrap, and chill it in the refrigerator for at least an hour.
Rolling out the  bottom crust :
Divide the dough in half, and form  one half into a flattened ball. Place it between 2 sheets of waxed paper. Sprinkle the dough with flour on both sides. You can use rice flour, tapioca, cornstarch, etc. I usually grab a pinch of rice flour.
Roll it out with a rolling pin until it's very thin and wide enough to fit inside your pie plate.
Carefully peel off the top piece of waxed paper.
Lifting it up by the bottom piece of waxed paper, carefully flip it over onto the pie plate. Gently press it into the pie plate and peel away the waxed paper. Add the filling of your choice ( I made apple).
Roll out the top crust the same way. After peeling away the top piece of waxed paper, I like to use a mini cookie cutter to cut out a tiny hole in the center. This acts as a vent, so as the filling cooks the steam will escape through the little hole and filling won't slop out the sides and burn in your oven.
Place the top crust on the same way – pick it up with the waxed paper and carefully flip it over on top of the filling. Pinch the top and bottom crusts together, and cut off the excess with a knife. One fun way to finish off the edge is to  use a tiny cookie cutter to cut out shapes with the extra dough to decorate the edge.
I didn't show this is the pictures, but it's good to seal the edges with a little egg wash – 1 egg beaten and thinned with about 1 tablespoon water and brushed around the edges with a pastry brush. Sprinkle with granulated sugar, and it's ready to bake: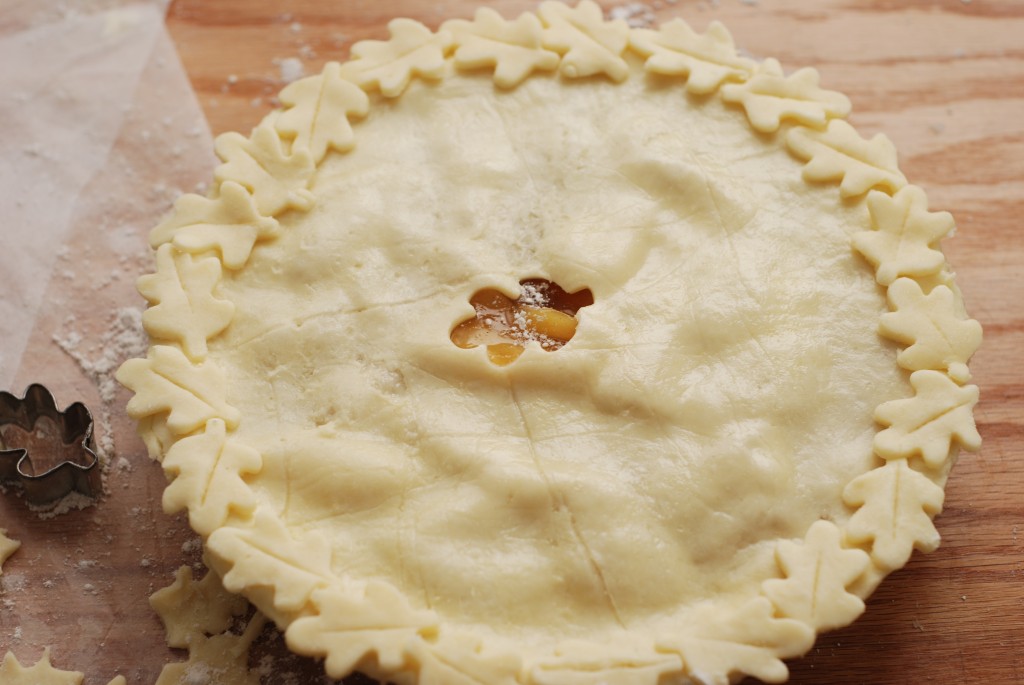 Bake the pie according to the filling recipe. Usually, a double crust fruit filled pie ( like this apple one) is baked at 350 degrees for 40 to 50 minutes, or until the crust is flaky and lightly browned. It should look like this: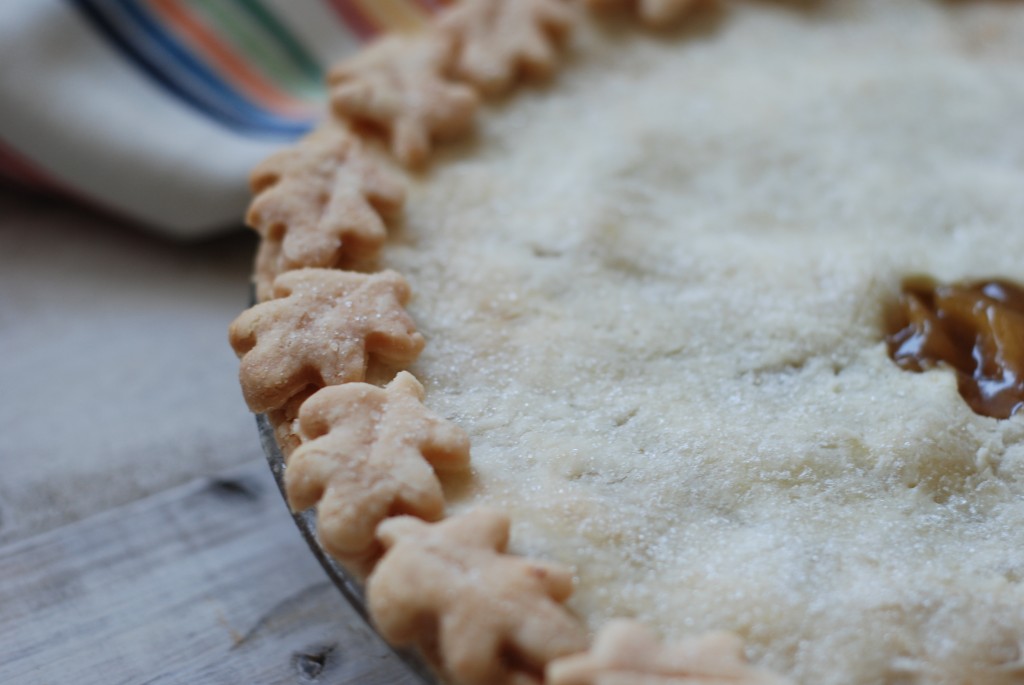 Print
Gluten Free Pie Crust Recipe
One of my most requested recipes! Tender, sweet, flaky – and gluten free
Author:

Kristie @ Beneficial Bento

Prep Time:

1 hour

Cook Time:

50 minutes

Total Time:

1 hour 50 minutes

Yield:

6 slices
Ingredients
1/2 cup tapioca starch

1/4 cup cornstarch

1/4 cup potato starch

1/4 cup powdered sugar

1 cup sweet rice flour

1 teaspoons and 1/2 xanthan gum

1/2 teaspoon salt

1/2 cup cold salted butter

1/2 cup regular or butter-flavored shortening

1 large egg

1 tablespoon vinegar

4 tablespoons cold water

extra rice flour for rolling out dough
Instructions
Combine dry ingredients in a mixing bowl.

"Cut in" cold butter and shortening, by cutting the fats into small cubes and mashing it into the flour with a fork or a pastry blender until the mixture resembles small pebbles or peas.

Beat egg with a fork, stir in vinegar and cold water.

Stir egg mixture into flour mixture until dough comes together into a rough ball. Don't over mix.

Turn out onto a large piece of plastic wrap. Wrap tightly and chill for at least an hour.

Roll out as desired, and bake according to the instructions on your filling recipe.
Now sit down and enjoy a slice of pie!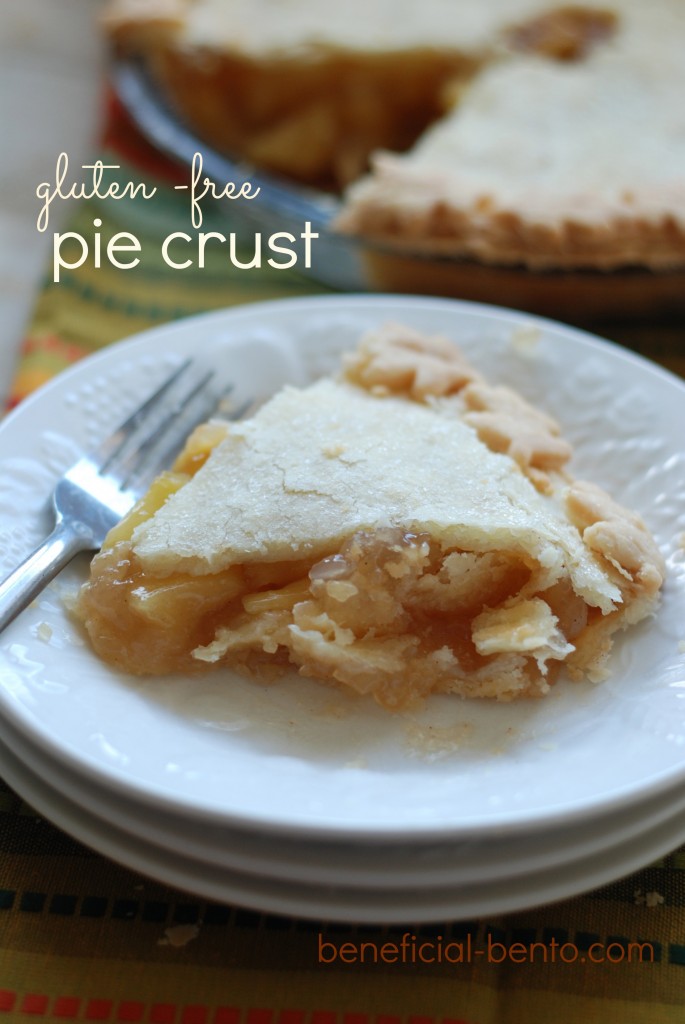 * This recipe was added to Full Plate Thursday.