Healthy Snack Ideas
Here's my mega list of over 75 easy, healthy snacks in different categories – depending on what you may be craving: Chocolate, Savory, Crunchy/Salty, Tangy/Fruity, Creamy, Frozen/Chilled.
I look at this list:
a) when I'm hungry, or
b) when planning my Weekly Food Prep, or
c) when I hear someone in the house say, "What is there to eat?"
Chocolate
1 ounce dark chocolate and ¼ cup raw almonds

Fresh strawberries dipped in dark chocolate

Frozen banana slices dipped in chocolate

Chocolate Coconut Protein Bars (recipe coming soon)

Chocolate smoothie bowl Make with frozen banana, spoonful of cocoa powder, spinach, chia seeds, protein powder, coconut milk

Mint chocolate chip green smoothie (recipe coming soon)

dates split open filled with a pecan, drizzled with chocolate

Raw almonds drizzled with melted dark chocolate and sprinkled with sea salt – chilled or frozen until firm

Raw Salted Chocolate Snack Bars ( from Pinch of Yum) ( I love these so much!)
Savory
Edamame in the pod – heat in microwave and sprinkle with sea salt. It's fun to pop the edamame beans in your mouth 🙂 Great movie snack!
Boiled egg with salt, paprika, seasoned salt, or Mrs. Dash
Fresh sliced tomato with salt, pepper, and parmesan cheese
A bowl of vegetable soup
Tuna or chicken salad on endive leaves, or cucumber slices
Cottage cheese sprinkled with Mrs. Dash or Salad Supreme, with celery sticks to dip in it
Cold chicken meatballs
Cold chicken slices
Avocado egg salad stuffed in celery and mini bell peppers
Olives, feta cheese chunks, cucumber slices, and grape tomato on a stick, dipped in greek dressing
Celery with protein peanut butter ( recipe coming soon) – add a few raisins to make ants on a log
Sandwich filling on cucumber slices ( tuna salad, chicken salad, meat and cheese)
Asparagus wrapped in ham or turkey bacon, drizzled with balsamic vinegar, and broiled – great hot or cold!
Snap peas, carrot sticks, celery sticks, cucumber slices dipped in hummus

roasted chickpeas

Black beans mixed with salsa and avocado chunks
Deviled eggs (recipe coming soon)
Beef or turkey jerky ( look for nitrite free if possible)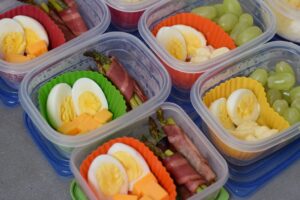 Crunchy and/or Salty
Celery stuffed with goat cheese, topped with pistachios or other nuts
Kale chips
Microwave plain popcorn in a paper lunch sack ( folded over), flavor with 1 spoonful melted coconut oil and 1 spoonful melted butter and a little salt
¼ cup of nuts
¼ cup of dried fruit and nut mix – Some good combos are: dried apples and walnuts, pineapple and pistachios, apricots and almonds, cranberries and pecans
A bag of baby carrots – I often stash a 16 oz. bag of baby carrots in my Cooler Purse Organizer when I need to bring something healthy with me but I don't have time to put any effort into it. And I find it helpful to crunch on carrots when I'm concentrating on work, for some reason that helps me focus!
A good old fashioned apple
Celery sticks – you actually burn more calories chewing and digesting them than there is in the celery itself! Great if you already ate your healthy meal but are still hungry 🙂
Sunflower seeds in the shell
Pistachios in the shell
Dill pickles
dill pickles
sugar snap peas, or snow peas

Tangy/Fruity
 frozen grapes

Pineapple with cottage cheese

Plain Greek yogurt mixed with frozen berries

Apricot sorbet: blend a can of apricots with an equal amount of frozen apricots until smooth. Eat immediately. This also works well with mangos and peaches.

Apple slices sprinkled with cinnamon and coconut sugar and microwaved until softened

Cut a grapefruit in half and broil it until just warm.

A green apple and a spoonful of goat cheese or other soft cheese

A green apple and a spoonful of peanut butter or cashew butter

Roasted peach drizzled with honey

Pineapple cubes sprinkled with coconut

Cubed watermelon tossed with feta or other soft white cheese, and sprinkled with balsamic dressing ( it's better than you think)

Frozen blueberries or cherries

apricots – only 17 calories each!
cantaloupe and cottage cheese
peaches or plums – less than 50 calories each!
star fruit – low in calories, and they look great in a bento box 🙂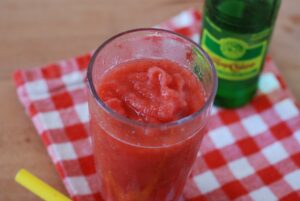 Creamy
Greek yogurt with sliced bananas, chopped walnuts, and a drizzle of honey

1 or 2 Mini Cheesecakes
Nut butter protein balls (recipe coming soon)
Greek yogurt mixed with a spoonful of all-fruit jam
String cheese – is it creamy? Not sure, but this is the best category I could find for cheese
Laughing Cow cheese wedge
cottage cheese
banana with a spoonful of nut butter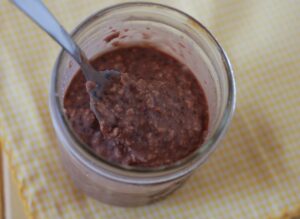 Frozen/Chilled Snacks
frozen grapes – they're like little popsicle balls
frozen cherries – I love these even more than frozen grapes!
frozen blueberries
Free download!
I love having a printed list of all these snack ideas on my fridge, since that's where everyone heads when they're hungry. Here's one for you to download and keep for yourself:
Healthy Snack Ideas Master List
Healthy Snack Posts:
10 Healthy snacks – 200 calories or less