We discovered that our son was gluten-intolerant ( and possibly has celiac) 10 years ago. Through the process of learning about his food allergies I have learned that I am also gluten-intolerant.  I have learned a lot over the past decade about how to eat gluten free, and I will share all that I can here on this blog.
Here's where I describe the 10 different flours I use in my baking. You can also find instructions for making my Basic Brown Rice Flour Blend here too, and some info about xanthan gum.
Our Favorite Gluten Free Products
Here are some of our favorite GF companies and products:
Glutino.com You can find their products in most health food stores, and now I've noticed that Wal-Mart  sells them! We absolutely LOVE their GF english muffins, pretzels, and round crackers.
Schar.com I have found their products in health food stores. We love their anellini pasta – it works great for homemade spagettios!
Applegate Farms Natural Gluten Free Chicken Nuggets My family says that the GF ones are even better than regular chicken nuggets! I buy these at Target, and I always look for a sale to get them at the best price – but they're worth it!
Chex cereals  I love Chex for making such a wide variety of flavors, for such a good price! You can find Chex in almost every grocery store, too.
My Best Gluten Free Recipes
  Gluten Free Pie Crust One of my most requested recipes. This is no health food, but it is                                                        delicious!
  Gluten Free Chicken Meatballs I use ground mushrooms to replace the breadcrumbs and                                                       cut the calories.
Gluten Free Graham Crackers  Even the wheat eaters in my family like my GF version               better than the regular store-bought kind.
Gluten Free Tollhouse Style Chocolate Chip Cookies  If you like your cookies crisp, with           just a little bit of a gooey center – this one is  for you 🙂
Gluten Free Chocolate Mug Cake 
Do you ever just crave a warm, gooey chocolate dessert?But you don't want the temptation of a whole pan of brownies calling your name?  Then for heaven sakes, you need to try this one – you won't regret it!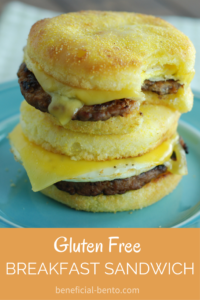 Gluten Free Breakfast Sandwich  This isn't exactly a recipe, but I show you how to make my favorite breakfast sandwich ( we call them egga muffins) with perfectly round eggs and sausage on delicious Glutino gluten free english muffins.
Gluten Free Tips and Tricks 
Which gluten free pizza is best? We tested 6 different popular pizzas for you so you don't have to waste your money!