Cute little cupcake-sized cheesecakes that are easy to make, gluten free – could they possibly be healthy , too? Yes they are!
I have been making these for years, for all kinds of occasions. I have learned that they keep well in the fridge   ( if you can hide them long enough before they all get eaten!), and they even freeze well, too. I have added chocolate chips, topped them with cherries, berries, nuts,  jam… but they are even good just plain. Look at these little gems – aren't they cute?
One of the great things about these little treats is how easy it is to make a big batch. And since they freeze so well, you can keep a stash of these in your freezer to pull out when you need something sweet, but don't want to mess up your plans to eat healthy.
And if you are gluten free, it's always good to keep a few goodies on hand for those times when everyone else is enjoying some kind of yummy dessert that you just can't have. Instead of dealing with all this, just pull a couple of these little cheesecakes out of the freezer and smile!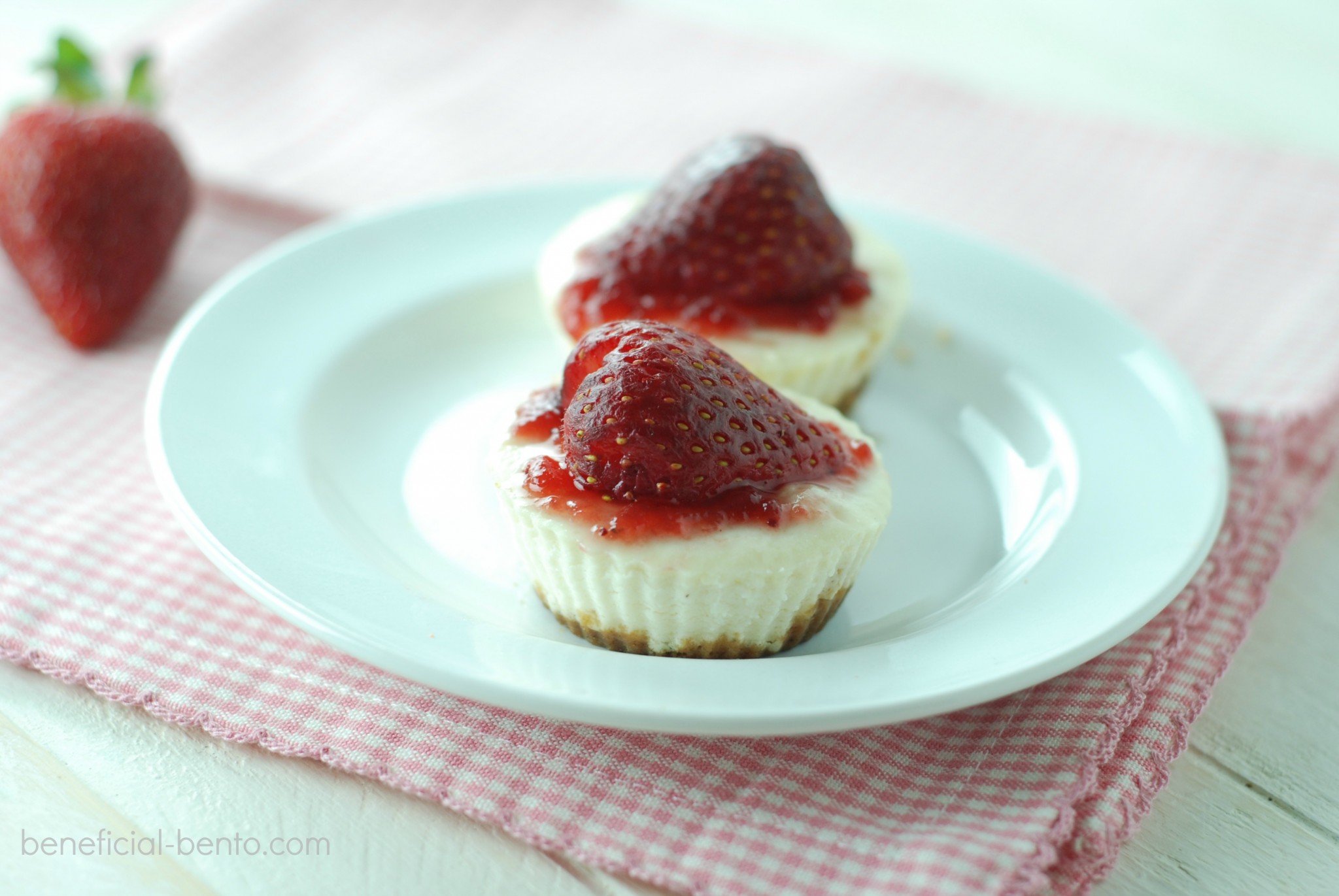 And the crust isn't really a traditional crust – no butter or sugar added, just crushed graham cracker crumbs sprinkled into the base of the cupcake liners. Saves a lot of time and calories that way!
I like to use my own Gluten free Graham Cracker Recipe for the crumbs, but you can use any crushed gluten free cookies. Once I used Trader Joe's gluten free Jo-Jos  (like oreos) and oh man! those were so gooooood!
If you make this recipe, I'd love to hear what you use for the crust – it could give us all some fresh ideas! Just let me know in the comments at the end of the post. Or just tell me what you would LIKE to use. Like crushed lemon cookies? Hmm, that sounds delightful  🙂
My favorite way to top these is with a teeny bit of jam and a cute little heart-shaped strawberry.  They are sweet, but not overly sugary.
Gluten Free Mini Cheesecakes
These mini cheesecakes are lightened up with greek yogurt, cottage cheese, and light cream cheese. The crust can be made of any gluten free cookie or graham cracker. Easy and versatile!
Ingredients
3

oz

packages softened light cream cheese

8 .

1

cup

cottage cheese

2% milk fat

1/2

cup

plain greek yogurt

nonfat

3/4

cup

evaporated cane juice

5

teaspoons

stevia powder

4

large egg whites

1

teaspoon

vanilla

cup

about 1 crushed gluten free graham cracker crumbs or cookie crumbs
Instructions
Heat oven to 350 degrees.

Place a pan ( like a 9 x 13 pan) on a lower rack in the oven. Pour in about 1 inch of boiling water - the amount of water is not too important.

Line muffin tins with silicone or paper baking cups. Spray each baking cup with a spritz of cooking spray.

Sprinkle a spoonful of crushed graham cracker crumbs in each baking cup. Set aside.

Combine cream cheese, cottage cheese, yogurt, cane juice, stevia, egg whites, and vanilla in a food processor or blender, and process until completely smooth.

Pour into baking cups, about 3/4 full.

Bake in oven for 15 to 20 minutes, just until barely set. Turn oven off, and crack open the oven door, leaving the cheesecakes inside. When the oven cools down, remove the cheesecakes. This helps stop cracks from forming on top of the cheesecakes.

Chill thoroughly - the flavor and texture improves dramatically when they are completely chilled.

Top each cheesecake as desired with jam, fruit, etc.
Click Here to Subscribe to be notified by email when my new meal plans will be available. I'll send you a free guide – "9 Baby Steps Toward Successful Weekly Meal Prepping" as a thank you gift!