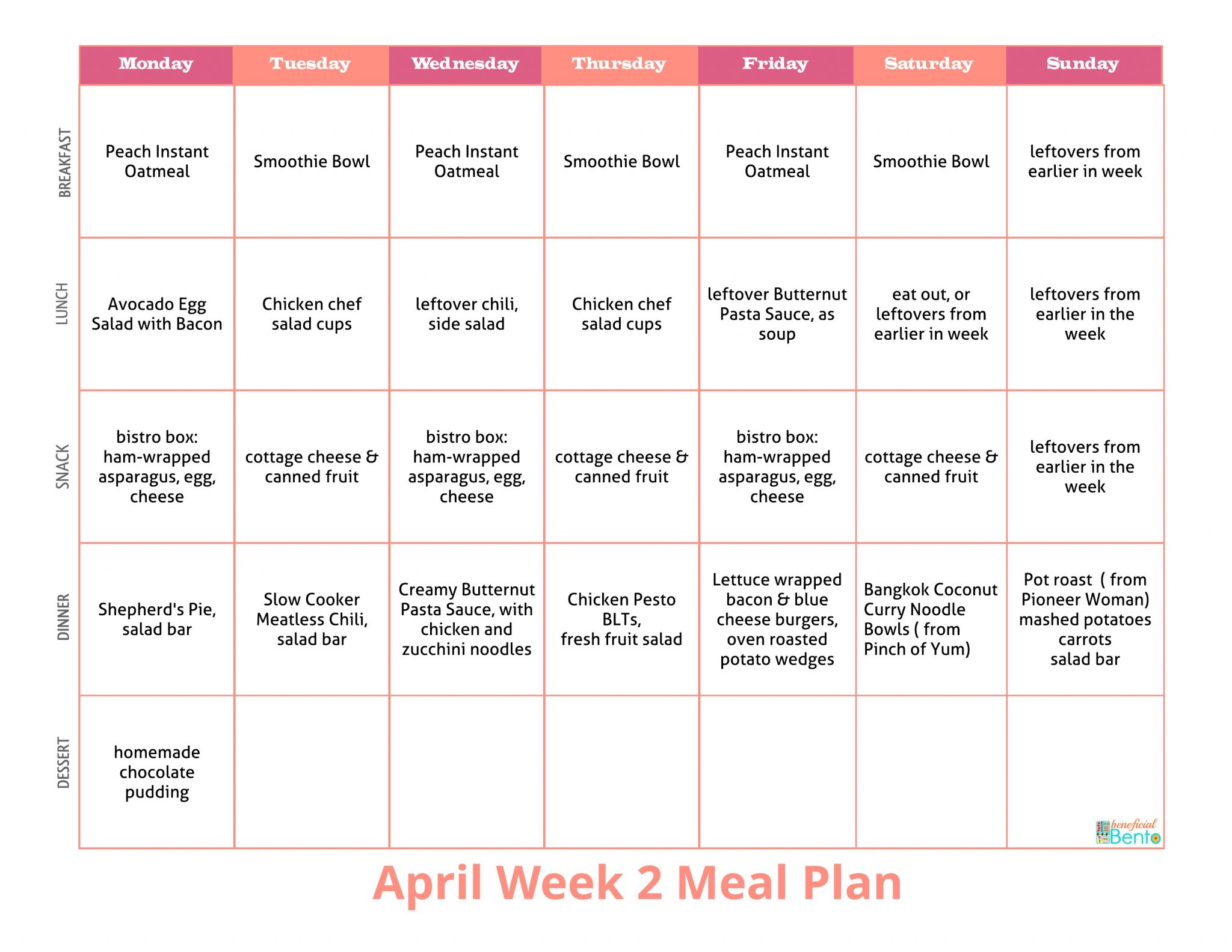 So you want more help with meal planning and (especially) the food prep – I hear ya! Help is on the way!
I've decided to start a series where once or twice a month I'll share a more in depth look into one of my family's meal plans for a week, and give you the run-down on how I prep it, store it, and manage it all. Here's what you'll find:
An actual healthy meal plan that my family eats (above)
Links to all the recipes
Tips for how to go about preparing it.
My Game Plan for April
Here in Utah, April is one of those months that can make you feel like wearing shorts and grilling burgers one day, and bundling up in blankets and eating soup by the fire the next. These meals reflect the changing weather, and features foods our family likes to eat.
In April ( in this part of the world anyway) you will find ham, bacon, and eggs on sale in the grocery stores. I always look for nitrite-free if possible. Also spices and other baking supplies are on sale. So I consider those things when I'm making up a meal plan. To read more about my process, you can take a look at this post.
How I will adapt this for my weight loss plan:
Basically, my rule for myself is this – eat smaller portions of starchy and sugary carbs than the rest of the family, and eat larger portions of vegetables. Other than that, I think I've got a pretty healthy plan here  🙂
Links to the Recipes
Breakfast:
Peach Instant Oatmeal These are great for weekly food prep, since you can mix up a bunch of them in a few minutes and have them available to microwave during the week.
Breakfast Smoothie Bowl I like to portion out the frozen veggies, fruits, and chia seeds into individual sandwich bags, and then put all these in a gallon freezer bag and store them in the freezer to use throughout the week.
Lunches:
Avocado Egg Salad with Bacon This is easy to put together for lunch when you boil some eggs and bake some turkey bacon in the oven during your food prep session.
Chicken Chef Salad Cups I'll be making the salad cups as shown in the post.
Dinners:
Shepherd's Pie with Cauliflower Potato Crust I like to assemble this casserole and keep it in the fridge until it gets baked for dinner. Since I usually do my food prep on Monday, that's what works for me.
Slow Cooker Meatless Chili  I just put the ingredients for this in the slow cooker on Tuesday morning, since it's mainly a matter of opening a bunch of cans. It makes the house smell so good at the end of the day!
Creamy Butternut Pasta Sauce You can make this in advance on food prep day and keep it in the fridge for about 2 days. If it needs to be eaten later than that, I would pour it into a gallon freezer bag and freeze it flat until it was needed  (It thaws much quicker when it's frozen flat). Then heat it and cook the chicken and the zucchini noodles on the night you'll be serving it.
Chicken Pesto BLT's  To prep for this dinner, I slice my fresh or partially frozen chicken breasts in half lengthwise ( so they're thin), and freeze them in a freezer bag. I make the pesto cream cheese on food prep day and hide it in the fridge in an unmarked container. If my family knows it's in the fridge, it will all be eaten before Thursday's dinner! It's smart to bake up a whole package of turkey bacon on a cookie sheet in the oven, then reheat it on Thursday for these sandwiches ( there will also be enough for the Avocado egg salad for Monday's lunch that way).
Bangkok Coconut Curry Noodle Bowls – this is a fabulous recipe from the website, Pinch of Yum. I'll make this fresh on Saturday night, and hold the onions ( our family hates onions!). I may pre-chop the veggies to speed things up a little, though.
Pot Roast ( from Pioneer Woman) This is a great recipe that I will make fresh on Sunday. I plan to use a leaner cut of beef that what is suggested in the original recipe, but I might cut up the carrots ahead of time (and leave out the onions of course). I'll make some mashed potatoes right after we get back from church and keep them in the crockpot until dinner time.
Snacks and Dessert:
The snacks don't require any recipes, but I'll walk you through how I prep them in a minute.
I have one thing listed for dessert, which is not something we have every night. We may have dessert once or twice during a week, and I like it to be something healthy and under 500 calories, if possible. So I have listed one thing for dessert – Homemade Chocolate Pudding
Weekly Food Prep Tips
If I don't have a whole afternoon to prepare food for the coming week, I like to break it up into smaller sections to make it a little easier to accomplish. My favorite way to do this is to group it by meals. For example, I would start with breakfasts:
Breakfast Meal Prep
Mix up the Instant Oatmeal portions according to the recipe. Chop up some peaches  and store them in the fridge.
Portion out the frozen fruit, spinach, and chia seeds that you need for the week into individual sandwich bags, and store them together in a larger freezer bag in the freezer to make Smoothie Bowls during the week.
I usually combine Lunches and Snacks in the same meal prep session:
 Lunches and Snacks
One of the most useful things I do for my weekly food prep is to stock my Salad Bar with fresh ingredients, and make a big Salad Bowl. I'll use this for lunches and dinners this week.
Poach some chicken breasts in a little broth for the chicken chef salads. At the same time, boil some eggs for the Avocado Egg Salad, the chef salads, and some snacks. While those are cooking, prepare the vegetables that will go in the salads. See my Salad Cups post for details.
For the snacks, I portioned out cottage cheese and pineapple into individual containers. I also made some( nitrite free) bacon and ham wrapped asparagus spears that I broiled in the oven. I used these to make some little "bistro boxes" that I filled with boiled egg, cheese, grapes, and asparagus. These keep well in the fridge for about 3 days, then I replenish the stash midway through the week.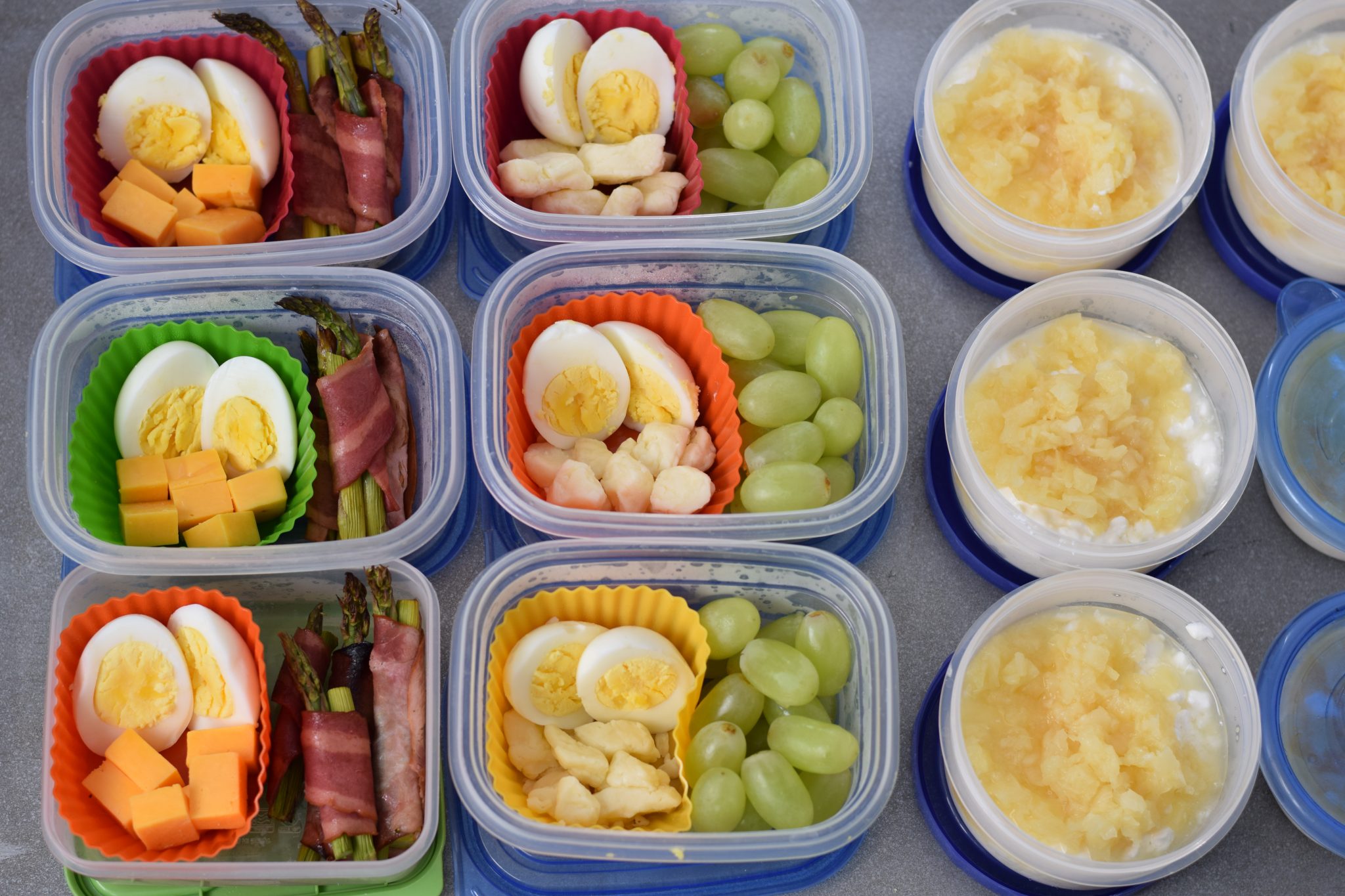 Food Prep for Dinners
For me, prepping the food for dinner doesn't mean cooking it all in advance and re-heating it. I like to sit down to a freshly made meal with my family each night. It doesn't always work out that way with everyone's busy schedules… but that's what I would LIKE to do, anyway 🙂 Dinner meal prep for me means chopping and preparing everything that's possible in advance to speed up the actual cooking of dinner each night. Then I keep the ingredients in the fridge if it will be eaten within a day or 2, and freeze the other foods ( that can be frozen) for use later in the week.
The best way I have found to organize this task is to do the food prep by food type:
Vegetables and Fruits – I like to start with vegetables first because that's the one food category that will fall by the wayside if I run out of time, and it's too important to me that my family and I eat enough vegetables. I always try to get my big Salad Bar and Salad Bowl made first. It's the foundation of a lot of healthy meals! This week the veggie prep will be easy – I'll basically chop the veggies and garlic for the Butternut Pasta Sauce and roast those in the oven. While those are going, I'll crush the garlic, and chop the shallots and potatoes for the Shepherd's Pie and start putting that together.  I'll finish the Butternut Pasta Sauce in the blender, then save it in the fridge until Wednesday's dinner. The other dinners can be put together easily on the day they will be served. Also, I'll probably make Thursday's fruit salad on Wednesday night when I replenish my snack supply 🙂
Proteins – This week I'll slice up some chicken breasts for Wednesday's and Thursday's dinners and freeze them. I'll brown some of the ground beef while I'm making the Shepherd's Pie, and while that's cooking I'll shape the rest of the ground beef into burgers for Friday's dinner, and freeze those. The other dinners don't require meat, or don't take any extra prep – easy!
 Starchy carbs – This week's food prep for starchy carbs is a no-brainer! I just need to make sure I have buns ( I need to get both gluten free and wheat for my family) for Thursday's sandwiches, rice noodles on hand for Saturday's curry bowls, and I'll make the potatoes from scratch for Sunday's dinner.
Well, I hope all this info was helpful! If you like this type of post, I'd love it if you left me a comment. And if you have any questions, I'd love to hear 'em!
You May Also Like:
For more meal prep ideas, check out my Food Prep main page
Some other resources that you might find helpful for planning meals are my Healthy Snacks page, Meal Ideas Resource Page, Recipe Search, and Recipe Index