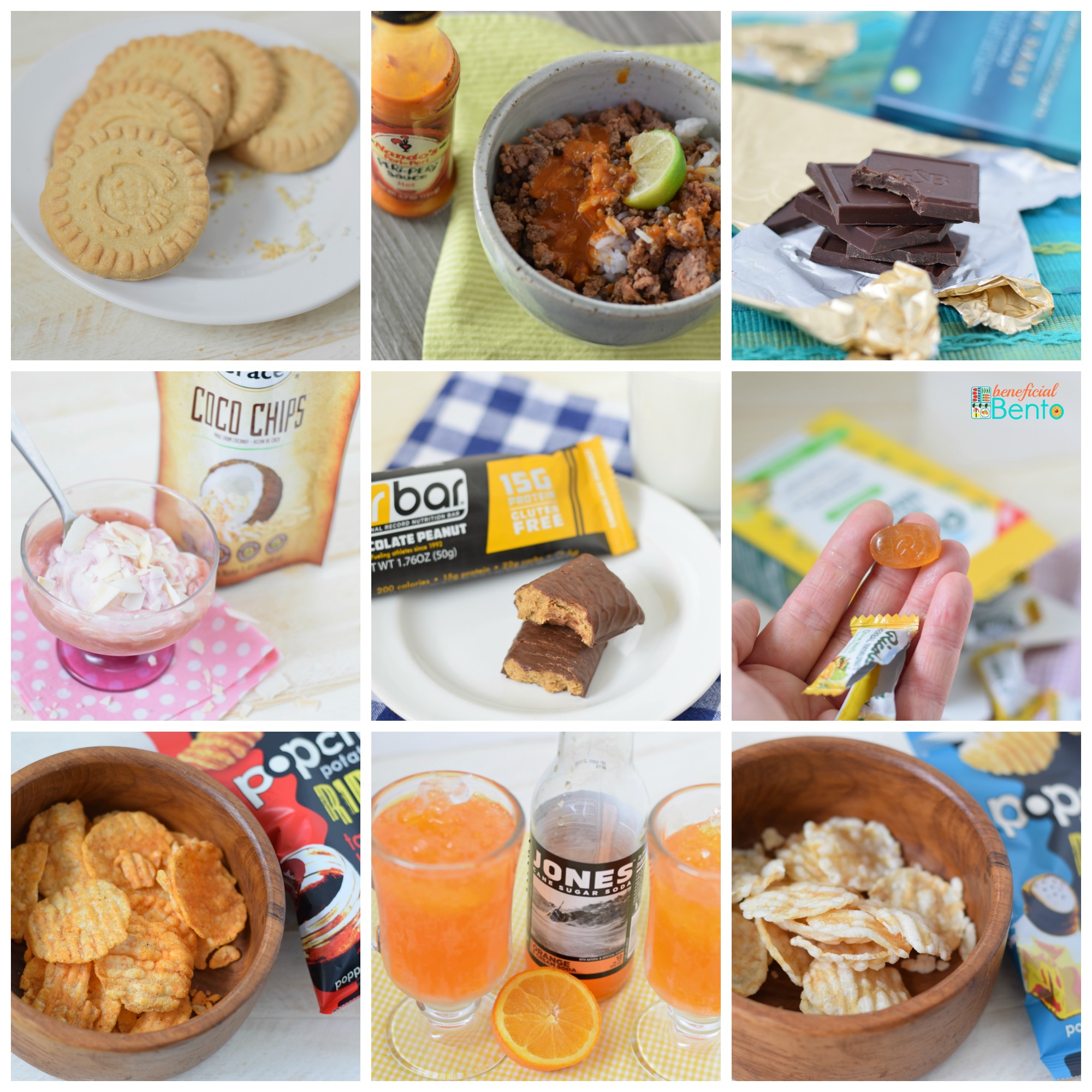 We all loved the products that were in our Degustabox package for February! I was impressed with all the healthy choices, and there wasn't anything that our family didn't love. Here's the breakdown of what was in the box, what we thought of it, and where you can get it:
First of all, there were the Popchips Ridges – let me just tell you, we LOVED them! We have always like Popchips because they are low in calories, have few ingredients, and taste amazing. And we love the chips with the ridges just as much! We got both the plain with salt, and the barbecue flavor – barbecue was the clear winner!
My kids have told me to be on the lookout for these at the store, and I don't mind saying yes to that request!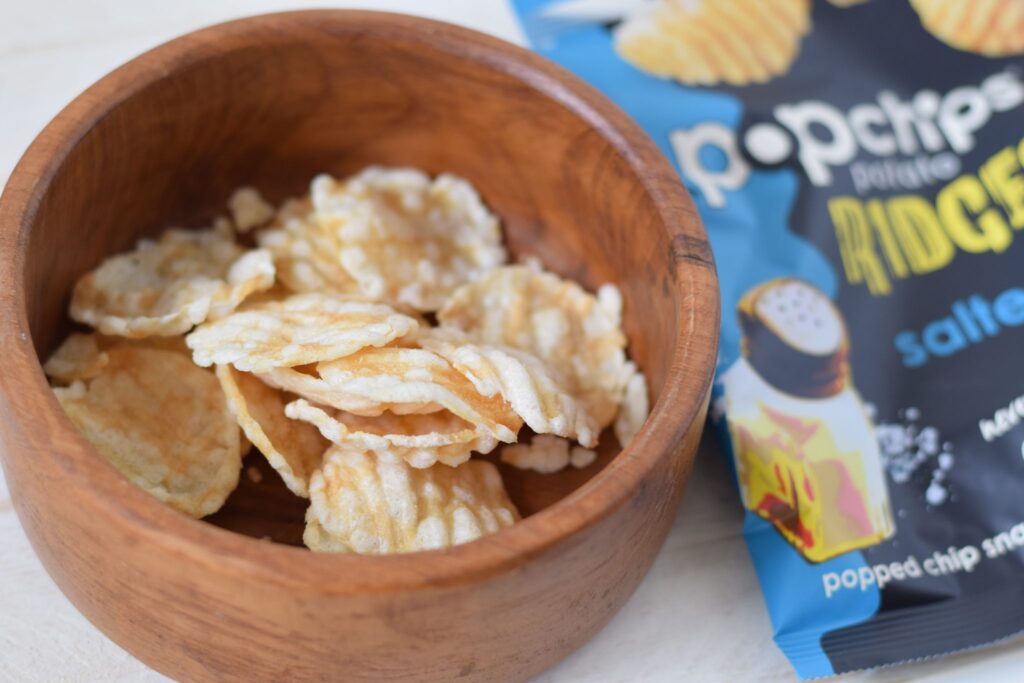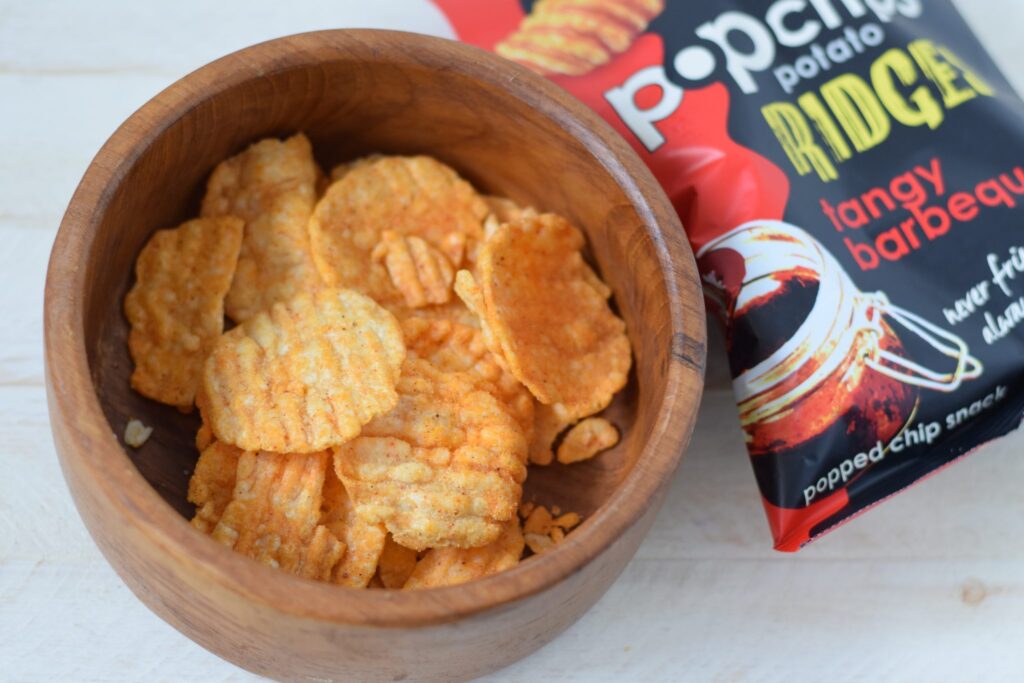 Next up are the Coconut Chips by Grace Foods. These little chips are crisp, crunchy, and I love that they only have 3 simple ingredients: coconut, cane sugar, and salt. I have really liked using them in several ways this month. I've mixed them with some dried pineapple and cashews for a tropical trail mix, and sprinkled them on some frosted cookies and banana muffins. But my favorite way to eat these coconut chips was sprinkled over some raspberry greek yogurt as shown here – fantastic!
Another one that was especially loved by my son and I was the gluten free PR Bar protein bar. I had to double and triple check to make sure I wasn't seeing things – a gluten free protein bar? I so rarely see those anywhere! And this one was really good, with a soft, chewy texture and great flavor. Chocolate and peanut butter is a winning combo, and it had 15 grams of protein! Go check out their website to see the nutrition stats, or see my Amazon links below if you're interested in buying.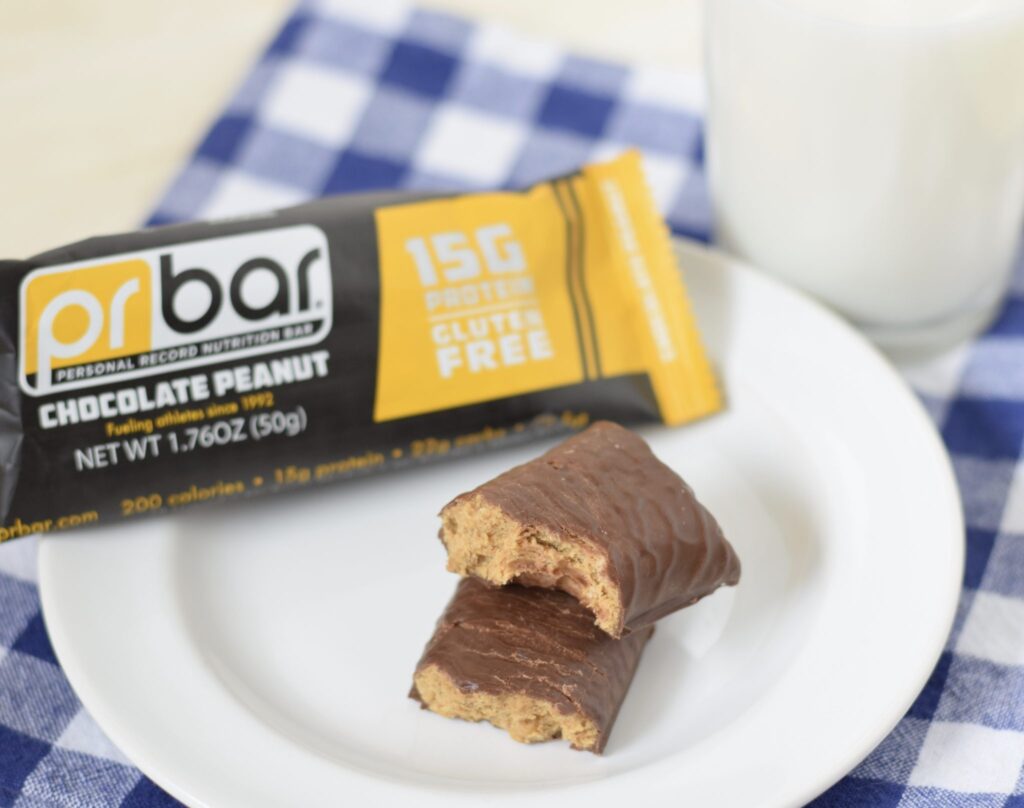 We also got a bottle of Orange Cream soda from Jones Soda. It had a better flavor than regular orange soda – really smooth, with a little touch of vanilla. Yummy! One of my guilty pleasures is orange soda, which I like to have on very rare occasions, so I consider myself somewhat of an orange soda expert… so being an expert on orange soda ( ha ha) I can say that this one is top-notch!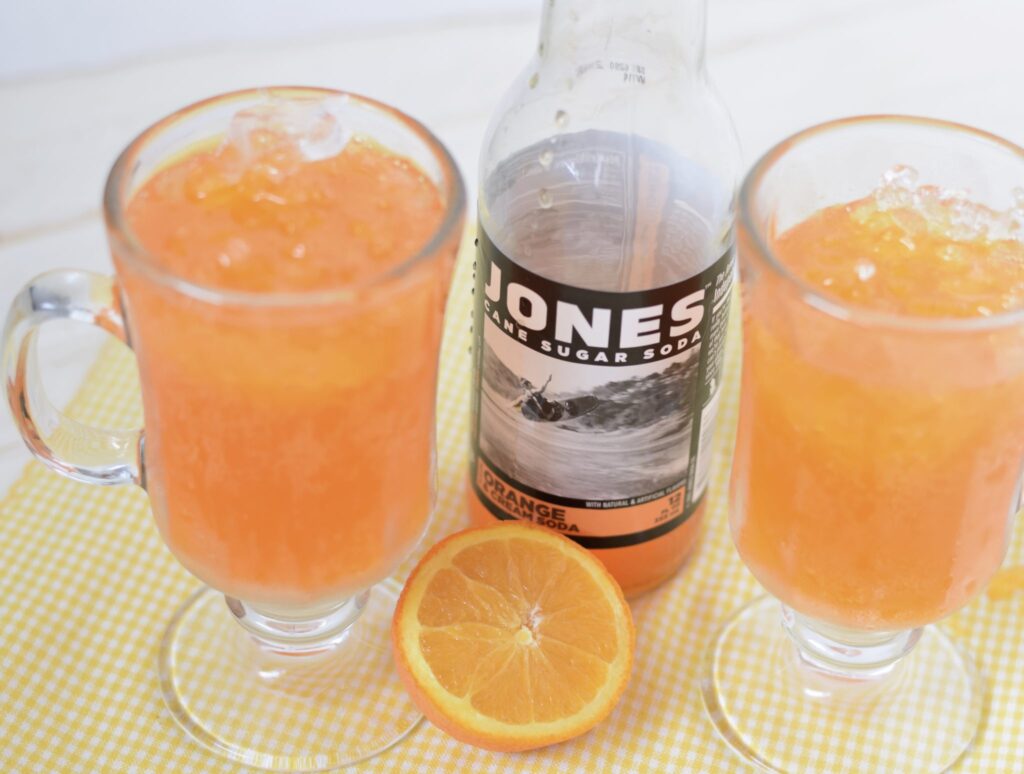 Another great product that came in our Degustabox was the Ricola Herbal Immunity lozenges in Citrus Herb flavor. These are not cough drops – they are little lozenges that are great to suck on when you have dry mouth ( which has really bothered me this winter!), or when you want to boost your immune system with B vitamins and ginseng. I really appreciate that they have no artificial flavors or colors, and the Citrus Herb flavor was really good – I'll be looking for these in the store when we our supply runs out!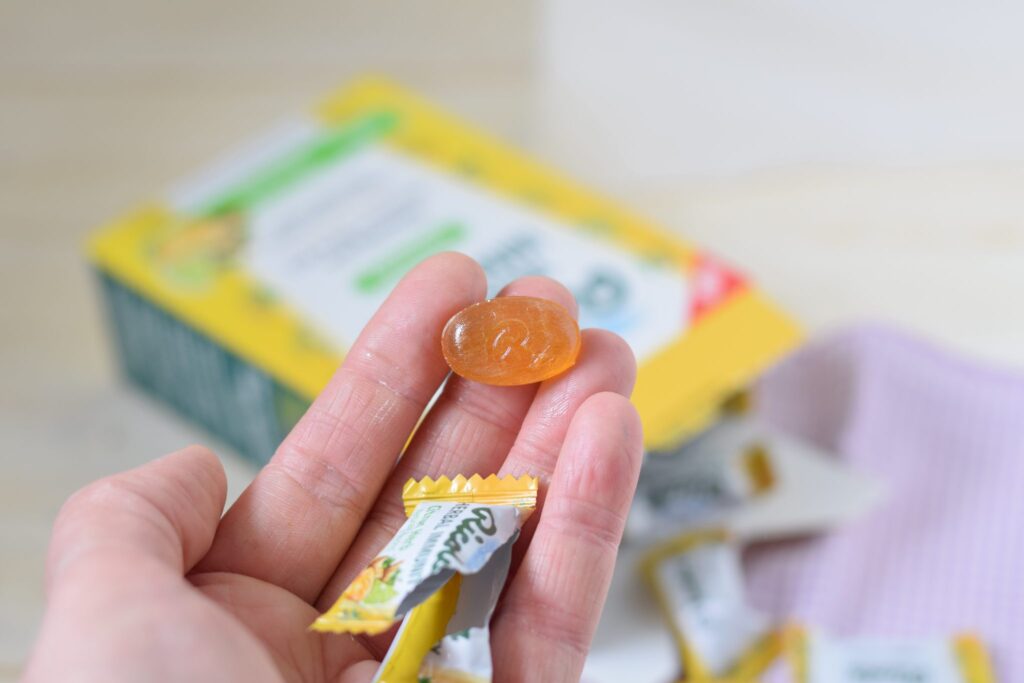 Next ( most of) our family got to sample some shortbread cookies from Walkers. Unfortunately they were not gluten free so Sam and I couldn't have any, but what I really appreciated about them was the fact that shortbread contains no eggs so my little egg-allergic grandson could have some 🙂  Walkers shortbread only has 4 ingredients – flour, sugar, butter, and salt. For a cookie, they are pretty wholesome, and all the wheat-eaters in the family said they were amazing!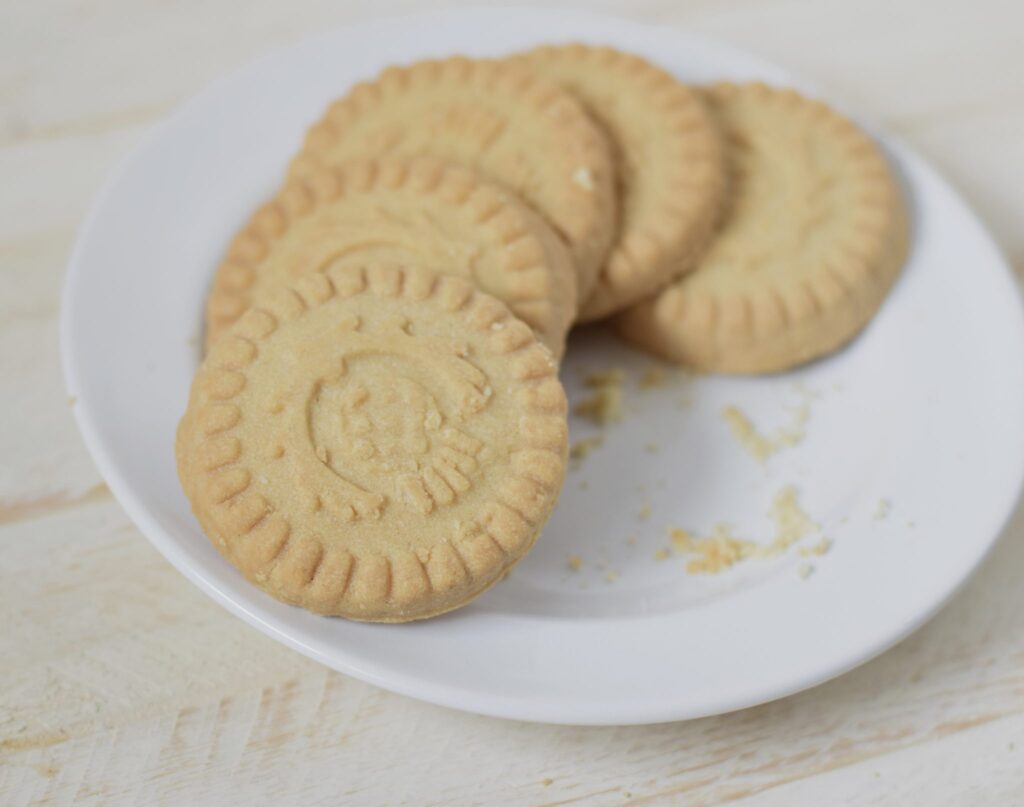 Okay, guys. the next product was MY personal favorite -pure dark chocolate with sea salt from Green & Black's. I am a big dark chocolate fan, and this chocolate was outstanding! The flavor was really rich, really dark, and I loved the little crunchy bites of sea salt crystals. The thing I love about dark chocolate is the flavor is more intense than milk chocolate, so I find that I feel satisfied after eating a small portion. Whereas milk chocolate sets me off on a craving binge where I have a hard time not eating the whole package ( yikes, confession time)!  This deliciously smooth, wonderfully dark chocolate was absolutely perfect!
I was just taking a look at their website… I would LOVE to try their Raspberry Hazelnut flavor!!! I'm going to be on the lookout for that one the next time I go buying chocolate 😀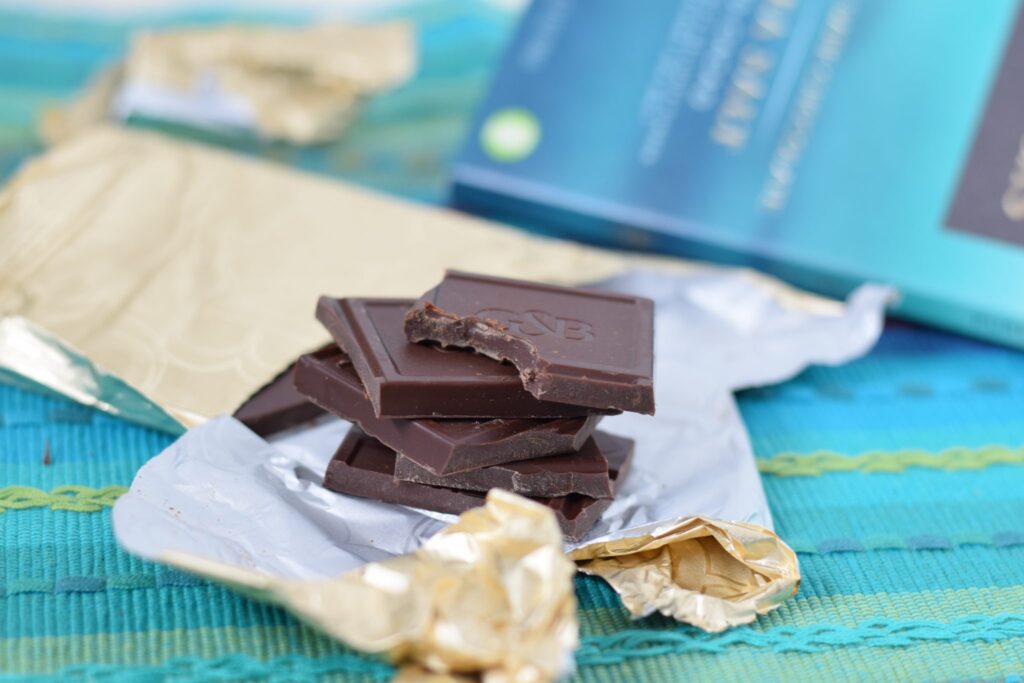 The next product I left up to my husband to try. It was super spicy, which is right up his alley. It was the Peri-Peri sauce from Nando's. This variety is HOT! My husband really likes it, in spite of the onions it contains. He said it had a great flavor, and the onions didn't overpower it at all. And that is saying something, coming from a confirmed onion hater! He had it with rice, beef, and a little squeeze of lime for his lunch: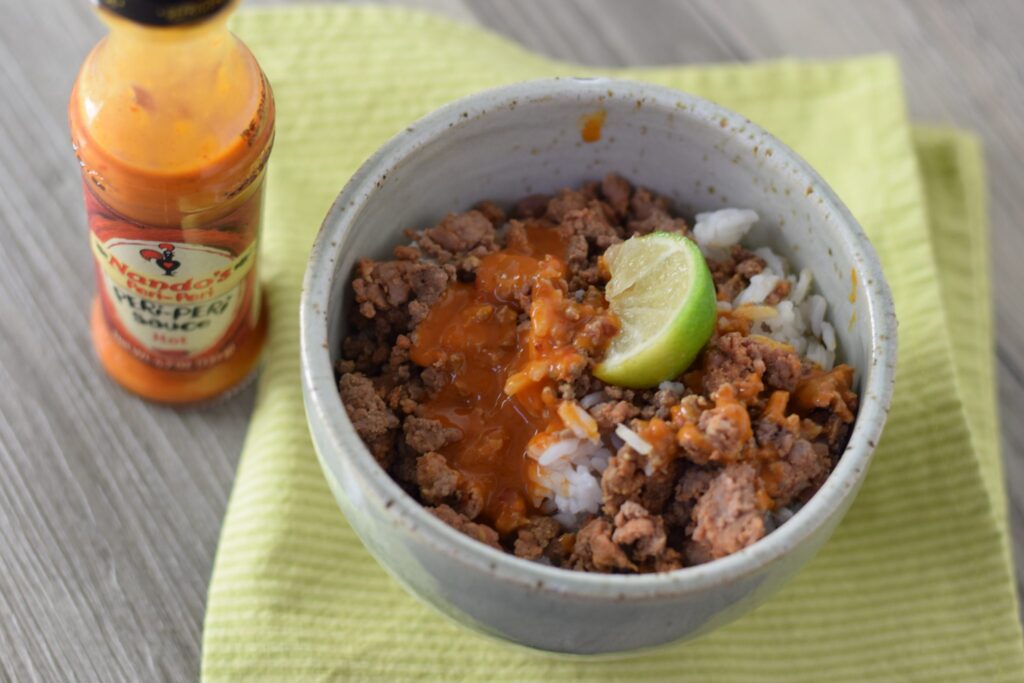 The last product, I'm afraid, does not have a picture to go with it. But it's because we loved it so much that we all gobbled it up before I realized that fact. I'm actually super excited to go buy more of this – it's konjac noodles by Slendier. These noodles only have 10 calories ( for a normal sized portion!)!
I have tried konjac noodles in the past, and they had a strong aftertaste that we didn't like. But this brand recommends rinsing and soaking them briefly before eating, which made all the difference. We had them for dinner topped with my super easy crockpot beef stroganoff, and no one could believe that those noodles were only 10 calories! As we ate we were talking about all the ways we want to try them – with spaghetti and meatballs,  with my healthy Alfredo sauce, in chicken noodle soup… mmm, now I'm getting hungry! Friends, you should definitely try these noodles!
Where to buy these products:
Would you like to get a big box of food surprises on your doorstep each month like I do? Then you should check out Degustabox!
And if you are interested in any of the specific products I wrote about, you can find most of them here: