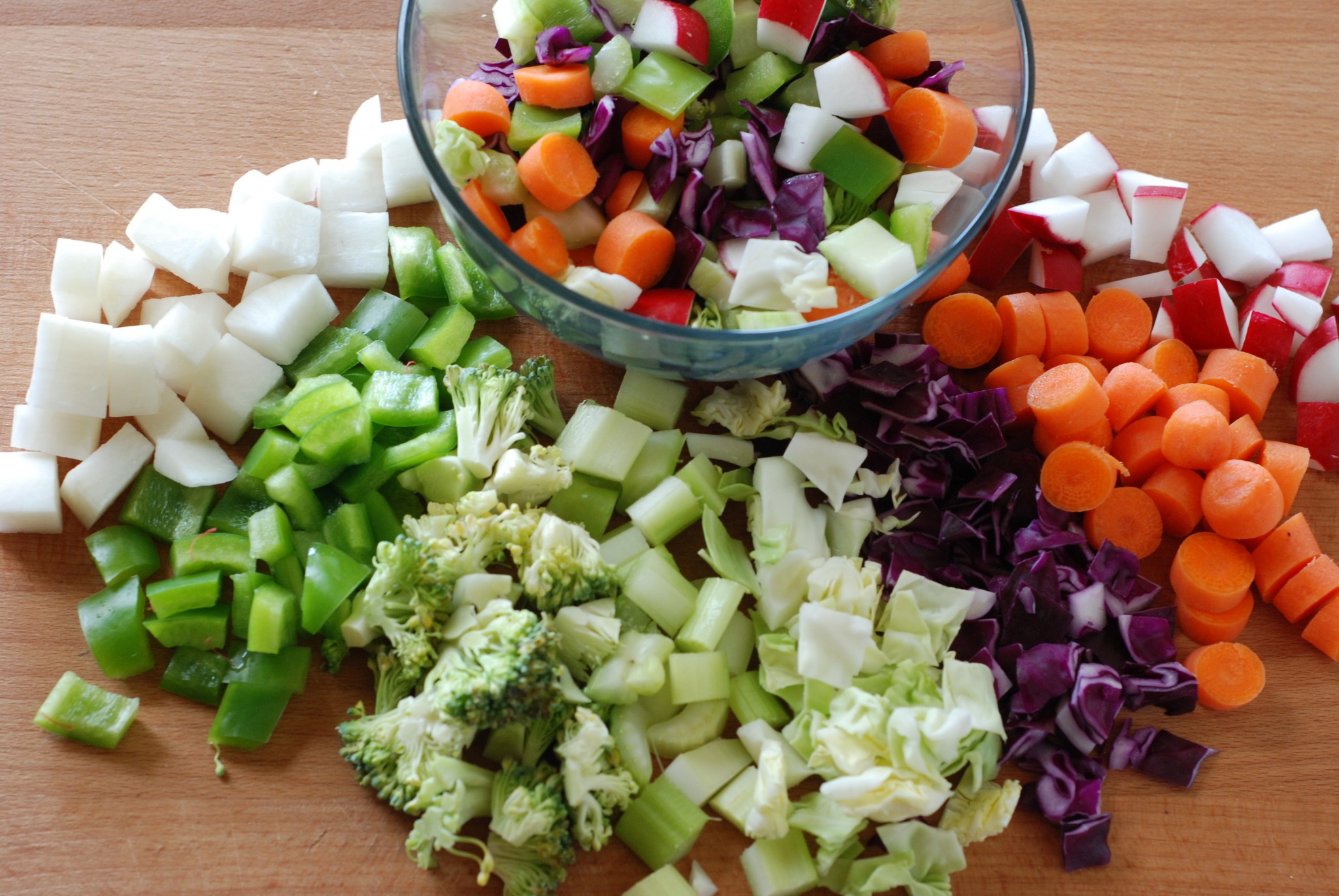 Do you feel like you're eating enough vegetables?
I don't think I've ever talked to anyone who says they eat enough vegetables. We could all use some help in that department  (myself included)!
I copied this idea from my favorite grocery store, Trader Joe's. If you keep some of this Healthy 8 Salad  in your fridge it will go a long way toward helping you get those 5 servings a day of your veggies.
You can also find this recipe in my book, Fresh Lunch Salads, which you can buy and download right away, so you'll be on your way to enjoying a wide variety of ways to make and eat your healthy vegetables. Click in this button to learn more/buy:
What's in the Recipe?
8 different kinds of very durable vegetables! By durable, I mean they don't spoil quickly, so you can make a pretty big batch of this and keep it around for a whole week to use in salads, soups, or just eat on its own ( I like mine with a little Greek Yogurt Ranch Dressing).
Lots of different colors of veggies = Robust Good Health!
This is a really big recipe. The reason why I made such a large recipe is because it's almost impossible to buy a very small amount of cabbage! I always buy the tiniest head of cabbage I can find , and I still have some left over when I chop it up for this salad. But fortunately, this is a very versatile salad and it stores well.
Tips & Tricks
When you chop up all the veggies for this salad try to dry them off as much as you can before storing them in a covered container in your fridge – wet vegetables will spoil faster. I go the extra mile and lay a piece of paper towel on top of  the veggies before putting the lid on to absorb any extra moisture that will wick out from the veggies during the week.
If you decide to try Healthy 8 Salad in a soup recipe, I recommend softening the veggies a little by cooking them over medium/low heat in a pan with some olive oil or butter. This will really bring out the flavors and enhance your soup. Mmm, I love homemade soup in the winter!
A super simple salad to go along with most dinners ( even pizza) is to top some lettuce greens with a big handful of Healthy 8 Salad, toss lightly, and serve with your favorite salad dressing.
Print
Healthy 8 Salad – Trader Joe's Copycat Recipe
My Healthy 8 Salad recipe (inspired by Trader Joe's) is a mix of 8 healthy veggies that you can chop up and use all week in salads, soup, or eat on its own.
Author:

Kristie @ Beneficial Bento

Yield:

16 cups
Ingredients
2 cups diced carrots (I use bagged baby carrots to make this easier)

2 cups diced green bell pepper

2 cups diced broccoli, including some of the stem

2 cups diced red radishes

2 cups diced celery

2 cups diced green cabbage

2 cups diced purple cabbage

2 cups diced Daikon radish, optional
Instructions
When dicing the vegetables, try to keep the size pretty uniform, like 1/ 2 inch cubes.

Toss together and store in a large bowl with a lid, or a gallon sized zip top plastic bag.
Notes
This makes avery large amount, but is really versatile. I like to eat this tossed with ranch dressing in lunches or to go with dinner.
You can also add this to soup – I recommend browning it in a little olive oil over medium/low heat first to bring out the flavors even more.
Now that the holidays are over for 2016, you might be feeling like some fresh, healthy vegetables are  a nice change of pace from the holiday goodies we've all been having.
Fresh Lunch Salads is my complete guide to preparing and packing healthy salads for your lunches! In it you'll find:
How to make your own personal salad bar
How to prepare a bowl of lettuce greens that will stay fresh for a whole week in your fridge
Tips for packing salads for lunch boxes and how to keep them fresh
Tips for packing mason jar salads, and other good containers to use besides glass jars
6 of my copycat recipes of  my favorite Trader Joe's salads
9 of my own lunch salad recipes
3 side salad recipes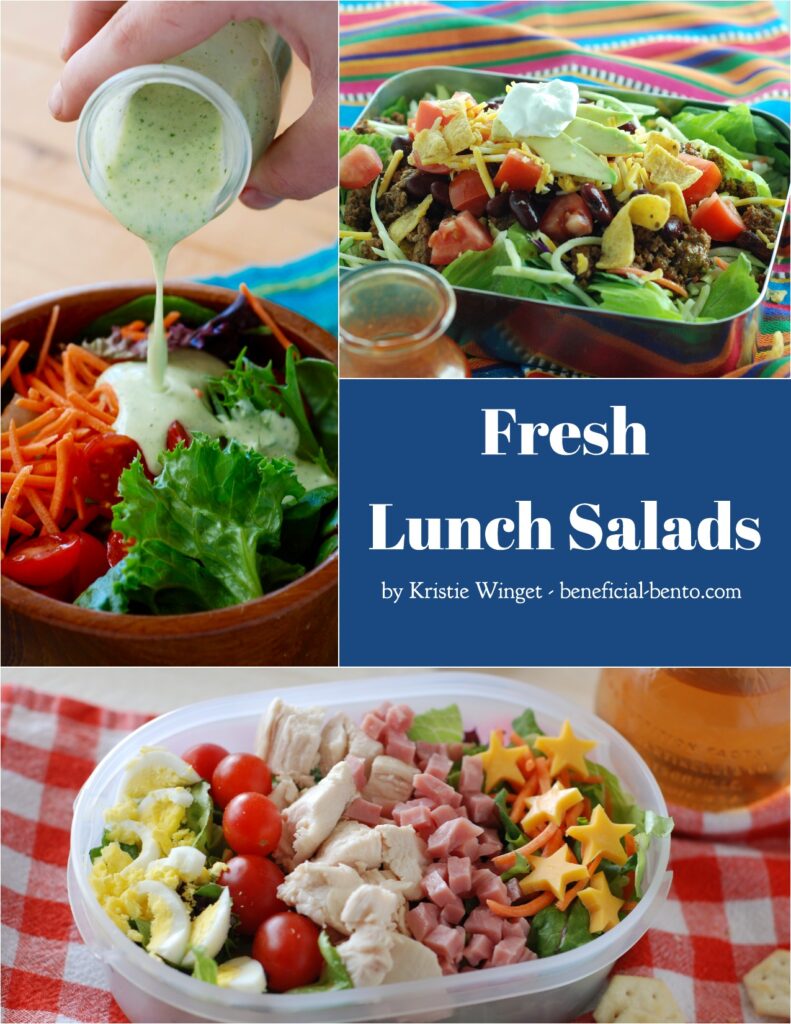 Related Posts:
When you make this, you will most likely have extra cabbage! Here are some other posts that can give you some ideas for what to do with that extra cabbage:
Salad Cups – the Portable Mason Jar Salad
Thai Chicken Noodle Salad Recipe