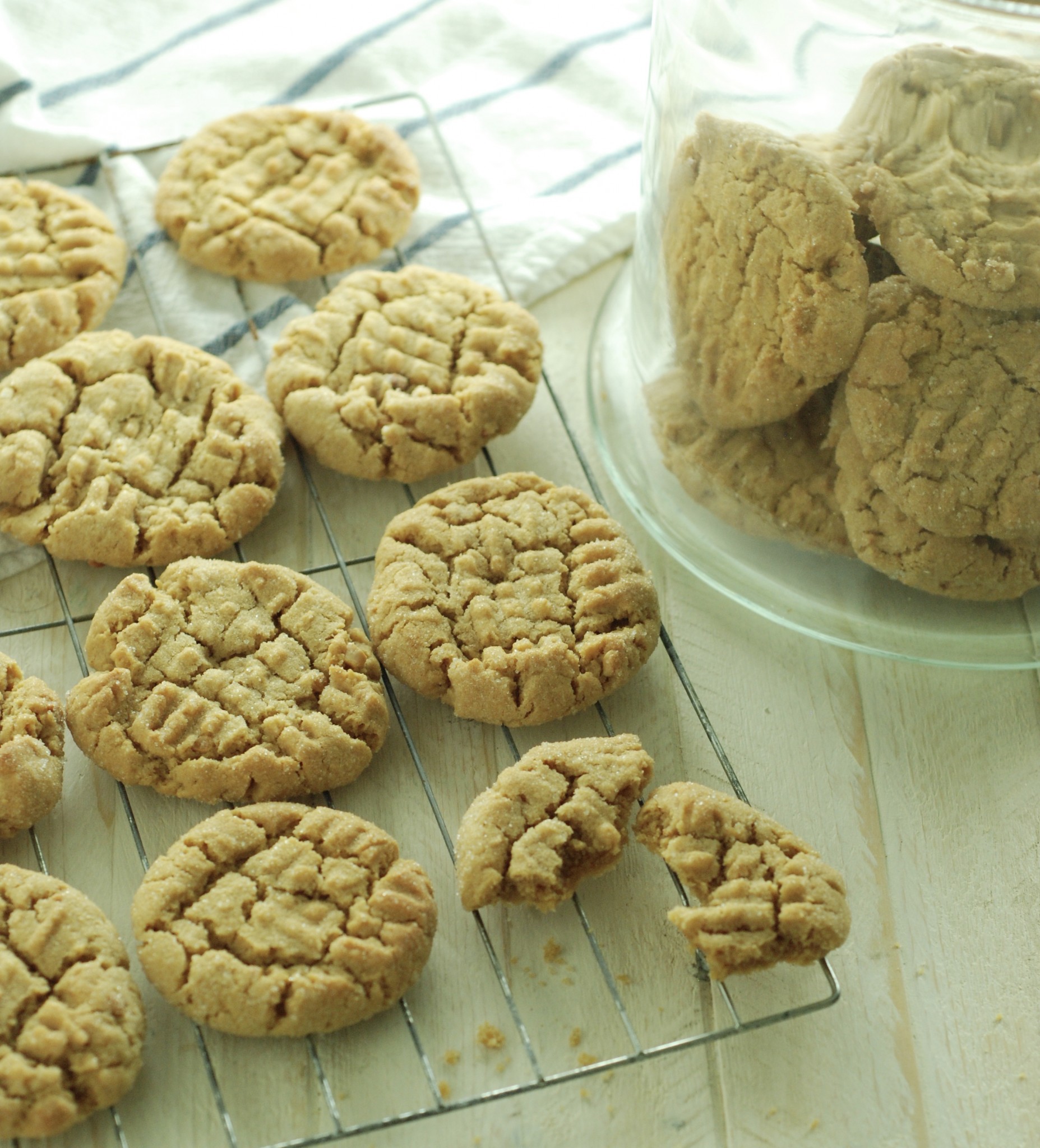 A lot of us have fond childhood memories of having freshly baked cookies hot out of the oven. But if you are gluten free, dunking a chewy, warm cookie into a cold glass of milk while you sit in a kitchen where the very air is filled with the perfume of fresh cookies – well, that doesn't happen very often. Usually we get our cookies from a package, and while they taste good, it just doesn't compare to the whole Cookie-baking-in-your-very-own-kitchen Experience. And that is why I'm sharing my Gluten Free Peanut Butter Cookie recipe with you today.
What's in the Recipe?
Gluten free flours: in this recipe I'm using millet flour, coconut flour, and my own gluten free flour blend, which is a combo of brown rice flour, potato starch, and tapioca starch. You can find the exact ratio in my Guide to Gluten Free Flours.
Peanut butter: if you have peanut allergies in your family, you can easily substitute cashew butter in this recipe. I'm pretty sure almond butter would work just as well, I just haven't tried it yet.
This recipe also contains the usual sugar, eggs, leavenings, etc. – but I substitute coconut oil in place of the usual shortening for a richer taste, and to make it ( somewhat) healthier for you.
Print
Gluten Free Peanut Butter Cookie Recipe
Author:

Beneficial Bento

Prep Time:

20 minutes

Cook Time:

7 minutes

Total Time:

27 minutes

Yield:

0 about 18 cookies

Category:

Dessert
Ingredients
3/4 cup gluten free Basic Brown Rice Flour blend
1/2 cup millet flour (or sorghum)
1/4 cup coconut flour
1 teaspoon baking powder
1 teaspoon baking soda
1 teaspoon xanthan gum
1/2 teaspoon salt
1 cup peanut butter (or cashew butter)
1/2 cup coconut oil
1 cup brown sugar
2 eggs
1 teaspoon vanilla
1/4 cup white sugar (for dipping)
Instructions
In a bowl, combine the flours, baking powder, soda, xanthan gum ,and salt. Set aside.
In a mixer, cream the peanut butter, coconut oil, and brown sugar.
Add eggs, vanilla, and dry ingredients.
Mix until thoroughly combined.
Preheat the oven to 350 degrees.
Roll the dough into small balls, about 2 tablespoons each. Dip each ball into the reserved 1/4 cup white sugar and place on cookie sheet.
Flatten each ball with a fork in a criss cross pattern.
Bake at 350 degrees for about 7 minutes, or until cookie is just set, but not too hard.
Cool for a few minutes before removing from cookie sheet with a spatula – gluten free cookies will crumble if handled when they are too hot.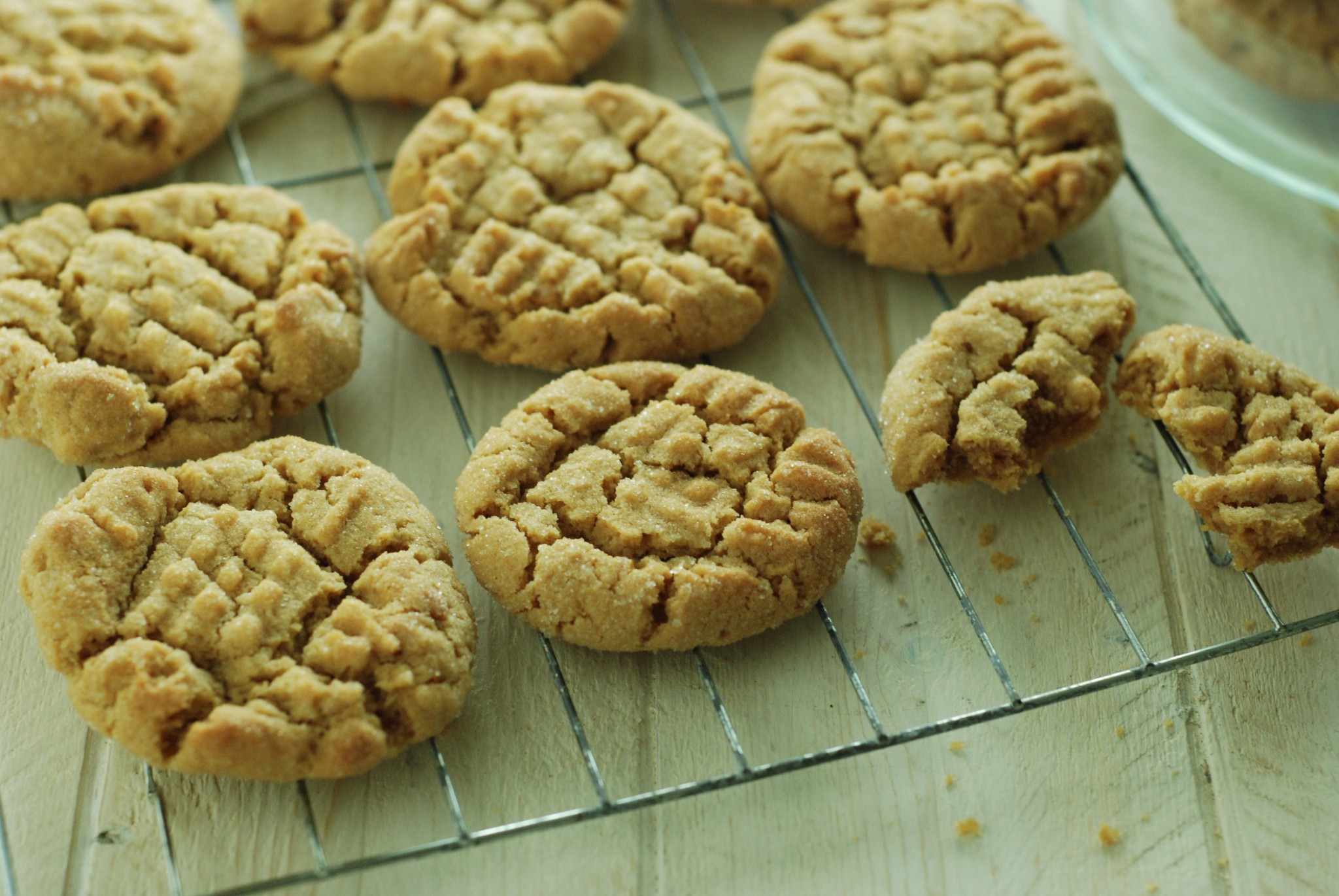 Tips & Tricks
Be sure to let the cookies cool on the cookie sheet for a few minutes before moving them. Gluten free cookies are notorious for being very crumbly when they're hot! They can be moved and eaten when they're still warm, just give them a little time to "set" and they will be absolutely delicously dunkable in a cold glass of milk 😀
Using coconut oil in place of the shortening works very well, but when the cookies are completely cool they tend to have a softer texture ( which we love). But if you want a crisper cookie, you can use regular shortening.