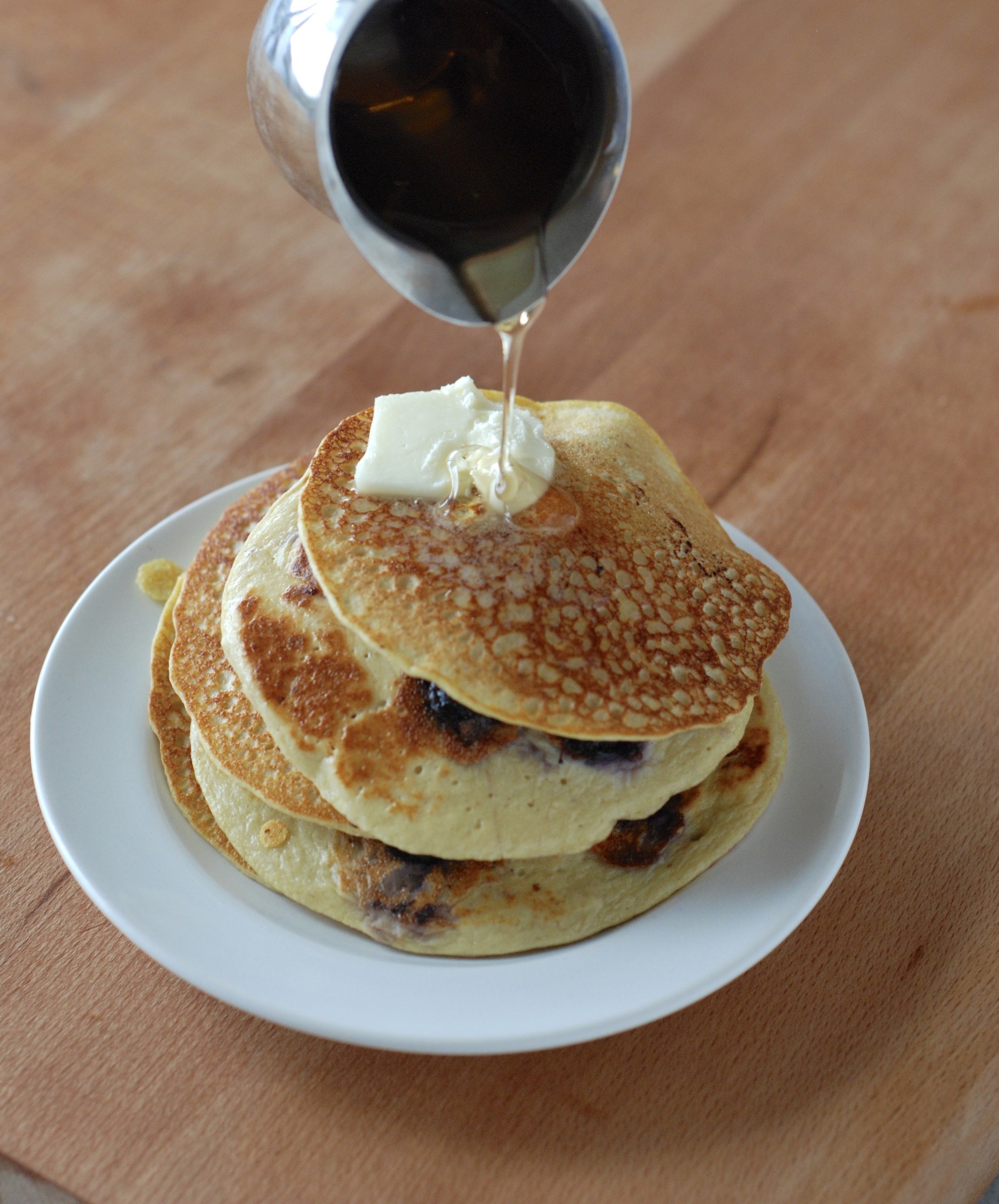 Have you tried making those pancakes that are nothing more than bananas and eggs?
I thought it sounded like a great idea so I gave it a try. It wasn't quite as appealing as the Pinterest pictures made it look, and even though I cooked mine on low heat, they burned.
I knew it was a good idea though, so I have been experimenting with a high protein, whole grain carb pancake recipe. I am happy to say that Gluten Free Banana Protein Pancakes is a keeper!
What's in the Recipe?
a banana
cottage cheese, 2% lowfat
oatmeal – to make sure it's gluten free, I use a brand called GlutenFreeda
eggs
And that's it – no added sweeteners, or leavening, or anything! The banana is the only sweet thing in the pancakes, and the riper the banana the better. But don't use over-ripe bananas – save those for banana bread, or for freezing and using for smoothies and shakes, like my protein Chocolate Smoothie.
I like cooking these with a few blueberries for healthy blueberry pancakes but they are just a s good without, as shown here: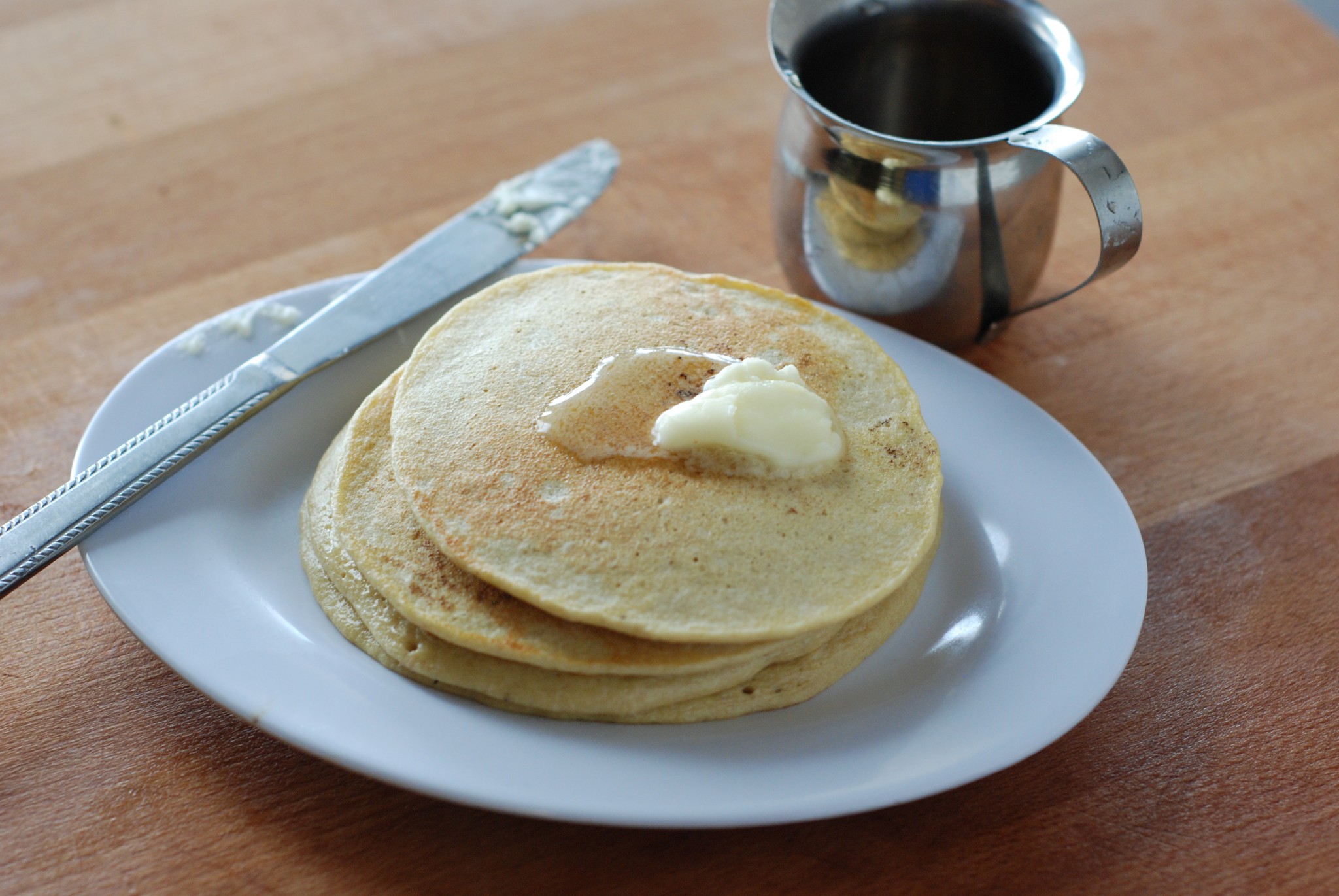 Print
Gluten Free Banana Protein Pancakes
These banana protein pancakes are made with a banana, cottage cheese, eggs, and oatmeal – and that's it! No need for added sweeteners or leavenings, and they're gluten free. One of my favorite breakfasts!
Author:

Beneficial Bento

Prep Time:

5 minutes

Cook Time:

15 minutes

Total Time:

20 minutes

Yield:

8 -10 small pancakes

Category:

Breakfast
Ingredients
1/2 of a ripe banana
1/2 cup cottage cheese (2% milkfat)
2 eggs (or 2 egg whites if you prefer)
1/2 cup oatmeal
Instructions
Put all the ingredients in a blender or food processor and blend until the batter is smooth.
Cook on a pancake griddle or on a pan on the stove top on medium to low heat, that has been lightly sprayed with oil or cooking spray.
*Optional – you can drop a few blueberries on top of each pancake right after you pour out the batter.
Cook until they begin to look very solid around the edges and form bubbles. Turn them over with care. These will need to cook for longer than regular pancakes, approx. 5 minutes.Experiment a little until you find what works for your pan or stove. Be patient, they are worth it!
Serve with low sugar jam, butter, agave nectar, or maple syrup.
These make a lot of pancakes for one serving – a very filling, high protein breakfast!
Tips & Tricks
The key with these pancakes is to cook them on lower heat than regular pancakes. I set my pancake griddle to 300 degrees. On the stove I use the medium-low setting. They do cook longer than regular pancakes – be patient, they're worth the wait!
We like to drop a few blueberries on top of the pancakes when pouring out the batter. I just use frozen ones that I have rinsed under running water in a little strainer.
We have better success if we make several smaller sized pancakes rather than a few really big ones. Small ones seem to cook more evenly.
One serving is a LOT of pancakes! Like about 8-10 small/medium pancakes. This makes for a very filling, high protein breakfast! Sometimes I split one serving between 2 people, but you can eat the whole batch without worries about overdoing it, if you're really hungry!
These are good eaten plain, or served with a little fresh fruit, low sugar jam, butter,pure maple syrup, or agave nectar – as shown in the photos. I really like agave – it's not overly sweet, and you don't need much of it.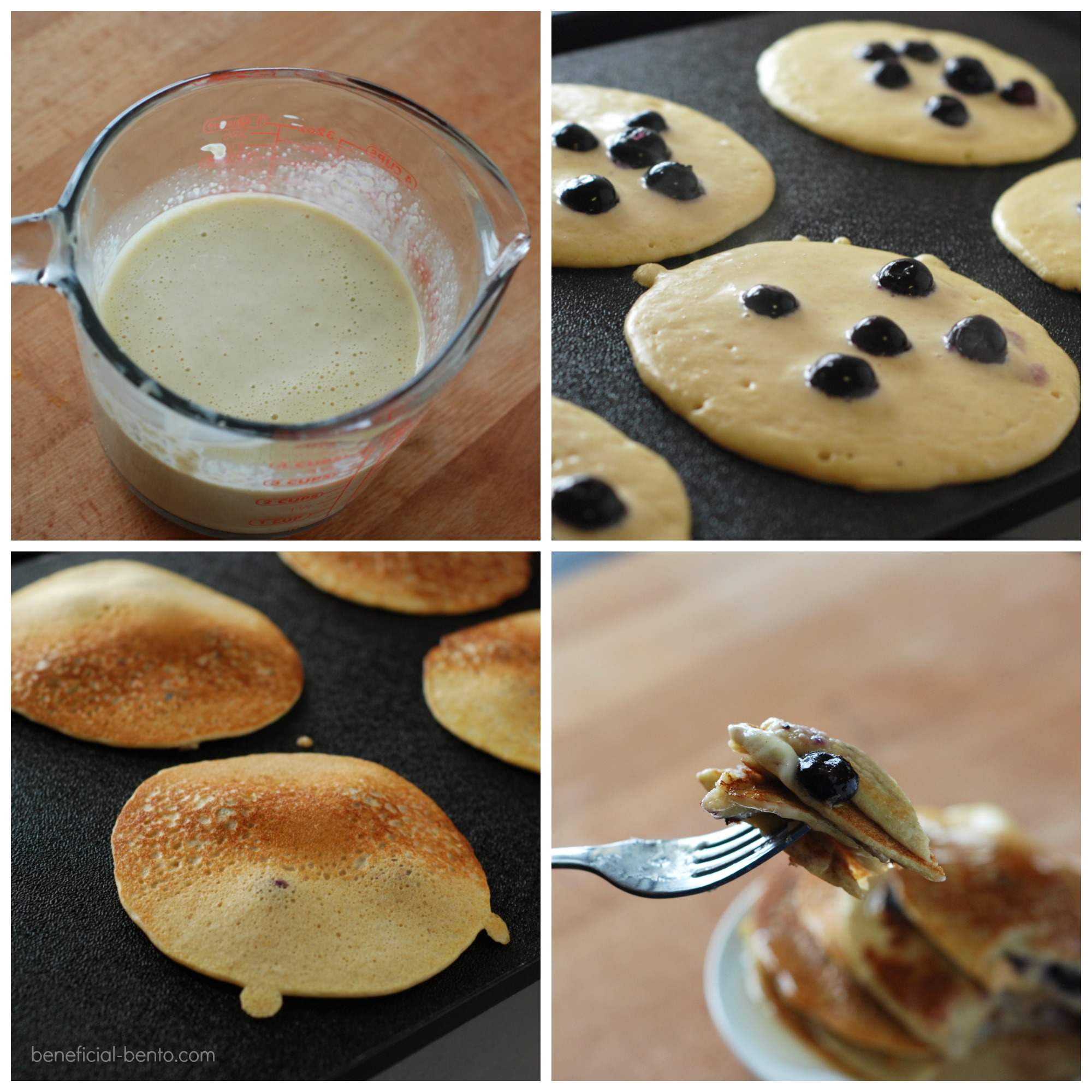 Related Posts:
Here are some other healthy, gluten free breakfast recipes for you to try:
Gluten Free Chocolate P.B. Overnight Oats
Best Gluten Free Breakfast Recipes
If you like this recipe, please share! Copy and paste the URL to share it on Facebook or Twitter, or click the little Pinterest button in the upper corner of the pic below to share on Pinterest: