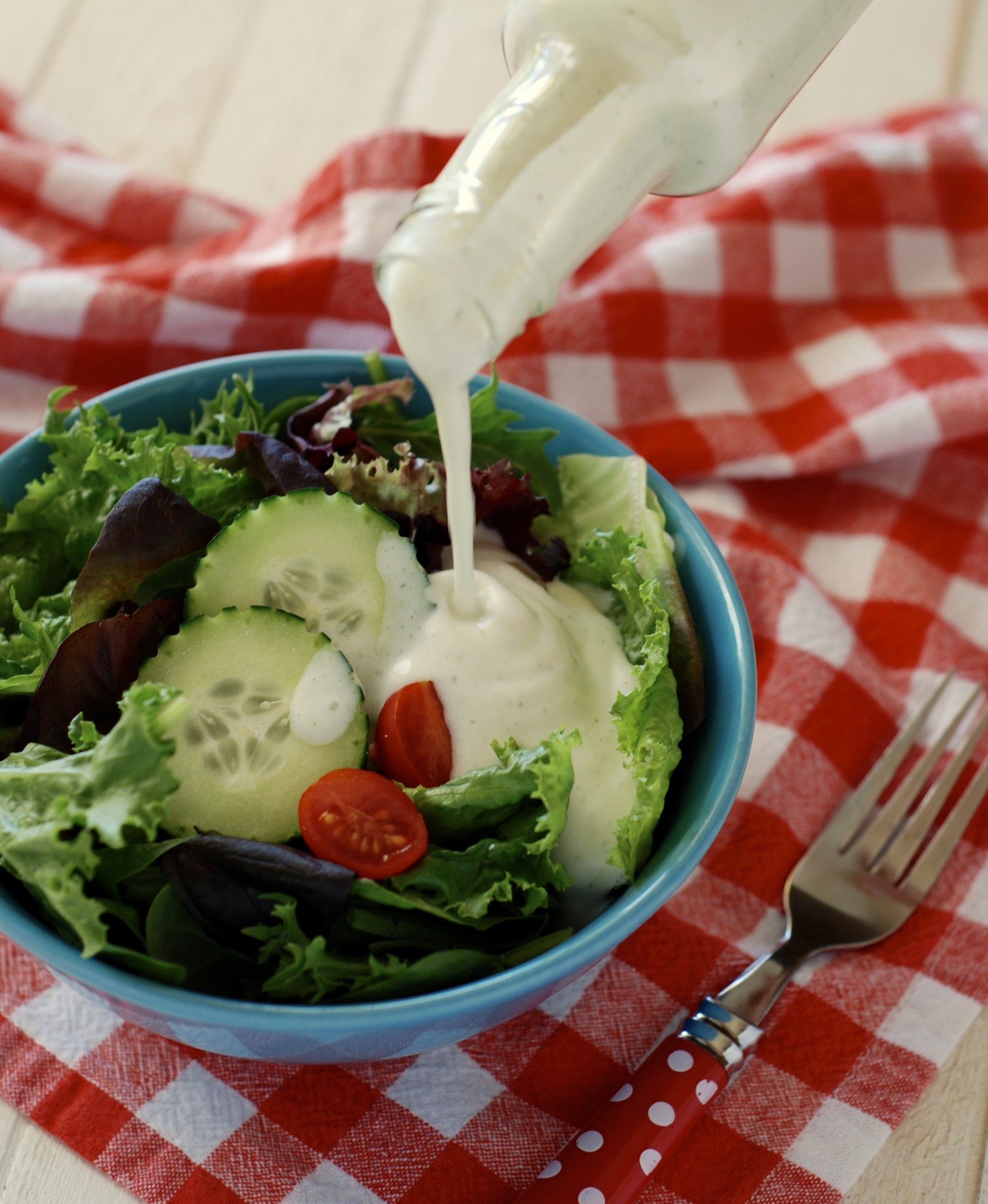 Why does every brand of bottled ranch dressing contain eggs?
I created this recipe to try  to find a healthier version of ranch dressing that my family would like, but it also has the added bonus of being egg-free. This is fantastic news for our little grandson, who was recently diagnosed with an egg allergy. He loves ranch dressing, and this way he can still enjoy it! Are you allergic to eggs, or do you cook for someone who is? Give this recipe a try – it's got the same rich, creamy taste of the ranch dressing that you buy at the store, but it's a lot healthier. And no eggs, of course!
What's in the Recipe?
Greek yogurt – you can use non-fat yogurt if you're watching calories, or use full-fat yogurt for a richer flavor.
Buttermilk – it just won't taste as good without it
Light Tasting Olive oil – This was a key ingredient to give it the rich flavor that the store bought kind has. Be sure to use light tasting – regular olive oil's flavor can be overpowering. I sometimes use avocado oil, which is delicious in this recipe 🙂
Powdered ranch dressing mix – I tried mixing my own spices, but I just could not get it to taste right. In this case, I had to give in and use the packaged powder.
Print
Ranch Dressing Recipe – Egg-free, and Healthy!
This rich, creamy ranch dressing is made healthier by using Greek yogurt and olive oil, and is also one of the few ranch dressings that doesn't contain any eggs.
Author:

Kristie @ Beneficial Bento
Ingredients
1 cup plain Greek yogurt either non-fat or full-fat

3/4 cup buttermilk

1/4 cup light tasting olive oil, or avocado oil

1 package of Hidden Valley ranch salad dressing mix, 1 ounce, dry
Instructions
Whisk all ingredients together in a medium sized bowl until smooth.

Store in the refrigerator.
Notes
This dressing may solidify somewhat when chilled because it contains olive oil. If this happens, set it out at room temperature for a few minutes to "take the chill off", and shake it up until it's pourable again
Tips & Tricks
Keep in mind that since this recipe contains olive oil, it may solidify when it's cold. If that happens, you can set it out at room temperature for a few minutes to "take the chill off". You can also add a few drops of oil or buttermilk to thin it out, and shake it up until it liquifies again.
Cookbook Alert!
This is one of many recipes that you can find in my very first ebook, called Fresh Lunch Salads. I am putting the finishing touches on it this week, and I'll update this post when it's available. I can't wait for you to see it!
Update:
Here it is!