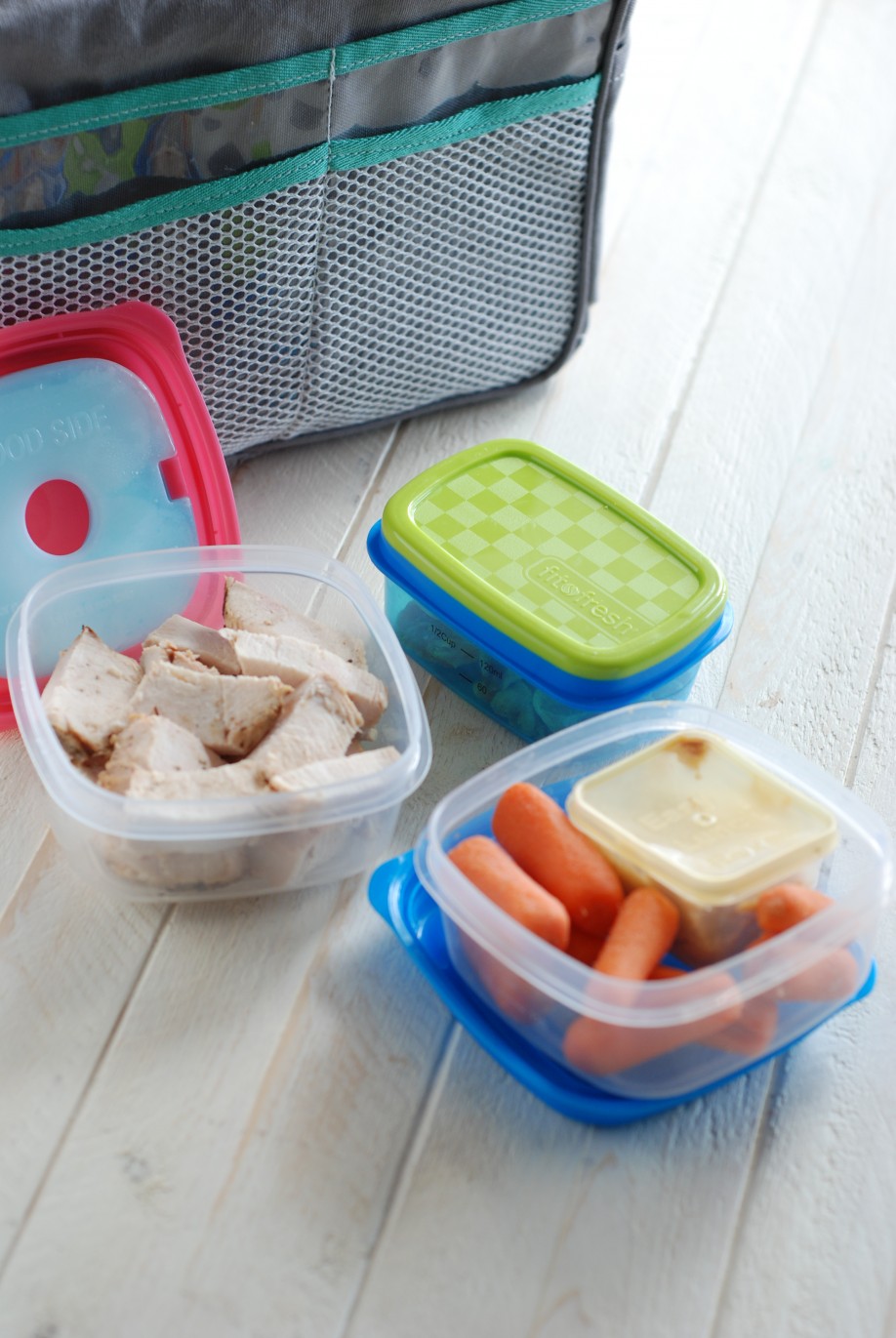 What does a perfect day look like to you? Does it include sleeping in, spending time with friends or family, time alone to read or take a nap, or going out to do something fun? For me, a perfect day always starts out by packing up my lunch, water bottle, and 1 or 2 healthy snacks to make sure I stick to my diet. Whether I leave the house or stay at home, having my food decisions made early in the day can make any day go much more smoothly. * Note: this post contains affiliate links
Why I Do It:
When I'm at home, I usually grab my lunch or snack out of the fridge and take it downstairs to my office/sewing room where I do most of my work. But when I leave the house, I also take my food with me – even if I'm not hungry, and it's not time to eat yet! It may seem strange to you to carry around a bag of food everywhere, but I do it almost every day. Even when I'm in the grocery store, the Land of Food! It's a big help to me when I'm waiting in the checkout line ( you know, the place where they keep all the candy bars ). That's the time when I'm most likely to give in and buy something I don't need to eat, just because I hear it calling my name… but if I have a bag of baby carrots with me or a small piece of chicken breast I don't even hear those candy bars ( Lalalala, I can't hear you!). I munch on a carrot, remember my goals, and go on my merry way – take THAT, candy bars!
The Cooler Bag I Use:
I realized right away that it's really inconvenient to haul around a lunch bag AND a purse wherever I go. No matter how cool you actually are, you feel a little un-cool and awkward bringing a lunch bag along. And we humans only have 2 arms – so there's that problem, too. But since I am really devoted to keeping healthy food with me, I set to work to solve this problem. After some trial and error, I have come up with something pretty awesome: a Cooler Purse Organizer!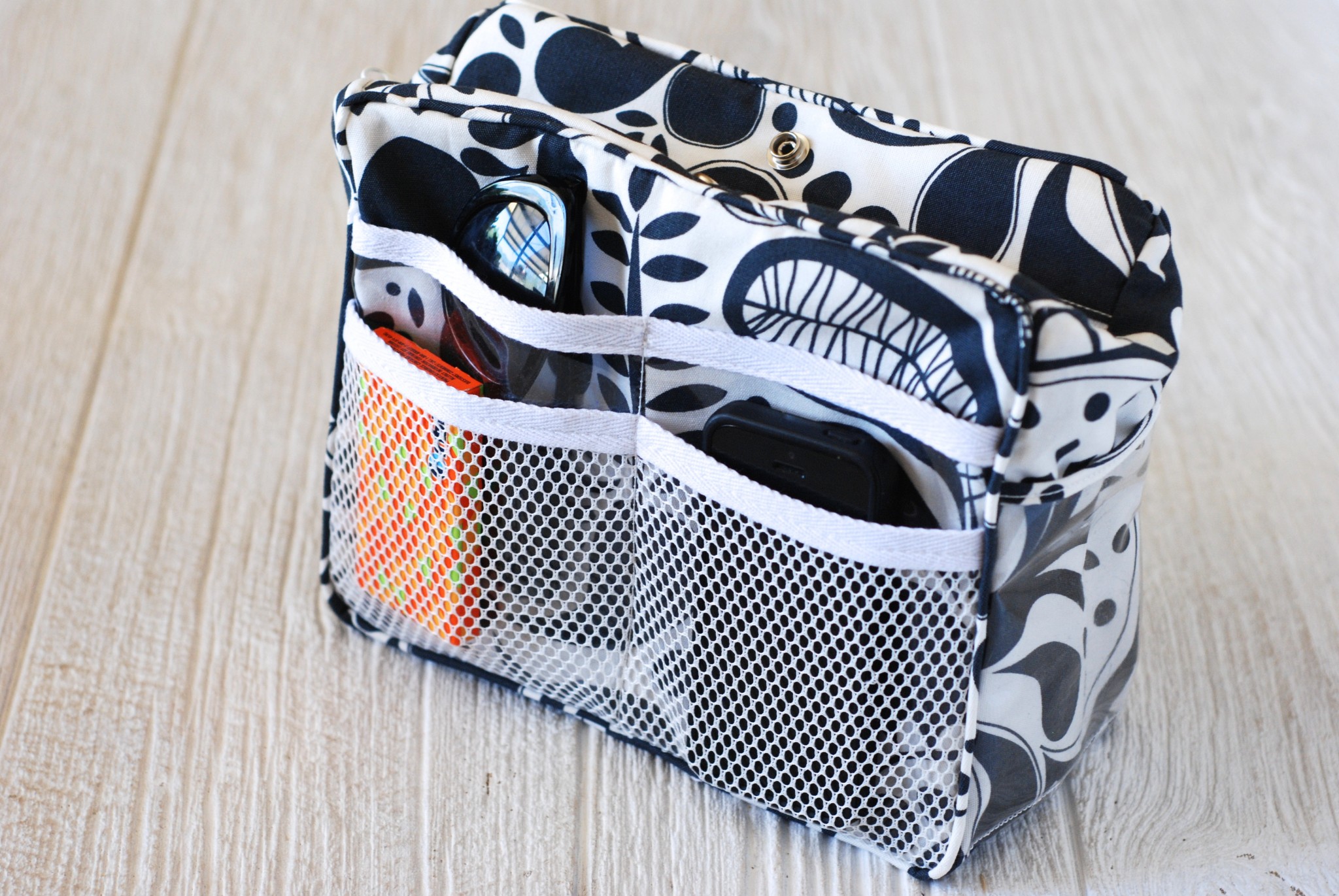 My Cooler Purse Organizer is a basically a compact bag of pockets that is designed to fit inside a purse ( or backpack, tote bag, diaper bag, etc.). You can keep all your purse essentials, like your phone, sunglasses, or whatever organized in all the outer pockets. AND, you can lift the whole thing out and put it in another purse – so you can switch purses as often as you want and still keep all your stuff together! But the real beauty of this little bag is what's inside – a lined, insulated mini cooler to store your food. Please head over to my Etsy shop where you can see the different colors I have and read more about them… it's okay, I'll wait here.
The Food Containers I Love:
When I am packing up my lunch and snacks for the day, the containers I use most often are from Fit & Fresh. Their whole company exists to make it easy for you to pack your food and take it with you! I love their individual, portion controlled containers, and they fit so nicely in my Cooler Purse Organizers. They make it so easy to measure out your portions, since most of their containers have ounces and cup markings on the outside. And another feature that I love is the little ice packs – you can snap an ice pack into the lid, so just the food in the container stays chilled. And if you don't need or want an ice pack, they come out just as easily, too.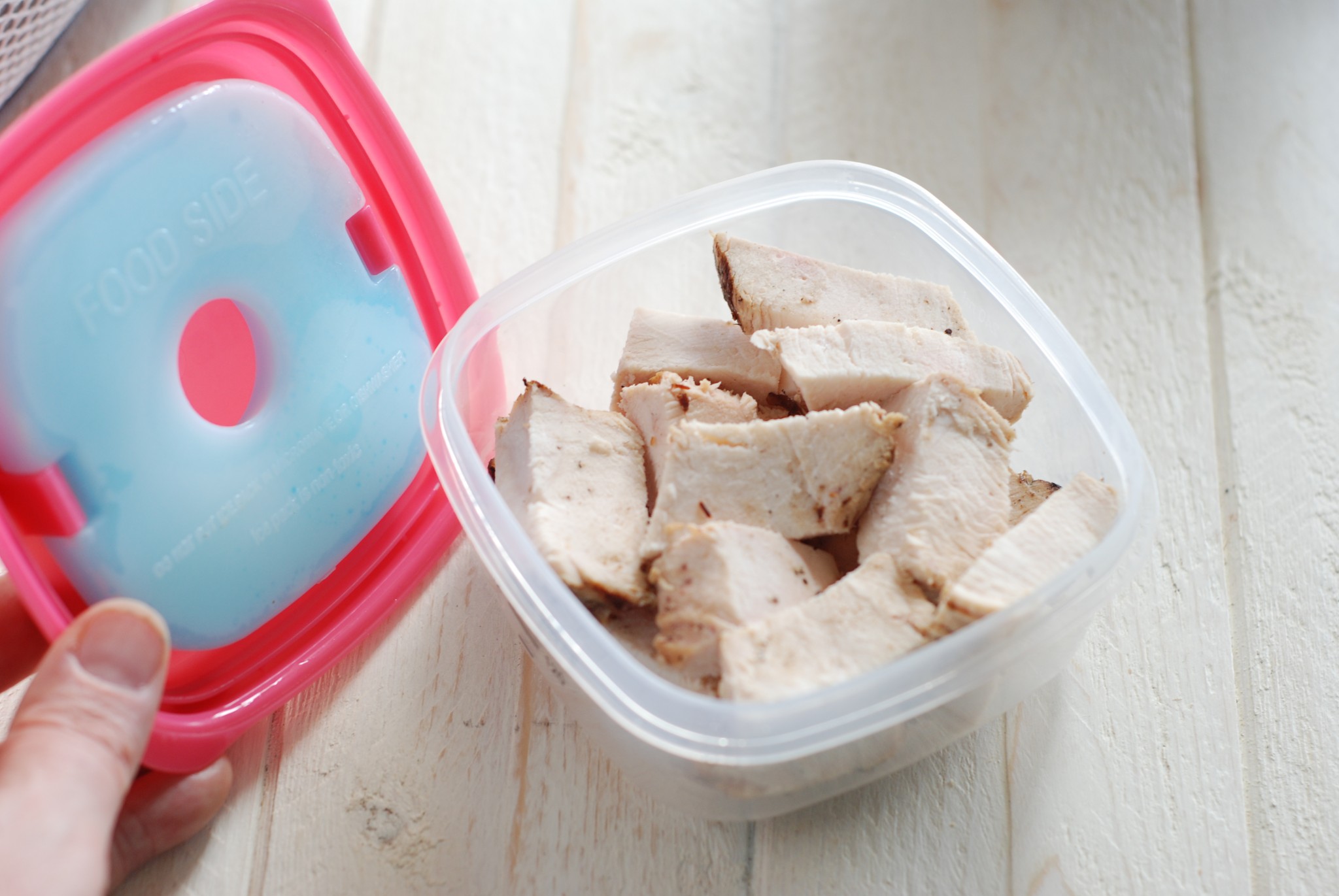 Pro Tip: *I keep a big plastic freezer bag in my freezer to store all the little ice packs so I can find them when I need them.
Fit & Fresh was kind enough to send me some of their new food storage containers to review, some ice packs, and a really lovely water bottle. I can tell you honestly, I have used the water bottle and the food containers every single day since they came in the mail!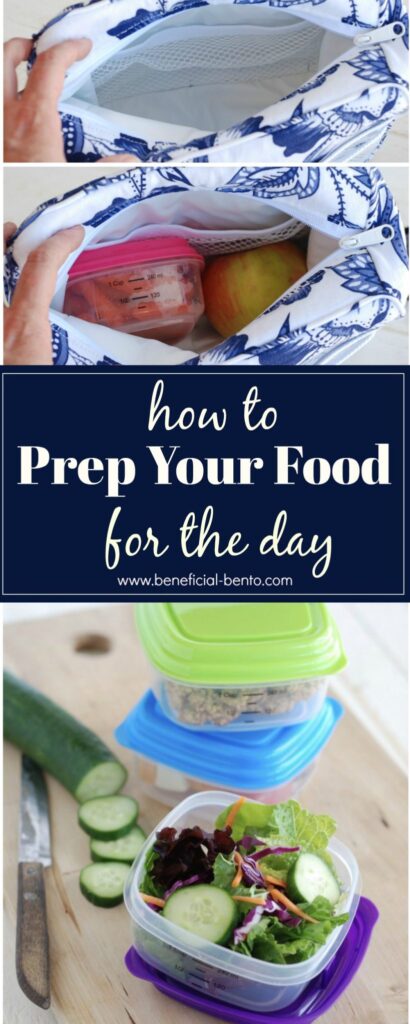 How to Pack Food for the Day:
I'll show you the basics of how I pack my cooler for the day, what kinds of foods I bring along with me, and where you can buy the containers I use.
For food, I always pack snacks to take with me. About half the time I include a sandwich or a salad for lunch, too – but I find that the things I need the most when I'm away from home are snacks. In a pinch you can even eat 2 snacks and call it lunch 🙂
Here's what I've found that works best for me:
Keep some non-perishable food in your cooler at all times. If I forget to pack my cooler, I know I always have a back-up. Some good ideas are protein bars, nuts, dried fruit, and jerky. I prefer jerky since it's high in protein. Currently I have some dried oranges and walnuts in my purse right now ( because I ate that jerky – it was good!).
2. I also keep a plastic fork and spoon wrapped in a paper napkin in my cooler – you might be surprised how often you wish you had it!
3. Choose protein first. Protein is filling, and a necessary nutrient. And it's not so easy to come by when you are out running errands and need something healthy to eat. Some great      choices are chicken breast chunks, boiled egg, asparagus wrapped in ham or turkey slices, cottage cheese, and greek yogurt.
4. The next most important food is veggies. I aim to eat veggies with every meal since they fill you up with very few calories, and give your body SO many nutrients! And you won't generally find veggies at the movie theater or checkout counter. Pack Your Vegetables – you won't regret it! Some great choices are baby carrots, broccoli, celery, tossed salad, bell peppers –  pretty much anything you love to eat! This time I packed some baby carrots with some hummus. My Fit & Fresh 1 cup container is the perfect size for this.
5.Leave out the starchy carbs. They can be found everywhere! The world is full of starchy carbs, and it's pretty easy to find even healthy choices when you're away from home – but my favorite carbs for health and weight loss are vegetables and fruits
6.Add an ice pack. Sometimes I use the ones that snap into the lid, and sometimes I tuck an ice pack in the mesh pocket of my cooler. Fit & Fresh has some great ones that are perfect! I love these flower shaped ones that they sent me – they fit perfectly!
7.I carry my water separately – I do like a big water bottle, and I don't want it to spill inside my purse 🙂 This Tritan water bottle from Fit & Fresh has been with me every day since it came in the mail. I love how slim it is, so it fits in my car cup holders and the cup holders on the cardio machines at the gym. The opening is wide enough for ice cubes, and the lid seals tightly so if it tips over it won't spill. And one little thing that this bottle has that has turned out to be a big thing for me – it has a little carrying handle. When my arms are full of things, I find that I can still grab the handle of my water bottle with one finger and bring it along. I love it!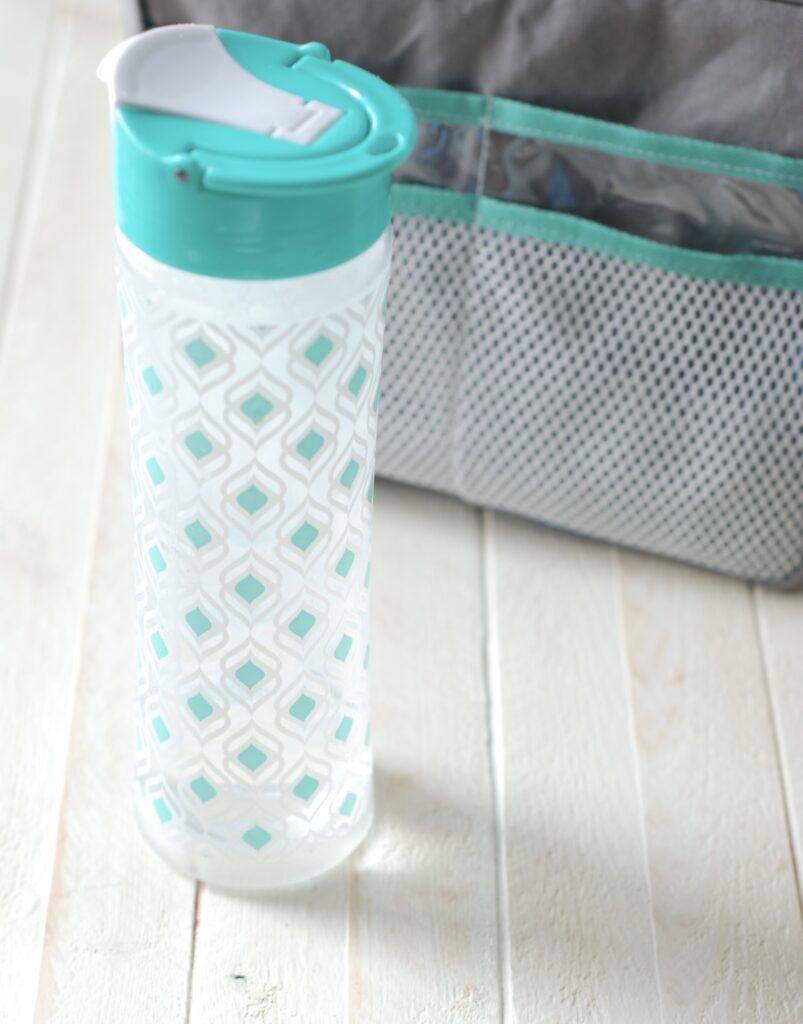 So there are my very basic tips for how I pack up my food for the day. It's easy to do since I usually spend some time once a week to meal prep. I also make a big salad bowl and a salad bar for the week as well.
And you can buy my Cooler Purse Organizers over at my Etsy Shop 😀