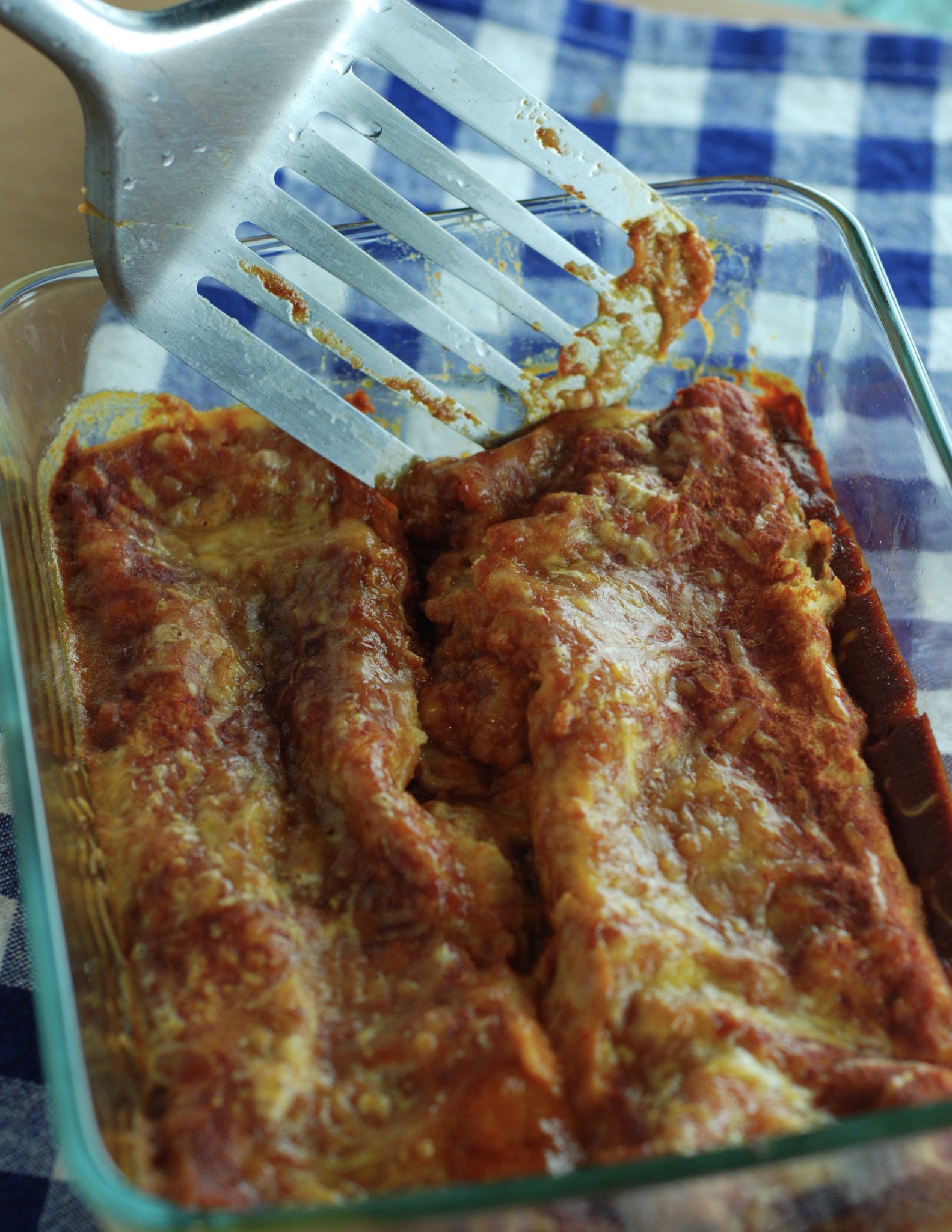 Well, I tried to show you in photos the cheesy, gooey, spicy, savory deliciousness of these enchiladas… but I will be the first to admit that enchiladas are NOT photogenic! I tried and tried – but these enchiladas definitely taste much better than they look.
What these enchiladas are, however, is low carb –  and not too shabby in the calorie department either, thanks to these new low carb tortillas by La Tortillas Factory. Each one has 4 grams of net carbs, and only 45 calories each! I was able to try these thanks to our Degustabox this month. We received a bunch of fun, new foods in October – here's a video we made to show you what we got:
If you want to see a big box of fun food surprises show up on your doorstep each month, you can subscribe using my affiliate link right here:
What's in the Recipe
low fat cottage cheese – I used 2%
taco seasoning mix
shredded cheddar cheese
canned enchilada sauce
tortillas – I used the La Tortilla Factory ones for the wheat eaters in our family, and corn tortillas for us gluten free folk 🙂
Print
Low-Carb Cheese Enchiladas
These low carb enchiladas are filled mostly with low fat cottage cheese, and are low in carbs thanks to the Low Carb wheat tortillas by La Tortilla Factory.
Author:

Beneficial Bento

Prep Time:

15 minutes

Cook Time:

30 minutes

Total Time:

45 minutes

Yield:

6 servings ( 2 each)

Category:

main dish
Ingredients
3 cups 2% low fat cottage cheese
2 tablespoons taco seasoning mix (or 1/2 of a package)
1 oz can red enchilada sauce (19 .)
2 cups shredded cheddar cheese (divided)
10 – 12 tortillas (either wheat-based or corn)
Instructions
In a food processor or blender, add cottage cheese and taco seasoning. Blend until smooth.
Turn out into a bowl. Add 1 and 1/2 cups of shredded cheddar cheese and stir to combine.
Warm the tortillas in the the microwave for about 30 seconds to a minute, to soften.
Spray a 9 x 13 baking dish with a little cooking spray.
Spread about 1/3 cup or so of the cheese filling in the center of each softened tortilla. It's important to tuck the ends in before rolling it up, like you would with a burrito. This way when the cheese filling melts, it won't leak out into the pan. Then roll them up and place them, seam side down, in the baking dish ( you may need more than one baking dish to fit them all in)
After the enchiladas are all filled and rolled and placed in the dish, pour the red enchilada sauce over all. Sprinkle with the remaining 1/2 cup cheese.
Bake at 350 degrees for 20 – 30 minutes, or until the cheese is melted and the casserole is bubbly.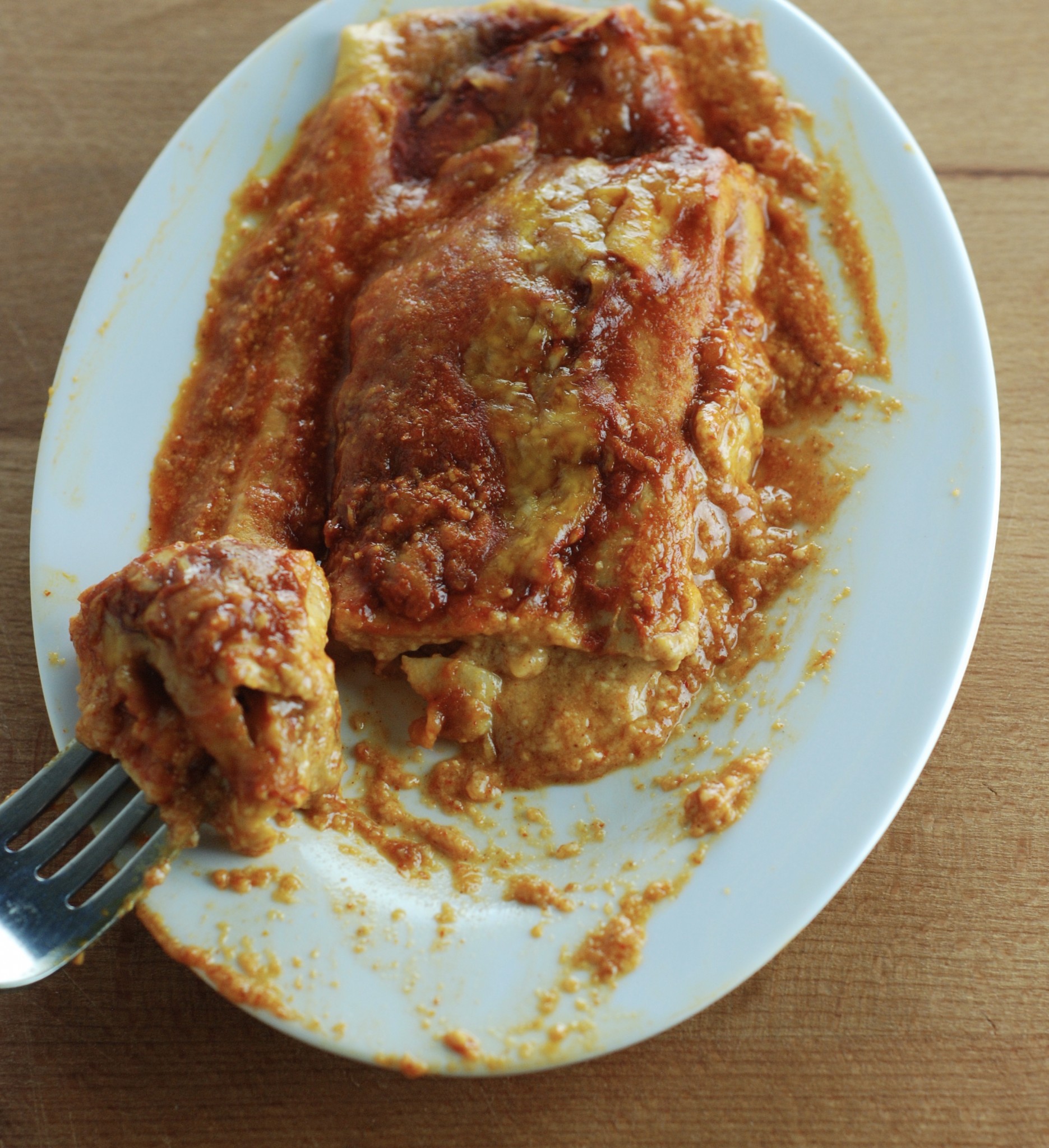 Tips & Tricks
Remember when you roll up these enchiladas, to fold the ends in, like you would with a burrito – that keeps the gooey cheese filling from leaking out!