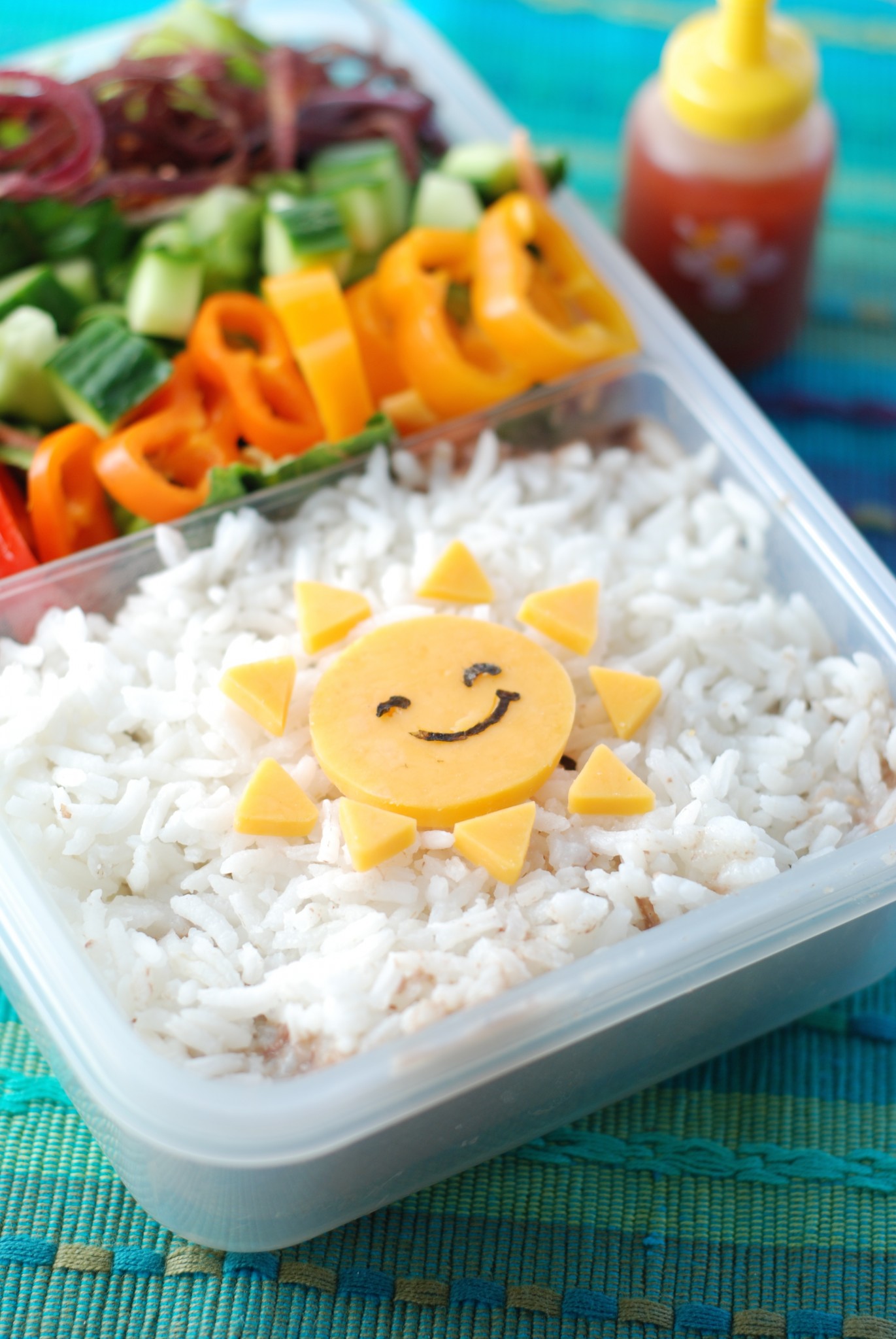 Do you want to know my super fast method for using up leftovers, and turning them into a cute bento?
Put the leftover meat/main dish on the bottom
Top with rice
Add a cute bento touch on top of the rice
Fill in with colorful, healthy veggies and fruit
And just like that, you have made one of those cute lunches that seems to make people say,
"Oh my gosh, that is so cuuuute! How do you have TIME to make all that cute food? I wouldn't have the patience to do THAT!"
Ha ha ha, I don't have the time to fuss with food much either ( except for a few rare occasions). Now you know my number one secret!
So why do I do it? Why even bother, when it's just going to get eaten anyway?
I know to some people, it seems crazy for a grown woman to play with food like this – after all, I don't have any little kids at home anymore. Isn't it kind of weird to go to so much trouble to make my family's lunch so … what, – fun? Entertaining?  and AWESOME?
I decided to make a list of my reasons why I find making bento well worth my time, and here it is:
WHY I MAKE BENTO
It makes healthy food exciting! What is is about our culture that tells us that it's perfectly fine and acceptable to spend hours decorating amazing cakes, cupcakes, cake pops, candy, etc. but it's "too much work" to make vegetables, fruit, and other healthy things look good? I have been doing this for over 4 years now, and I have watched my family members ( some of whom can be very picky about certain vegetables) try new veggies without me pushing them to do it. It's different when they open their lunch and find something that makes them smile, realizing that Mom put some love and effort into making it. They nearly always try it at least, and even if they didn't like it I hear positive feedback like, "I tried that ___ and it's not really my thing … but that was a COOL lunch!"  Just developing a positive attitude about healthy food is a win in my book 🙂
It makes being on a special diet something to look forward to! I know a thing or two about special diets. After spending most of 2015 sick or injured ( 2 major injuries, one surgery, one emergency room visit to put a dislocated shoulder in place, 3 bouts of severe flu… can I just do 2015 over again, please?),  I now have some extra weight to get rid of. I enjoy my big, healthy salads and teeny, tiny portions of cheese or chocolate a lot more when they are packed creatively and put a smile on my face when I get to eat them. And my youngest son and I are gluten intolerant, and I have a grandson who is allergic to peanuts, and another grandson who is allergic to eggs.  Actually, that's one of the reasons I got into making bento in the first place – if we can't eat the same thing as everyone else, then at least our food can look way more fun than theirs does!
It doesn't take as much time as you think. I really enjoy taking the time to make my family's food more interesting and appetizing, but I don't always spend a lot of time doing it. Cooking food and packing lunches is something that needs to be done anyway – you might as well take a few extra minutes to make it fun. You need to stick a sandwich in a lunchbox, or a salad in a container of some sort… why not make it fun, like I did with the Sunshine Bento shown above?  You don't have to make the beautiful, elaborate bento that you see on Pinterest if that's not your thing. Just cutting your salad tomato into a heart shape or arranging your baby carrots and broccoli in lines instead just plopping them in a sandwich bag can go a long way. And it is fun – whether you make food for kids, or grown-ups, or for yourself. It's worth it 🙂
It's a unique way to show you care. Making lunch for somebody is a great way to show them that you love them. They know that it takes time to prepare food, and it's an extra dose of love and caring to add a little heart, flower, Spiderman, Christmas tree, or other fun little thing. It reminds them in the middle of the day that you love them, and they remember how much they love you, too! And making their veggies, fruits, and other healthy food with a little touch of whimsy or sense of humor lets them know that you also care about their health. Creating lunches for your kids is a great example to them of going the extra mile to show someone love, and they will grow up to show that kind of love to others! They really will 🙂
It's a fun, creative outlet. I am an artistic, crafty kind of girl. I am happiest when I am making something. Creating something special out of food is really satisfying to me. And it gets eaten, so no clutter! And the best lunches are usually documented with photos ( that's how this blog got it's start anyway) so I always have my "gallery" of bento art to share with you all online – which is a good time for a shout out to all of you for coming here to read, look, and learn – thank you so much!
The tools and supplies are small and cheap! Even if you have nothing more than a sharp knife and one simple bento box, you can still make great lunches. But there are SO many fun cutters, punches, molds, containers, and more… they are all generally low cost, and those little tools don't take up a lot of space ( you can see my favorites over in My Favorite Kitchen Tools). But be warned, it can be pretty easy to get carried away with all the fun little tools, ha ha ha! I LOVE me some kitchen gadgets, and bento is one hobby that can make you feel like you are swimming in adorable kitchen gadgets in the blink of an eye. But to be fair, I have a very small kitchen and I can store a surprising amount of bento goodies here and there in drawers and they are most welcome and fit in just fine 😉
I'd like to challenge you to find a way to add something fun to your lunch, or the lunch of someone you love ASAP. I hope you document it with a picture too – if you do, I WANNA SEE!
Why not post it on my Facebook page right here? facebook.com/BeneficialBento
Or how about on Instagram – I'm @beneficialbento