It's been really useful to have a hearty, filling,  meatless main dish that my whole family loves. In fact, nobody realized at first that this chili didn't have any meat.  And the fact that it can heat all day in a slow cooker makes it even more versatile –  it can be ready to eat when you need it to be. Slow Cooker Meatless Chili is the perfect hot meal to come home to after a long, cold winter day, and it will warm you right to your core!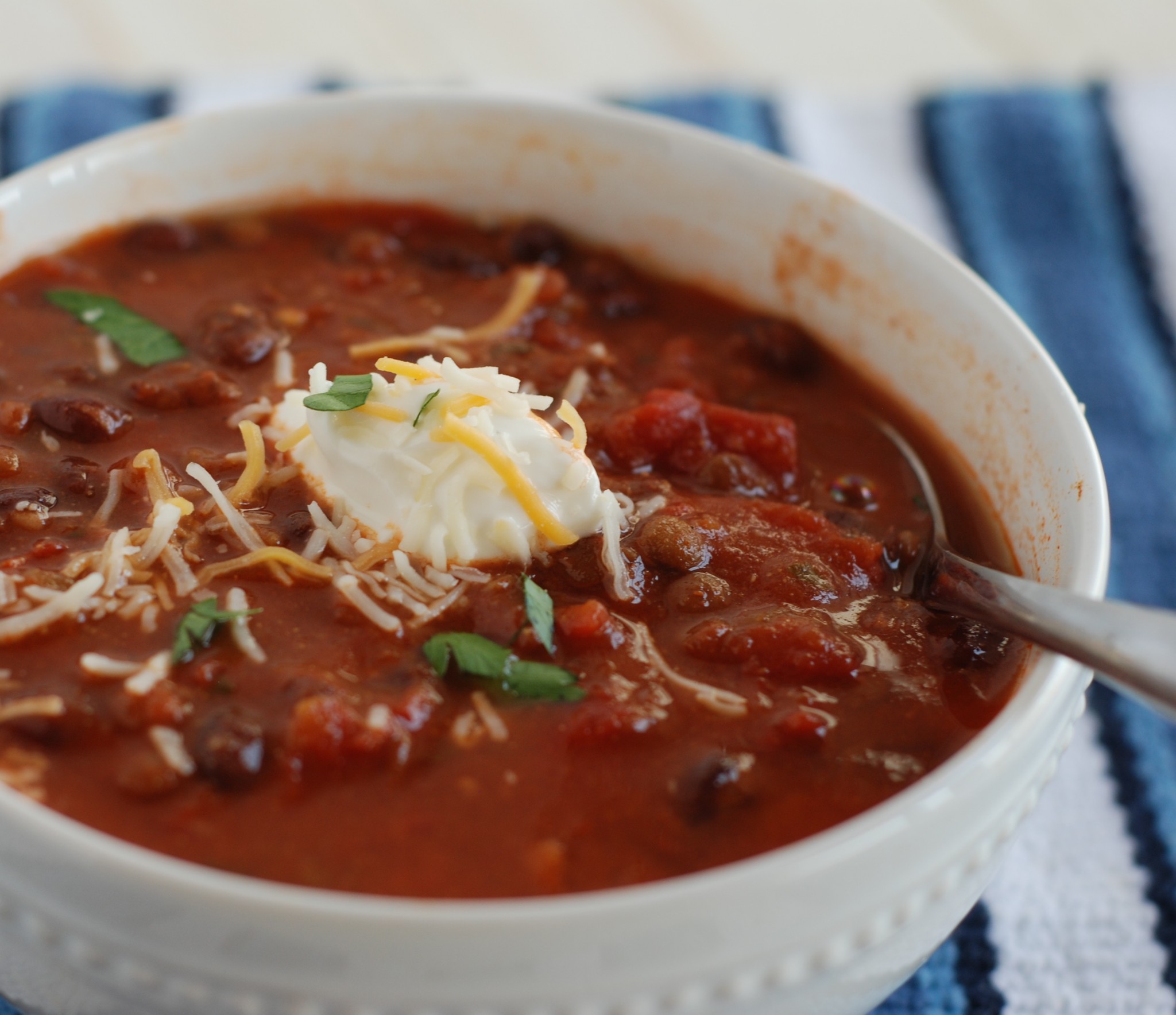 WHAT'S IN THE RECIPE
protein from lentils and black beans
2 kinds of peppers – green bell pepper, and canned green chiles
canned tomato products
fresh garlic, shallots, and spices
no beef broth or other animal products, so it is completely vegetarian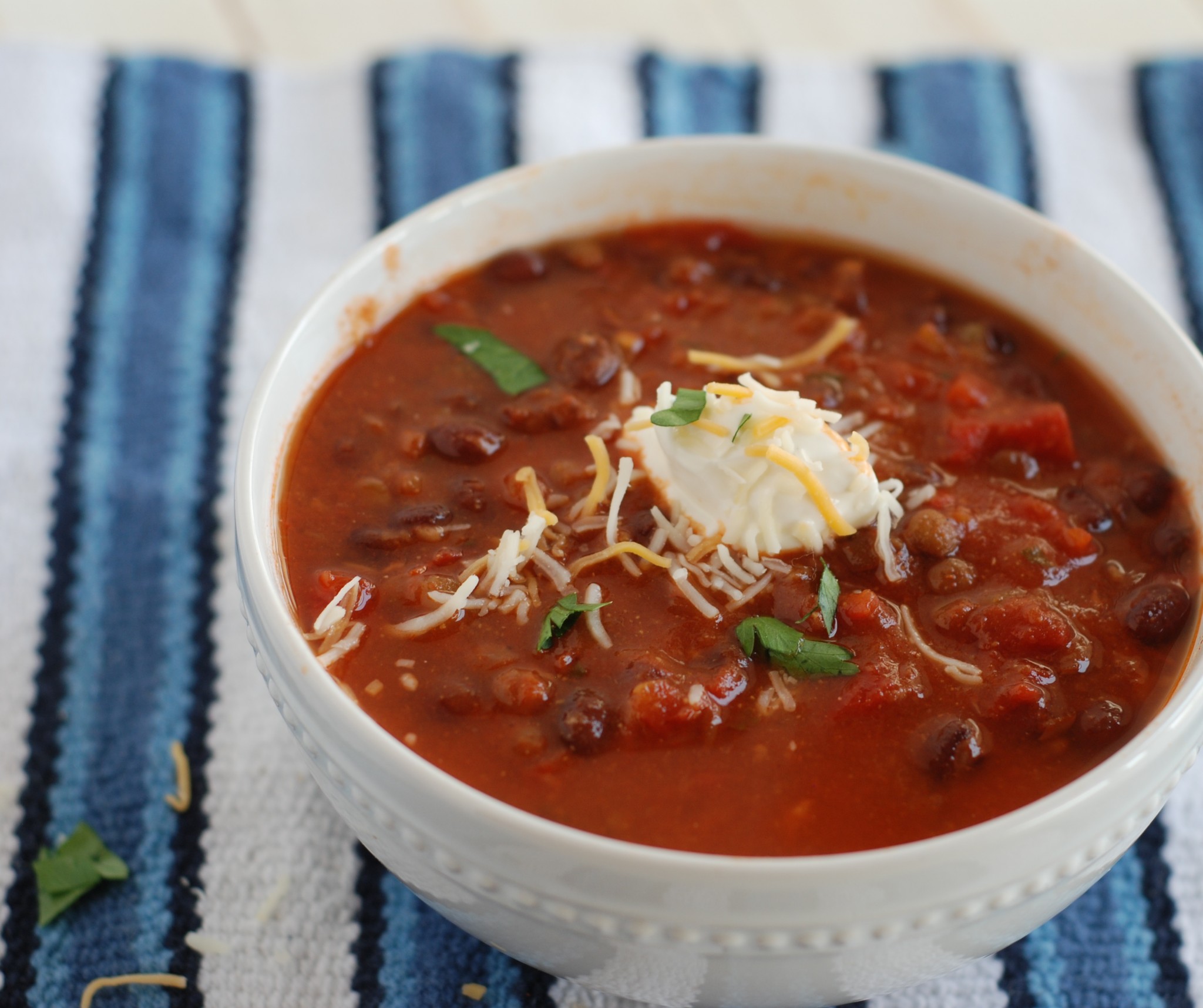 Print
Slow Cooker Meatless Chili
Slow Cooker Meatless Chili is the perfect meal to come home to on a cold winter night, and it will warm you right to your core! It's completely vegetarian, and really economical to make. You may already have most of the the ingredients you need to make it in your pantry!
Author:

Beneficial Bento

Prep Time:

20 minutes

Cook Time:

180 minutes

Total Time:

200 minutes

Yield:

6 servings

Category:

main dish
Ingredients
1 tablespoon cooking oil
1 tablespoon minced shallot
1 tablespoon minced garlic
1/2 of a medium green bell pepper (diced)
2 15 oz cans tomato sauce
2 15 oz cans diced tomatoes
3 15 oz cans black beans (drained)
2 cups of cooked brown lentils
1 4 oz can diced green chiles
2 tablespoons chili powder
2 tablespoons cumin
1/2 cup fresh cilantro leaves (finely chopped)
1 tablespoon Worcestershire sauce
1 teaspoon salt (or to taste)
1/2 teaspoon ground black pepper (or to taste)
Instructions
Heat oil in a large pot over medium heat. Cook and stir the chopped bell pepper, garlic and shallot until softened.
Spoon the softened vegetables in the slow cooker.
Add all other ingredients to the slow cooker. Cover and cook on high for 3-4 hours, or on low for 10-12 hours or more.
This can also be cooked in a large sauce pot ( the pot you cooked the bell pepper, shallot, and garlic in) on medium- low heat for about an hour, or until flavors blend.
Notes
I like to cook lentils ahead of time and store them in the freezer to use for this recipe.
Also, this chili tastes even better after chilling it in the fridge and re-heating it the next day, which makes it perfect to pack in a thermos for lunch!
TIPS & TRICKS
I like to cook lentils in bulk and store them in the freezer so they are ready for this chili ( and for other recipes)
This chili can also be made on the stove top in about an hour. Or cooked on high in the crockpot for 3-4 hours, or cooked on low all day long! It's a very forgiving recipe – it's one of those awesome crockpot recipes that you can just let simmer away and practically forget about, so you can keep sledding, or shopping, or working, or whatever until you are ready to eat. And if your family needs to eat in shifts – this is perfect!
This chili keeps well in the fridge, and freezes well, too. Great for a hot lunch in a thermos!
This recipe yields 6 generous portions, and check out the nutrition stats below – it's low in calories, and high in fiber, iron, and vitamin C!