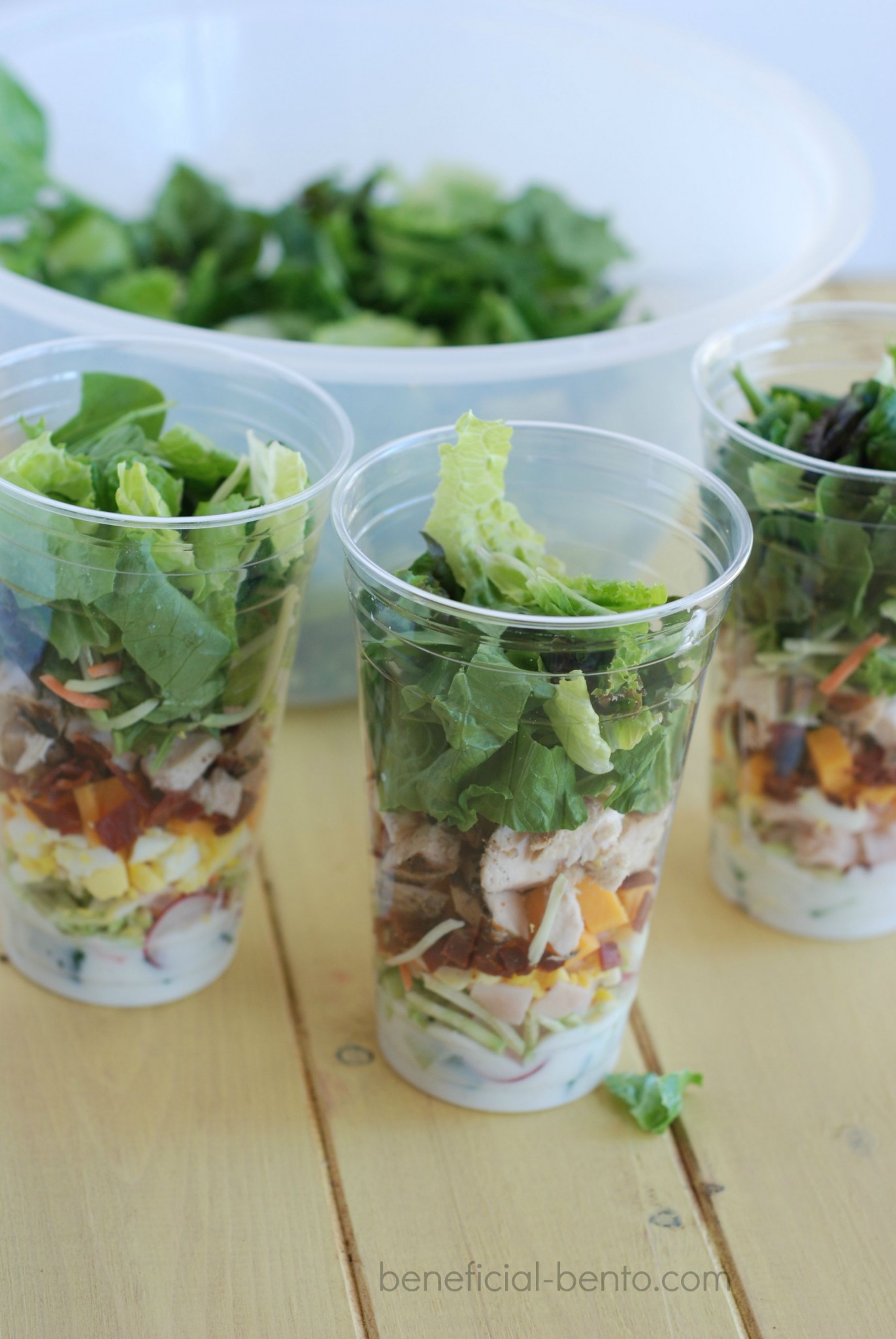 Have you tried that genius invention, the mason jar salad, yet? I really do think it's an awesome way to pack several salads ahead of time so they are ready to eat when you need them. And you know how I feel about that subject…( weekly food prep, salad bowls, and salad bars ).
I have made a few mason jar salads over the past year, and they are really useful to have around! The problem comes when I have to grab one of those glass jars and toss it into my purse. Yikes, those things are heavy! My purse is already laden with excess stuff as it is, so adding a glass mason jar to it – ooh, it makes my shoulder hurt just thinking about it!
And I have only sent a mason jar salad to work with my husband once or twice. He has a nice lunch bag to carry his food in, but I wasn't so keen on it returning home filled with broken glass. And my other son, who also takes his lunch to work… I just couldn't see a glass mason jar going over well with him, so he's never had one.
So why do I think they are such a genius invention?
The salad dressing and the wet stuff stay on the bottom of the jar and away from the delicate lettuce greens which stay on top.
Lettuce doesn't get soggy – even after a couple of days.
 You have the super convenience of dumping the whole thing upside down onto a plate and, voila – instant healthy meal!
But I had to face the fact that the only people who would really enjoy a good, old-fashioned mason jar salad would be me ( when I am at home for the day) and my 17 year old son, who attends online high school and eats his meals at home.
Then one day, I had an Ah-ha moment. Actually, it was more like this: Ah-HA!!!!
Why not take the same great idea of layering a salad, and use a lightweight, plastic, semi-disposable large drink cup instead? I say semi-disposable, because we wash and re-use these cups. And even the lids. ( hey, "reduce, RE-USE, recycle" you know… we're doing our part). But if anyone's cup gets smashed or tossed in the trash, I'm not going to mourn it's loss ( like I would if any of my favorite bento boxes were to turn up missing -I love those little guys!).
How does everyone like them so far? They love them! They are perfect for work lunches, and everyone gets to eat them now.
They are just as awesome as a mason jar salad. The salad does stay fresh for several days, just like the mason jar ones. And they are so very portable! Lightweight, easy to tuck into a purse or lunch box, and very pretty to look at, too. I just stock the fridge with a line up of these lovely salads, and they disappear pretty quickly. And who's going to get after their kids for eating too much salad? Not this mom. I'll just make more. They'll never stop me now.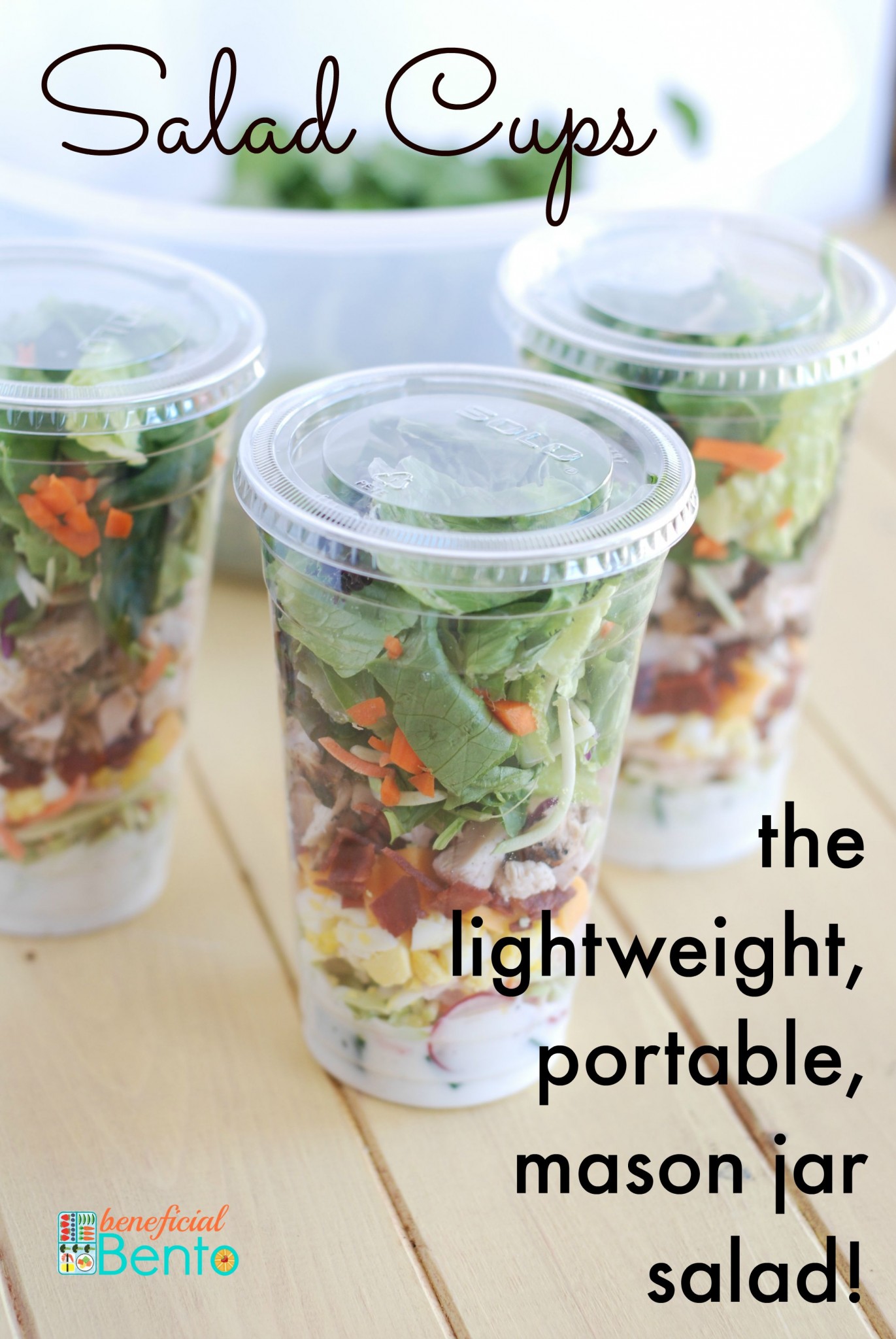 Do you want to know what's in these salad cups? I took a few photos during last week's food prep session so I could show you how I put them together.
What's in these Salad Cups:
First, the cups.
These are 24 ounce Solo brand clear cups and lids. I bought mine at a local store, but I think you may be able to find them at Costco, or Sam's Club. Actually, the store where I bought mine has an online store, too, so if you really want to make these, and you can't locate 24 oz. cups, you can find them here at Gygi.com. I also use these cups to hold breakfast smoothies, and I load them up with pretty layers of cut up fruit as well.
*Update: A kind reader pointed out that it's hard to locate the right lids to go with the cups on the Gygi website, so here is a link to the lids that I hope will be helpful ( look for lids that say "fits 16 and 24 oz." ) .
Next, the bottom layer. 
Salad dressing always goes in first. When you're ready to eat, just dump the cup upside down on a plate and the dressing will be on top, as it should be.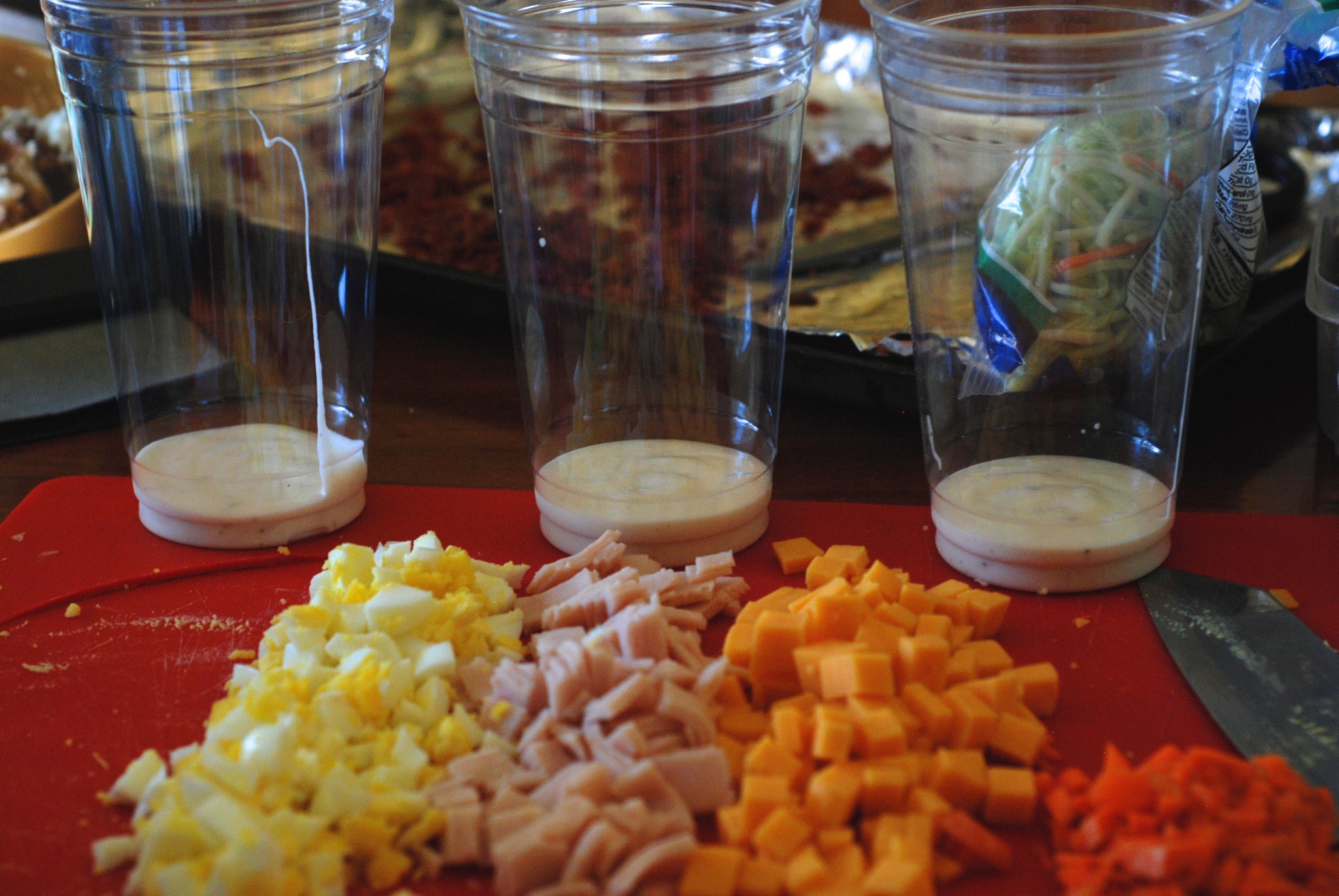 What comes next?
Wet foods like cucumber slices, cut up tomatoes,bell pepper cubes, beans, meat, boiled eggs, etc. You want to keep these as far away as you can from the nice, fluffy lettuce so it won't get soggy. I actually added a little "buffer layer" of shredded broccoli slaw and radish slices between the dressing and the egg, ham, and bacon, but it's entirely up to you.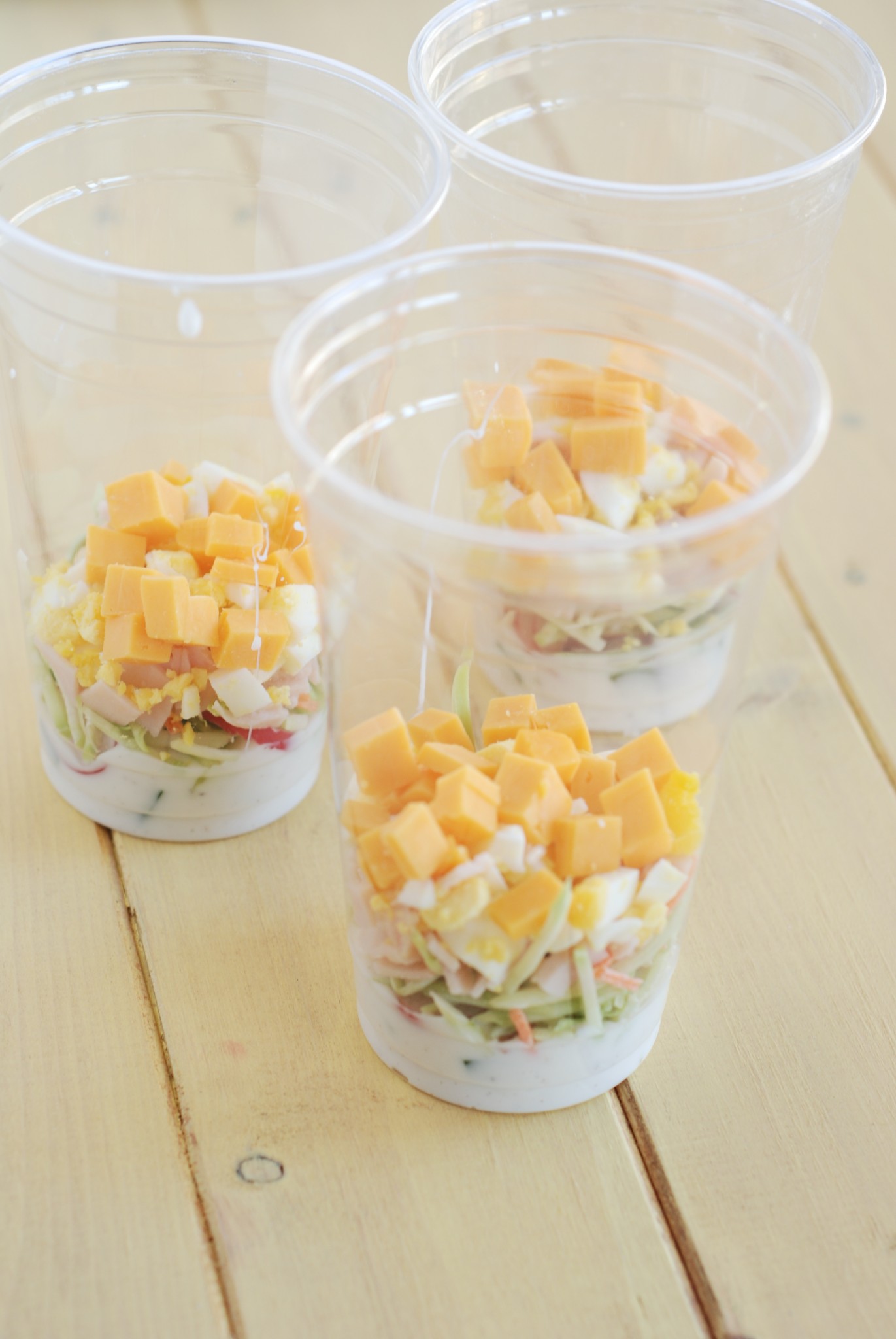 After that:
You can add the dry vegetables, like whole baby tomatoes, broccoli florets, carrot slices, celery slices, etc. Any vegetables that won't make the lettuce wet if it touches it, or it won't last more than a day in the refrigerator.
 And last but not least:
The lettuce goes on top – which will actually be the bottom when you flip it over to eat it. Get it?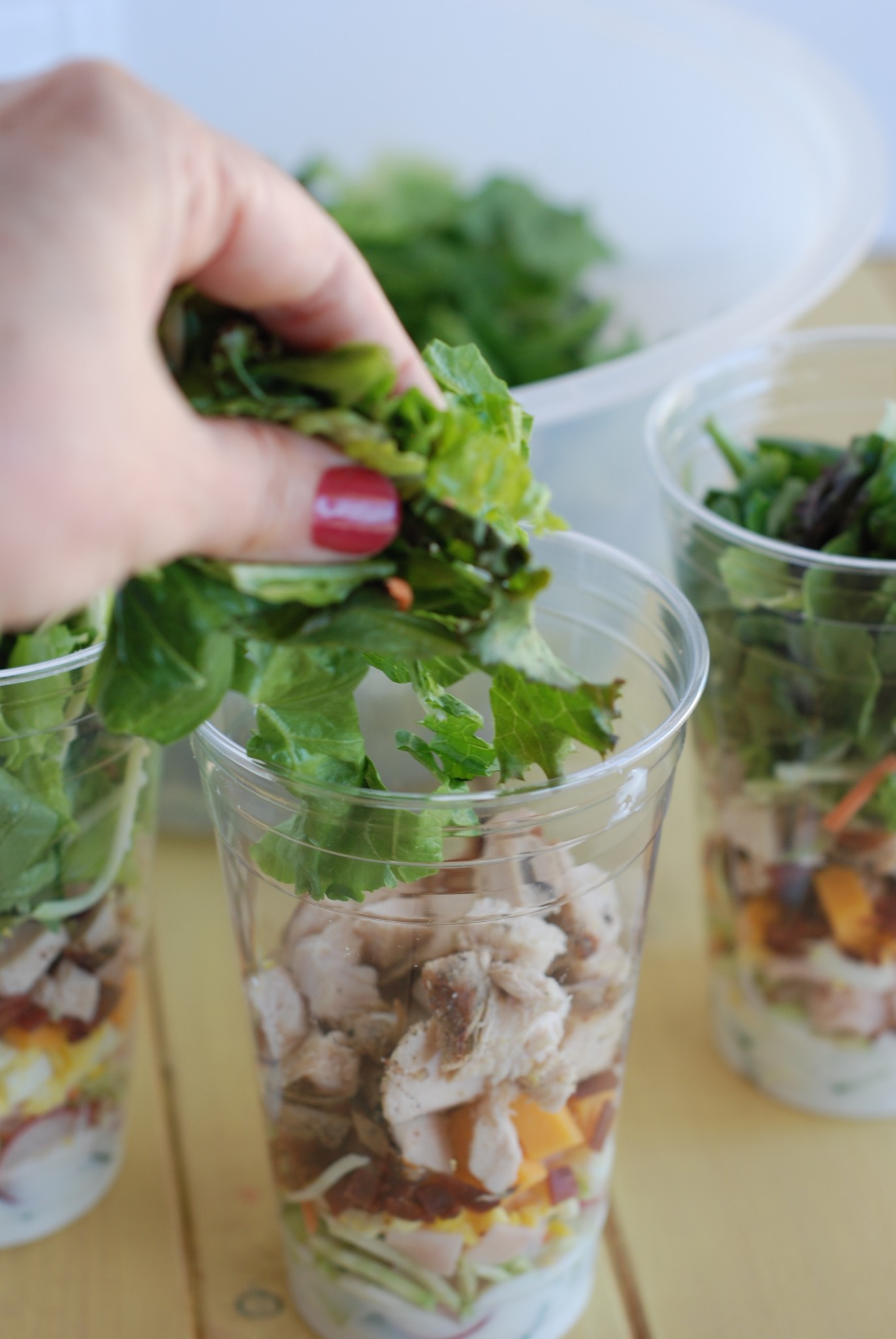 Then you just pop a lid on them, and store them in the fridge until you need them. They're perfect to take to work for lunch, on a road trip, or a simple picnic. I recommend packing disposable bowls and forks to make eating them even easier.
I have heard that they keep for up to a week, but I haven't been able to test that out so far. Everybody keeps eating them!
Try them – I think you'll love them as much as our family does 🙂
Hungry for more salad tips and recipes?
Then I want to invite you to check out my ebook, Fresh Lunch Salads. 
It's full of more detailed info about making salad jars, salad bars, salad dressings, and LOTS of fresh and interesting recipes that are super easy to pack up for lunches.