Mmmm, blueberry muffins! Who doesn't love them fresh out of the oven – especially if they are bursting with juicy, ripe blueberries? But if you can't eat gluten, those delicious treats are generally not part of your balanced breakfast.
Unless you have a fantastic recipe!
That's where I can help – I have been working on a blueberry muffin recipe that is not only gluten free, but also easy to make and healthy, too!
How are my Blueberry Muffins different?
These muffins have more to offer than just being gluten free. I also made them healthy and lower in calories, by changing a few things:
I traded the usual oil for plain green yogurt which cuts calories and fat, and adds a significant dose of protein.
Instead of regular flour I used my Brown Rice Blend and coconut flour – which is a powerhouse of fiber and even more protein!
I also swapped half the usual flour with oatmeal ( gluten free, of course),  which is lower on the glycemic scale to help you stay full longer.
I cut the usual amount of sugar in half, and I'm telling you – you won't even miss it! These muffins have just enough – so you can actually taste the natural sweetness of the blueberries without it being overpowered by a truckload of sugar.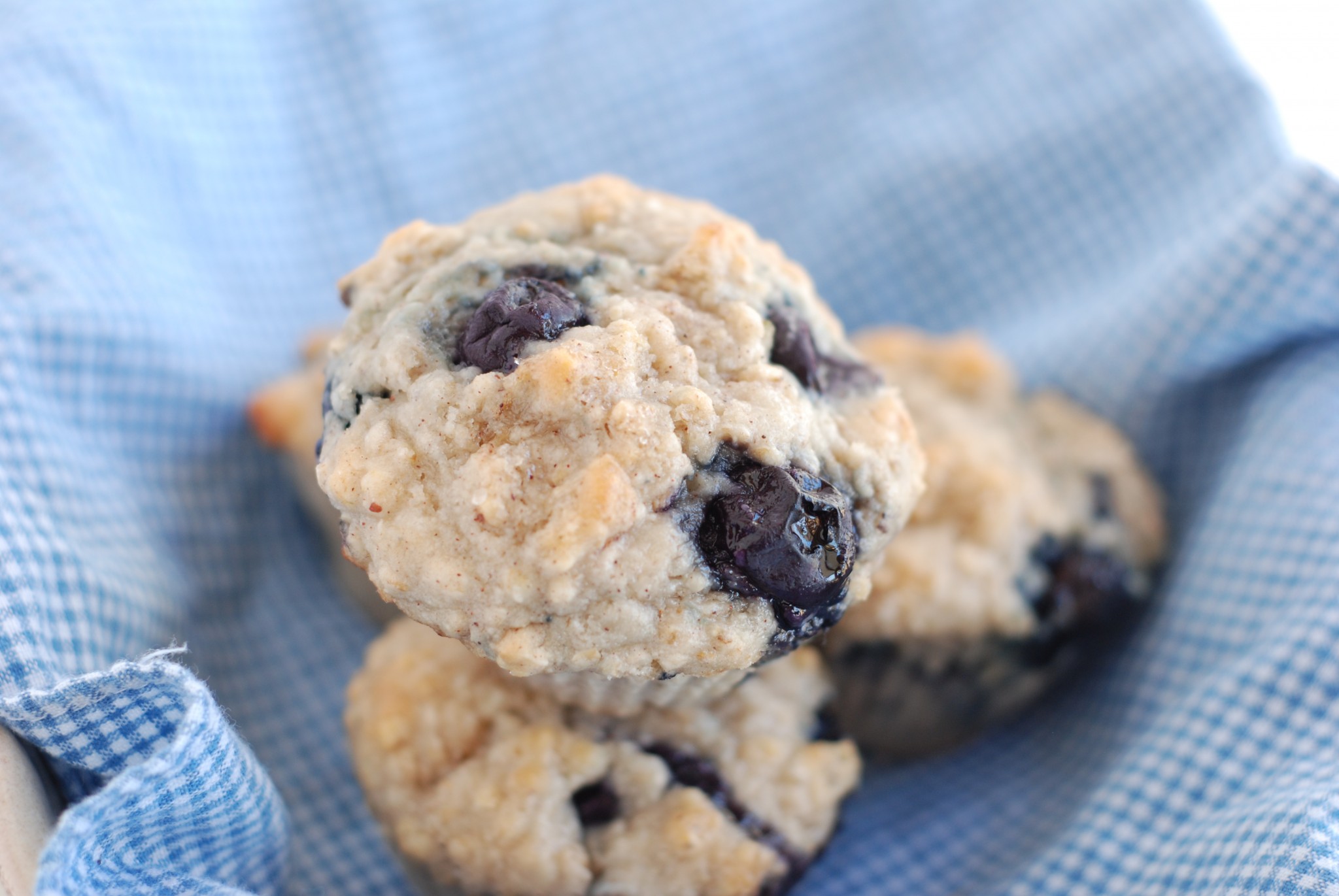 Print
Gluten Free Blueberry Muffins
Blueberry muffins are delicious right out of the oven, and these are gluten free, and healthy too! Greek yogurt, oatmeal, and coconut flour add protein and fiber, and blueberries and a touch of sugar make them sweet.
Author:

Kristie @ Beneficial Bento

Prep Time:

15 minutes

Cook Time:

20 minutes

Total Time:

35 minutes

Yield:

12 muffins
Ingredients
3/4 cup  of my Rice Flour Blend

1/4 cup coconut flour

1 cup quick oatmeal

1/2 teaspoon soda

1 teaspoon xanthan gum

1/2 teaspoon salt

1/2 teaspoon baking powder

1/2 teaspoon cinnamon

1 egg

1/2 cup sugar

1/2 cup plain greek yogurt nonfat or regular

1 cup unsweetened almond milk

1 cup frozen blueberries rinsed, drained, and blotted dry
Instructions
In a medium sized bowl, stir together the flours, oats, soda, xanthan gum, salt, baking powder, and cinnamon.

In a separate bowl or a mixer, blend the sugar and the liquid ingredients: egg, yogurt, and almond milk.

With the mixer running, add the dry ingredients to the liquid ingredients. Mix until just combined – don't over-mix. Stir in the blueberries.

Heat oven to 350 degrees.

Prepare a 12- cup muffin tin by using muffin papers or silicone baking cups. If using silicone, spray each one lightly with cooking spray.

Drop the batter in the prepared muffin tin. You should have enough for 12 muffins.

Bake for 15-20 minutes, or until tops of muffins spring back when they are touched lightly in center
Notes
Read more about xanthan gum, my Rice Flour Blend, and other gluten free flours in the link above, but basically the blend is this:
3 parts brown rice flour
1 part tapioca starch
1 part potato starch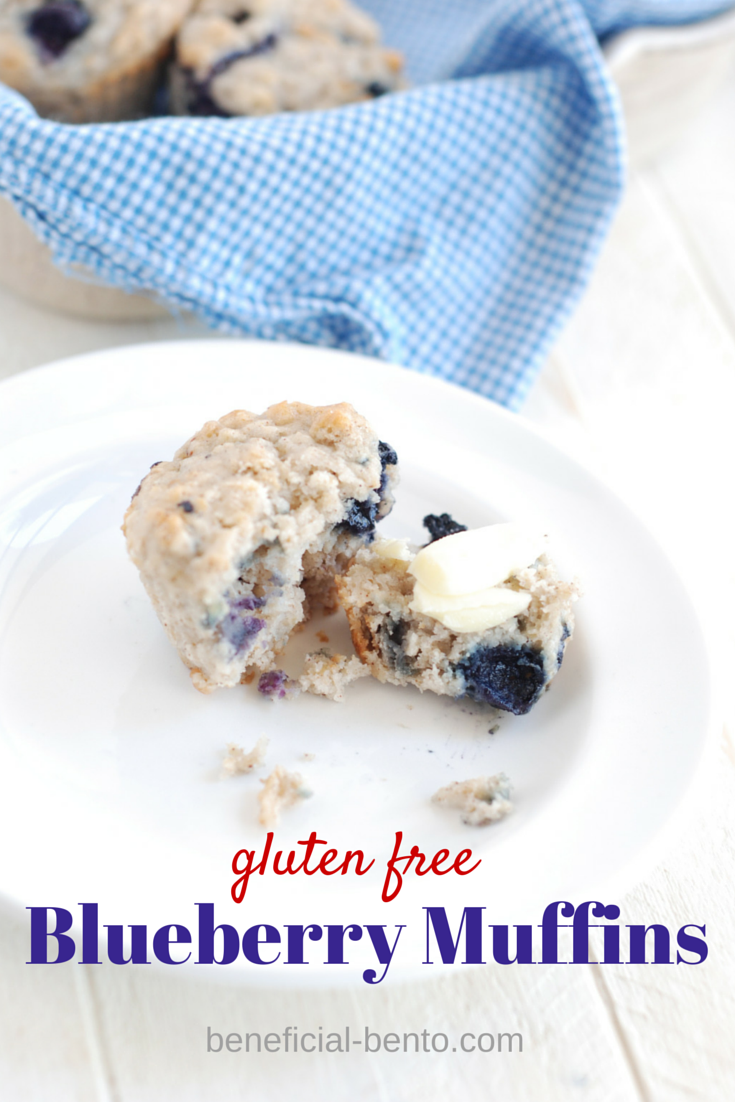 Tips & Tricks
This recipe doubles easily so you can bake them in bulk and freeze the extras.
Don't skip the step of rinsing the blueberries and blotting them dry with a paper towel – if you don't,  your muffins will come out kind of gray. Not a great look for breakfast.
If you have an egg allergy, try subbing a "flax egg" for the egg in this recipe. I admit I have not tried this yet, but I think it will work well in this recipe. I think the protein in the Greek yogurt will help the muffins hold their shape and good flavor, even without an egg.
Do you know someone who could use this recipe?
Well, sharing it with them is the next best thing to baking up a batch and showing up on their doorstep 🙂 Copy and paste the URL of this post to share it on Facebook or Twitter, or use the little Pinterest button on a photo in this post to share on Pinterest. And don't forget to come say hi to me on my social media channels here: