I have a quick and delicious recipe for you today. I decided to take boring, old egg salad and jazz it up a little bit.  If you like to look at food on Pinterest like I do, you have probably seen some recipes for egg salad with avocado, which has always sounded completely delicious to me!
I decided to take it one step better and include bacon, because nearly everything is better with bacon! Just look at Pinterest for example – most good things are made better if bacon is included. Either that, or salted caramel, but I just couldn't see egg salad and salted caramel mixing well together… yuck.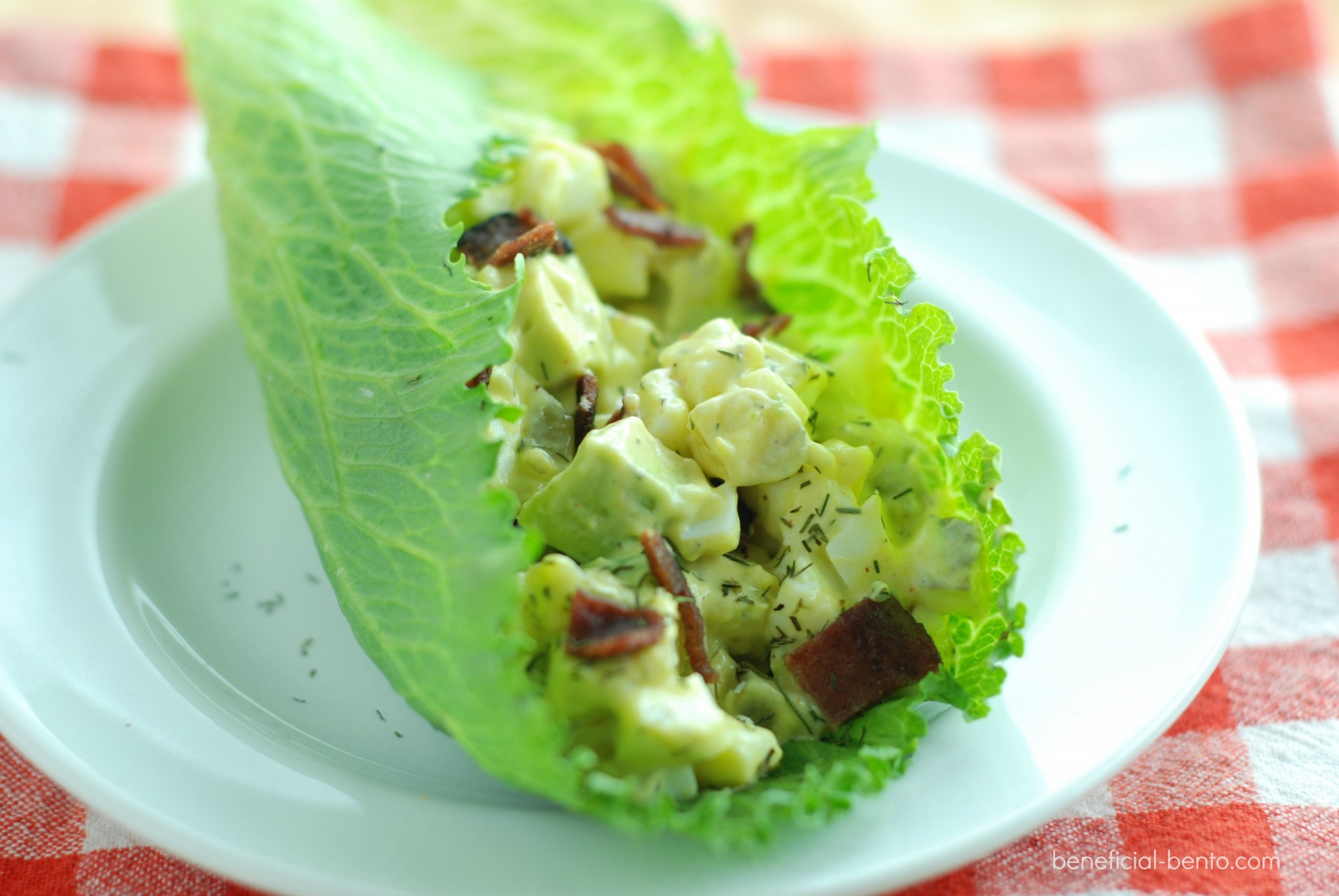 This recipe is super simple, especially if you have boiled eggs already prepared in your fridge, like I usually do ( see my Weekly Food Prep post).  Mix chopped egg, crunchy celery, creamy avocado, and tart dill pickle with yogurt, mayo, mustard, spices, and lemon juice. Wrap it all in a big lettuce leaf, with a finishing touch of crumbled bacon and a dash of dill. It makes a fantastic lunch on a hot summer day!
Print
Avocado Egg Salad with Bacon
Flavor up basic egg salad with avocado and turkey bacon, and keep the calories low by using egg whites and serving in a lettuce wrap. This recipe is perfect for a light lunch.
Author:

Kristie @ Beneficial Bento

Prep Time:

10 minutes

Total Time:

10 minutes

Yield:

2 servings
Ingredients
3 boiled egg whites

1/2

 

medium avocado

1 teaspoon lemon juice

1 stalk celery

1 tablespoon finely chopped dill pickle

1 tablespoon greek yogurt

1 tablespoon light mayo

1 teaspoon mustard

1/4 teaspoon seasoned salt

salt and pepper to taste

1/4 teaspoon dried dill

1 pieces or 2 chopped and cooked turkey bacon

2 leaves large leafy lettuce ( optional)
Instructions
Chop the egg whites and celery as desired, and put in a medium sized bowl.

Peel, pit, and dice the avocado. Add it to the bowl.

Add lemon juice, pickle, yogurt, mayo, mustard, seasoned salt, salt and pepper. Toss well to coat.

Finish by sprinkling with dill and chopped bacon.

Serve in 2 lettuce leaves, if desired.
Do you need some new ideas for healthy meals? Come visit my Facebook page where I share Beneficial Bento's best recipes, tips, and other fun food stuff.