It's so cold and windy today! This is the perfect kind of day to sit down to a sizzling chicken dinner, draped in a rich sauce. But you know what would be even better? A rich sauce topped with – bacon! Ah, cream sauce plus bacon… is that even possible in a healthy diet?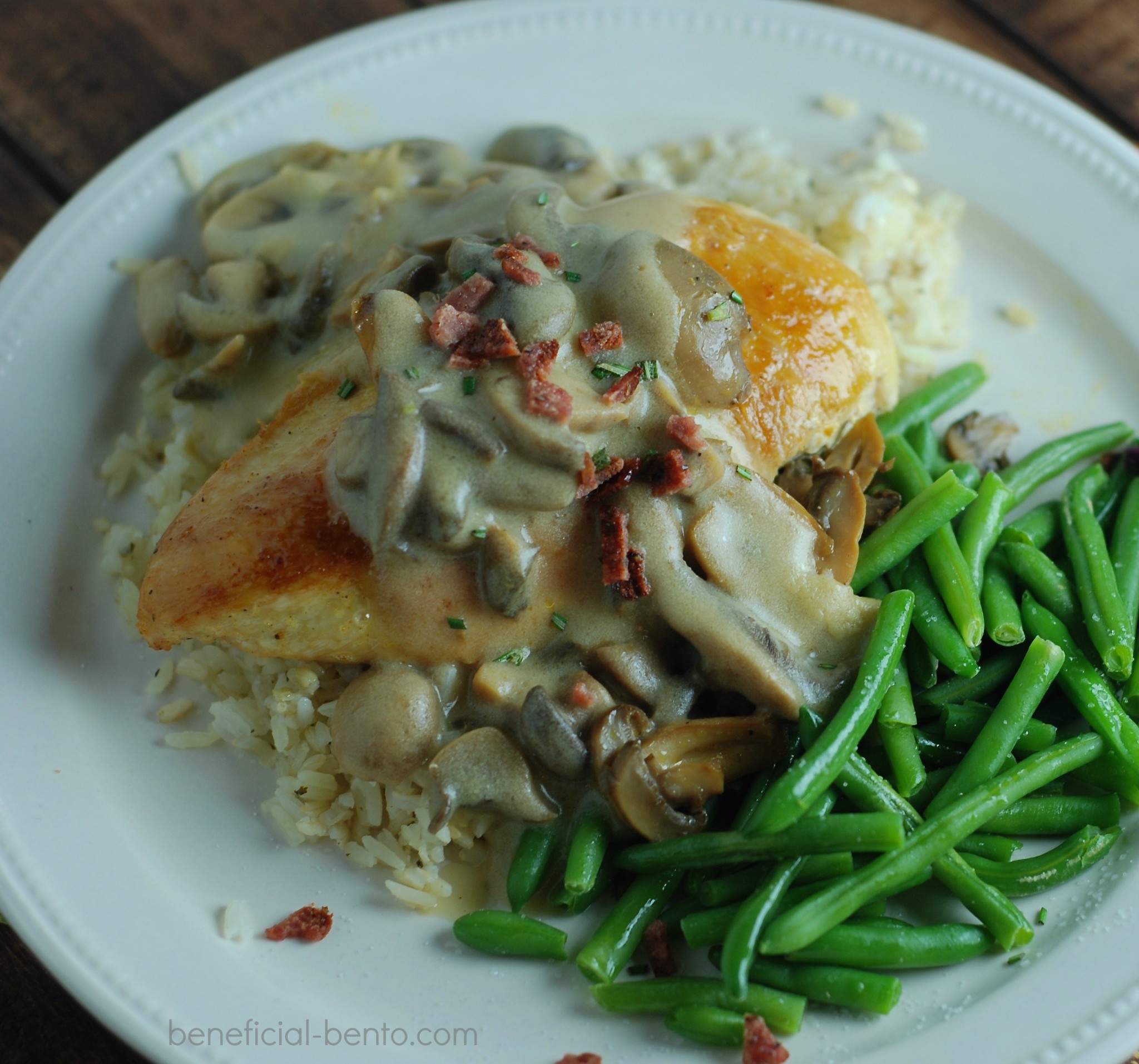 It is if you make it my way – the velvety richness of this sauce comes from blended cottage cheese! And it couldn't be easier to make – just put all the ingredients in a blender, then simmer in a pan until it thickens.
And the bacon! Nearly everything is better with bacon added, don't you think? Unfortunately, bacon is usually considered a no-no when you're eating clean. But I have found a brand of bacon that is low in fat, and contains no nitrates, nitrites, or any manner of -ites: Trader Joe's Uncured Turkey Bacon. If you don't have a Trader Joe's near you ( I can sympathize – mine is a 40 minute drive from my house), you might be able to find Jennie-O Uncured Turkey Bacon. I've tried both, and they are really, really good!
I cook  my bacon in the oven on a cookie sheet, and then crumble it up and keep it in the fridge to use in recipes. Or better yet, I keep it in my Salad Bar. I can always find an excuse to add a little bacon to our meals, which you have probably noticed in many of my recipes 🙂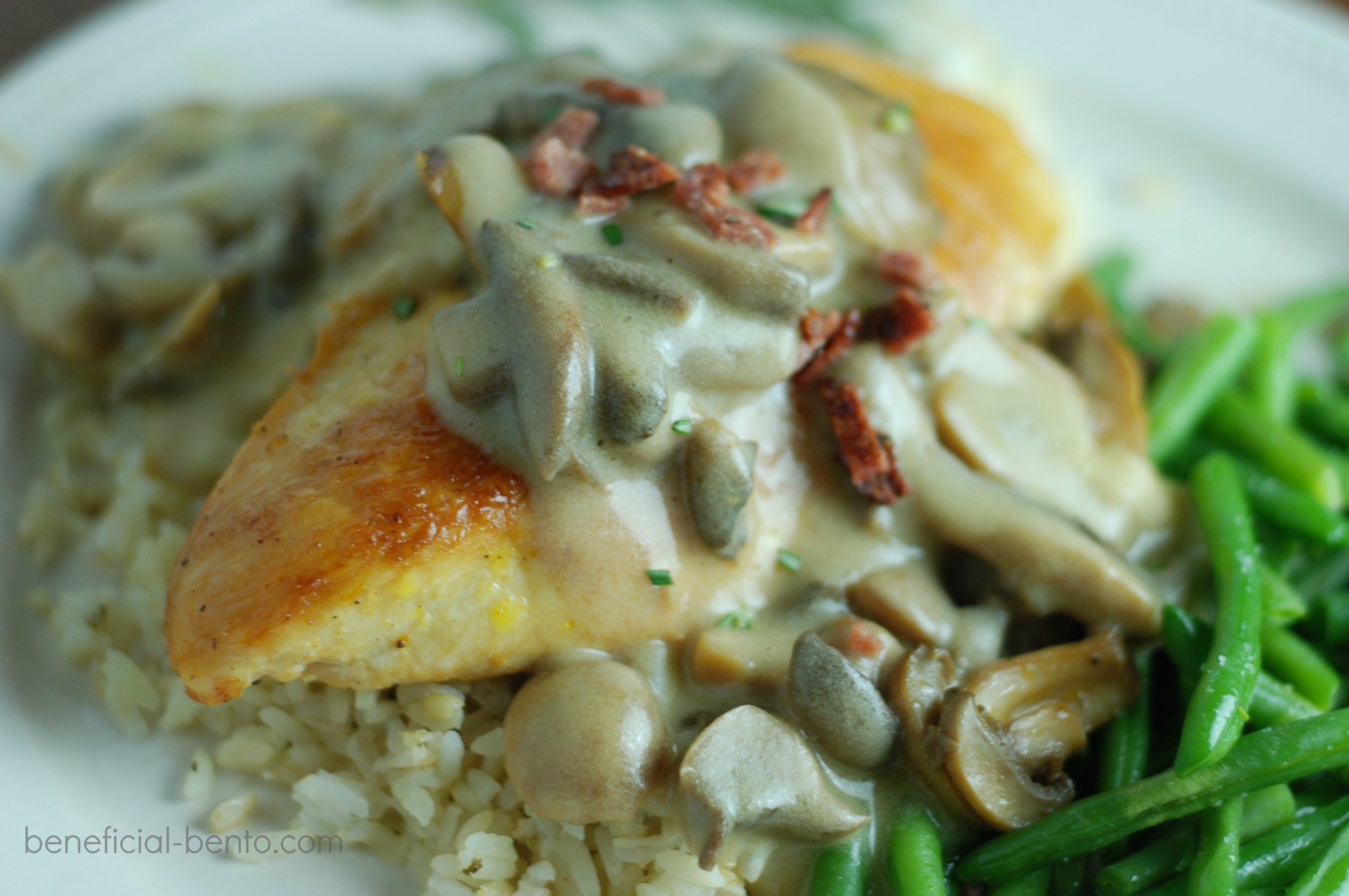 The chicken and sauce pairs beautifully with rice and a green vegetable. When I was testing this recipe we had it for dinner with asparagus. The sauce was just as delicious draped over the vegetables as it was on the chicken. I'm sure this would be wonderful with zucchini or broccoli, too.
I made this recipe at lunch time, so I could get some good photos, and then we had it later for dinner. The sauce re-heated beautifully, and was just as good for dinner as it was for my lunch! In fact, as soon as I got some good photos I just had to dig in – it was SO good!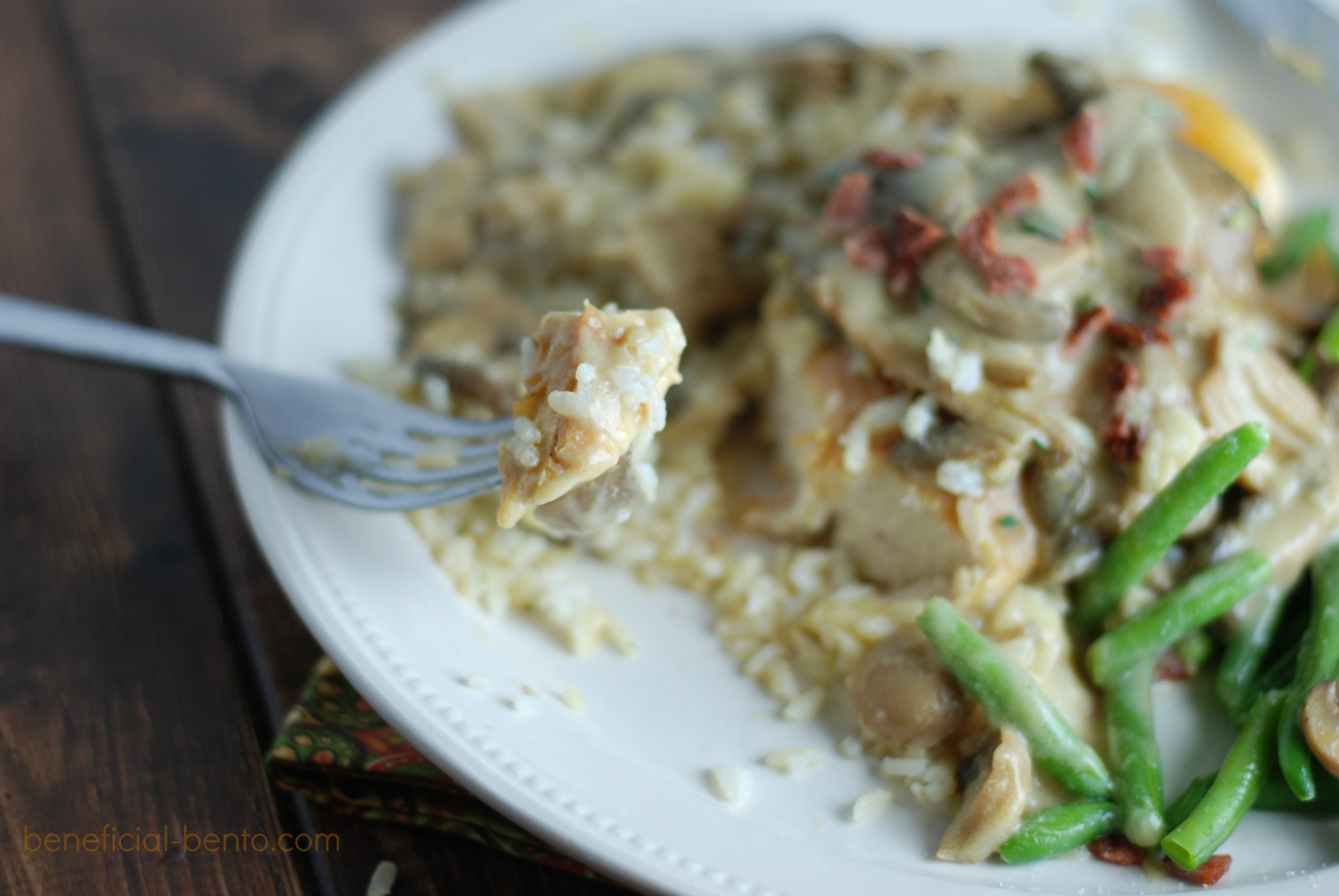 Print
Recipe for Dijon Chicken with Mushrooms and Bacon
You'd never guess that the delicious mushroom sauce on this chicken gets is decadent creaminess from cottage cheese! A sprinkle of crumbled turkey bacon adds the finishing touch.
Author:

Beneficial Bento

Prep Time:

10 minutes

Cook Time:

30 minutes

Total Time:

40 minutes

Yield:

4 servings

Category:

Main dish recipe
Ingredients
4 boneless (skinless chicken breasts)
1 cups and 1/3 low fat cottage cheese (2%)
8 oz . can sliced mushrooms
2 teaspoons dijon mustard
1 teaspoon balsamic vinegar
1 teaspoon honey
1/4 teaspoon ground savory
2 tablespoons cornstarch
2 tablespoons olive oil (or other cooking oil)
salt and pepper to taste
2 – 3 pieces cooked and crumbled turkey bacon
optional: dried rosemary or other herbs (to taste)
Instructions
Heat oil in a large skillet over medium high heat.
Brown chicken in the oil, seasoning it with salt and pepper directly in the pan. Make sure you don't over crowd the pan to allow even browning. Flip the chicken after about 5 minutes, turning down the heat if needed until the chicken is cooked through.
When chicken is almost done, open the can of mushrooms. Pour the liquid from from the can into a blender, and add the mushrooms to the skillet with the chicken. Cook and stir until chicken is done, and mushrooms are lightly browned.
To the mushroom liquid in the blender, add cottage cheese, dijon mustard, balsamic vinegar, honey, savory, and cornstarch. Blend on high speed until it is completely smooth.
Remove chicken and mushrooms from skillet and place on a large plate.
Pour the liquid from the blender into the hot skillet, stirring constantly and scraping the browned bits from the bottom of the pan until incorporated into the sauce. Continue stirring until the sauce is slightly thickened.
To serve, top the chicken with mushrooms and sauce, and sprinkle with crumbled bacon and herbs, if desired.