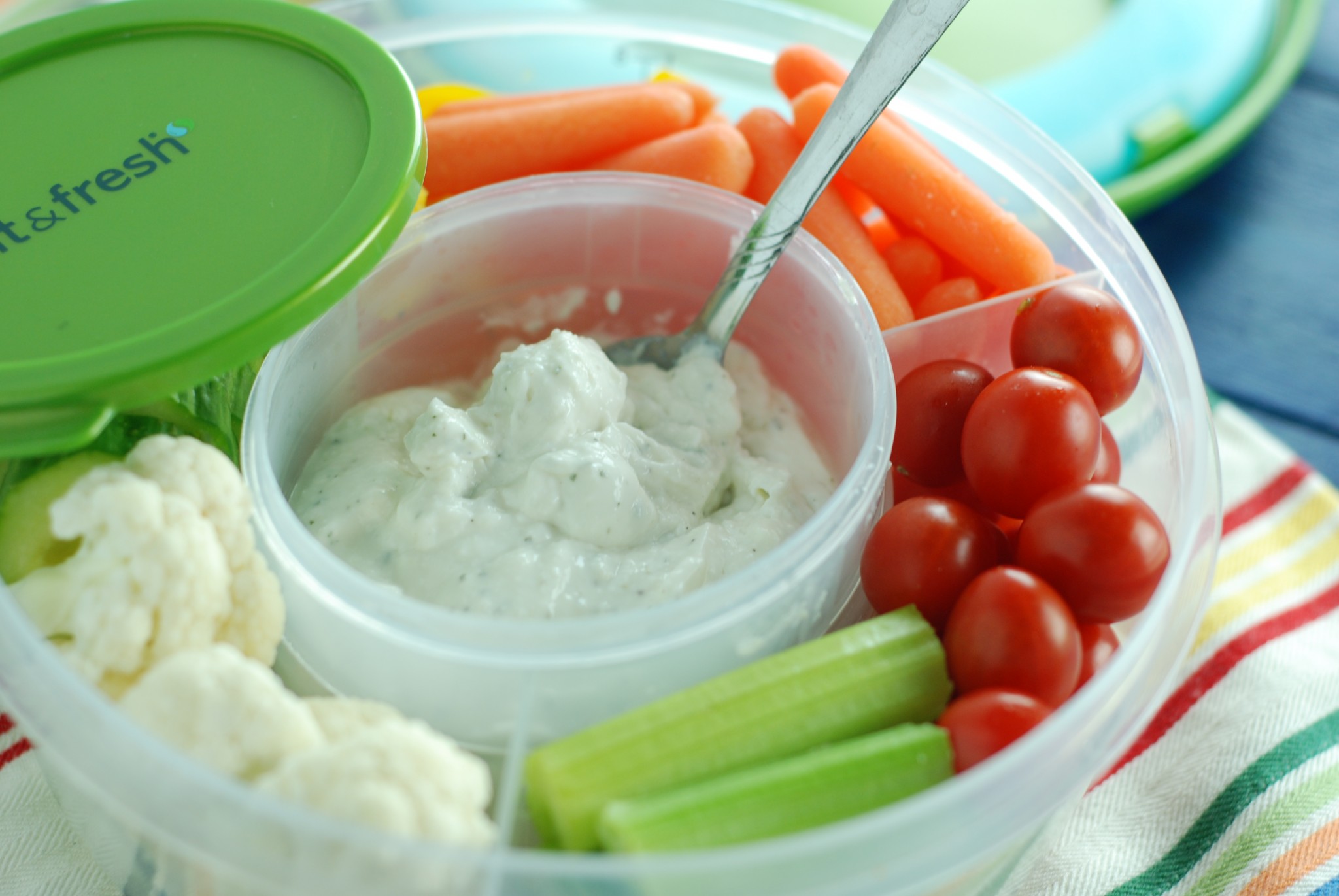 It's one thing to say you're going to eat more vegetables, but then what do you do when you are in a hurry, super hungry, and need something to eat FAST!  If you're like my me you grab the first thing you can find, and run off to your next big thing. And when I keep my Fit & Fresh Fruit and Veggie Bowl filled with veggies and this delicious, protein-rich Blue Cheese Dip front and center in the fridge, then that's what I eat. And that's what my family eats for  snacks too! It's almost like magic – whatever you make easy to grab, in convenient containers ( and yummy, of course) – it will get eaten. Don't believe me? Give it a try! Put the healthy food you want for snacks in the front of the fridge ( preferably at eye level)  with the not-so-healthy foods down on the lower shelf and toward the back. I once kept an almost full bottle of caramel ice cream topping in the fridge for months this way – out of sight, out of mind!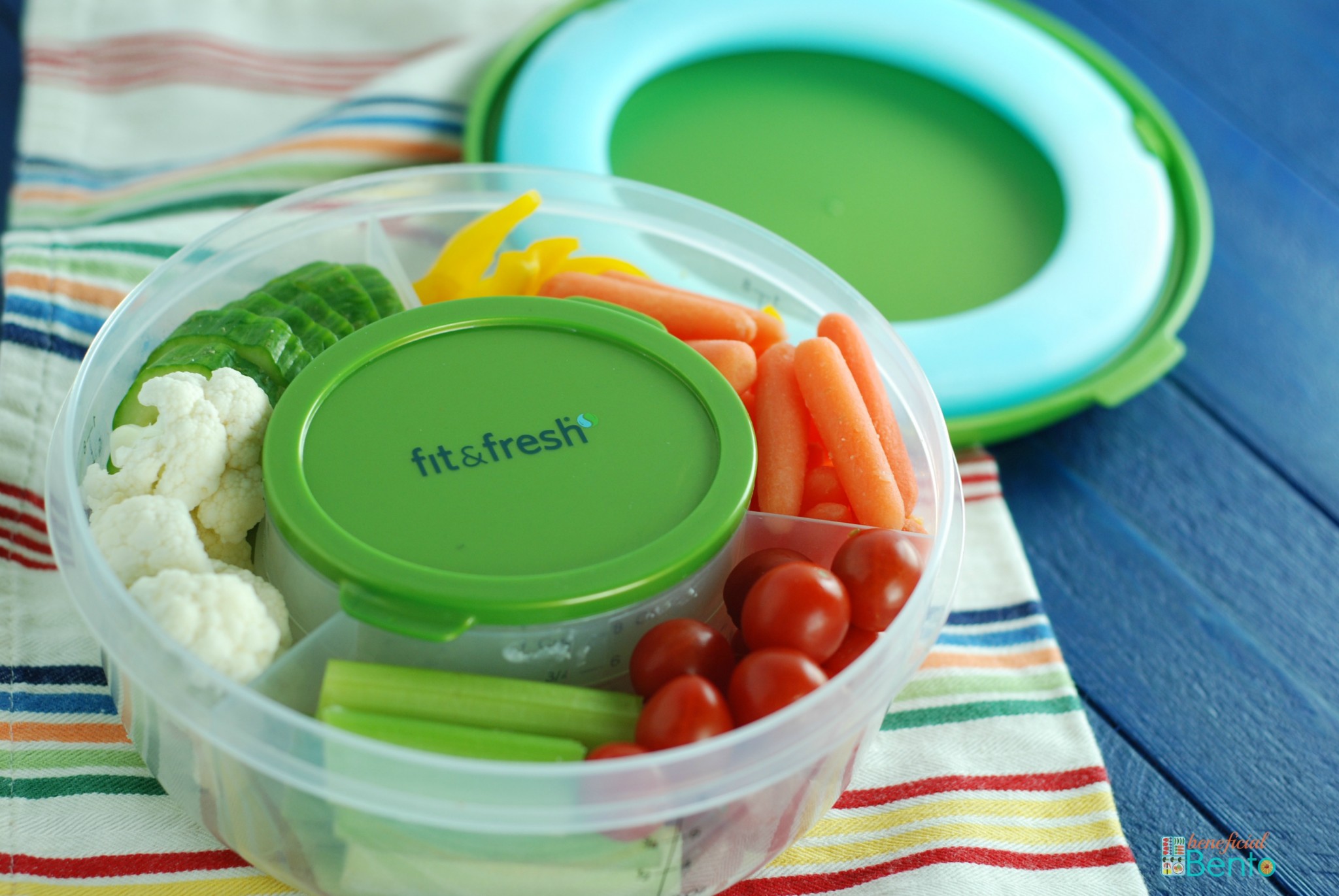 One of the things I love the most about this Fruit and Veggie Bowl is the ring-shaped ice pack that snaps into the lid. When I have a busy day at my desk or in my sewing room, I like to keep this container on my desk so I can grab healthy food and still keep working. The ice pack ensures that everything will still be chilled and crisp for several hours. My husband and son like to take this to work filled with veggies for the same reason. You can pack quite a lot of veggies in there, so it's more than what one person could eat, but we just store the leftovers in the fridge, put the ice ring in the freezer, and it's ready for the next day.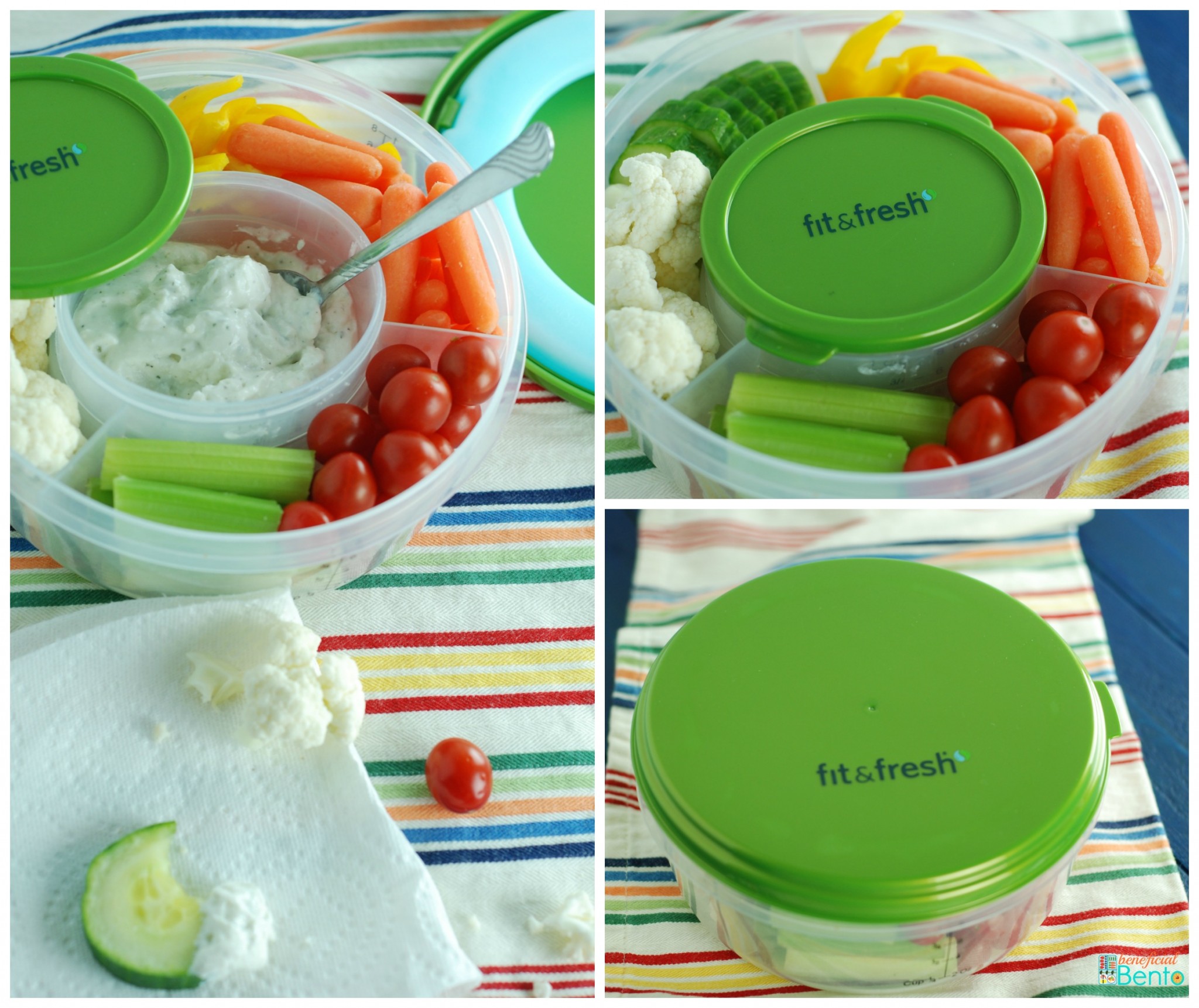 It's great to have around  when our family is going to play a game or watch a movie, too. I just pull it out of the fridge and set it out where everyone is going to congregate, and the vegetables disappear like magic ( I told you it was magic – you need to try this!).
But I'm really here today to share my favorite Blue Cheese Dip recipe with you. This is made from blended cottage cheese, greek yogurt, ranch dressing mix, and a little bit of light blue cheese. It's super high in protein, so when paired with some veggies it makes a very filling snack! When I make a batch, I like to fill my Fit & Fresh Fruit and Veggie bowl with some of it, and then with the rest I load up  a bunch of EasyLunchboxes Mini Dippers  so we can pack them in our lunches or pair them with a small bag of veggies for a one-person snack.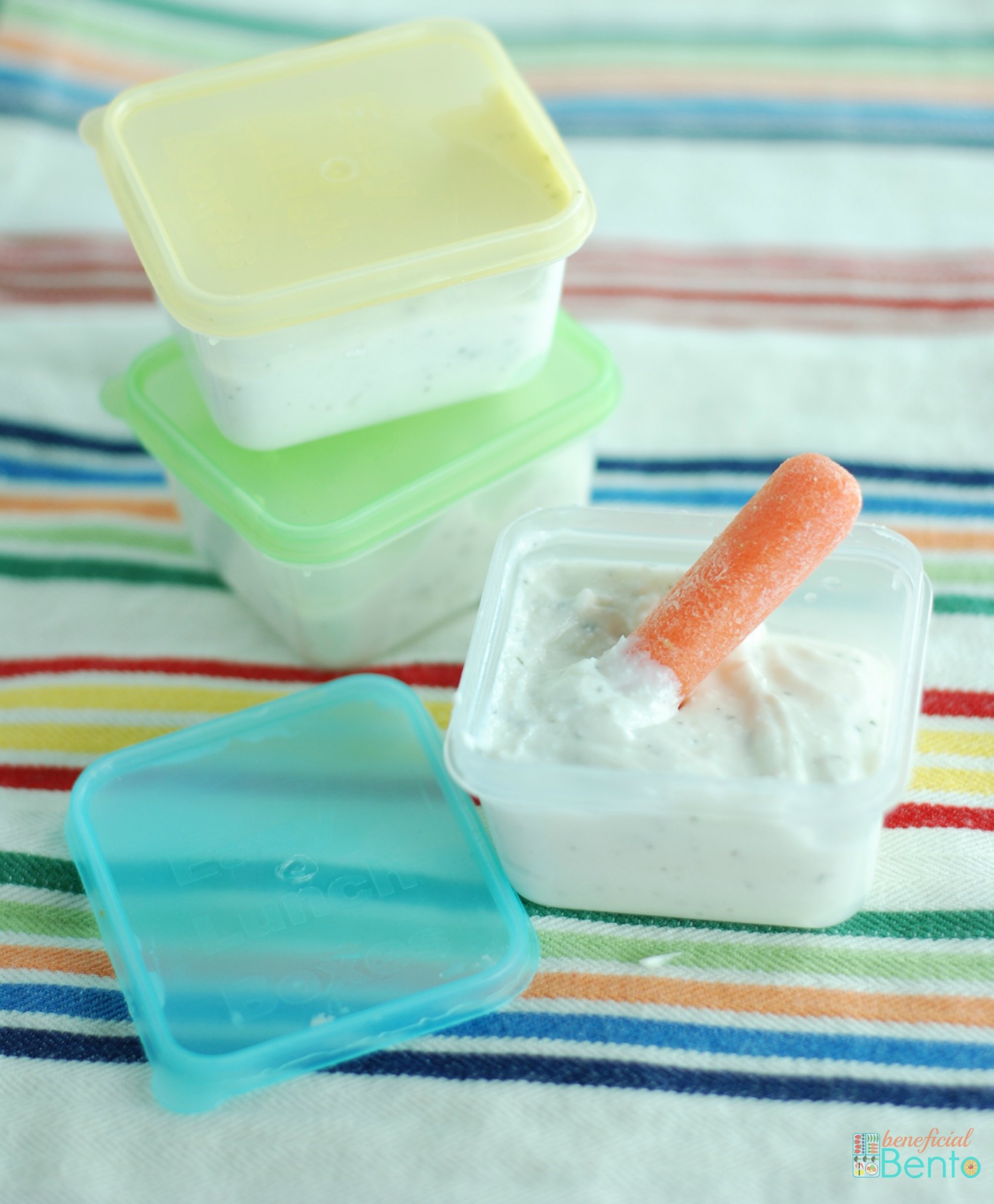 Print
Healthy Blue Cheese Dip Recipe
This protein-rich dip is made with greek yogurt and cottage cheese. Ranch dressing mix and light blue cheese flavor it perfectly for a tangy, savory snack you won't forget!
Author:

Kristie @ Beneficial Bento
Ingredients
1 envelope dry Ranch dressing mix

1 cups and 1/2 low fat cottage cheese 2%

1/2 cup plain non-fat greek yogurt

1/4 cup reduced fat blue cheese such as Treasure Cave brand
Instructions
In a medium sized bowl, add cottage and ranch dressing mix.

Drain any extra liquid from the greek yogurt before measuring it out, and add it to the bowl.

Using an immersion blender blend the mixture together until the curds in the cottage cheese are mostly blended smooth. A blender can also be used for this, but make sure it's on low speed – high speed will liquify it too much.

Stir in the crumbled blue cheese chunks with a spoon.

Serve with raw vegetables.
Looking for more healthy snack ideas? Check out 10 Healthy snacks – 200 Calories or Less.