I've had some people ask me questions about how I do a weekly food prep, so I hope this post will help answer them. I got my inspiration to prepare lunches and snacks a week in advance from this awesome blog. (There's lots of good info here – check it out!) My  reasons for doing a weekly food prep are to help me lose weight, save time, and to make my family's meals and snacks healthy and more fun.
I'll walk you through a sample Weekly Food Prep day that I did a while back ( it was actually a couple of years ago when my blog used to be on Blogger ), while describing the steps I generally use to accomplish this each week.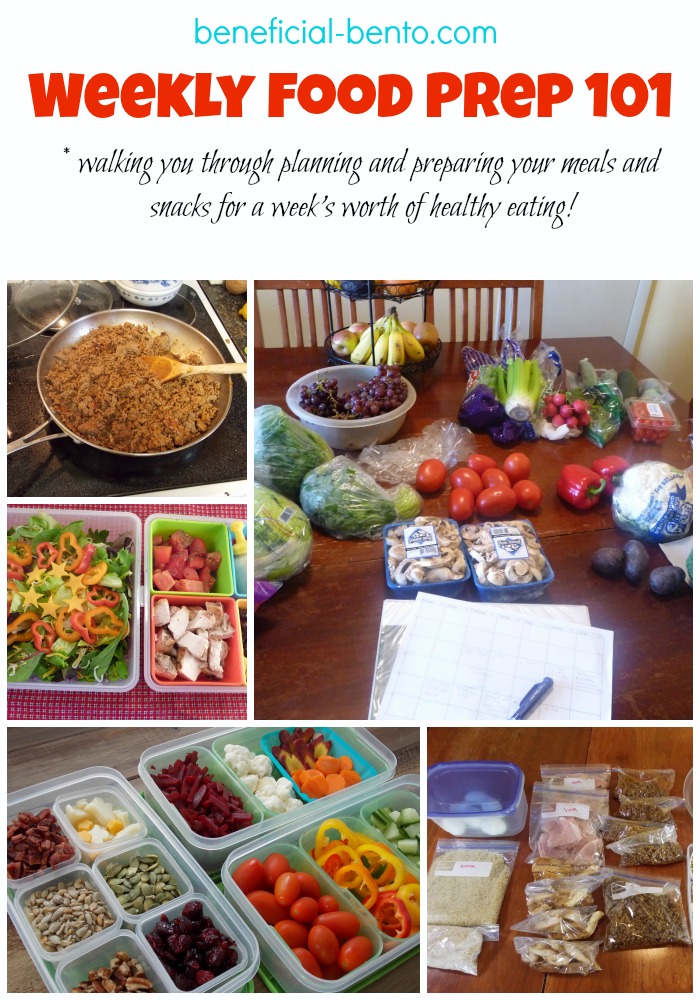 Step 1: Plan Your Meals
I have a meal planning sheet that I created years ago that I print out that shows a whole week's worth of meals on one page. I jot down in pencil my ideas for all our breakfasts, lunches, dinners, and snacks, and post it on the fridge. I use it as a guideline, but I don't stress about it if I have to change it over the course of a week. Over the years I have developed a formula that I follow for planning a week's worth of meals. If I'm really busy, this formula is like an automatic pilot for my brain. I choose:
2 proteins: A lot of different lunches and dinners can be based around just 2 proteins. I almost always cook chicken for one of those protein choices. Other proteins I make frequently are taco meat, meatballs, burgers, marinated pork or beef sirloin, beans, and boiled eggs. I choose my proteins based on what we have on hand, and what's on sale at the grocery stores that week.
2 carbs: The same is true for carbs. Being gluten-intolerant, I always cook rice as one of my carb choices. It keeps in the fridge all week, and freezes well, too. Other carbs I frequently make are sweet potatoes, pasta, and bread.
3 breakfasts : It makes life so much easier to just choose 3 breakfasts and repeat them throughout the week. For example: 1. oatmeal, 2. egg burrito, 3. pancakes – then repeat that to fill out the week. On super busy mornings, I forgo the meal plan and make protein smoothies 🙂
4 snacks: same as with breakfast. An example would be: 1. boiled egg and raw veggies, 2. apple slices and peanut butter, 3. yogurt, 4. cottage cheese and pineapple – repeated to fill out the week. I just keep plenty of these snacks prepared and in the fridge and let my family choose when they want to eat them, but I usually eat what's written on the meal plan – just one less decision to make for me.
lunches: I loosely plan for  lunches which are usually salads,  sandwiches, or leftovers. I just make sure that I have plenty of ingredients ready to go from my weekly food prep session and I put lunches together in the morning, or the night before. I enjoy being creative with our lunches ( you may have noticed), so this part of my plan is pretty flexible. I do jot down any good bento ideas that come to mind on my meal plan so I don't forget, but I don't always stick to them 🙂 You can find a lot of the things I use to make bento, along with the lunch boxes I use on My Favorite Kitchen Tools page.
7 dinners: I like having something different for dinner every night, but I still keep it pretty simple. I think about what activities are going to happen during the coming week and plan dinner accordingly. On busy days, I put something in the crockpot in the morning. When we have activities in the evening, I plan things to eat that take 30 minutes or less to put together. On Sundays, I like to have a big traditional dinner where we set the table nice and all sit down together. I also include in my plan some ingredients for some "emergency dinners" because crazy things often come up that change my plans, and it helps to have a Plan B. Here are some of our family's favorite 20 minute dinners – Best 20 Minute Dinners Round-up
vegetables: One thing you may notice about my Food Prepping, is that I make a LOT of vegetables! There are a couple of reasons for this. Number one – if I don't make vegetables a priority in my meal plans, we don't really choose to eat them.  It seems to be human nature to avoid vegetables for some reason! But if I keep prepared vegetables front and center in the fridge, ready to grab and go, they do get used up during the week. Number two – I have been well-trained by my health coach, John Gibson, to eat vegetables at every meal (yes, even breakfast). I swear by this principle as the best way to control my weight and be healthy. You can read more about John and his excellent weight loss coaching on his website, fatlossevolution.com.
So this is how I make sure we have enough vegetables:
Salad Bowl and Salad Bar: I have made this nearly every week for over 2 years, and I swear by this as the best way to stick to healthy choices for meals, even when you're super busy! I can throw together a great salad for lunch, or place the salad bar on the table to round out dinner at a moment's notice. You can see what my salad bar looks like here: How to Make a Salad Bar and learn about my big salad bowl here: How to Make Salad Stay Fresh All Week
Packets of frozen veggies: I like to prepare several Zip n Steam veggie packets ( like I show in the photos below in the "Prepare Your Food" section) but mostly I use already frozen vegetables and just separate them into portion sizes with the Zip n Steam bags and keep them in a larger bag in the freezer. Frozen vegetables are convenient and cheap, and if I end up not using them all in a week, I don't have to worry about them getting spoiled, and they can just stay in the freezer to be used the following week.
Raw Vegetables and Dip: I usually keep single serving containers of cut-up vegetables and dip in the fridge for snacks and to add to lunches. For dip we like basic ranch dip, hummus, and my Lite Blue Cheese Dip. Here are the containers I typically use to pack up veggies and dip:
Step 2: Shop for What You Need 
I like to read the weekly grocery ads to help me plan what to eat for the week – I love a good sale, and I like to stock up when prices are low. I sit down with my meal planning sheet and the grocery ads to write up my grocery list. Then before I head out, I quickly clean out my fridge.
Now I get out all my fresh fruits and vegetables and put them on the table.  Why do I bother with this?  I've noticed how easy it is to forget what's in the fridge and before I know it, I have a pile of rotten veggies. Yuck. It's worth the trouble to pull it out and examine it. If anything is going bad, I dump it in the compost bucket that I keep on our back doorstep. When I can see what I've got, then I get inspired with ideas for what to do with it for the week, and I make a quick shopping list to get things I need to complete my plans. Here's what that looks like:
I usually go to two or three stores to get everything I need. I plan my store trips to combine them with other errands so I'm not wasting gas driving back and forth around town.
Step 3: Prepare the Food
*The photos and descriptions below come from an old post I did almost three years ago. I added just a few minor updates:
The 2 proteins I'm using for our example week are mushroom chicken meatballs, and kalua pork. My husband works at an office that has a fridge and microwave, and I work at home, so I usually make us lunches that get heated up. But when I need to pack lunches that will be eaten cold, I will usually choose to cook chicken breasts and eggs for the 2 proteins. I look at grocery ads and choose the proteins based on what's on sale that week. Whenever possible I like one of those proteins to be something that I can cook in the crockpot – in this case, kalua pork. I start out by getting the meat prepped and in the crockpot first, since it usually cooks the longest. Now that chore is out of the way and I know I'll have some delicious meat for dinner that night, and leftovers for some lunches  and dinners in the coming week. (I'll show you how I make chicken meatballs in a minute.)
The 2 carbs will be brown rice, and baked sweet potatoes. It's super easy to throw some sweet potatoes in the oven, and get some rice boiling on the stove top.
Now I get down to making chicken meatballs. These little meatballs are one of my favorite creations – I replace the breadcrumbs usually found in meatballs with ground up mushrooms! It saves a lot of calories, and the mushrooms make the meatballs so moist and tender!  My husband says he could eat these every day of the week. This was inspired by a recipe by Chelle Stafford in the aforementioned awesome blog – original recipe found here. I only put mushrooms in, no other veggies, and I make mini meatballs because they are so great in bentos and they cook quickly. Here's where you can find my recipe: Gluten Free Chicken  Meatballs
Here's the meatball mixture – I use a mini cookie scoop and bake them in the oven on a pan  brushed with 2 Tbsp. oil.  (* update -Ugh, that old cookie sheet! I'm glad I replaced that one years ago…)
While they're cooking, I sit down to prepare some packets of steamed veggies. I have already decided how many times this coming week I'll be serving steamed vegetables. I love to use those Zip n Steam bags – it makes life so much easier! I had lots of asparagus, so I'm making some individual packets for lunches, and some large dinner- sized packets to go with some dinners this coming week. I store all these in an extra fridge I have in the garage, and pull them out when I need them. When I'm making a bento in the morning, I steam a small packet of veggies for just a minute, then pack them into the bento box. I rinse out the Zip n Steam bag and let it air dry and use it again next week.  I also had lots of carrots and broccoli, so I made some Zip n Steam packets for those too.
Another thing I make every week is a big bowl of salad. I rinse and carefully dry  the leaves before I toss them in the bowl – very cold, and very DRY lettuce leaves will keep for about a week if stored  loosely packed in a big bowl with a tight fitting lid. I use iceberg and spinach, but most of it is leafy lettuce. I also throw some grated carrots or some broccoli slaw in the salad bowl, but nothing very wet such as tomatoes or cucumbers – moisture will make the salad spoil quickly!  I add other veggies when I pack some for lunch, or serve some for dinner. It's always been a big help to have a bowl of salad around … a healthy meal can be put together very quickly! ( reminder: salad bowl post here )
This picture reminds me of another thing  I do to my bowl of salad – I put a paper towel on top before I close the lid. It helps absorb any extra moisture that may accumulate that would make the lettuce go soggy.
By this point, the chicken meatballs should be done, so I take them out of the oven to cool while I prepare a few snacks. I had a lot of green apples to use up, so I make some apple slices with my Protein Peanut Butter to dip them in.
First I slice them all and put them in a bowl:
I add Fruit Fresh to keep them from browning ( directions on the bottle). Then I make little containers of Protein Peanut Butter. Each container has 1 Tbsp. of natural peanut butter…
To that I add 1 Tbsp. of nonfat greek yogurt:
Now I add 1/2 Tbsp. or so of vanilla protein powder to each container, along with about a teaspoon or so of water and stir  until it's creamy and a consistency I like. ( *update -sometimes I leave out the protein powder – either way it's good!)
I close them up, and keep them in the fridge with the containers of apples so everyone in the family can see them and grab them for a snack. (*Update – these photos were originally taken before EasyLunchboxes Mini Dippers  were invented, but now I mainly use those to pack up  dips. The other containers shown in the picture are Fit & Fresh Kid's Lunch 2-Cup Chilled Containers Set
. Fit&Fresh snack containers are absolutely essential to my Weekly Food Prep success! Each container has a mini ice pack that can be snapped into the lid, which is a great option when you're grabbing food from the fridge to take with you – just snap in an ice pack and go.)
I also bought grapes on sale, so those get washed and bagged up in little sandwich bags. These can be eaten for snacks as is, or I may take some to fill out a bento box during the week, or my boys may get a bag in their lunch. (* update – grapes must have been reeeally cheap that week because those portions are HUGE! that's about double the portion size I would normally eat, BTW)
Now the meatballs are cooled, so I package them in portions in zip lock bags and I put them all in a gallon zip lock bag which I keep in the fridge or freezer.
I pack up the rice and sweet potatoes in containers and keep them in the fridge, or out in the garage fridge.
When it's done, I serve kalua pork for dinner, and after dinner I pack up the rest of the meat in baggies to store away for the week- some frozen, and some in the fridge.
In the morning I can quickly grab the containers of meat, carbs, and veggies and fruit I need to create a cute bento box. Since all that work is done for the week, I have time in the morning to add the cute details that make a bento really stand out.
My husband often posts pics of his bento lunches on Facebook, and he sometimes gets comments from others along the lines of " Your wife has too much time on her hands". Actually, I have NO time on my hands! But serving healthy meals is something I make the time for, and this is how I manage it.
Added to Dare to share Saturday and the SITS girls Sharefest Saturday