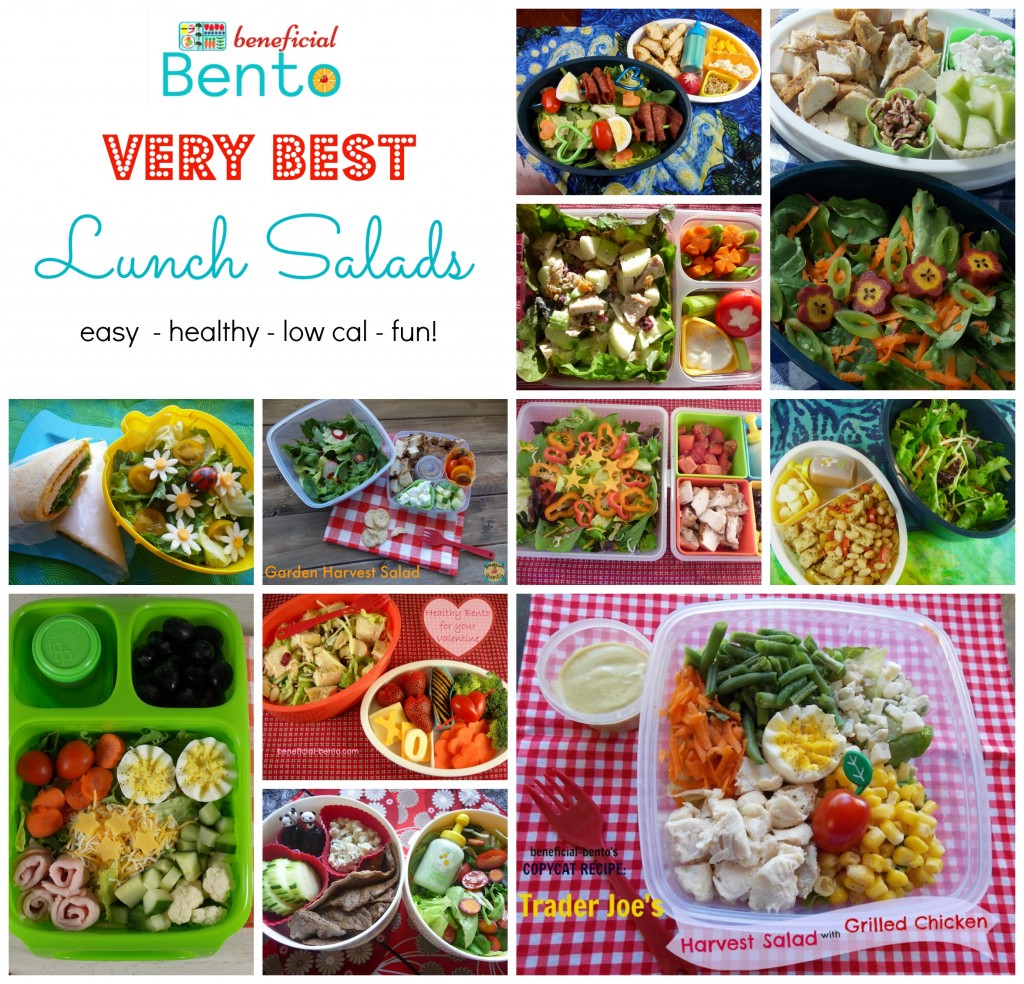 I have made a lot of salad bento over the years, and I've come up with a lot of  healthy salad recipes that have become staples in our house, so I've compiled a list of my 11 most-loved salad bento creations (in no particular order).
But first, no post about salads would be complete without my best secrets for salad packing success – How to Make a Salad Bar and How to Make Salad Stay Fresh All Week. I've been making my own salad bar and salad bowl nearly every week, ever since I first came up with the idea in 2012. It is the very best way to ensure having fresh vegetables ready to eat at a moment's notice, and we all could eat more vegetables – am I right?
Here's a fun chef salad I made using turkey bacon, which I cooked quickly in the microwave. You can read about how I did it here – Bacon Chef Salad Bento.
I love the fresh salads for sale at Trader Joe's, and every time I go there I usually pick up a salad for my lunch. But the problem is, I live 40 minutes away from the nearest Trader Joe's, so I don't get to treat myself to one of their delicious salads very often. I attempted to re-create one of my favorites ( and improved on it just a little) int this post – Recipe forTrader Joe's Harvest  Salad with Grilled Chicken
I love salads that contain beans – you can have a very filling and delicious meal, but still keep the calories low. I hit on a great combination with this one: Tuscan Chicken Salad Bento.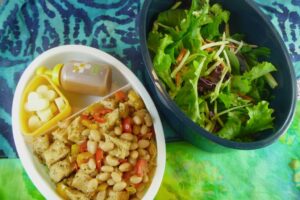 A taco salad is always a great idea for a lunch, and here's one of our family's favorite salad dressing recipes too – Recipe for Tomatillo Dressing.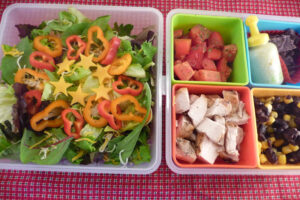 A great combo for a salad that my husband and I both love is Steak and Blue Cheese Salad: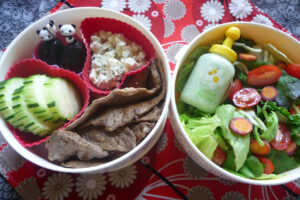 Here is a salad that I created just for me, and I think it turned out pretty cute 🙂 It was so easy to make using mini cookie cutters! You can find out how I made the cute touches for my salad here – Daisy and Ladybug Salad.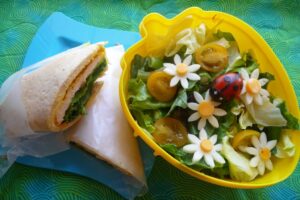 Sometimes I want something different than a lettuce salad. I created this recipe for my husband and I to eat for lunch, and we both loved it: Walnut Chicken Salad with Cranberries.
This post was made to showcase how to make purple carrot flowers, but it also contains one of my all-time favorite combos for a salad – chicken, pecans, goat cheese, apple, and apple cider dressing. Oh man, it is SO good!
Here is a fun way to show someone you love that you care about their health – pack a Healthy Bento for Your Valentine! There are links in this post so you can learn how to make heart-shaped strawberries and tomatoes, too 🙂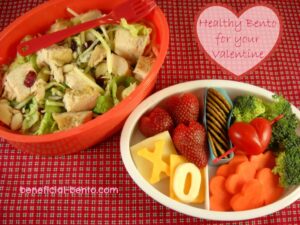 Here is a chef salad that I made for my hero husband in a Goodbyn Hero bento box – he loved it, and I loved how big that bento box is!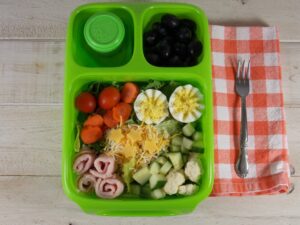 This salad is a delicious combination of creamy goat cheese, juicy tomatoes, and a tangy dressing, made from v-8 vegetable juice! Find the recipe here: Italian Tomato Vinaigrette.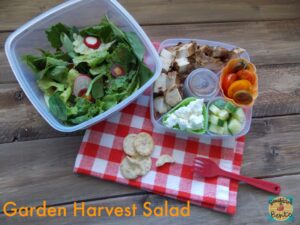 Well, those are my top 11 favorites, but they're by no means the only salad bento I have made. You can browse through all the bento I have made on my Bento page. You can also find more of my  salad recipes and lots more on my Recipes page.
I also added this to What I Ate Wednesday, Full Plate Thursday, and Thrifty Thursday.