I originally posted this recipe back on May 25, 2012. I decided to update some of the photos and links and share it with you again – my family's all time favorite chocolate chip cookie recipe!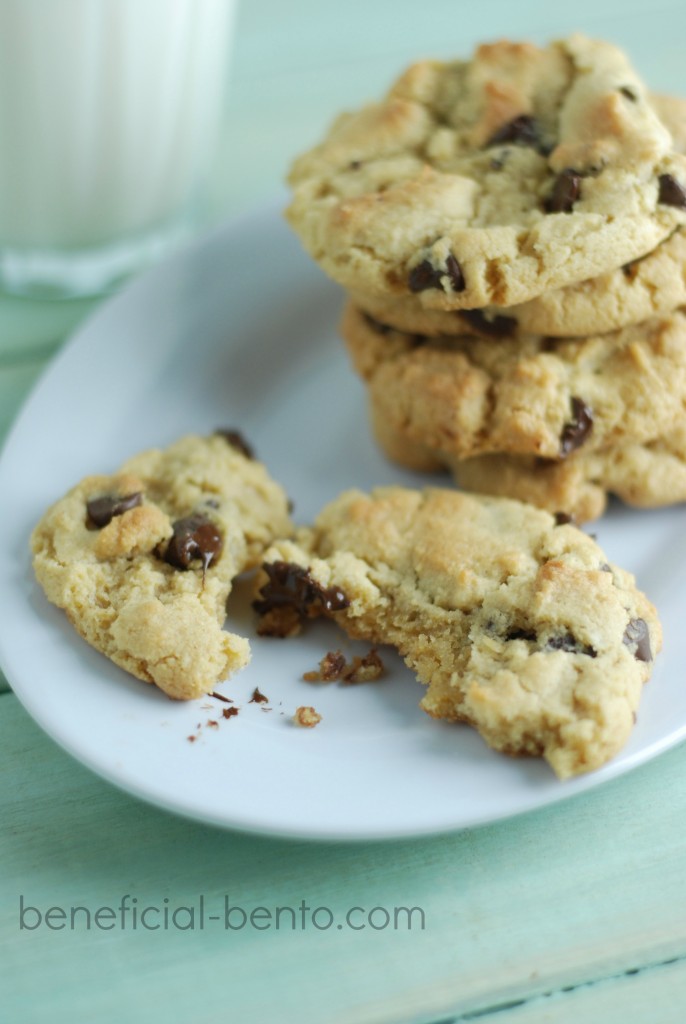 I have worked on perfecting this one for many years. I used to make these with bean flour, and they were very good… if they were cooked thoroughly! Undercooked bean flour dough is bitter and nasty! And we missed tasting the raw cookie dough. When I changed the bean flour to a combo of coconut flour, millet, and a brown rice blend, I knew I was on to something. Coconut flour is pretty much magic! And you can eat it raw 😀
So what is this recipe for chocolate chip cookies doing on a healthy food blog? Well, this recipe has also gone through several evolutions of me trying to make them healthy. I had some success with that, but I finally decided that a few buttery, sugary, chocolatey cookies have a place in a healthy diet every once in a while  : )
   Cream butter, oil, sugars, vanilla, and eggs. Add flours, salt, soda, xanthan, and baking powder. Mix well ( I use a stand mixer for this). Stir in the chocolate chips.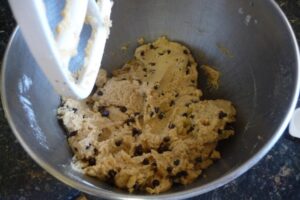 Heat the oven to 350 degrees. Scoop out the dough with a spoon or a cookie scoop. I love my cookie scoop! I bought it at a restaurant supply store: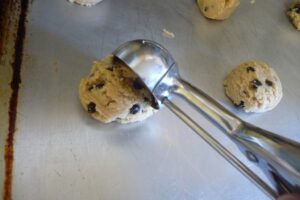 Bake these for roughly 7 minutes – the time will vary according your altitude and oven, even what type of cookie sheets you use. You can tell if they're done by how they look – they should be a little gooey in the center… touch them right in the center – if they feel soft, but no dough clings to your finger, then they should be ready. 
   When in doubt, take them out!   They will set up a little and become firm as they cool.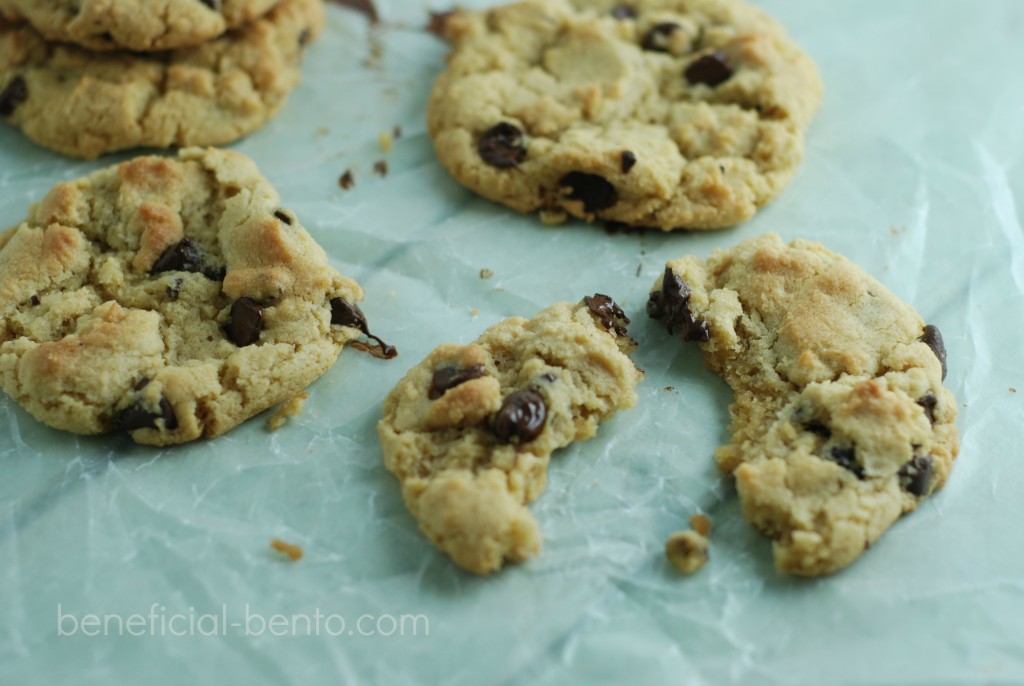 Here are some right out of the oven – you can see that they're a little gooey right in the center, but starting to brown.
 If you like crispy, Chips Ahoy type cookies, just let them cook a little longer until firm in the center.
    If your family doesn't love these chewy, melty bits of heaven, then I'll refund all your money : )
Now, a note about flours:
  * Brown Rice Flour Blend – I mix this myself, and I have a grain grinder that I only grind gluten free grains in. I grind my own brown rice into flour and mix it with potato starch and tapioca starch. The ratio is 3 parts brown rice flour to 1 part tapioca starch, and 1 part potato starch. ( for example – 3 cups brown rice, 1 cup tapioca, 1 cup potato ) I mix a very large batch since I use it for so many things – 12 cups brown rice flour, 4 cups tapioca starch, 4 cups potato starch.  BTW, be sure to get potato starch, not potato flour – potato flour is too dense and will not work for this recipe.
Print
Gluten Free Tollhouse-style Chocolate Chip Cookies
Here it is – my family's all-time favorite chocolate chip cookie recipe, made gluten free!
Author:

Kristie @ Beneficial Bento

Prep Time:

15 minutes

Cook Time:

7 minutes

Total Time:

22 minutes

Yield:

2 dozen

Category:

dessert
Ingredients
1/2 cup butter
1/2 cup cooking oil
1 cup brown sugar
1 cup white sugar
2 eggs
1 and 1/2 teaspoons vanilla
1 and 1/2 cups Brown Rice Blend flour
3/4 cup coconut flour
3/4 cup millet flour
1 teaspoon salt
1 teaspoon baking soda
1 teaspoon xanthan gum
1/2 teaspoon baking powder
1 cup semi-sweet chocolate chips ( or more)
Instructions
Preheat the oven to 350 degrees.
In a mixing bowl, cream the butter, oil, brown sugar, and white sugar.
Add the eggs and vanilla, blending until smooth.
Add the flours, salt, soda, baking powder, and xanthan gum. Mix until just combined.
Stir in the chocolate chips.
Drop by spoonfuls onto baking sheets – you will probably need 2 baking sheets for this.
Bake at 350 degrees for 7 minutes, or until just set, but still a little soft.
Let cool for a few minutes to allow them to solidify somewhat before removing them from the baking sheet.

  If you can't eat gluten and are missing hot chocolate chip cookies, I hope you give these a try. Please let me know what you think of them!