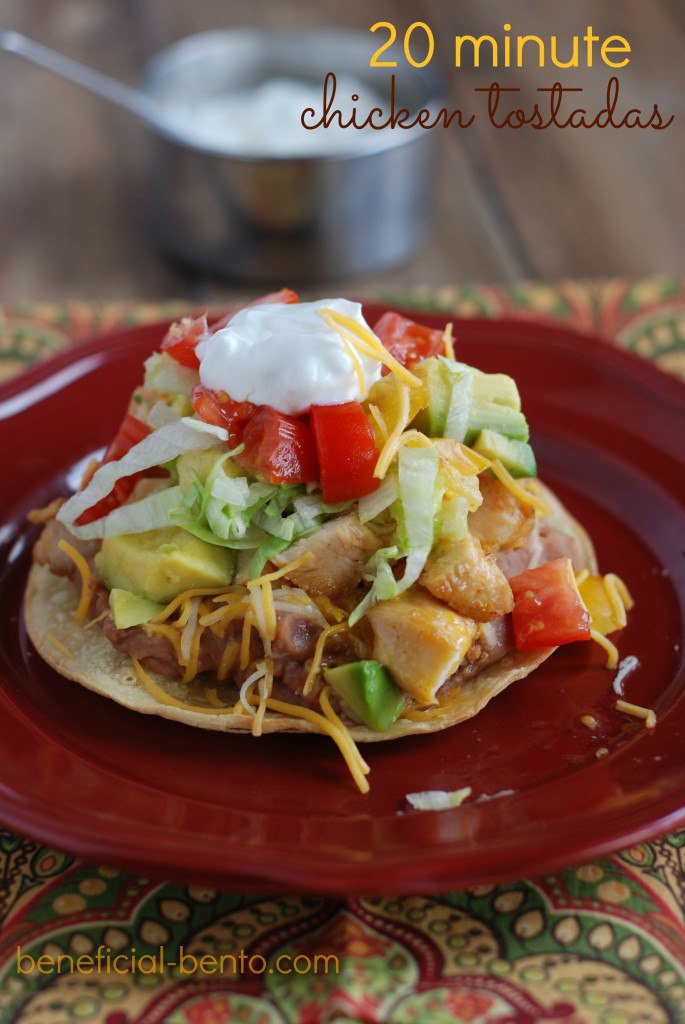 Well, hello December! Time is just flying by!
I wish I could just focus on all the fun activities that Christmas brings and somehow let the cleaning, laundry, and dishes just take care of themselves. You know what? If I could have any wish come true right now, it would be that there really are magic shoe-making elves that do chores in the middle of the night while the weary shop owner ( me) sleeps. But in my case they would be magic house cleaning elves, and when I wake up in the morning all laundry would be done, the floors mopped, and the  house would even be dusted… (okay, I realize that I sound just a teeny bit crazy right now!)
Ah well, the reality is – all of that needs to be done by the busy people who actually live here, and on top of that, we still need to find time to make dinner!
It's time to share another one of my favorite 20 Minute Dinners – Chicken Tostadas.
This is something I tried out of desperation once, and it was such a hit that the kids still request it. It is SO simple, and made with basic ingredients that I think most of us have on hand: chicken,  tortillas, a can of refried beans, cheese, lettuce, tomato, and whatever additional toppings you like.
The key to this being ready in 20 minutes ( or even less) is the order in which you do things. Start by putting the tortillas in the oven to crisp. While that is happening, cut up the chicken breasts into small pieces and cook them in a frying pan on the stove. Then while that is going on, open the can of refried beans and heat them in the microwave. After that, all that's left to do is chop up the toppings ( and stir the chicken every once in a while). By the time you're done with the chopping, everything should be ready to serve.
Dinner in 20 minutes – it's a beautiful thing, especially in December when we are all so busy!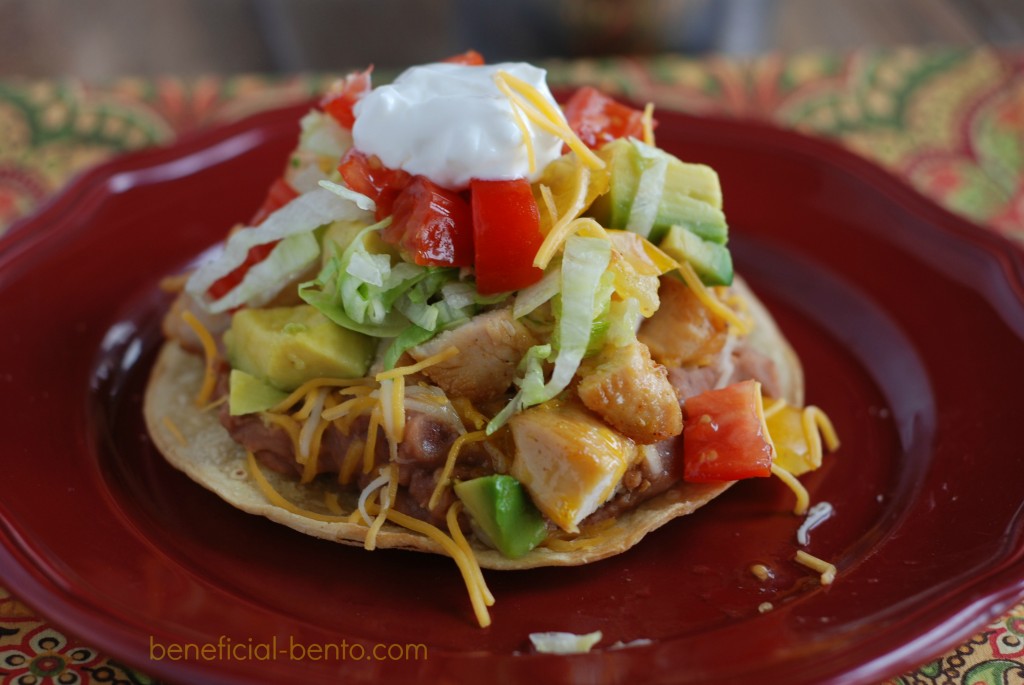 Print
20 Minute Chicken Tostadas
Juicy chicken breast chunks and creamy refried beans on a crisp corn tortilla – this healthy meal comes together in only 20 minutes!
Author:

Kristie @ Beneficial Bento
Ingredients
6 corn tortillas

1 can refried beans, 16 oz.

 3 chicken breasts cut into cubes

1 tablespoon oil of choice, like avocado or olive

1 medium avocado

juice of 1 lime

1 cup shredded cheddar cheese

2 roma tomatoes

1/2 of a small head of iceberg lettuce or other

sour cream, hot sauce, olives or salsa if desired
Instructions
Heat oven to 400 degrees.

Spray corn tortillas with a little oil or cooking spray and place on a cookie sheet. Bake in oven for 10 minutes, or until crisp and lightly browned.

Meanwhile, heat about 1 tablespoon oil in a frying pan. Cook and stir chicken breast cubes, seasoning with salt and pepper as desired, until browned and no longer pink.

Open can of beans, and place in a microwave safe bowl. Heat for 1 -2 minutes until hot and creamy.

While the chicken is cooking and the beans are heating, chop the tomatoes and lettuce.

Dice the avocado and toss with a little lime juice to keep from browning.

Top a crisp corn tortilla with beans, cheese, chicken, tomatoes, avocado, lettuce, and additional toppings as desired.

Eat with a fork, or just pick it up and eat with your hands 🙂
Are you hungry for more? Here are my other 20 Minute Dinners:
And you can find all my recipes on my Recipes page.
This recipe was added to Foodie Friends Friday: