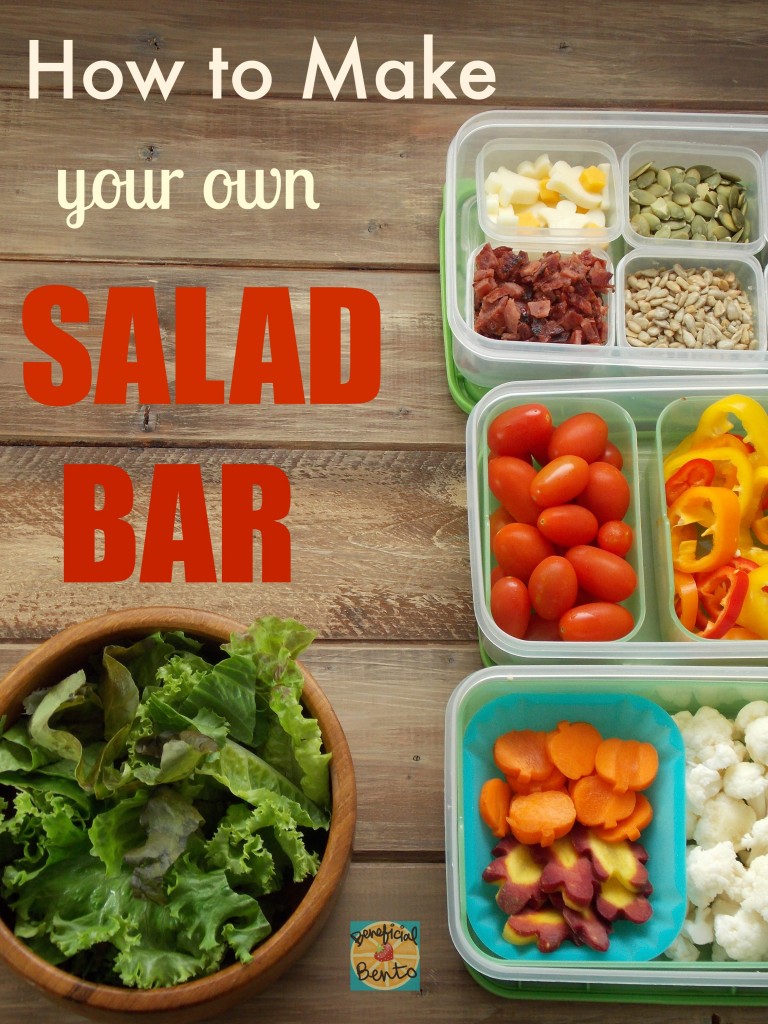 Back in 2012, I came up with a great idea to make it even easier for our family to eat our vegetables. Many of you must have liked it as well, because it's been my most popular post ever since!
That great idea was How To Make a Salad Bar. In the past two years there has rarely been a time that our fridge did not have a well stocked salad bar along with a crisp, cold bowl of salad greens to go with it. Many times it has saved the day when I was in a hurry to pack up lunches but didn't have time to chop up vegetables. And there were some nights that my dinner plans just didn't work out, but some take-out food along with our salad bar could make a really nice meal!
My basic salad bar idea has stayed the same, but I have made a few minor changes over the last couple of years.
Changes I Made:
The first change is the containers I use. I no longer use the Snapware container with the Ziploc divided containers  inside. And that's good, since Ziploc has recently discontinued them anyway!
The set I've been using for my Salad Bar for about a year now, is one by Rubbermaid – it's the Rubbermaid Lunch Blox Lunch Kit, along with a set of Mini Dippers by Easy Lunch Boxes.
Here's how I have it set up as our family salad bar:
I actually bought three sets of the Rubbermaid Lunch Blox – Entrée with trays
 ( because I use them for so many things!), but the Rubbermaid Lunch Blox – Entrée Kit
 would be great for a smaller Salad Bar .  This particular Salad Bar set up uses the three large rectangle containers, but there are many ways you can mix and match the containers to make a Salad Bar that suits your own needs. Here's what's inside our Salad Bar this week: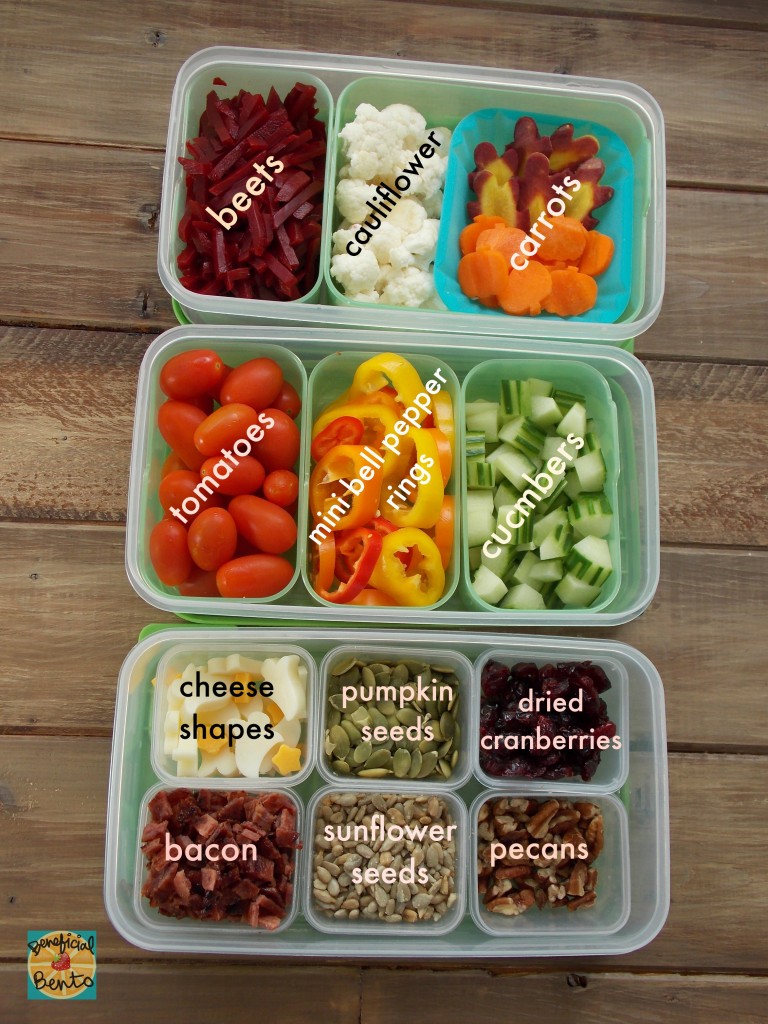 Inside one of the three containers I have 6 Mini Dippers from easylunchboxes.com. They are the absolute PERFECT size for all those little toppings that you like to sprinkle on top of your salad. These little containers hold about 1/4 cup, which seems small, but actually has been just the right size for our family of four to seven ( depending on who's home for dinner).  I refill it every 2 or 3 days, and that seems to be about right for keeping the salad contents nice and fresh.
The Rubbermaid Lunch Blox come with dividers inside that you can rearrange to fit whatever you're putting in your Salad Bar. I needed one more divider, so I used a rectangular silicone cup to hold the carrots.
Speaking of the carrots, one of the fun things about making your own Salad Bar is that you can deck it out for different holidays. In this week's Salad Bar, I used a Halloween Linzer cutter set to make cheese ghosts and carrot pumpkins (as shown in the pics above)
Products I Use:
You can find the containers I use for my Salad Bar, and all the other kitchen tools and bento supplies that I write about and recommend, on one convenient page of this site. I gave it a very creative name – Store. To locate the Rubbermaid Lunch Blox and the Mini Dippers, check the "Food Storage" box under Kitchen Tools.
Other Things I've Learned:
 Cucumbers – cut out the seeds when you chop them up to store in your Salad Bar. For some reason, leaving seeds exposed seems to make them spoil more quickly. The same goes for tomatoes. I always put whole grape tomatoes in my Salad Bar because diced tomatoes spoil too fast.
 Beans – I love all kinds of beans in salads! When they are in the same container with the other vegetables, however, something nasty happens. They don't mix well with the other toppings. Before too long, everything in the Salad Bar starts to smell bad. Yuck. Just keep the beans in a separate container of its own, and your salads with continue to be delicious! ( The Rubbermaid Lunch Blox – Entrée Kit would be a great way to keep the beans separate)
 Nuts and Cheese – My family loves to top their salads with these toppings, so in the beginning I loaded up my Salad Bar with extra nuts and cheese. I learned from experience that this was not the best idea though. Cheese will dry out after 2 or 3 days, and the nuts pick up moisture from the cheese, and they start to soften. That's why I use the Mini Dippers and just refill those toppings a little more often than the vegetables, and I keep the lids on the nut and cheese containers inside the main container.
The best salad starts with very cold, very crisp lettuce. I have my own technique for preparing a big bowl of salad that will last all week.
You can read more about how I use my Salad Bar  ( and see how it used to look) in my original post –  How To Make a Salad Bar.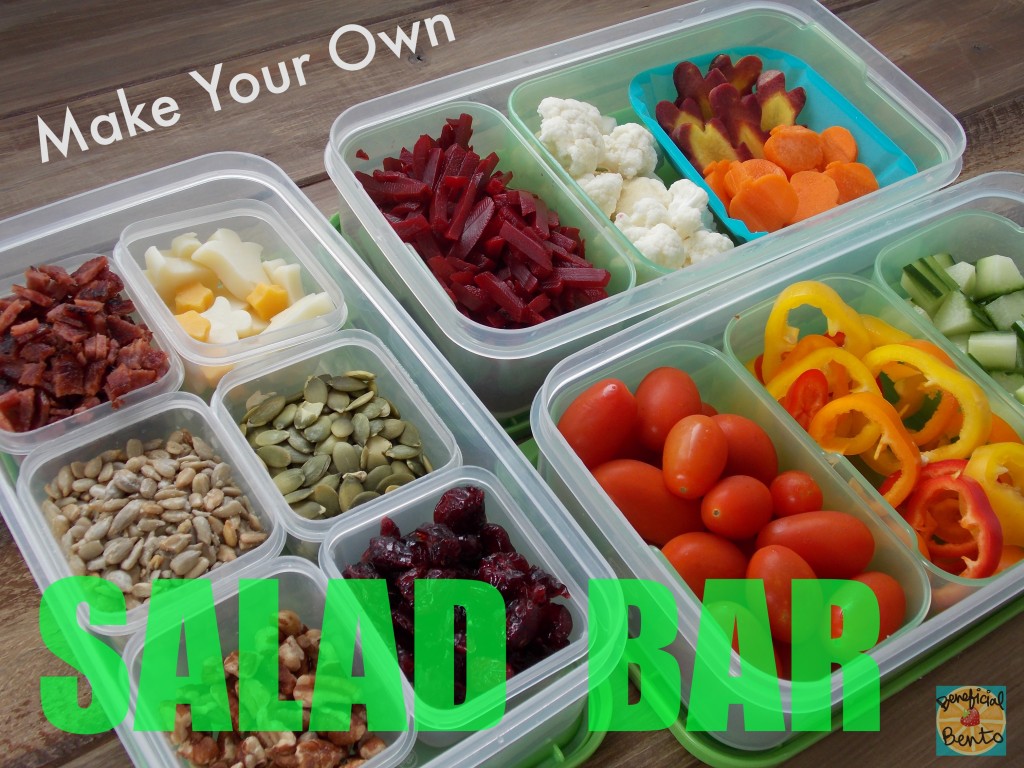 Want even MORE Info?
My salad bar idea has made it so easy and so fun to pack salads for myself and my family for lunch – which has led to me creating LOTS of different salad recipes, AND salad dressing recipes, and a bunch of other salad tips for healthy lunches. So, I put all that info together in one downloadable ebook, called Fresh Lunch Salads.
Please check it out by clicking this link: