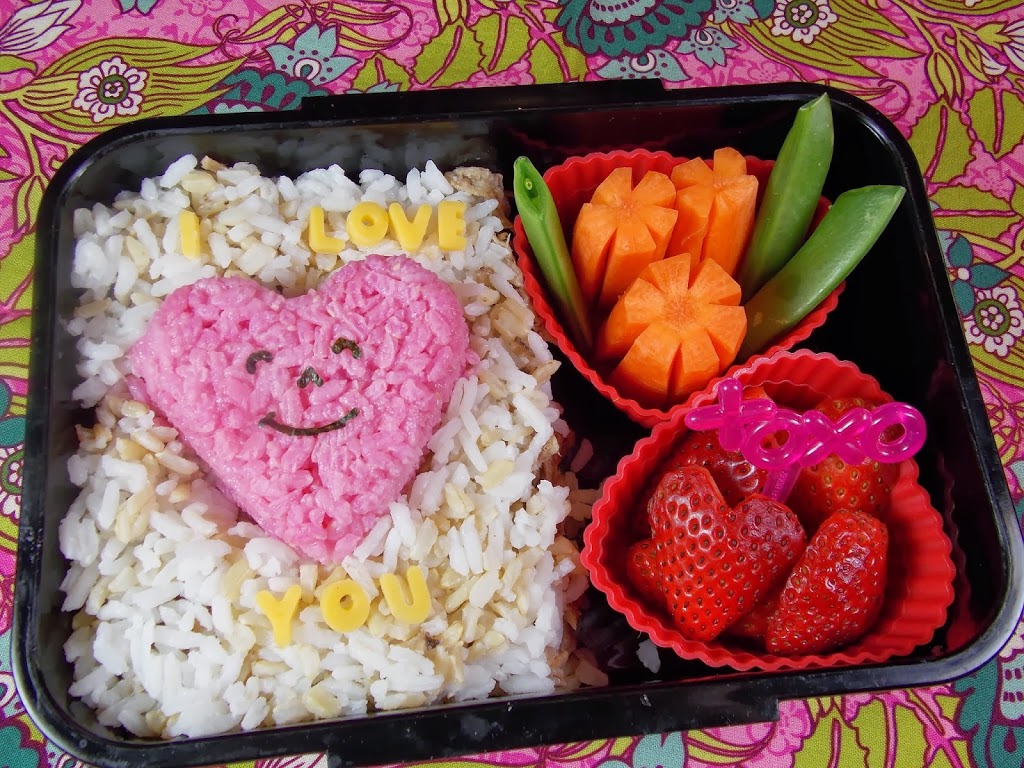 Well, hello!
It feels nice to be back here at the computer after such a long absence.
My Black Friday and CyberManDay sales were fantastic for my Etsy shop, which kept me SO busy that I hardly had time for anything else – including blogging! Then right before Christmas I injured my hand… and then right after Christmas our computer crashed… phew! It's been a crazy couple of months.
Even so, I have still been making lunches through all this, and now that my computer is up and running again I can share them with you  🙂
This is a lunch I made for my husband. I pre-made some heart shaped onigiri that I colored with beet juice from a can of beets. I just used plain cooked rice, and I stirred in a little beet juice to color it pink. I put a few of these in the freezer so I expect they will turn up in some lunches this Valentine's season 🙂  Also in this lunch is some kalua pork  (which is under the rice). I made some in advance to use for several lunches and dinners.  On the side are some carrot flowers with sugar snap pea leaves, and some heart shaped strawberries. I used this great tutorial to make them: How to Make a Heart Shaped Strawberry in a Few Seconds.
Here are some things I used to make this lunch, and where to buy them: ( just click on the pictures)