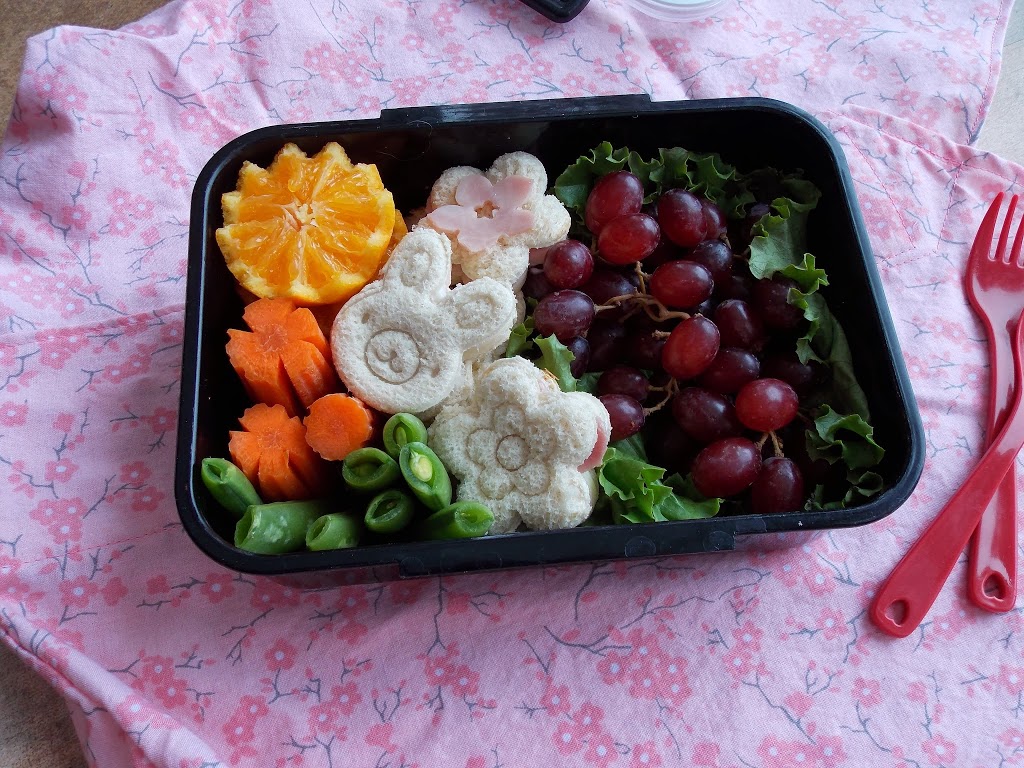 Today's lunch is a bit of a departure for me – it's very sweet and flowery ( something I wouldn't ever make for my boys) and the little sandwiches are not gluten free ( so I couldn't eat it either). I made it to showcase my new pink sakura blossom bento bag, which is for sale in my Etsy shop.
I really LOVE this pretty pink fabric! It has salmon-colored sakura blossoms with light gray branches on a pale pink  background. I sewed up 2 bags, then realized I wanted to make a few more items out of it for my Etsy shop, but now I can't find that fabric anymore! I kept one for myself, so that leaves only one for sale – so if you're interested in buying it, you've got one shot at it  🙂
What are these bento bags good for anyway?
I created them because I often take my lunch or a snack with me when I'm away from home (it helps me stick to my diet). I found that I needed something to cover my lap and wipe my fingers when I'm eating in the car or outside. These bento bags can double as a placemat and napkin, then  be turned inside out ( so the crumbs and food stains are on the inside), tucked in my purse, and just tossed in the wash when I get home. They can be rolled down to suit lots of different sizes of lunch containers, and just tied on top:

What is in this lunch:
– Ham and cheese sandwiches on regular white bread, made using these cute little sandwich presses:
-grapes and sugar snap peas
– an orange cut zig-zag style
-carrots that I peeled with a serrated peeler and then cut wedges out of the sides with a paring knife to look like flowers. ( Hmmm… I should post some pictures of that sometime)
My oldest son was with me when I took these pictures, and since he was hungry he was happy to oblige by eating my cute little sandwiches for me 🙂