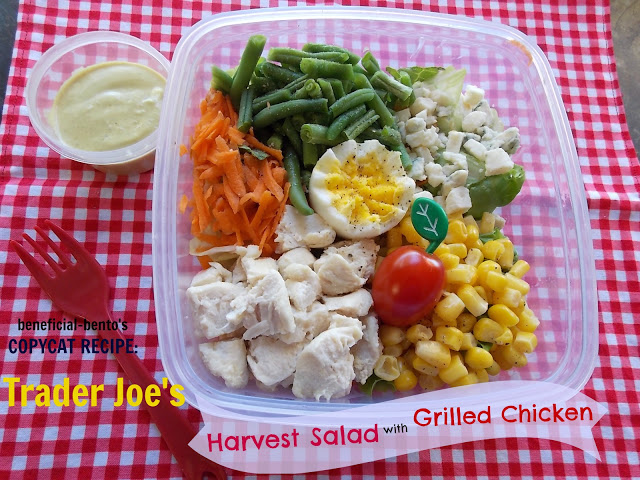 So I was shopping at Trader Joe's a few weeks ago, and I bought myself one of their yummy salads for lunch – Harvest Salad with Grilled Chicken. It was so good I ate every bite, and actually licked the bowl!
Since Trader Joe's is almost an hour's drive from my house, I decided that I needed to try to re-create the salad at home so my family could have it any time we wanted. First I made a copy of their delicious, creamy dijon vinaigrette (see recipe)
   The rest of the salad, shown above, is made like this:
Trader Joe's Copycat Harvest Salad
  Put 2 big handfuls of a blend of lettuces and spinach on the bottom ( from my big salad bowl shown in my Weekly Food Prep)
  Top it with:  diced grilled chicken, corn,  green beans, diced low fat cheese ( I used lite blue cheese), and 1/2 of a boiled egg.  Although this isn't in the original salad, I added some shredded carrots and a cherry tomato for some color.
  I hope you try this recipe, and please let me know in the comments how you liked it!
Print
Trader Joe's Copycat Creamy Dijon Vinaigrette
2 Tbsp. lite mayo 2 Tbsp. plain, nonfat greek yogurt * (see note) 2 Tbsp. rice vinegar 2 teaspoons dijon mustard 1/2 teaspoon lemon pepper seasoning 1/2 teaspoon garlic powder 1 teaspoon balsamic vinegar dash of tumeric powder pinch of xanthan gum * (see note) Combine all ingredients and whisk together. Store in fridge.
Author:

beneficial bento

Prep Time:

10 minutes

Total Time:

10 minutes
Ingredients
2 Tbsp . lite mayo
2 Tbsp . plain (nonfat greek yogurt * (see note))
2 Tbsp . rice vinegar
2 teaspoons dijon mustard
1/2 teaspoon lemon pepper seasoning
1/2 teaspoon garlic powder
1 teaspoon balsamic vinegar
dash of tumeric powder
Instructions
Combine all ingredients and whisk together. Store in the refrigerator.
*Note: It seems that the greek yogurt makes the dressing ingredients separate after a day in the fridge. I fixed this problem by adding a little pinch of xanthan gum, which is a common thing to have in a gluten free kitchen. I realize most people that don't bake gluten free have even heard of this thickener, let alone have any! If this is you, you can double the lite mayo to 4 Tablespoons, and omit the greek yogurt and the xanthan gum, and it will be just as delicious