Here's a lunch for my son- I guess it kind of has a chinese theme today 🙂 He's got a turkey and cheese sandwich on homemade gluten free pita bread. It's topped with a red bell pepper dragon with cheese fire coming out of his mouth! Now, this particular son hates bell peppers, but when we were eating our lunch I asked him if he was going to eat the dragon. He thought about it, then just popped it into his mouth! Bento wins again!
I've been really excited to use my new dragon cutter! I got some amazing bento cutters for my birthday last month, and then for Christmas I got some more! My husband knows what I like 🙂 I think they're so beautiful and artistic – a little more grown-up looking and very cool!  Hubby said he found them on ebay:
   I've used the fish, flower, and dragon cutters so far, but I'm still looking for ways to use the leaf, crab, and those two… dancing shrimp? Not sure what I'll do with the spare shrimp cutter – maybe I'll have a giveaway!   😀
  Also in my son's lunch are some panda cookies that I've been experimenting with. It's a gluten-free oreo cookie recipe that I've been working on, and it's not quite ready to post yet – but hopefully soon!
  The cookie cutter set that I used is one I bought recently from BentoUSA ( All Things For Sale). I LOVE this panda set!!! I've had SO much fun playing with it so far! Unfortunately you can't just run to the nearest store to pick one up, but you can order it for a very reasonable price from BentoUSA. If you'd like to learn more about this adorable cookie cutter set, click on the picture below: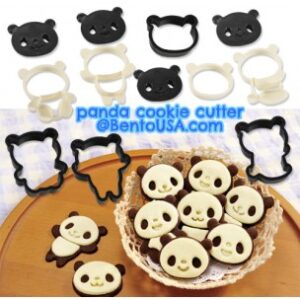 One more of my bento finds: I was at Michaels Craft Store yesterday, and I found these very cute Valentine heart picks – only $2.49 for a set of 12. So if you have a Michaels in your area, check it out! These will go great in lots of  upcoming Valentines lunches, I predict 🙂