Hi everyone! It's good to be back at the computer again : )I've spent the last week taking care of my mom, who had to evacuate her home due to a wildfire. Crazy, I know, but her home is safe and sound and she has moved back in. Whew!  Now I'm back to a normal schedule, and I'm ready to pack lunches again.I did my food prep for the week on Saturday, and I cooked chicken breasts in the crockpot and made chicken meatballs. I cooked rice and sweet potatoes, and prepared Zip n Steam bags that contained broccoli and carrots, and green beans. As always I have my big bowl of salad greens along with my
salad bar
. I made some chocolate/coconut protein bars, and I have my packets of Right Light shakes ready to go. I have baked gluten -free sandwich rolls for the 4th, and will be working on my son's birthday cake  in the next 2 days… so I think I'm all set!
Here's what my husband is taking today: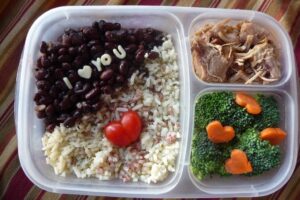 He's having black beans, rice, a tomato heart and words cut from cheese, broccoli, carrots, and some leftover pork.
I'm having something similar: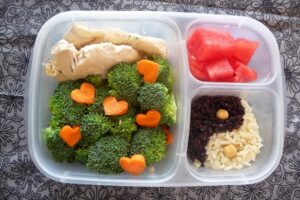 I tried to make a yin yang out of white rice and forbidden rice with garbanzo beans in the centers : )
The rest of my lunch is chicken, broccoli and carrots, and watermelon.
Here's my meal plan for the day:
breakfast – coconut breakfast muffin and an egg mug ( 1 egg and 2 whites, some chopped veggies, cooked turkey bacon – microwaved for a minute, topped with 1 Tbsp. lowfat cheese and nuked for 30 seconds more)
snack – Right Light shake
lunch – the bento above, plus a salad
snack – a muffin and 3 oz. chicken
dinner – TBD, but it WILL be a picnic!
Have a wonderful summer day!