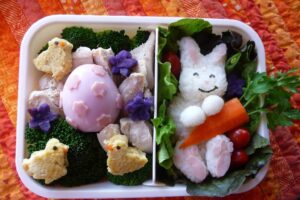 Today I'm taking part in an Easter Blog Hop with some very creative bento bloggers, and here's my contribution  🙂 If you want some cute Easter food ideas, you're in the right place! When you get to the bottom of this post, click on the link to go to the next person's blog, and then the next, and the next, and so on, to see some great Easter ideas from all the other bento bloggers.
I decided to do a more traditional Japanese bento lunch this time. It consists of:
bunny = sticky rice that I shaped by hand, with ham and nori details. He's holding a carrot made of… a carrot, with parsley leaves 🙂
easter egg = a regular egg that I hard boiled and peeled, then put in the liquid from a can of beets. It only took 5 minutes to color it a nice lavender color. The flower decorations are cut from ham
chicks = egg tomogoyaki ( japanese egg omelet) that I cut with a chick cookie cutter, with nori and carrot details
The rest of the food is chicken chunks, steamed broccoli, grape tomatoes, purple potato flowers, and leaf lettuce.
My food plans for the day are:
breakfast – egg muffins ( this great recipe is here), and a cup of fruit
snack -1/2 apple and 2 Tbsp. protein peanut butter
lunch – ha ha, you thought I'd be eating the Easter bento, but I'm actually eating walnut chicken salad with cranberries, and a slice of homemade gluten free bread
snack – pineapple and cottage cheese
dinner – chicken and rice casserole, with steamed asparagus and salad
Exercise plans are to do yoga, and then a circuit training workout at the gym.
Now hop on over to Dina's blog, bentoformygirls. I can't wait to go see what everyone else is making!