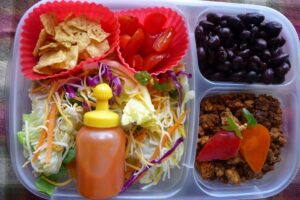 I was excited to pack lunches for all of us to try out the Easy Lunch Boxes we got yesterday, so here's my report:
My high school aged son got a mexican chef salad for his lunch, kind of like the one above but without the cute chili pepper cut outs or the cute salad dressing bottle. I had to pack his quick and get him to school so there was no time for a picture. But he reported that he really liked having a salad for a change ( he usually gets sandwiches) and the ELB was good since it kept the toppings separate from the lettuce so the whole thing stayed fresh and crisp.
The picture above was my lunch. At first the ELBs looked small for an adult, but when I piled all the toppings into the salad section of the lunch box, it made one ginormous salad that was almost too big for me to eat! It was very filling and delicious.
Here's what my husband had for his lunch: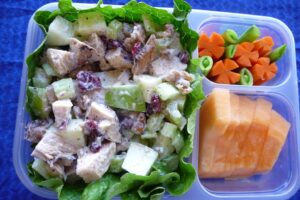 This was a "creative use of leftovers" lunch 🙂  He had walnut chicken salad, veggies and hummus, and canteloupe.
All in all, we all like the ELBs. There are 4 of them in the set, which is great because there are 4 of us living at home right now ( my daughter is at college, and my  oldest son is married). I look forward to being able to pack identical lunches for all 4 of us from time to time. I think it will be a great time saver!
Since I have been playing with food this week, I already packed my husband's lunch for tomorrow. Here's what he's getting: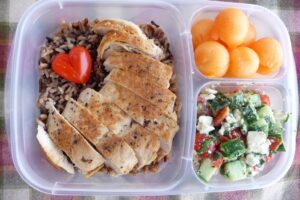 It's grilled chicken, wild rice, melon balls, and cucumber/feta salad. The recipe for the salad can be found here. The cute little heart is 2 grape tomatoes cut on the diagonal and pressed together  🙂
Okay, now to report what I ate and did …
breakfast – fruit smoothie made with greek yogurt, fruit, and protein powder
snack – 1/4 cup nuts and a boiled egg
lunch – mexican chef salad
afternoon snack – well… I have a confession to make… in a moment of frustration and weakness I ate a big bunch of potato chips :O  Oh no!
dinner – dinner tonight is leftovers – I have lots of healthy food bits and pieces left over from my cooking experiments this week, so we are going to try to use them up!
So, I thought about where I went wrong with the potato chip slip-up, and it wasn't too hard to figure out … I didn't pack my food for the day! I mistakenly thought that since I would be working in the kitchen all day and making healthy food, that I could just make healthy balanced meals from what was all around me. Then later I found myself lost in thought ( and starving too) just shoving chip after chip in my mouth! It was like I was hypnotized or something! So I learned that it's ALWAYS  important to plan, prepare, and pack my meals.
Lesson learned 🙂