I know it's not St. Patrick's Day yet, but I am taking part in a fun blog hop today with a bunch of my blogger friends. We are all doing St. Pat's lunches and linking together our posts, so follow the link at the bottom of my post to read the next one in line. It should be a fun read!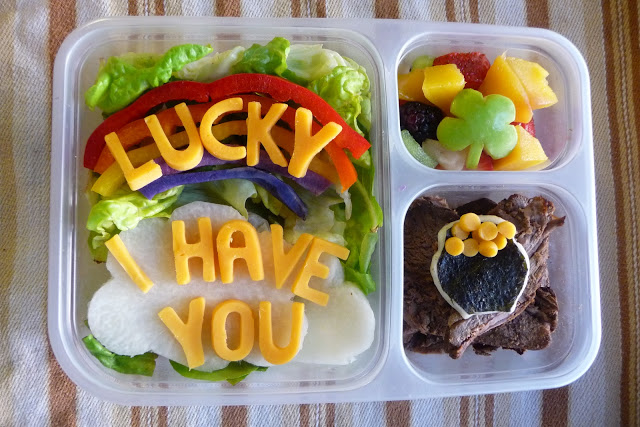 This bento is for my husband 🙂 I really am lucky to have him! Because of him I get to stay at home and run our household and raise our children the way we want. I have the best (and busiest) job in the world!
This meal is a steak salad with balsamic vinaigrette dressing. When he eats it he can toss all the stuff together  and eat it ( except the fruit cup in the corner). I made the rainbow out of bell pepper rings and purple potato slices. The clouds are jicima that I cut with a flower cookie cutter. The pot of gold is cheese covered in nori with cheddar cheese coins. The pot is a mini cauldron  cookie cutter from a Halloween set. The letters are cheddar cheese, and on the fruit cup in the corner is a green apple clover.
As for me, here is what I plan to eat today:
breakfast – oatmeal and egg whites
snack – protein pudding
lunch – steak salad with balsamic dressing
afternoon snack – apple and protein peanut butter
dinner – baked Ziti ( a great recipe from the Eat Clean Diet for Families and Kids book), steamed veggies, and salad
for exercise, I plan to do yoga ( boy can I use some yoga right now!) and cardio – either a long walk, or treadmill at the gym
Now stop by Myra's blog to see what she's making for lunch!